Curriculum specialist Rashenah Walker on the exciting future ahead, in an exclusive at SGEF 2017
"It helps to go into the classroom and know what works with the children and what works with the teacher so that I know that something is perfect or whether something needs to be redesigned", says Rashenah Walker, Curriculum specialist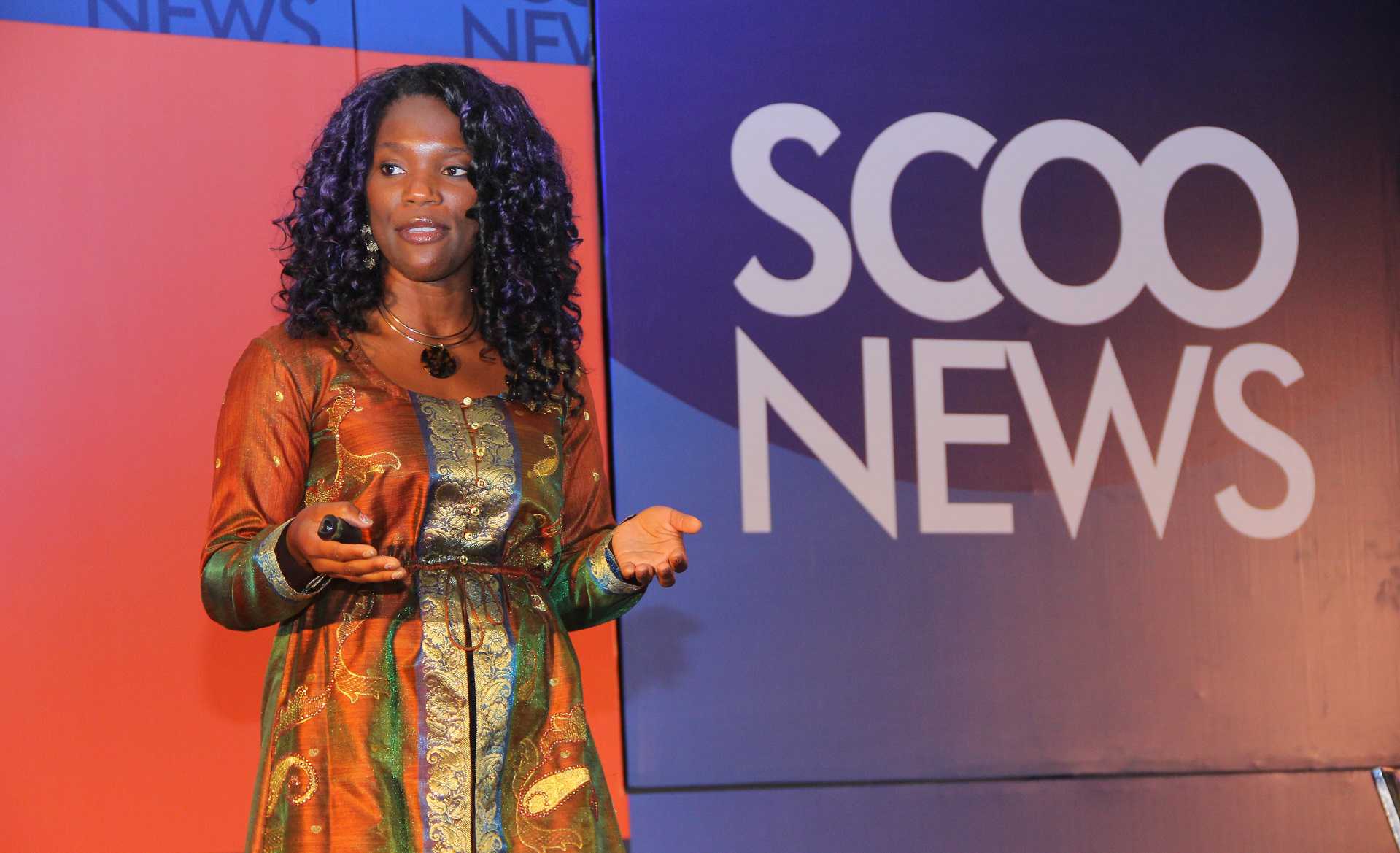 How do you assess the effectiveness of a curriculum?
Assessing the effectiveness of a curriculum includes many components, starting with the need to know what type of curriculum you are dealing with, whether it is American or British curriculum or Indian curriculum. You should make sure that the teachers know what the standards are and what the objectives are that you want the students to know. What I suggest is that you need to start backwards and work your way forward. First figure out what's the end outcome. After you finish a lesson or a unit, what do you want your students to know and, from there, work your way backwards. How are you going to get the students to know this? What activities are you going to get them to do and what is going to be the assessment? Once you figure out the 'how', the actual implementation is so much easier.
Since you have designed curriculum for many countries, what type of curriculum do children learn best from?
The curriculum doesn't matter. What matters is the process that you are going through and that you have varied instruction, so that you present it in so many different ways. Something that I have noticed in the International schools is that they have many teachers who have no training or a teaching license. They have not gone to school, they don't have pedagogy. So it is kind of like they are just thrown in the profession. But the truth is teaching is a difficult profession. Just like how a doctor cannot work without formal training, a teacher cannot do justice to the profession without formal training. But the good thing is in teaching you will see people from diverse backgrounds – I've known IT specialists, engineers, people who have worked in the military, who have transitioned into teaching. So they have a different perspective that they can bring into the profession. But the problem is when it comes to curriculum, they are not sure how to take what's on paper and put it in real life. They don't know how to take what's on paper and communicate it to a small mind. I know that the British curriculum is easy to work with because it's already readymade, so it is not much for the teacher to do. It is literally like open a book; a lot of resources are already pre-made. But the American curriculum is so diverse. You have the standards but we don't care how a student learns a noun or a pronoun as long as they learn it. It can be great for a creative teacher that says, 'Oh wow, we are going to play this game' or 'We are going to do this activity', or 'We're going to try this experiment'. But if there is a new teacher who doesn't have a background in teaching, they won't know how to teach what a noun or a pronoun is. But that's the great thing about teaching. It can be so diverse and you can do it any way that you want. But at the same time, if you don't have the support needed for the teachers, it can be an absolute disaster.
Do you interact with kids while designing curriculum?
Yes, I do. I love the kids. I go into the classroom and I love seeing them learn and I love seeing them play. So that's the positive but I also have to see how the curriculum is working because maybe I'll look at something and I'll have an idea in my head. But working with International schools, it is very difficult when you are dealing with second language learners and what their culture allows. Working in the Middle East, of course you have a strong Islamic culture and a strong local culture. If you are looking at an American curriculum school, one of the most common things that we teach in high school is Romeo and Juliet. That is such a die-hard story and everybody knows it but we can't teach Romeo and Juliet (in the Middle East) because it is a love story and the two don't get married and that's against Islam. So I have to find another story to teach the skill of analysing the story and its characters. It does help to know the students and the base that I'm dealing with, so I can figure out their skills and provide support accordingly. It helps to go into the classroom and know what works with the children and what works with the teacher so that I know that something is perfect or whether something needs to be redesigned.
Did you ever get a chance to work with the Indian education system?
I have not. They do have Indian schools in Dubai and actually they are some of the best performing schools in Dubai. I'm not sure why but clearly, you guys are doing something good with the curriculum! (laughs) It's always been something that I've been interested in because I want to know why they are some of the best performing schools and how the students are able to perform so well. I don't know if it has to do with the home base. Maybe this is an expectation from home while other parents say 'Just do your best, whatever that is'. For example, if you're a D student and that's your best, 'Good job'! But for some families, your 'best' is not good enough. It is something that I'm interested in researching and looking at schools and finding what works there and figuring out how that can be implemented in other schools' systems and curriculum.
How did you get into curriculum designing?
It's a strange job and what makes it a little bit different here or in the Middle East or any international markets for education versus in the United States is that in the States you never see them. They are always at the board or at the county level, so they never actually come into the schools and see what's happening. They work remotely and they only have the standards and they put together activities, objectives and that's it. And all you see is a piece of paper when you go to work at a school. But here what I love is I get to see the interaction, what is working and what is not. I get to go to other schools, I get to give them ideas as to how to change their curriculum and design it in a better way. You can see the teachers, you can see how the students are interacting to it and you can see what's working. Like I said, in the Middle East, we have to change a lot of the content to make it culturally sensitive. But even with that, when you are dealing with second language learners, you have to look at the curriculum as a whole.
If it's the American curriculum, you are using American books. So there are some stories that have a certain vernacular, a certain tone which you would understand only if you are American. So when you are looking at resources, you have to find books that fit the students' ability to understand and grasp the ideas. The student should not just be able to read but also understand it. So when I'm in a classroom, I understand exactly what a child understands whereas if you are at a county level, you never know what's happening!
Have you designed curriculum for children with special needs?
Yes, I have. Actually, my certification in the States is with special education. I've worked with special education kids for about six years. When you look at special education, it's not that a child is 'dumb' or 'slow' – they learn 'differently'. It's almost like a puzzle. It is my job to figure out how they learn. It doesn't matter if they need extra time, maybe they need to be told in a different way, maybe it needs to be repeated multiple times, maybe instead of taking a traditional test, they take it in a different way. They may give oral responses or they are able to do it on the computer.
SGEF 2017 – Enlightening!
Honestly, I was very surprised. I don't know anything about the Indian education system and I wanted to see what's happening here, what's new, where are you guys in the process as far as educational design is concerned. I can see exactly where you are in the process. It's definitely going through reform. I see that there is a huge interest in it and that you have so many things up and coming. I'm really excited about the next five years, about what's going to come up here. I love the forum because it's a place where everybody can come and share ideas and I love how they had one of the executives from the Board and all the teachers are so excited just to put their input in and he was excited to listen to what's happening in all the different states. You had Prof. Sugata Mitra known for the Hole in the Wall experiment. I did not know it was him when I first saw him and then when he got up on stage I was like, "Oh my God, that's him!" because I actually used his video to train some of my teachers in Dubai – the idea of letting go as a teacher and letting the kids explore and discover on their own. It was amazing to see him here. Also it was enlightening to listen to the perspective of someone from the Board and someone from the classroom. You are going through the process of reform that most countries are. Whether to get the expensive book or to get a cheaper one, do they have the same content, how do you choose etc… I'm glad that the problems are being recognised and steps are being taken to solve them.
This story appeared in the September 2017 issue of ScooNews magazine.
SHE STEM 2022 honours and celebrates women
SHE STEM 2022 encourages students to 'Unleash their imagination' as part of the Sweden India Nobel Memorial Week.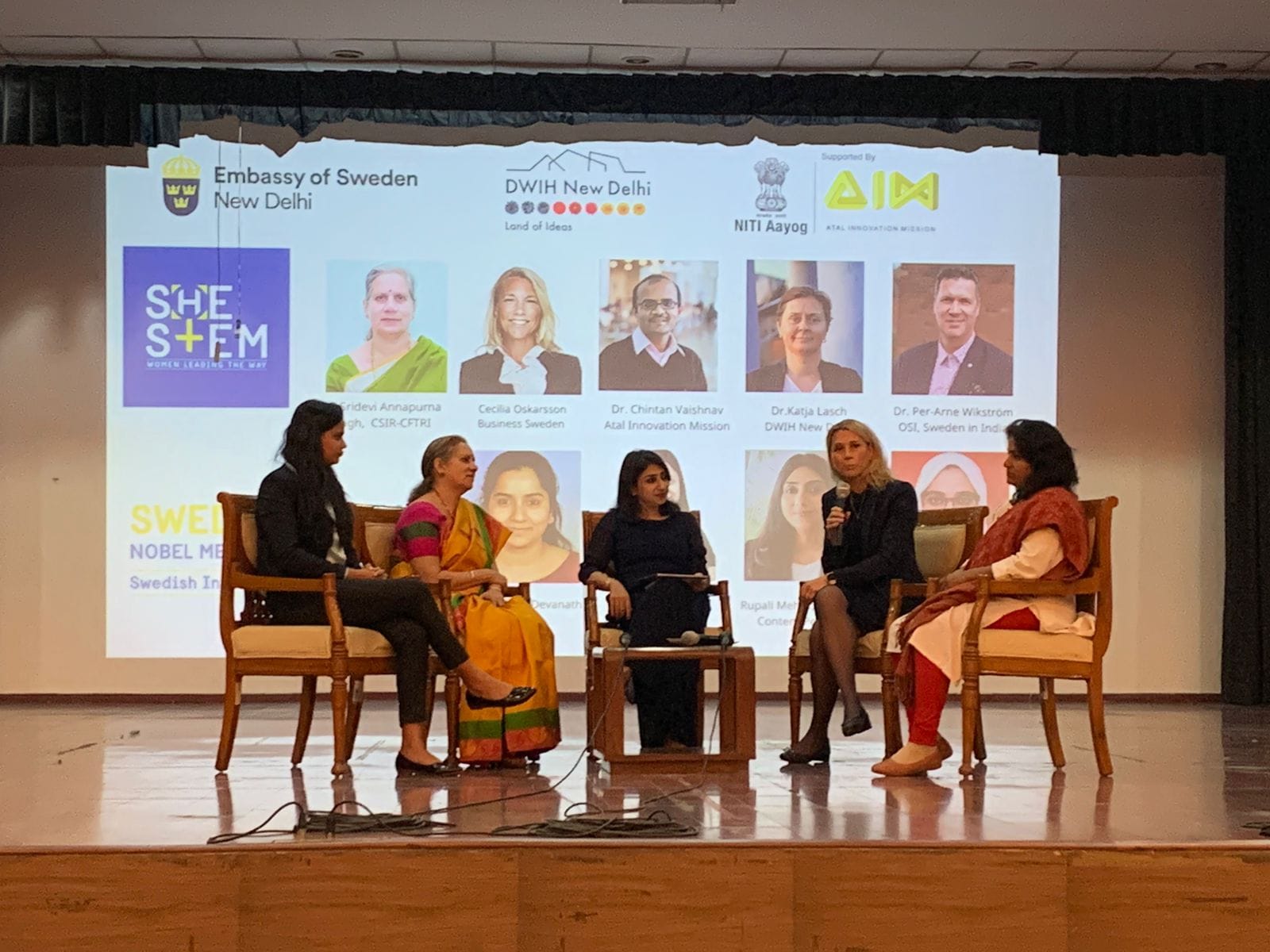 As part of the Sweden-India Nobel Memorial Week, SHE STEM, the annual event to celebrate women in the fields of science, technology, engineering, mathematics, and sustainability, was successfully held for the third year in a row.
The annual event is organized by the Sweden Embassy in India in partnership with the Atal Innovation Mission of the Government of India and the German Centre of Innovation and Research (DWIH New Delhi).
Ambassador of Sweden to India H.E. Jan Thesleff, who also addressed the students via a video message said, "We are very happy to continue the tradition of SHE STEM – it is a flagship event of the Sweden-India Nobel Memorial Week. Congratulations to all the winners of this year's SHE STEM Video challenge."
Dr. Chintan Vaishnav, Director of ATAL Innovation Mission said, "Today, the face of women's involvement in STEM is changing and the rate of participation has increased. It was in ATL Marathon 2021, that there was a spike where the women's participation was 49%. A strong STEM education will go a long way in cultivating such critical thinkers."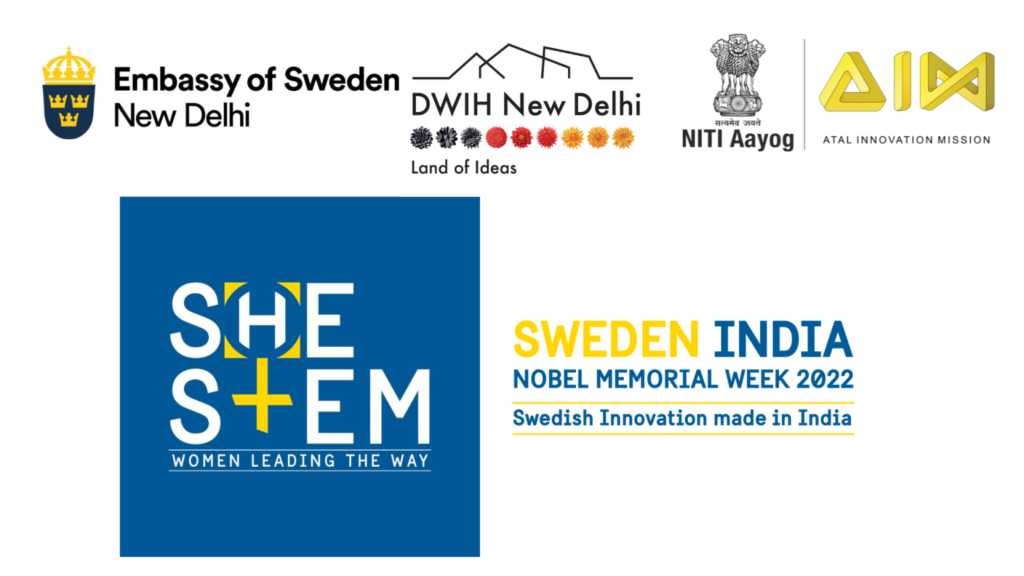 SHE STEM 2022 began with a musical performance by the students of Darbari Lal DAV Model School, New Delhi, the host school for SHE STEM 2022, followed by talks, and a panel discussion with women in the fields of STEM and business, including D. Sridevi Annapurna Singh, Director of Council of Scientific and Industrial Research – Central Food Technological Research (CSIR-CFTRI), Ministry of Science and Technology, Government. of India.
Dr. Annapurna Singh has done extensive work in the development of supplementary foods for undernourished children and in studying the impact of protein-rich food on children. She spoke to the audience about the need for women in fields of STEM to bring in their unique perspectives to problem-solving for a sustainable future.
Other participants included Cecilia Oskarsson, Trade, and Invest Commissioner of Sweden to India, who shared her thoughts on the role of diversity in triggering and enabling positive changes for girls and women, Mamta Kumari, co-founder and CEO of Prepbytes, an ed-tech company in India, and Dr. Vasudharani Devanathan, Neurobiologist and Professor of Biology at the Indian Institute of Science Education Research (IISER). Rupali Mehra, Founder of Content People AB moderated the event.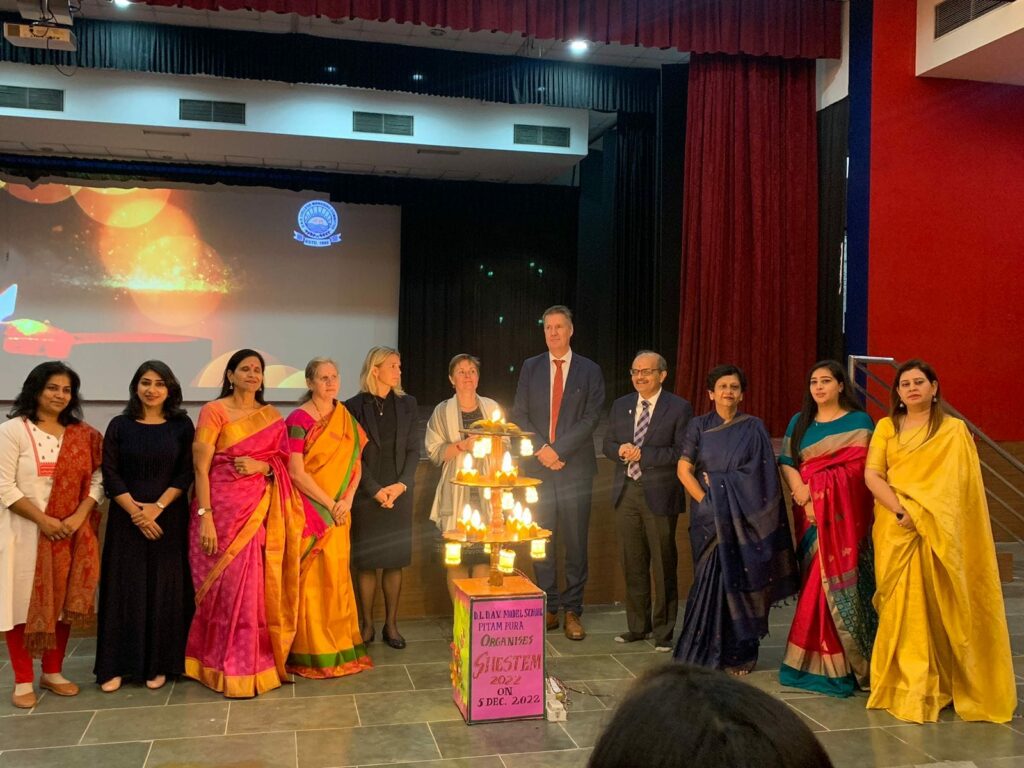 Dr. Per-Arne Wikström, Head of Office of Science & Innovation, Embassy of Sweden in New Delhi said: "When women and girls provide their talent, their knowledge, and their capabilities to science and technology on equal terms with men and boys, then we know that societies prosper and that innovation capacity actually increases. So for us, gender equality is an integrated part and an important aspect of everything that we do. We would like to thank our Indian partners for their support for this very important initiative."
"As Johann Wolfgang von Goethe said, 'who is not curious will not gain knowledge,' so keep your curiosity on, drive your knowledge forward and who knows maybe one or other idea will be implemented," said Dr. Katja Lasch, responsible for Strategy Management at the German Centre for Research and Innovation (DWIH New Delhi) and head of German Academic Exchange Service (DAAD) Regional Office in New Delhi.
Following the success of the Insta-reels Video Challenge in 2021, SHE STEM hosted the #SHESTEM2022 Video Challenge across Instagram, Youtube, Facebook, and Google Drive for students of ages 13 to 17, asking them to imagine themselves in the year 2047, and speak about an innovation of theirs that has helped in tackling climate change. The response was overwhelming with over 930 videos of which 15 were shortlisted. SHE STEM had an extensive jury round of 3 jury teams; Atal Innovation Mission Team led by Dr. Chintan Vaishnav, the Swedish Embassy team, led by Dr. Per-Arne Wikström, and the German Centre for Research and Innovation, represented by Dr. Katja Lasch.
The videos were assessed on the:
Novelty of idea
Clarity of thought and articulation
Sustainability or climate action angle
G. Nivethiga Rani who created a video on how she as a STEM Leader in 2047 had invented a robot that collected and converted biodegradable and non-biodegradable waste into electricity, won the first prize in the video challenge. The second prize was tied between T Shatananda Dhanwantari and Shreya Singh and Nistha Aswal, who participated as a team. Gaurav Hanjoora won third place.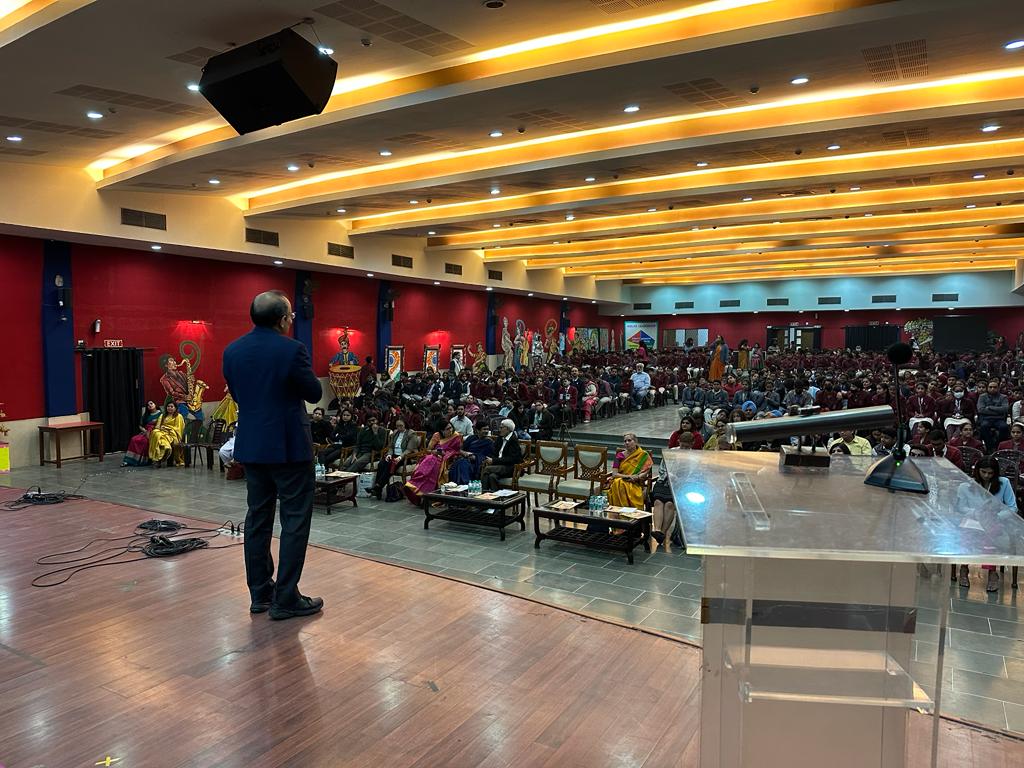 "I congratulate all the winners of the SHE STEM 2022. I have to say what caught my attention was that every single idea was addressing a fundamental constraint confronting us," said Dr. Chintan Viashnav.