Bhatnagar International School's Students go on International Educational trip to NASA – Kennedy Space Centre
This voyage brought together the essence of all aspects of a great trip in one fabulous package viz great leisure, unparalleled education, world class entertainment, working with cutting edge technology, international exposure & heavenly experience.
Educational Trips took a new twist for the students of Bhatnagar International School Paschim Vihar this year with International Expedition. Students got a chance to not just have fun but also explore innovative prospects during this International Educational trip to NASA- Kennedy Space Centre, Florida, USA in the month of Oct' 2017. During this 12 days long trip the first two days they were awed by the ATX (ASTRONAUT TRAINING EXPERIENCE) and a guided tour to Kennedy Space Center offered a lot of things to see that were mind boggling. A bus ride that rode them 5 miles to take them to Rocket Assembly Building & then came the LAUNCHPAD from where numerous Rockets & Shuttles were launched to space. There was a real star of Kennedy Space Centre waiting to be explored – The real 'ATLANTIS' – the space shuttle that flew to space & came back with more than 35 missions. It was an opportunity for the students to work together, gain, share knowledge & get trained in the world's best possible infrastructure under the supervision of their CHAPERONES. The highlights of this program included –Rocket Garden, Early Space Exploration Tour, Apollo Saturn V-Centre. The windshield tour, learning about science of Rocketry, Propulsion & Newton's laws as each student had a full -mock-up of space shuttle.
Students enjoyed a guided tour of Astronaut Hall of Fame. They experienced a variety of hands on activities in the simulator room. On the education training floor , students Experienced the thinks of motion based astronaut training simulators modeled after those used to train for Mercury, Gemini, Apollo & Shuttle Program. This included Multi Axis Trainer, Micro Gravity Wall & T-Chair. An opportunity to meet an ASTRONAUT, ask questions & receiving an autographed souvenir from the astronaut guest & certificate of completion along with KSC T-Shirts was a great experience.
Other highlight of destinations included- Sea World, Universal Studio- Islands of Adventure, Statue of Liberty, Empire State Building, Brooklyn Bridge, Rockefeller Centre, visit to Wall-Mart, Time Square, Ground Zero, Freedom Tower and Fifth Avenue.
The official guided tour to the prestigious MIT university & Harvard University provided an interactive pathway & campus highlighting important land marks. The important information regarding the university program and admissions was another added feature of this trip.
The team comprising of the following:
Girls Boys
1. Ananya Gupta 1. Arnav Gupta
2. Parnika Handa 2. Parth Aggarwal
3. Isheta Sehgal 3. Raman Malik
4. Bhavika Dhameja 4. Chirag Garg
5. Khushi Vijay 5. Dhruv Kurseja
6. Janvhi Vijay 6. Shiv Bindra
7. Gorvi Sajnani 7. Sahej Singh
8. Sneha Gandhi 8. Chirjiv Singh Bindra
9. Navya Sethi 9. Divyansh Aggarwal
10. Prisha Aggarwal 10. Parth Garg
11. Smriti Dhawan
12. Prajna Pahuja
13. Vrinda Garg
14. Shivani Gupta
15. Tnvi Chopra
16. Asees Kaur
17. Yanya Singhal
Chaperon: Ms. Neetu Malhotra Chaperon: Ms. Kethika Chugh
This voyage brought together the essence of all aspects of a great trip in one fabulous package viz great leisure, unparalleled education, world class entertainment, working with cutting edge technology, international exposure & heavenly experience.
SHE STEM 2022 honours and celebrates women
SHE STEM 2022 encourages students to 'Unleash their imagination' as part of the Sweden India Nobel Memorial Week.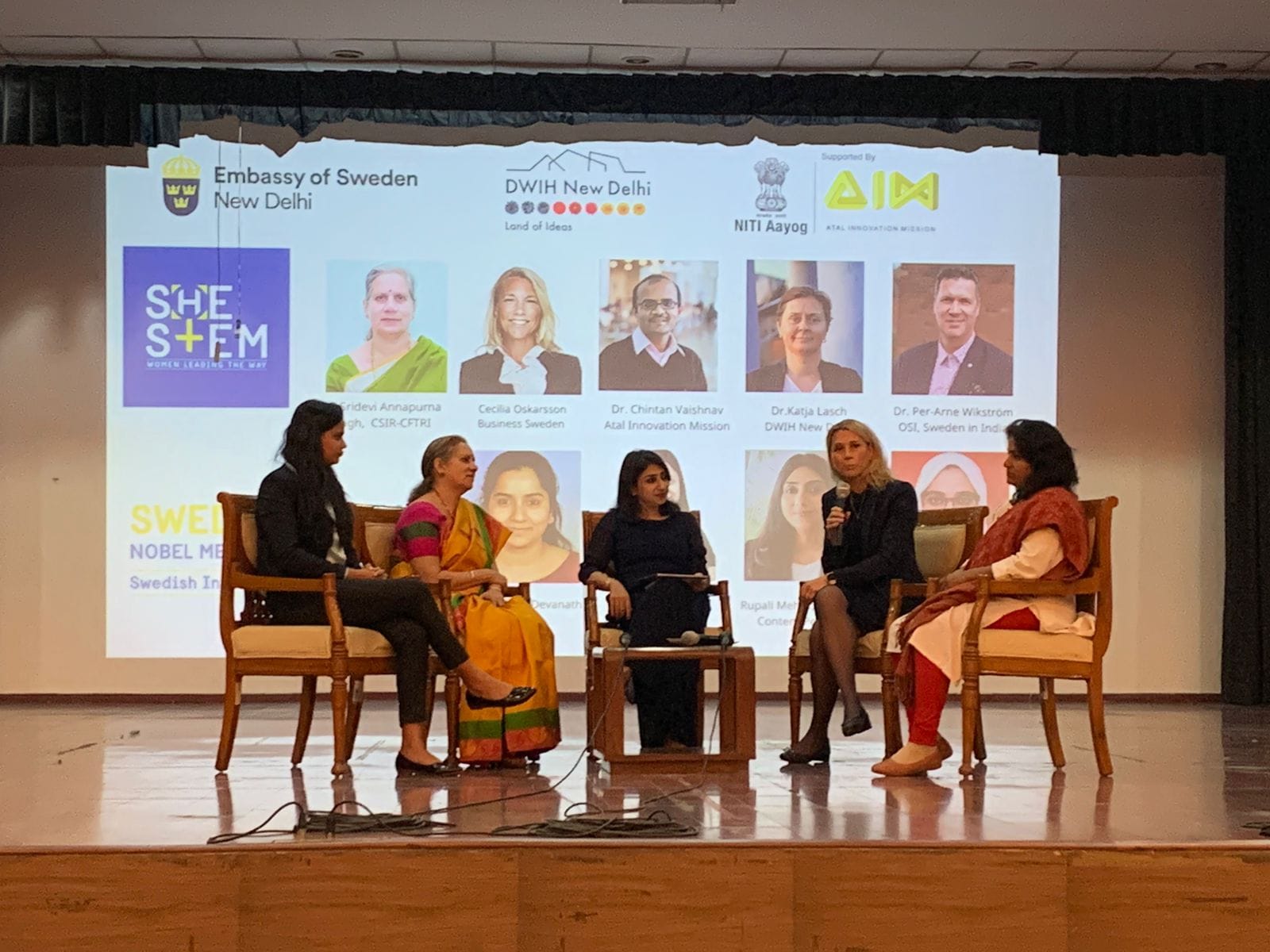 As part of the Sweden-India Nobel Memorial Week, SHE STEM, the annual event to celebrate women in the fields of science, technology, engineering, mathematics, and sustainability, was successfully held for the third year in a row.
The annual event is organized by the Sweden Embassy in India in partnership with the Atal Innovation Mission of the Government of India and the German Centre of Innovation and Research (DWIH New Delhi).
Ambassador of Sweden to India H.E. Jan Thesleff, who also addressed the students via a video message said, "We are very happy to continue the tradition of SHE STEM – it is a flagship event of the Sweden-India Nobel Memorial Week. Congratulations to all the winners of this year's SHE STEM Video challenge."
Dr. Chintan Vaishnav, Director of ATAL Innovation Mission said, "Today, the face of women's involvement in STEM is changing and the rate of participation has increased. It was in ATL Marathon 2021, that there was a spike where the women's participation was 49%. A strong STEM education will go a long way in cultivating such critical thinkers."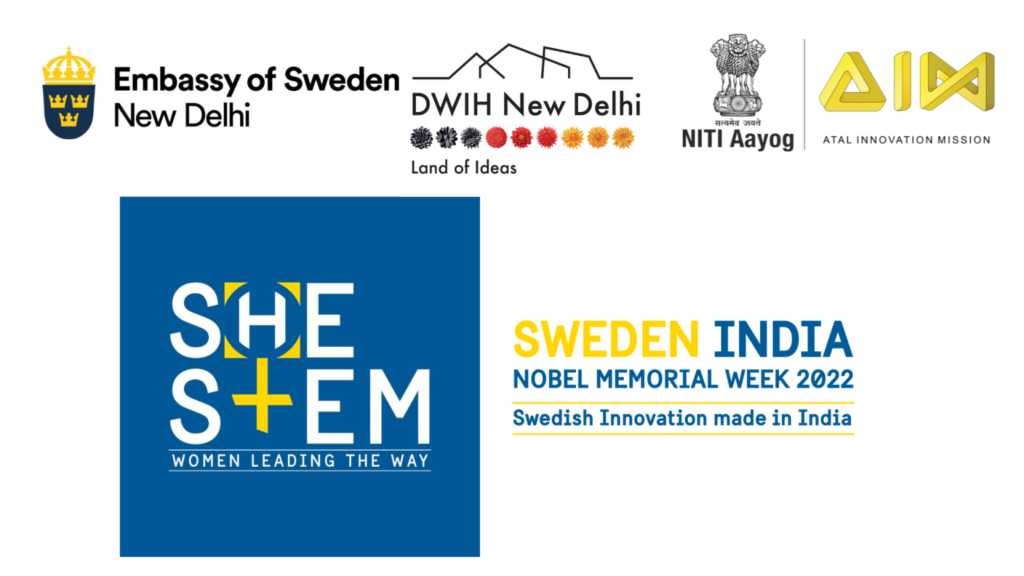 SHE STEM 2022 began with a musical performance by the students of Darbari Lal DAV Model School, New Delhi, the host school for SHE STEM 2022, followed by talks, and a panel discussion with women in the fields of STEM and business, including D. Sridevi Annapurna Singh, Director of Council of Scientific and Industrial Research – Central Food Technological Research (CSIR-CFTRI), Ministry of Science and Technology, Government. of India.
Dr. Annapurna Singh has done extensive work in the development of supplementary foods for undernourished children and in studying the impact of protein-rich food on children. She spoke to the audience about the need for women in fields of STEM to bring in their unique perspectives to problem-solving for a sustainable future.
Other participants included Cecilia Oskarsson, Trade, and Invest Commissioner of Sweden to India, who shared her thoughts on the role of diversity in triggering and enabling positive changes for girls and women, Mamta Kumari, co-founder and CEO of Prepbytes, an ed-tech company in India, and Dr. Vasudharani Devanathan, Neurobiologist and Professor of Biology at the Indian Institute of Science Education Research (IISER). Rupali Mehra, Founder of Content People AB moderated the event.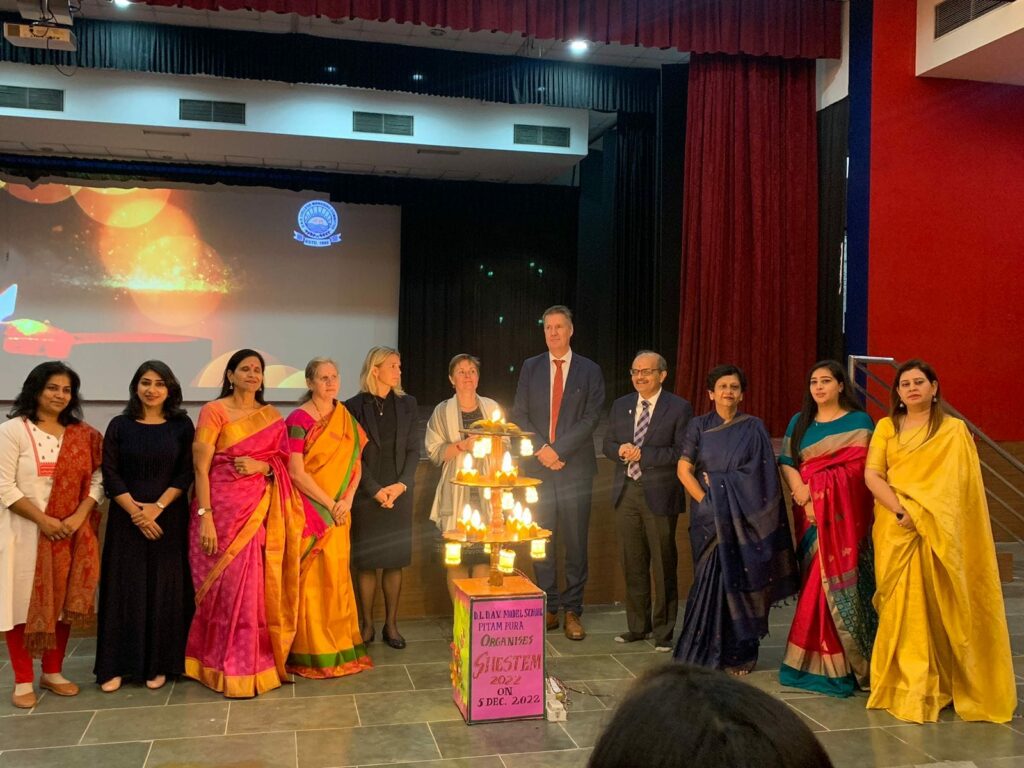 Dr. Per-Arne Wikström, Head of Office of Science & Innovation, Embassy of Sweden in New Delhi said: "When women and girls provide their talent, their knowledge, and their capabilities to science and technology on equal terms with men and boys, then we know that societies prosper and that innovation capacity actually increases. So for us, gender equality is an integrated part and an important aspect of everything that we do. We would like to thank our Indian partners for their support for this very important initiative."
"As Johann Wolfgang von Goethe said, 'who is not curious will not gain knowledge,' so keep your curiosity on, drive your knowledge forward and who knows maybe one or other idea will be implemented," said Dr. Katja Lasch, responsible for Strategy Management at the German Centre for Research and Innovation (DWIH New Delhi) and head of German Academic Exchange Service (DAAD) Regional Office in New Delhi.
Following the success of the Insta-reels Video Challenge in 2021, SHE STEM hosted the #SHESTEM2022 Video Challenge across Instagram, Youtube, Facebook, and Google Drive for students of ages 13 to 17, asking them to imagine themselves in the year 2047, and speak about an innovation of theirs that has helped in tackling climate change. The response was overwhelming with over 930 videos of which 15 were shortlisted. SHE STEM had an extensive jury round of 3 jury teams; Atal Innovation Mission Team led by Dr. Chintan Vaishnav, the Swedish Embassy team, led by Dr. Per-Arne Wikström, and the German Centre for Research and Innovation, represented by Dr. Katja Lasch.
The videos were assessed on the:
Novelty of idea
Clarity of thought and articulation
Sustainability or climate action angle
G. Nivethiga Rani who created a video on how she as a STEM Leader in 2047 had invented a robot that collected and converted biodegradable and non-biodegradable waste into electricity, won the first prize in the video challenge. The second prize was tied between T Shatananda Dhanwantari and Shreya Singh and Nistha Aswal, who participated as a team. Gaurav Hanjoora won third place.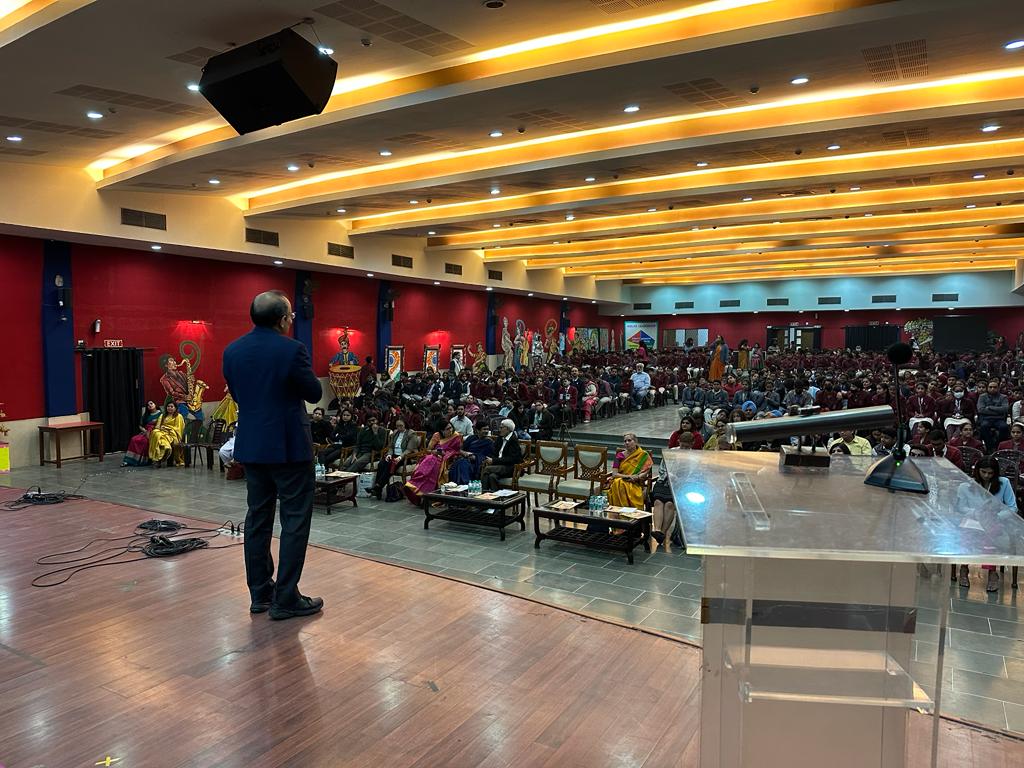 "I congratulate all the winners of the SHE STEM 2022. I have to say what caught my attention was that every single idea was addressing a fundamental constraint confronting us," said Dr. Chintan Viashnav.