Fatema Agarkar, co-founder, KA EduAssociates on the need for teacher training as the core priority for leadership teams at SGEF 2017
Children are more intelligent, are more exposed, more evolved and know that much more than we do. We cannot claim to know what their future is going to be like. One thing is certain: it's going to be different from how our world was. Perhaps we can claim that ours was easier.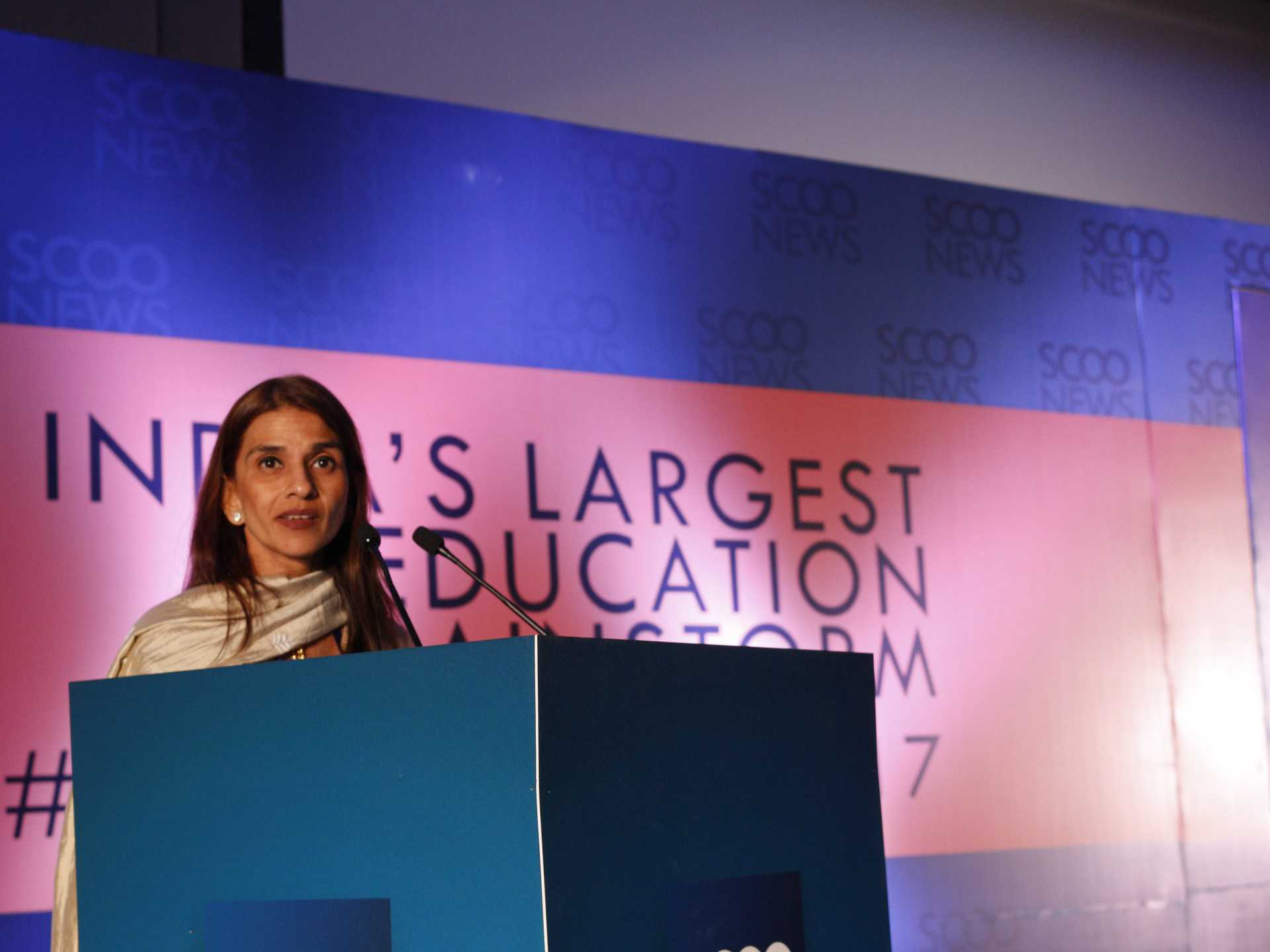 We have gone through a lot on this day, lots of ideas, lots of speakers and we are all speaking the same language, we all have the same findings, we are all talking in a collective space where we all agree. However there is work that still needs to be done, and through this presentation I promise you that we will be able to create a few disruptions which the 'unconference' started talking about. As an educator, when I attend conferences or 'unconferences' like SGEF, I want to take stock of the industry. What have we done, where have we reached and where do we want to go?
This gets me to three important truths and, luckily for me, all the other speakers have spoken about them. By default Geeta (Dharmarajan) mentioned that children are more intelligent, are more exposed, more evolved and know that much more than we do. We cannot claim to know what their future is going to be like. One thing is certain: it's going to be different from how our world was. Perhaps we can claim that ours was easier. Let's get this discussion on technology over and done with once and for all. It is here to stay, let's work this out.
Do we really know what our children know? Or do we go into those classrooms and simply teach? And I'm not talking about multiple intelligence, I'm not talking about differentiation or about learning styles. I'm talking about do we know what they know? If the future is so unexplored, then everyone in this room agrees that we have no idea what the future is going to be like, what on earth are we preparing these kids for and simply why bother?
As I attempted to answer some of these questions, there were some harsh realities and I hope you come into some logical conclusions as well. We simply, as an industry, keep talking about what we should teach, how we should teach. We don't even answer the fundamental question: what do they know in that classroom? I think Sugata (Mitra) pointed that out and Valentina (Trivedi) spoke about the joy of learning. We should know what they know but we do very little to find out. Are we really skilled? If we were not brought up in their generation, how do we know what they are thinking? Are we giving them enough to create? I think that was (APJ Abdul) Kalam sa'ab's vision and we are all proud Indians here and I know the one thing he told me when I met him was, 'You create happy children, will they duplicate or will they create?' That's a question we have to ask and that's the harsh reality that none of us seem to face.
Is there sustained learning? As a young company attempting to rethink, attempting to re-engineer, attempting to say 'Hey listen, we know a lot of stuff, we don't know what to do with it because we keep discussing it and it's still not implementable'. We said, 'Let's borrow from the corporate world once in a while; they seem to talk about it all the time, let's put it into practice in our industry'.
Some radical propositions for you… Imagine Grade 3 and 4 students with one textbook in their hand. Why not Harry Potter? Isn't that a world of super heroes and isn't that the age that everyone likes magic and mystery? 'One textbook for the whole year? How will we charge the parents?' some of the promotors might ask. One textbook is possible. 'Hole in the Wall' was just that. You can teach history, geography, beautiful landscapes to work with, math, science, what better way to get them into the chemistry lab and getting them to experiment with proportions and potions! You can teach vocabulary, grammar and context and all the lovely jargon that we love to use in our conferences. You can teach them to write. My co-founder will always talk about effective communication. Replace that Harry Potter with a book that you love. Imagine one textbook in that bag…
Sport is a curriculum subject. I am a sportsman's wife and he often tells me that he didn't learn anything in school – he learnt it on the cricket ground. But I'm not talking about skill. I'm talking about teaching angles. Decimals, fractions, percentages in context to IPL – three months of the year let's use it to our advantage. Let's get things in perspective. History simply taught through drama, no dates to remember, no textbook. The higher educators talk about their challenges in the higher education space – 'We want the children to think, communicate, manage time, make decisions, solve problems, all of that' and, like many of my previous speakers this afternoon, we still don't teach them. Imagine project management, a task to set up their own company… You'll have everything, organizational behavior, communication skills, HR, recruitment and life skills.
Imagine a Gladiator or Lagaan can become a history lesson. Imagine gaming as a subject and I agree, I have a 12-year-old, they get there faster than I ever will! Why can't gaming be that subject, why can't it be fun for these kids and you can still teach? I'm a strong advocator of the game Minecraft. It isn't putting dopamine in their brain. It actually teaches science in a way that you and I don't.
This is a story that my son told me, when I took him through this presentation… 'Mama, don't bother them with these stories and don't tell them my stories, but the fact is 'Big Bang Theory' taught me about quantum physics, that no other physics teacher has ever been able to. And I've realized they are not geeks'. Learning automatically by just watching! Imagine if gaming was that subject that was introduced, how much more would they learn!
So these were some radical propositions and you are going to say, 'Okay great Fatema, let's try and experiment and see what we can do with it. Who's going to teach?' That seems to be our fundamental question. Where are these teachers? Everyone seems to talk about lack of teachers, underpaid, passionate teachers but we don't know where these teachers are. But before we can get there, who are these teachers? Who is that evolved teacher? I listed a few thoughts down, these are all personal passionate educators, a group of us as a part of KA Edu has put this together. The teacher needs to do more research and lo and behold! They aren't PhDs, they don't know how to research. They need to be updated about trends and practices and, with due respect to everyone, I think people need to know what charter schools in America, New Zealand and what little schools in the Anganwadi classification in our country are doing. We just need to know what is happening everywhere.
Subject matter expertise – don't get me wrong, I do not mean that we are in la la land where teachers can just say 'Let's just go and explore'; eventually we are still taking those board exams. I do understand that the Prime Minister is inviting participation from private players within the industry cross section to propose what schools should look like and, as we understand, this might be rolled out in 2020. So people are working. Subject matter expertise is an element of importance because the children have to take exams. I'll be worried if my 12-year-old goes to his English teacher and says, 'But Miss that's factually incorrect because if you actually know the organizational structure especially the hierarchy in England, the Queen is fictitious in terms of her role and position' and the teacher got upset. He was sent to a corner to think about how to not disrupt the classroom. So these teachers must also be conflict managers and be smart enough to handle these questions, because you don't want that disruption to change the world of a young class. You need them to be problem solvers.
This story appeared in the September 2017 issue of ScooNews magazine.
NIOS celebrates 33rd Foundation Day
Dr. Subhas Sarkar addresses the 33rd Foundation Day Celebrations of NIOS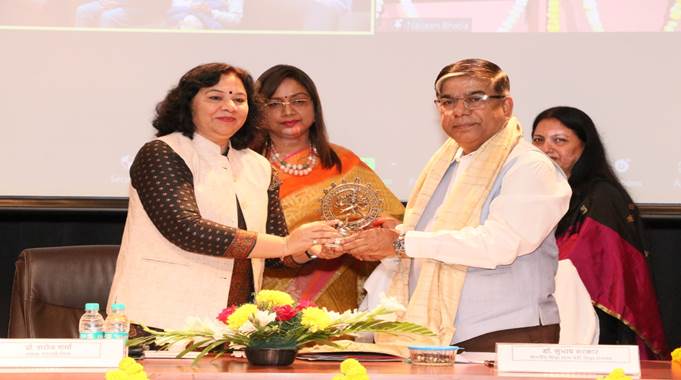 Union Minister of State for Education, Dr. Subhas Sarkar addressed the 33rd Foundation Day Celebrations of NIOS as the Chief Guest.
The function was attended by senior officials of the Ministry of Education, Chairpersons of educational institutions, Heads of Departments, officers, and staff of NIOS. Prof. Naval Kishore Ambasht, former Chairman, of NIOS and Pro-Vice Chancellor, of the Central University of Haryana, Prof. Sushma Yadav graced the occasion.
Dr. Subhas Sarkar in his address appreciated the various programmes and schemes of NIOS and said that NIOS is lighting the lamp of knowledge all over the world. Talking about the Azadi Ka Amrit Mahotsav, he mentioned that today's children will be young people in the age group of 30-40 years on the completion of 100 years of independence and will be responsible for building our nation.
He said that the Ministry of Education has entrusted NIOS with several responsibilities such as developing inclusive education resources, expanding the open and distance education system in states/UTs, translating all courses into more languages as required, creating Indian Knowledge Tradition based courses and propagating Indian culture by translating them into major foreign languages. He also praised the programmes of NIOS enrolling 10 crore adults under 'Basic Literacy Assessment', training of in-service teachers, Gender Green Project, and training in Yoga. He said that Indian Sign Language as a subject at the secondary level has been acknowledged on national and international platforms. He described the launch of an e-library called 'DEEP' by NIOS as a big step forward.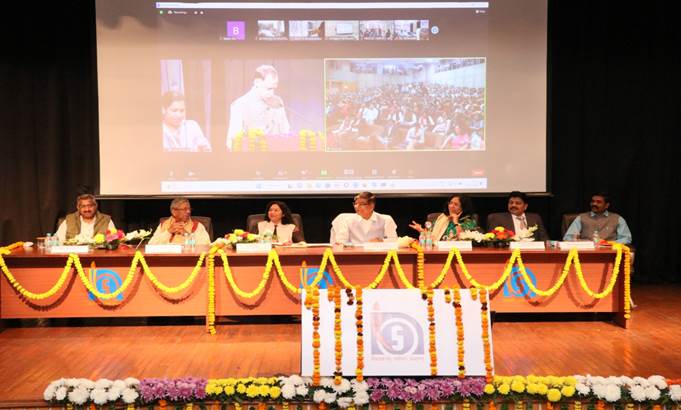 Prof. Saroj Sharma spoke about the journey of 33 years of NIOS and highlighted the special achievements. She said that NIOS is one of the two National Boards of Education under the Ministry of Education, which provides school education through Open and Distance Learning (ODL) for secondary, senior secondary, and vocational education. She elaborated on the role of NIOS in the field of education, efforts being made by NIOS for the successful implementation of the New Education Policy, Virtual Open School, Digital Library (DEEP), NEPIA Project, MoU with Ministry of Defence for Agniveer Project, setting up of Mukta Kaushal Kendras and subjects offered under Indian knowledge Tradition.
It was also conveyed by her that a curriculum called 'Aarambhika' is being developed by NIOS for catering to the Indian Diaspora.
A documentary based on the journey of 33 years of educational endeavours of NIOS was presented on the occasion. In this documentary, 'All England Badminton winner Pullela Gopichand said that most of the players in his badminton academy are getting an education from NIOS.
NIOS alumni, Ms. Niranjana and Vinod Kumar Chaudhary were also felicitated on the occasion. Shri Vinod Kumar said that only due to his education in NIOS, he was able to get the credit of making the Guinness Book of World Records 10 times (8 in Typing and 2 in sports). A proud learner of NIOS, Ms. Niranjana is a successful ventriloquist. Prof. N. K. Ambasht, former Chairman, NIOS said that in this age of technology, innovations must lead to developing 'standalone' courses for the Indian Diaspora, to achieve the goals of the National Education Policy- 2020. Pro-Vice Chancellor, Prof. Sushma Yadav said that the role of NIOS increases in the light of New Education Policy. NIOS has such potential that the institute will be able to achieve the ambitious goals of National Education Policy 2020 in the coming years.
The half-yearly magazine of NIOS 'Pragyan' was released by Dr. Subhas Sarkar on this occasion.