Decision Dissection: 13 Indian Educators On Cancelled CBSE & ICSE Board Exams
A collection of shared thoughts by Indian educators regarding the decision of cancellation of board exams by CBSE & ICSE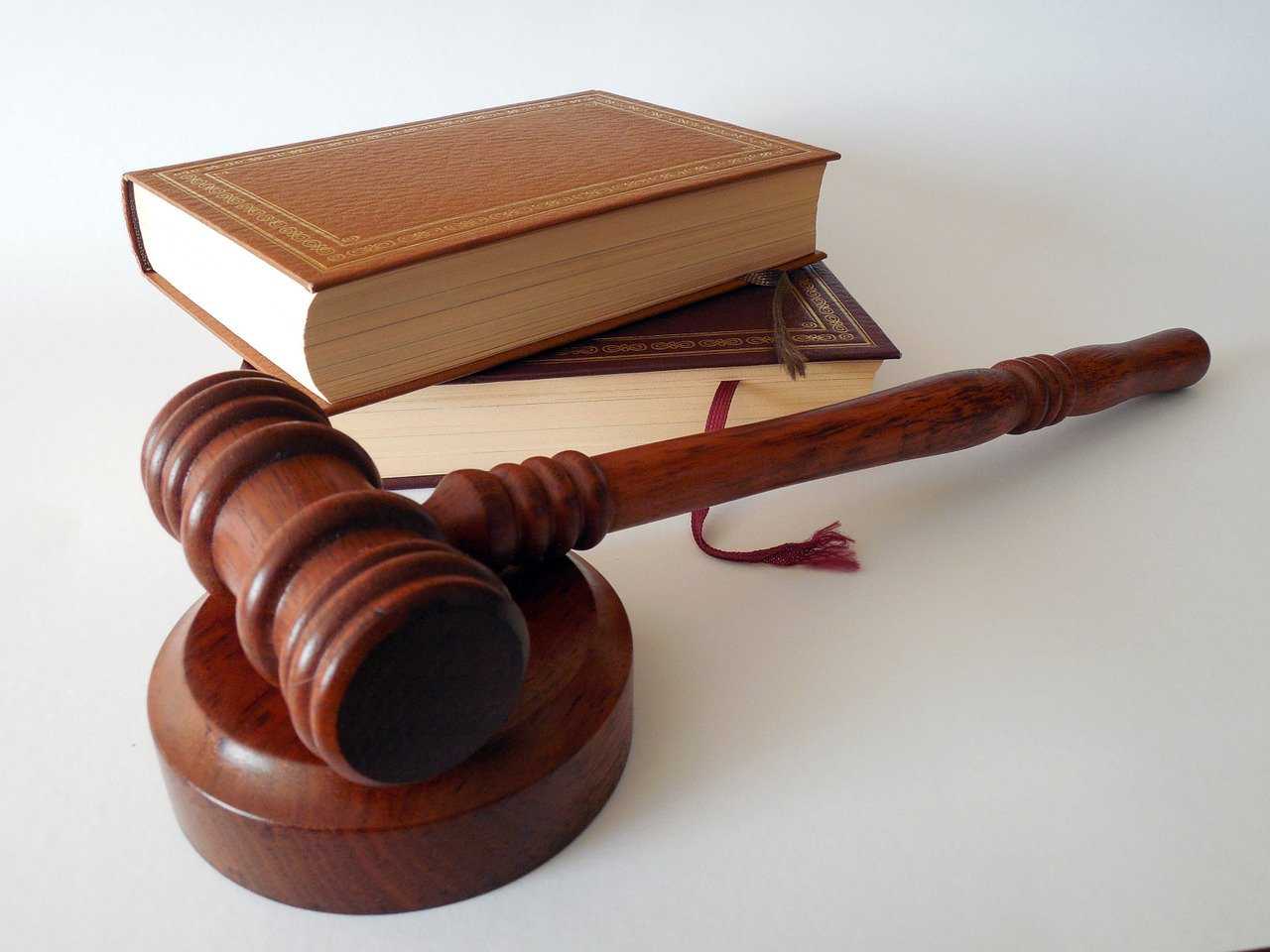 The remaining CBSE & ICSE grade 10 & 12 papers were scheduled to take place from 1-15 July 2020. However, in the wake of the rising number of Coronavirus cases across the country, a majority of parents and students were not in favour of the exams. As of 25 June 2020, the exams stand cancelled. CBSE, however, would give an option to grade 12 students to be able to sit for the exams at a later date. On the other hand, ICSE tells the court that they may give the option to write the exam at a later stage to class 10 students as well.
This news has brought anxiety as well as relief all over the country with educators and parents having all kinds of reactions. Where some feel the decision is for the best as exams won't expose the children to the threat of this deadly virus, others believe this is a premature decision. Here are some of the most noted names from the Indian K-12 education sector sharing with us their views on the recent decision and giving opinions on how it might affect future admissions in the universities and impact the mental health of students who were diligently preparing for the exams. Read on.
Dr Neeta Bali, Director Principal, GD Goenka World School, Gurugram
Dr Bali says she supports the decision to cancel the examination. "How can we risk young lives for an assessment? The end of the year exam is the only way of ascertaining capability. Why not use a predicted grade given by the school or cumulative record to assess it," she says.
For class 12 students, who were supposed to sit for entrance exams, she suggests that the universities can use some standardised online tests or entrance tests to make a fair decision about admissions. "Children's future cannot be determined by a single examination. Please note that their safety takes precedence over everything else," she tells ScooNews.
Ajay Singh, Principal, Genesis Global School, Noida
In Mr Singh's opinion, looking at the prevalent situation with rapid progression of cases, it is judicious to have taken this decision. But coming to think of the result based on past performance, he points out how a majority of students do not take these exams with the same intensity as the board exams. Hence, the marks achieved may not reflect their true potential.
As a solution, he tells us, "The predicted grades by schools based on continuous evaluation could have been a way out as done for universities abroad, or average marks of three best subjects of other conducted papers could have been considered as well."
Kanak Gupta, Director, Seth M.R. Jaipuria Schools
Mr Gupta thinks it's a good decision taken by the boards. "Perhaps examination adds extra stress to most and unless the students are in a relaxed state of mind, they won't do justice to neither stepping out after a hiatus nor to their exams."
Mr Gupta questions the whole idea of eligibility for university admissions post-high-school. He says, "On-campus experience is crucial. I have always advocated that the universities should look at the journey of the child and future aspirations, not just a test score. Does it work? Yes! Purdue University gave me a scholarship because of a mixed bag of things, not only because I did well in GMAT! So, given the unprecedented times, the entrance criterion needs a shift, too. I feel that would ensure students don't suffer."
Where comes the point of how this stressed the children and parents, he adds, "The decision could have been announced earlier, for the sake of their mental peace."
Amrita Burman, Deputy Director, Sunbeam Group of Educational Institutions, Varanasi
Ms Burman is strictly against the decision made by CBSE and ICSE as, with the kind of formula the CBSE was formulating of home centre exams and taking the exams in any district, it was a safe bet and especially in areas where things are not too bad. She even held a poll at her school and found out that most of the children wanted to write the exam and were also keen on coming and staying on the school campus.
She then talks about the disadvantages for children as different schools have different marking patterns. "A child seeking admissions in something like a Delhi university, which takes admissions on the basis of cut-offs, may suffer because of no uniformity in the assessment criteria as some students could opt for exams while some may want to get marks based on their past performance," she explains.
Given it was her decision to make, she says she would have conducted the exams and expected the schools to follow norms of safety and social distancing.
Lt Col A Sekhar, Educational Consultant
"The right decision with the support of the honourable Supreme Court has come. Life is more important than any exam ever," Lt Col A Sekhar expresses in support of the decision. "Exams, by perception, seem to be the end of the world; I strongly disagree."
He continues, "Yes, there will be a certain element of disruption when it comes to figuring out what to do next. However, mature universities will not look at one exam alone. They'll look for consistent grades & they will also be smart enough to work through this in a very empathetic and balanced manner."
He believes this decision has been taken in the right perspective. "Giving over importance to exams, in my opinion, is extremely wrong," he adds.
Rita Singh, Director, Indirapuram Group of Schools
She states how universities like MIT have already assured the students, whose education has been interrupted by COVID-19, that they will not be penalized in the admissions process. According to Ms Singh, this has certainly been a good decision especially when COVID-19 cases in the country are still at the rise.
She says she would like to opt to provide predicted scorecards, "After all when our students apply for foreign universities, we do provide them 'Predicted Mark Sheets' along with 'Letter of recommendations'' that is an average of last three internal exams. In this way, we give them some reasonable assessment which should work as 'Predicted Score Card' for admission in top universities, Indian or otherwise," she states.
"In any case, the admission processes of Indian universities were too cut and dried. In the absence of absolute marks, I am hoping that the universities will bring in new personality to their procedure like personal interviews, group discussions, etc. Most of the universities are or would be carrying on with classes online with not much additional cost on the teaching-learning processes. Universities could take provisional admission of additional seats for the time being. It's time to be innovative," she maintains.
Lt Gen SH Kulkarni, Director, Mayo College, Ajmer
According to him, students, depending on their past performances, may lose or gain some marks but that will be strictly individualistic. "Best students will lose a few marks while the mediocre ones will benefit for sure. However, the option to write the exam later should be given to them. In our case, the majority had only one exam left and they were hopeful of scoring well because of the extra prep time," he shares with ScooNews.
Sanjeev Sinha, Principal, Indian Public School, Dehradun
Mr Sinha maintains that in times of crisis, it is education that helps build resilience and social cohesion across communities, and is fundamental to sustained recovery. "Board exams shouldn't be conducted as it may further worsen the fear of parents who are in panic with the increased number of cases of COVID-19," he says.
Since most of the exams have been conducted & the rest can be assessed by the teachers who know their students well, he suggests in this way their chances to get through good universities won't be sabotaged.
"CBSE should declare the results & simultaneously the universities should start the admissions. The government should clearly define the admission policy as well," Mr Sinha advises.
He also shares his thoughts on assessment parameters, "I would certainly consider the assessment parameters from the perspective of benefiting the students. Moreover, CBSE was planning to introduce CCE for class XII as well, in that way the assessments would have been the rubrics to assess the students' performance."
Dr Jagpreet Singh, Headmaster, The Punjab Public School, Nabha
Looking at the larger picture, Dr Singh believes that nothing is more precious than human life. He says, "With the situation worsening every passing day and uncertainty prevailing, fluctuating decisions by boards have only increased the anxiousness among students making them vulnerable to the already existing stress."
"I urge all the students not to panic if your pre-boards might be considered. Life will give you better chances and opportunities," he reassures.
He believes that it is needless to say that the decision will have a huge impact on the university admissions lined up for this academic year, "Students who look towards the end of the year to sweat it out in their boards are at a huge loss. But I am hopeful and sure that things work best in their favour," he adds.
According to him, it's challenging to think of a common decision which is inclusive in terms of considering every student (be it a sportsperson, etc). "I think having a common entrance exam for university might be a good option."
Madhav Deo Saraswat, Principal, The Scindia School, Gwalior
"It's a reasonable decision for the simple reason that it would've been very unjust for a very large number of students in this country if the examinations would have been held compulsorily for all," declares Mr Saraswat. He also expresses his concerns about the fact that so many students would have had to travel to various examination centres, putting themselves at a risk.
"The fact that CBSE had already decided not to conduct exams for the students of the CBSE schools abroad was a case in point for us to follow. The fact that the student now has an option to either take the examination later or to accept the result as the average of marks of those subjects for which he/she has already appeared makes it even fair," he shares his view with ScooNews.
He personally thinks that this decision will not sabotage the admission chances of students to get into top universities because this is a global crisis. "When none or most of the students don't appear for the board examination and the result for everyone is based on a set of well-defined other criteria, it should not be any trouble," he emphasises.
What he believes is that those students who have consistently performed well across previous papers will most probably make it through to good universities and that is actually the merit list.
The educator also feels that this pandemic is a learning opportunity for us to move forward. "This is an opportunity to make a shift in assessment & education system. To truly benefit the students and in turn, the society, we should create holistic assessments which include, apart from academics, physical, emotional, spiritual, and psychological developments, too," he says.
"At the moment, we are too cognitive in our educational assessment; maybe, a slight shift from that stand would do well for society. I would've endeavoured to create an assessment rubric including all the aforementioned parameters to bring out the truly meritorious student."
Karuna Yadav, Principal, Kapil Gyanpeeth, Jaipur
Ms Yadav believes that the health safety of students has always been cardinal and now, with this pandemic, it's preeminent all the more. "This decision for sure seems to be in favour of the health of the students amidst other uncertainties. A school abiding with the safety norms is quite subjective and the gravity of observing the norms in all its seriousness would've varied from school to school. Hence, scepticism was obvious on the parent's part," she remarks.
She worries that it would certainly sabotage and vandalize their chances for top universities to quite an extent, more so because usually, students do have a tendency to not take their school-level pre-boards as seriously as they should. "This would certainly act as a blow for more deserving students who were looking forward to covering-up for their pre-boards performance in the final examinations," she continues.
Given the magnitude of this pandemic, Ms Yadav affirms she would stand with the court's decision to cancel the remaining exams. However, she feels the final tally of marks could be sans the pre-board marks and only include the subjects that the students have written the board exams for. This way it would be a fair representation of the child's performance in the final boards, without having them suffer because of their underperformance in school-level exams.
Captain AJ Singh, Director Principal, The Pinegrove School, Dharampur
No decision is a perfect decision; that which would suit some doesn't suit others. But according to Capt. Singh, it was overall a great decision, putting everyone on the same platform. As everyone was taking the exams from their own districts, cancelling unilaterally for all districts would make the majority happy however might result in deflating the sincere students. "Nothing is completely fair in the world but then decisions are made for the majority and not for the minority," he states.
In his opinion, another option available with the CBSE was that the exams could have been cancelled for only those districts where it was a problem to conduct the exams. This would have given some children the satisfaction of appearing after working so hard but then again the results would be unfair and unequally assessed.
Manit Jain, Co-Founder, Heritage Group of Schools, Gurugram
Mr Jain believes it is a good decision as schools do not have the capacity to manage this with the increasing number of COVID-cases across the country. He hopes that the universities would look beyond just one examination result. "This calls for a longer-term approach to reduce the stakes in single exams for admissions in the universities," he tells us.
What is Hybrid/Blended Learning?
We are lifelong learners and need to keep pace with the fast-paced technology so that our students are ready to take the next leap. Our classrooms have to echo that thought and vision at all times through new pedagogies and teaching-learning strategies.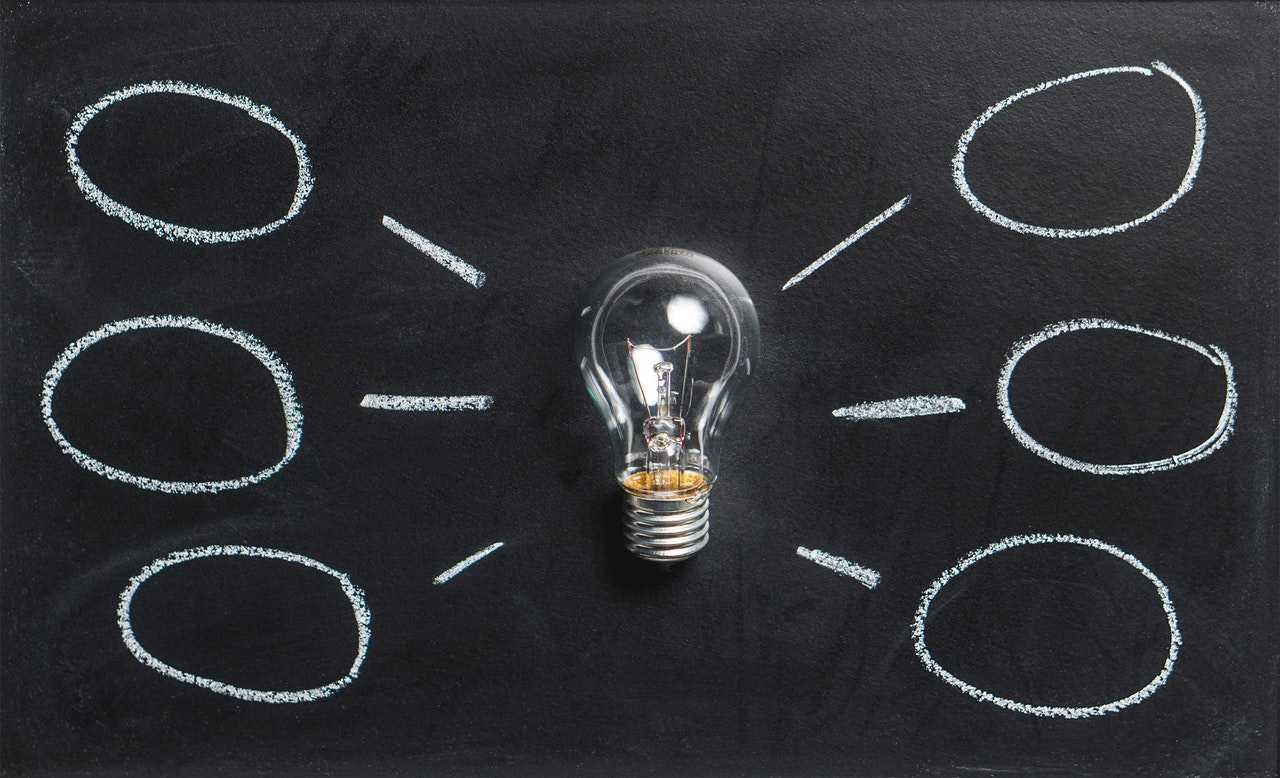 The COVID wave – consider it a bane or boon – but it somersaulted us to an array of digital world experiences. It propelled us to rethink and reorganize our mindsets, our practices, and our expectations. Overnight, we moved from an offline teaching mode to online, and credit to the teaching community for doing it so seamlessly. Now, we are back to offline teaching but do we continue with our old practices? An obvious no so we need to infuse our online experiences within the offline to ensure that quality education reaches one and all.
One key pedagogy to achieve the goal is blended learning, an approach that combines face-to-face learning with online learning incorporating certain elements that support students to have control over the pace, time, and place. The material resource investment is minimal but human resource investment is high till the ethos is assimilated within all.
So let's understand the varied types of blended learning and its implementation in the school teaching-learning process.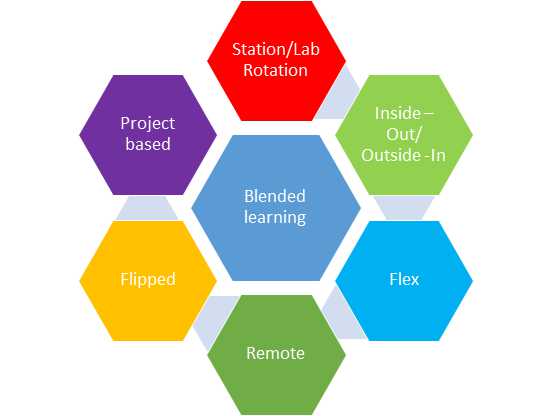 1. Station Rotation
In Station Rotation, students will rotate on a fixed schedule as per the teacher's discretion. The teacher begins her class of 40 students with instruction on narrative writing from 9:00 am to 9:15 am. She then splits the class into three groups where one group continues to learn with her. The second group works on a collaborative assignment on narrative writing and the third use their laptops or computers placed in the class and researches blended learning and after 15 minutes the group switches so that every group has varied experiences. A block class of English can support the various transactions and supports students to build research, collaborative and knowledge skills.
In the same format, if computers or laptops are not available in class then students use the computer laboratory in school and this rotation would then be called as Lab Rotation.
In this methodology, all students with varied learning needs are supported. The only challenge is the Technology and time management skills.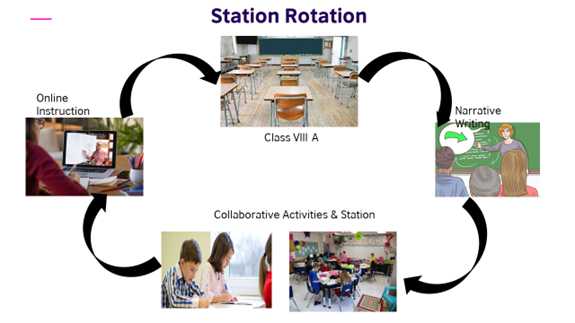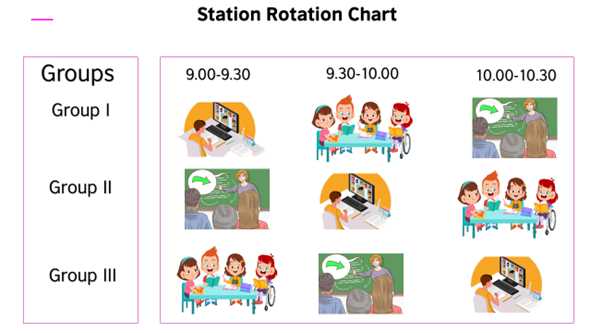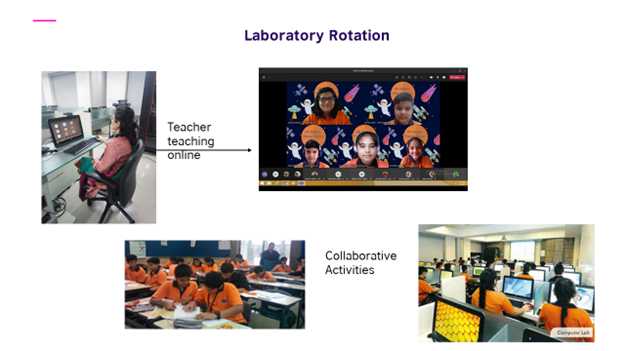 2. Remote & enriched virtual learning
It is a course or subject in which students have required face-to-face learning sessions with their teacher of record and then are free to complete their remaining coursework remote from the face-to-face teacher. In class, the teacher gives a project to students on 'Analysing any work of Shakespeare's or Rabindranath Tagore's Kabuliwalla' w.r.t. the criterion of plot, characters, theme, language, thought and values.
She briefs students on works of Shakespeare and the elements of a play within the school timetable and they complete all the work at home.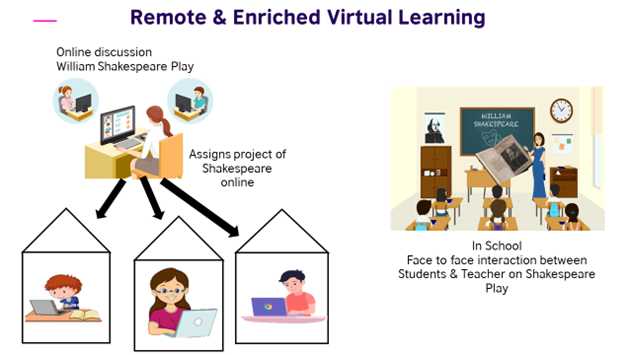 3. Flex blended learning
During certain weekends if the teacher wishes to support the students further in class especially if the concept has been challenging or students have underperformed in an evaluation, the teacher records her remedial teaching and uploads in-class computers. She designs a task around remedial teaching. She expects students to report to school wherein students enter the class on their own time, access the teaching, complete the task and leave. If they have any further doubts, they could approach the teacher in the school or their peers. A useful TIP would be for the teacher to Collaborate with their colleagues in club activities.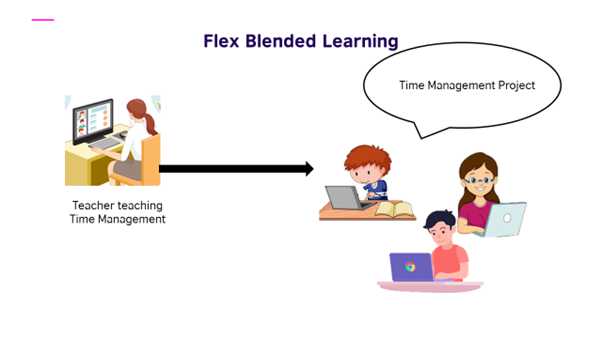 4. Flipped learning
As per TeachThought, a flipped classroom is a type of blended learning where students are introduced to content at home and practice working through it at school. This is the reverse of the more common practice of introducing new content at school, then assigning homework and projects to be completed by the students independently at home.
This methodology is most useful when you want students to have some knowledge of the content before analyzing it further. So if a teacher wishes to conduct a 'Book review'. She shares the e-book, 'Totto-chan' with the students. She asks them to read and shares certain discussion points. In school, students discuss the book and write personal book reviews. The teacher has used her class time constructively and has been to achieve greater learning outcomes.
5. Individual rotation blended learning
As per https://www.blendedlearning.org/models/, the Individual Rotation model allows students to rotate through stations, but on individual schedules set by a teacher or software algorithm. Unlike other rotation models, students do not necessarily rotate to every station; they rotate only to the activities scheduled on their playlists.
The teacher allows students to rotate through different kinds of classrooms called stations. A specific ILP [Individual learning plan] is created for each student. For example: Parth and Mona's examples work on clauses, Mona is struggling with Clauses so she attends classes and solves assignments whereas Parth will attend classes, watch a few videos, and also complete a research project on clauses. Thus the teacher knows her students' skills in greater depth and supports them individually to achieve her target learning outcomes.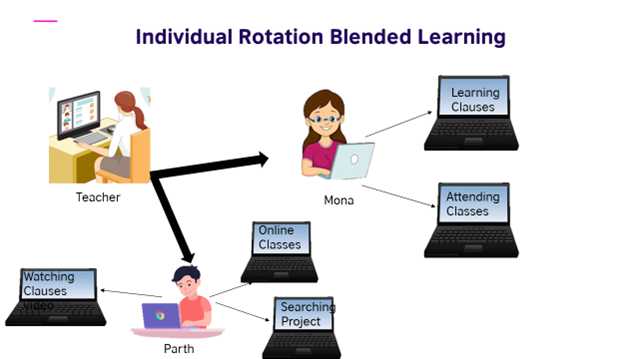 6. Inside-out and outside-in blended learning
In Inside-out, teaching and learning begin inside the classroom and move to an outside environment and in an outside-in classroom, it begins in an outside environment and moves inside the classroom. In a class environment, the Teacher discusses with students about 'Sound of Music' in class and ends the lesson by taking them to the theatre to watch the play. In Outside-In, Students watch the play in a digital environment and end the lesson in a physical environment by conducting role-plays.
The list of models is many but one has to review their resources and plan accordingly.
One can mention that they may face challenges in terms of technology, lack of training on digital platforms, lack of resources to create self-paced learning environments, or time management with vast syllabuses to complete.
Certain tips that can come useful are:
1. Teachers can begin with easily available digital content like Khan Academy, Pinterest, discovery Education, PBS Learning Media, and much more.
2. Review the available resources and plan a timetable. Most importantly, a team achieves more so collaborate with your colleagues in club activities.
3. Take small simple steps – "The journey of a thousand miles begins with one step." Lao Tzu. Choose the model that you are comfortable executing and then move forward.
As teachers, we are ever-evolving and we are that one profession that creates more professions so our responsibility and accountability stretch beyond the classroom. We are lifelong learners and need to keep pace with the fast-paced technology so that our students are ready to take the next leap. Our classrooms have to echo that thought and vision at all times through new pedagogies and teaching-learning strategies.
References:
Christensen Institute, Blended Learning definitions, https://www.christenseninstitute.org/blended-learning-definitions-and-models/
About the author:
Kavita Sanghvi holds a Masters in Physics, Masters in Education, Masters in Philosophy of Education, and CAEL [Certificate in Advanced Course in Educational Leadership] Diploma from Harvard University. She heads SVKM's CNM School, in Mumbai. She is a Teach SDG's Ambassador, Climate Action Ambassador, and Scientix Ambassador for India. She is a British Council Trainer and Ambassador.