DQ is the capacity to be aware of, participate and contribute in the digital economy for professional and personal reasons.
Keeping our children cyber-safe is a huge priority. So we go and search for educational sites where children can learn and have fun without being worried about online dangers like cyber bullying, identity thefts and online predators to name a few.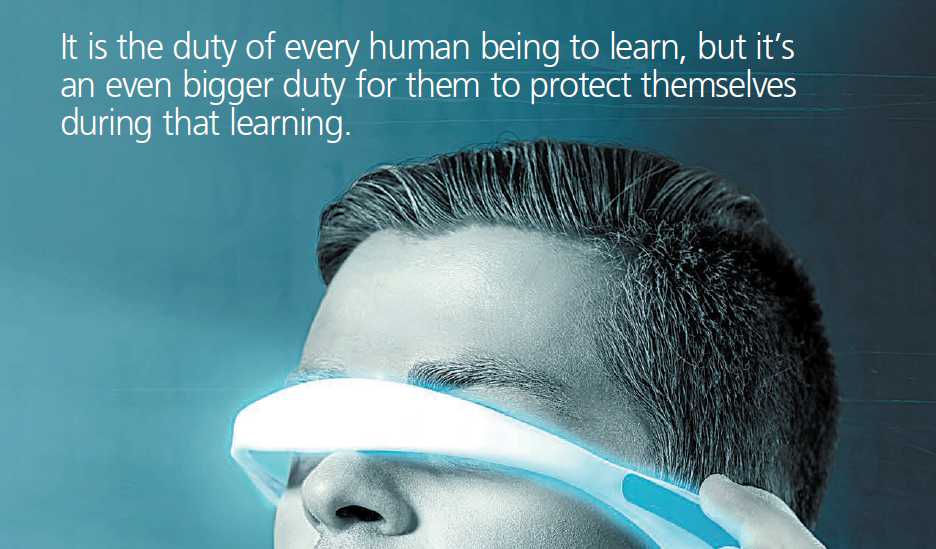 Today's children are all about technology. The minute they are old enough to grasp things in those little fingers you'll probably see them messing with an iPad or mobile phone, pressing the keys or scrolling through those screens. Little do they know that digital technology will play a huge role in their futures. We are all familiar with IQ – Intelligence Quotient and have evaluated our children's IQs by qualified experts.
So what is IQ? It's nothing but a standardised test usually given to a same age group of people designed to assess the person's ability to think and reason which can often be critical in many phases of ones life.
As humans we are bound to work with other people and hence came about 'EQ' or 'Emotional quotient'. For some, emotional intelligence became more important than IQ as just having facts and figures was not enough. It became important to develop mature emotional intelligence skills to better understand, empathize and negotiate with other people as the economy has become more global and success would elude those who didn't have EQ.
Digitization has brought about what is called 'DQ' or 'Digital Intelligence quotient '. Apart from IQ and EQ, DQ is important in today's world as everything is technologically driven. DQ is the capacity to be aware of, participate and contribute in the digital economy for professional and personal reasons.
Technology brings change and a lot of us are stubborn towards change. But we need to keep abreast with technology to be able to participate in an increasingly digital world which is fast covering news, online shopping, personal fitness, communication, education, etc. If we do not embrace change and develop a certain level of digital intelligence, we will be precluded from these services.
DQ has been tried and tested by over 500,000 students and is poised to launch in 17 different countries.
Kids, especially, should keep up with digitization as their success depends on it. Imagine a child not knowing how to operate a computer or an iPad? These things play an important role in their lives as they are being fast integrating as part of their education.
Keeping our children cyber-safe is a huge priority. So we go and search for educational sites where children can learn and have fun without being worried about online dangers like cyber bullying, identity thefts and online predators to name a few.
The DQ INSTITUTE
One such place is the DQ Institute. The institute was founded by Dr. Yuhyun Park and was developed in collaboration with Stanford University, Iowa State University, Yonsei University and Singapore's National Institute of Education and Nanyang Technological University, among others. The Institute has its roots in Seoul, Korea. The DQ World's online education programme has improved children's DQ score and helped minimise the impact of children's risks online.
DQ institute has achieved many feathers in its cap since its inception. It has developed the world's first DQ assessment metrics, has twice been the UNESCO award winning programme, has been tried and tested by over 500,000 students and is poised to launch in 17 different countries.
The Goal of the DQ Institute
In today's hyper- connected digital world children will either become leader's who create new possibilities with the advancing technology or become passive followers and consumers of technology. Their DQ will determine which of these categories they fall into.
DQ's goal is to empower every child to be the master of technology and help create new opportunities for a better future anchored in strong identities and positive values.
The 3 Levels of digital intelligence
The first level is DQ Citizenship where children use digital technology in effective and responsible ways.
Second is DQ Creativity where children learn to co- create new ideas and turn them into a reality and help them become a part of the digital eco- system by using new technologies and media.
And last but not the least DQ Entrepreneurship where they are able to bring a change and solve problems.
There are 8 different aspects of Digital citizenship, most of which are overlooked as focus is on creativity and entrepreneurship. It becomes very important for children to know their digital identity and be aware of the safety and security measures or they will be exposed to various digital risks.
In today's hyper- connected digital world, children will either become leader's who create new possibilities with the advancing technology or become passive followers and consumers of technology.
The institute has formulated 8 topics to make sure that children can effectively, safely and responsibly use digital media and technologies before they become creators or developers.
The topics that are included are Digital Citizen Identity, Screen Time Management, Digital Footprint Management, Cyber Bullying Management, Digital Empathy, Critical Thinking, Privacy Management and Cyber Security Management.
Learning from DQ
DQWorld.net is a platform provided for children to play and learn online (online and mobile e-learning app) unlocking rewards and achievements as they move forward. It provides a conducive environment that does not require close supervision from either parents or teachers for learning and absorbing lessons.
It is recommended for kids between the ages of 9-12 years.
Through this programme every child will have his/her own digital intelligence competency assessed through a DQ profile.
On joining the DQ programme, a preliminary assessment is made by creating a DQ profile on DQWorld.net, after the assessment of the child's DQ competencies they are engaged in a DQ online program and on completion of it a DQ profile is again generated which is used to compare the results with the preliminary assessment to see how well the child has learnt and progressed.
The assessments are done using surveys, quizzes, interactive activities and through mobile chats by communicating through comic characters. This fun way of learning helps the DQ profiling of the child and to understand the strengths and weaknesses of their digital intelligence.
The fun learn and play online platform is built on a sound curriculum and provides a safe online environment for children to self- learn the skills for digital intelligence through gamification. The DQWorld.net was tried and tested on over 90,000 children in Singapore and South Korea and has been highly rated by the children themselves.
DQ helps parents and educators bridge the gap between themselves and children by providing digital tools that help them understand the language that today's kids speak in. Also in guiding children in their quest for digital intelligence.
Schools can introduce the DQWorld.net online program and since its designed to be a self- learning tool it can be assigned as 'Homework' and can be reinforced in classrooms with the help of workbooks and a teacher's guidance.
DQ has 3 educators' programmes, DQ self- learning program, DQ classroom program and DQ school- wide program.
It also helps home schooled children by providing a safe way to acquire the knowledge and skills for digital intelligence.
DQEveryChild™ aims to reach 20 million children aged 8-12 years by 2020.
In association with the DQ Institute, the World Economic Forum will explore the integration of a Global DQ Index – measuring the average DQ™ across participating countries – within one of its main annual reports.
DQEveryChild™ is a combination of online education tools and real-time assessment which is free for every child globally, and can be easily 'plugged' into any national or school curriculum via the DQWorld.net platform.
The curriculum of 20 lessons totalling over 15 hours is delivered through story-telling and gamified design, which makes learning interactive and fun and encourages a positive attitudinal shift and behaviour. At the end of each lesson, children take an online real-time assessment that provides DQ scores for each of the skills acquired.
DQ helps parents and educators bridge the gap between themselves and children by providing tools of digital technology, helping them understand the language that today's kids speak in.
Children are 'scored' against a range of criteria – such as sharing personal data; meeting online strangers; online sexual behaviours; exposure to violent content; cyberbullying and game addiction – with the average DQ score for each set at 100.
Focusing on DQ has been identified as an impactful and effective method for improving digital citizenship by the World Economic Forum. The alliance includes national governments, leading NGOs and ICT companies who are committed to digital citizenship and digital literacy.
More than a dozen countries are already pledging their support for the movement in 2017, including Argentina, India, Australia, Singapore, Korea, Taiwan and the US. Other members include the World Economic Forum, Singtel, the Varkey Foundation, Google, and LG U+.
How does DQ programme handle children's online risky behaviours
Included in the program is a unique system to detect a child's exposure to various cyber-risks. In addition, it can diagnose their parents' digital media mediation style as well as assess support being provided by teachers and schools through internet safety education.
A reporting system will be included in the platform which can be triggered both voluntarily by the child (via a request for support) and when exposure to risk factors are detected. This system will provide a timely and easily accessible avenue of support through the online platform.
In Singapore, they will work with a Singaporean government agency to connect their reporting system to the government's e-counselling system. A 2014 e-counselling study conducted by the National Institute of Education has proven to be effective in increasing happiness, self-regulation and lowering negative emotions of children exposed to cyber-risks. In other words, timely intervention is critical.
DQ is currently exploring options with the government of India if they would like to connect the system with their national counselling program or law enforcement as an intervention program for children at high risks.
More specifically, in the case of Singapore, DQ World's online education programme improved children's DQ score, on an average, from 93 to 106 – a 14% increase. Moreover, it has proven to minimise children's risky online behaviour, and maximise their personal strengths, such as critical thinking and empathy. For example, with a DQ of 93, a child is at 24% risk of sharing personal data online, however, with a DQ of 106, this risk is halved to 12%. Please refer image below.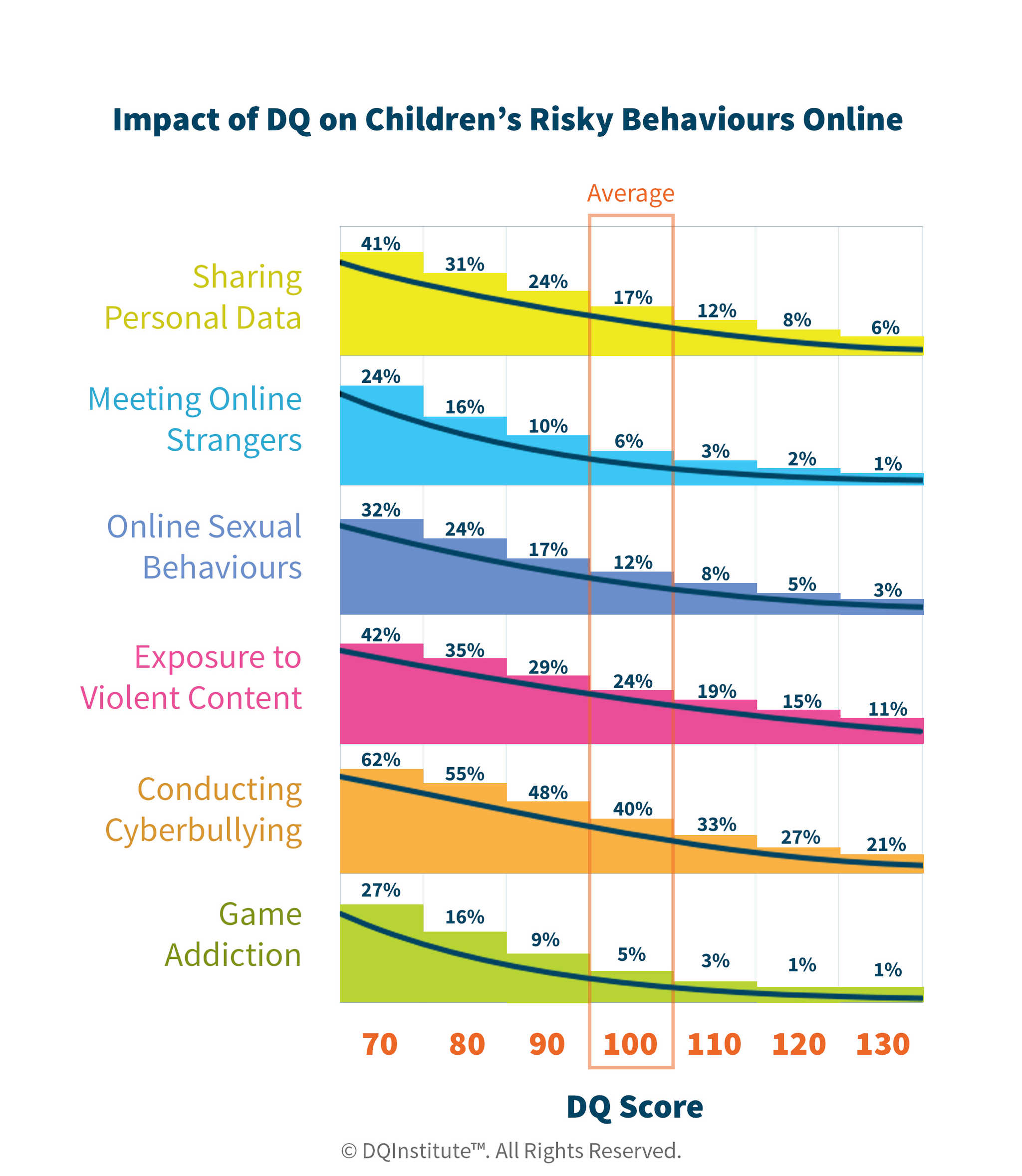 Relevance and scope of DQ in India
DQ is very relevant for all Indian students as the nation is going through a digital transformation. DQ enables students to make discerning and deliberate choices that maximize the benefits of technology while mitigating cyber risks such as technology addiction, fake news, cyber bullying, online radicalisation. It is fundamental to a person's ability to use technology and live happily, successfully and responsibly in the digital world.
DQ will help Indian students level up their ability to thrive in the fast changing digital world, leading them to shape the future of their own lives and the entire nation with well-being, security and economic growth.
It is very important to ensure that every child in India is safely and meaningfully connected online. Educationally, it is important to empower children with digital competencies that can enable them to minimize cyber risks while maximizing opportunities arising from technology.
This platform can be easily incorporated within any public education system and be used by any teacher in India:
At its most basic, it allows for self-learning & play with minimal support from teachers or parents
More detailed assessments are available for parents who want to get more involved in their child's DQ education
Additional teaching resources have been created to allow teachers to use the programme proactively, incorporating DQ World in their classroom as an integral part of lessons & assessment
Likewise schools can use the assessment and metrics as part of school wide DQ programmes.
In India, DQ had an initial discussion with State of Rajasthan and had plans to engage with the private and public sectors to bring the program nation-wide within 3 years to support India to raise the national DQ significantly and inclusively.
Dr Yuhyun Park, founder of the #DQEveryChild™ movement, said:
"In the hyper-connected world we live in, children as young as 8 years old critically need DQ to be smart and responsible users of technology.
These children are the first generation born and raised in a digital world, and they need to learn digital skills for the future. But they are often exposed to various cyber dangers, such as cyber- bullying, fake news, online grooming and radicalization, and are left alone to navigate the negative side effects of technology.
Children need help to navigate this landscape safely. Just like we need a driving license before we can drive on the roads, children need digital education before they start using digital media and technology."
This article was originally published in the May 2017 issue of ScooNews magazine. Subscribe to ScooNews Magazine today to have more such stories delivered to your desk every month.
The Mental Health Algorithm
Before we talk about how to help children with their mental health it is important to remind ourselves of a safety instruction used on airplanes- put on your oxygen mask first before helping others.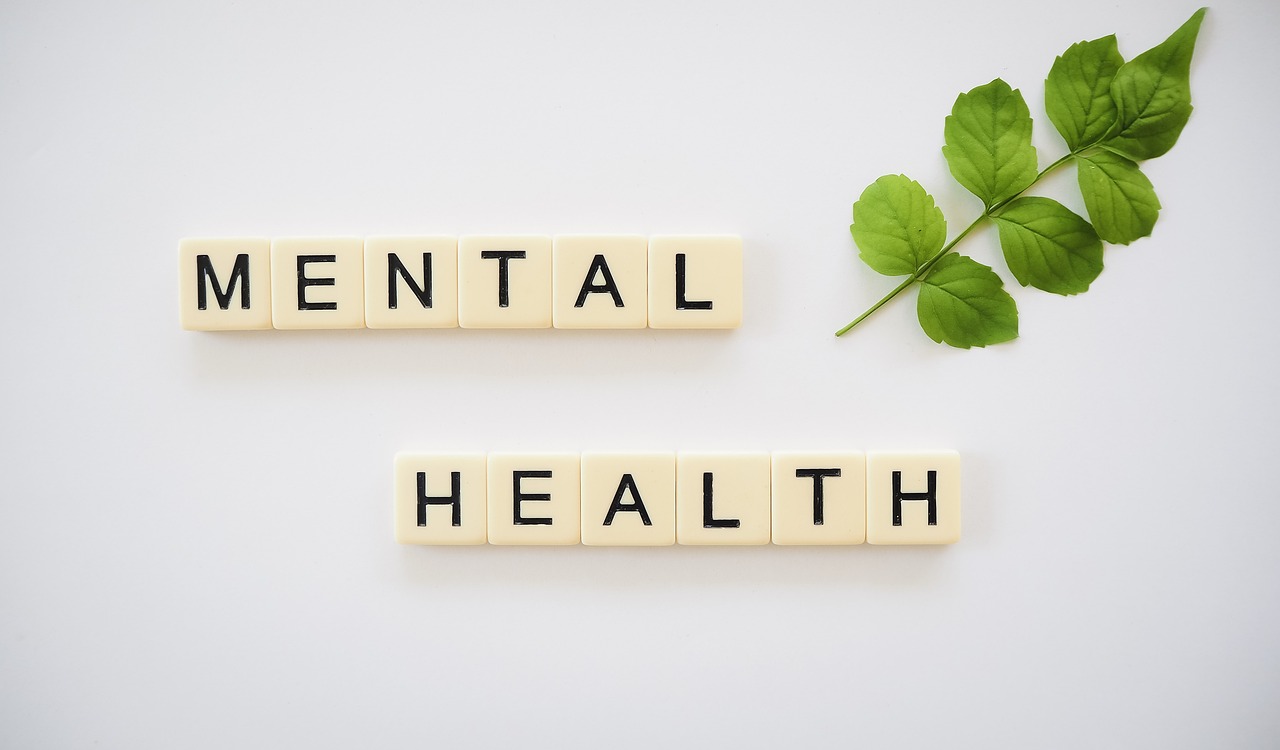 Why have I called it an algorithm? Because mental health needs the following –
Decomposition- breaking the task into smaller, manageable tasks. Breaking mental health into smaller, manageable things to do every day
Pattern recognition- finding a pattern in how children behave when confronted with certain situations or stress
Abstraction- teaching ourselves to focus on what matters and ignore the other things, so when children misbehave focus on the why and not the how, what, and other clutter.
Algorithmic thinking- creating a set of steps to follow to help children cope with their emotions, talk about mental health and be happy.
Can young children suffer from depression, anxiety, stress, and trauma? The answer is yes. But what does this look like? It can be any of these behaviors or a combination of them-
Children start having tantrums and start misbehaving
Become moody
Become aggressive
They start bedwetting, and nail-biting.
They are unable to focus or remember new learning
They start over or undereating.
Suffer from lack of sleep and start dozing off during the day.
Parents and teachers should be worried if these last for more than two weeks consistently.
Dr. Maria Kovacs, professor of psychiatry at the University of Pittsburgh School of Medicine says that when young children are depressed "the primary mood is irritability not sadness- children come across as being very cranky. The best way for parents and teachers to recognize depression in young children is not so much by what a child says as by what the child does- or stops doing."
Dr. Helen Egger until recently the chair of child and adolescent psychiatry at NYU Langone Health says, " in a preschool-aged child depression may look like a behaviour problem but is really driven by what the child is feeling inside."
But before we talk about how to help children with their mental health it is important to remind ourselves of a safety instruction used on airplanes- put on your oxygen mask first before helping others. Adults who take care of children especially teachers must first take care of their mental health and give it importance because if they do not consider it an important aspect of holistic health then they will never be able to take care of the mental health of their students. Teachers go through a lot of stress, and anxiety which if bottled up for a long time can trigger serious mental health issues.
Causes of stress in teachers-
Inability to handle workplace politics
Struggling with issues at the home and family front
The guilt of not being able to give their best to the special needs children in their class
Inability to handle workload due to lack of time management, prioritization and other issues.
Nervousness about handling upset parents.
So let's code teacher's mental health-
Taking care of your mental health should become a part of your daily routine, make time for it and prioritize it –
Set some time aside every day to unwind.
Plan and prioritize – time management is an extremely important life skill, but is not taught to us in any course. Learn and imbibe it. Don't use your brain to remember tasks, for that keep a diary or a reminder on your phone. Brains get stressed when we only use them to remember things, brains are for logic and thinking.
Set boundaries- especially for your texts, messages and emails, and most importantly social media.
Appreciate your skills and learn new ones- never stop learning, as they say still water stagnates.
Move. Move. – don't ignore physical exercise.
Seek help. Seek support. Seek advice- don't struggle alone with your personal or professional dilemmas, seek the right support.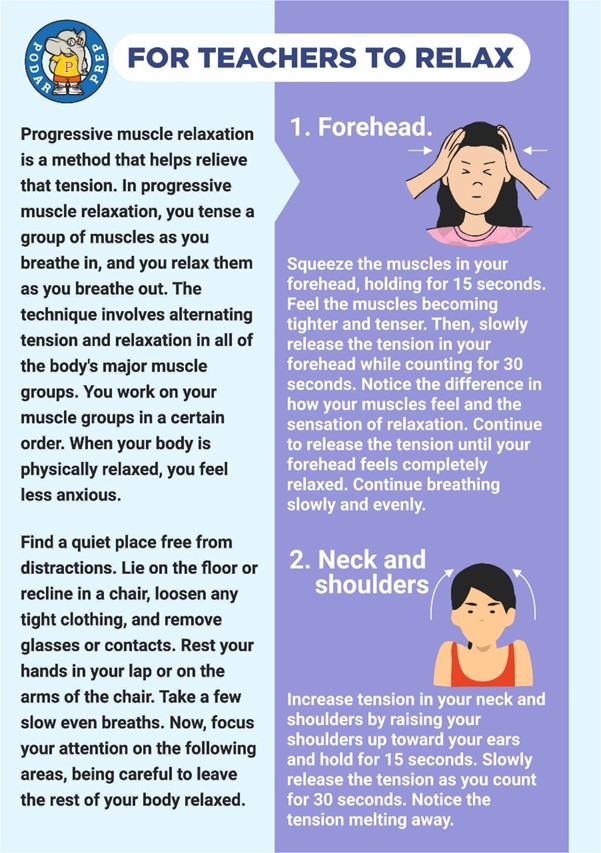 Teaching Coping and resilience-
It is said that those who survived the pandemic without facing mental health issues are those who were resilient. What is resiliency? It means the ability to bounce back from difficult situations, it means the ability to feel the negative emotions, let them wash over you like a super wave but not allowing them to engulf or drown you, it means surviving with your emotional health intact.
To be resilient one has to learn coping skills, and these need to be taught to children from a young age. Children learn by imitation so they will learn how to cope with the adults in their environment, hence it is important that we display good coping skills.
Coping is nothing but the ability to 'turn down' your reaction to a situation, emotion, or stress.
Some coping skills to teach children are-
Self-soothing- engage the body in a ritual of natural calming- deep breathing, counting to ten etc
Distraction- redirecting your attention to something more interesting and positive- look outside the window, start dancing, clap your hands, etc
Mindfulness- focussing on your feelings and what is happening to your body and how to calm down and reclaim your emotions. – deep breathing, labelling the emotion, knowing positive ways to react to that emotion instead of choosing negative ways.
Try these breathing games with children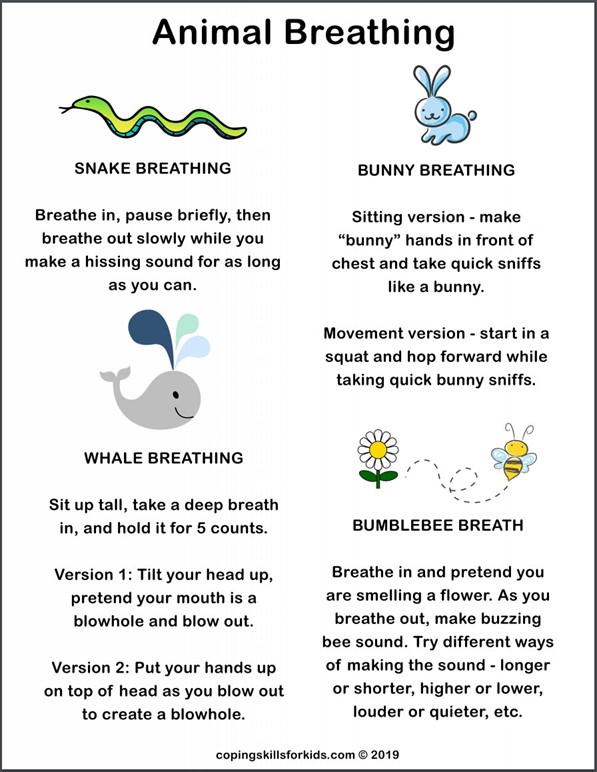 Mindfulness is the key…
The ability to reflect upon what is happening, while it is happening is called Mindfulness.  Mindfulness helps children be aware of their emotions and feelings and they are then better able to control and voice out their emotions. It works for everyone, have you ever said something that you later regret? Well, it means you were not 'mindful' about your speech, you blurted out whatever you were thinking and feeling! You responded to a stimulus without pausing and 'thinking'. Mindfulness is the pause that you take between a stimulus and a reaction. Teaching this to children will help them move from 'I can't, I don't want." to understanding 'I can, Why I don't want, what should I do.'
Mindfulness is being aware or mindful of your body and its needs and condition and meditation is the ability to control your body to calm your thoughts. That is why meditation requires an upright-seated posture. Deep breathing exercises while sitting upright with the eyes closed, is a great combination of both mindfulness and meditation.
One of the simplest mindfulness activities is to get children to close their eyes and listen to their breathing. Ask questions like-
Can you hear your breathing?
How is it fast or slow?
Put your hand on your chest, can you feel your heartbeat?
Now make them do rigorous jumping and then stop and again ask them the same questions, and ask them what is the difference in their breathing and heartbeat now? Now make them sit down, close their eyes, and take deep breaths in and out – now how do they feel?
The above will help children feel their breath, and their heartbeat and understand how their breathing and heartbeat change when they do any physical activity, it also changes when they are upset or angry. Explain to them what to do when they experience these feelings…take a deep breath to calm down and think.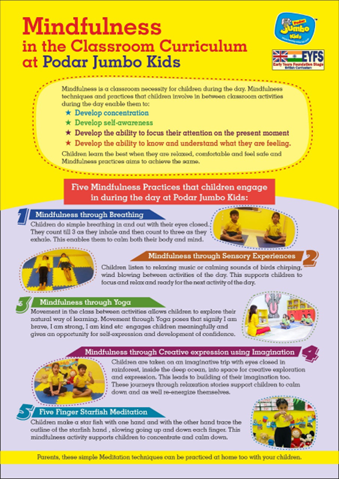 Emotional labelling –
Out-of-control emotions can make smart people stupid.- Daniel Goleman
In the early years, emotions and feelings are something that children are experiencing for the first time and it can lead to a lot of confusion if we always ask them to 'behave', 'don't cry' etc. because then they throw tantrums and have meltdowns. But there is a way we can have a balance between ignoring a strong emotion and completely indulging in it, it is called 'affect labelling' or 'emotion labelling'. By labelling something we are able to understand and acknowledge it and thus able to deal with it or quell it.
In any stressful situation, children experience a range of emotions and feelings of fear, boredom, irritability, sadness, etc. How we help them acknowledge those feelings or help them find acceptable ways of releasing them, will define their positive emotional development, which will also impact their social and cognitive development.
How can early childhood educators and parents help enhance emotional development in the early years?
Help children identify and label their feelings and thus enable them to deal with them appropriately. Use sentences like these to help them label emotions, "I see you are angry because you did not get the blue crayon…..", or "I see you are sad that your friend did not sit next to you….." and then extend the sentences to help enable them to cope with the emotions, "….but you can colour with the red one till the blue one is available." Or "….but you can sit with Yash today and maybe share with him all the fun."
Stories and story characters can be used as an important tool to help kids cope with and understand emotions. Use appropriate stories and then use discussion starters like-
Talking and discussing the emotions shown by the story characters, both positive and negative.
Asking the children how they think a character felt at the end of a story or when something important happened in the story. E.g. "How do you think baby bear felt on seeing his chair broken?"
Asking the children what they would do to help the character in the story feel better. E.g. "If you were Goldilocks what would you do to make the baby bear feel better?"
Accept emotional responses; learn to teach them to reject the emotional behaviour or to channel it. For example, if a child bites someone, the feeling is of anger or frustration. So teach the child to acknowledge the emotion by saying, "I know you are feeling angry or frustrated that you are unable to get a chance on the slide but you can talk to me about it but it is not acceptable to bite or hit someone."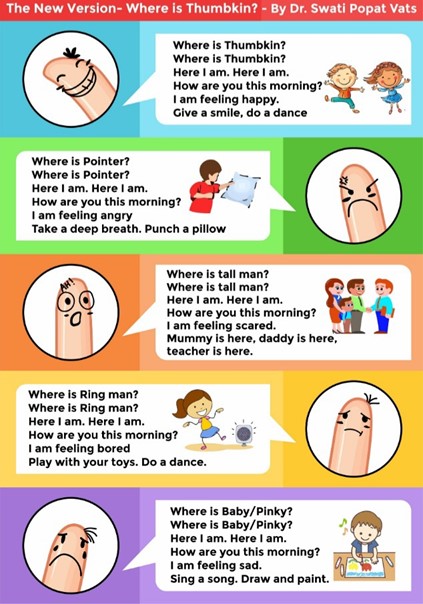 Use this new version of 'Where is Thumbkin?' to help children label emotions and understand safe and acceptable ways of showing emotion or dealing with it.
Let's talk about mental health and arm the child with the ability to cope, and this comes from emotional intelligence,  so understand children's emotional needs and give the support and care required to strengthen their emotional armour and mental health.
Happiness can always be found, even in the darkest of times, if only one remembers to turn on the light." – Dumbledore.
About the author:
Dr. Swati Popat Vats is President, Early Childhood Association India, Association for Primary Education & Research, and Podar Education Network.