DQ is the capacity to be aware of, participate and contribute in the digital economy for professional and personal reasons.
Keeping our children cyber-safe is a huge priority. So we go and search for educational sites where children can learn and have fun without being worried about online dangers like cyber bullying, identity thefts and online predators to name a few.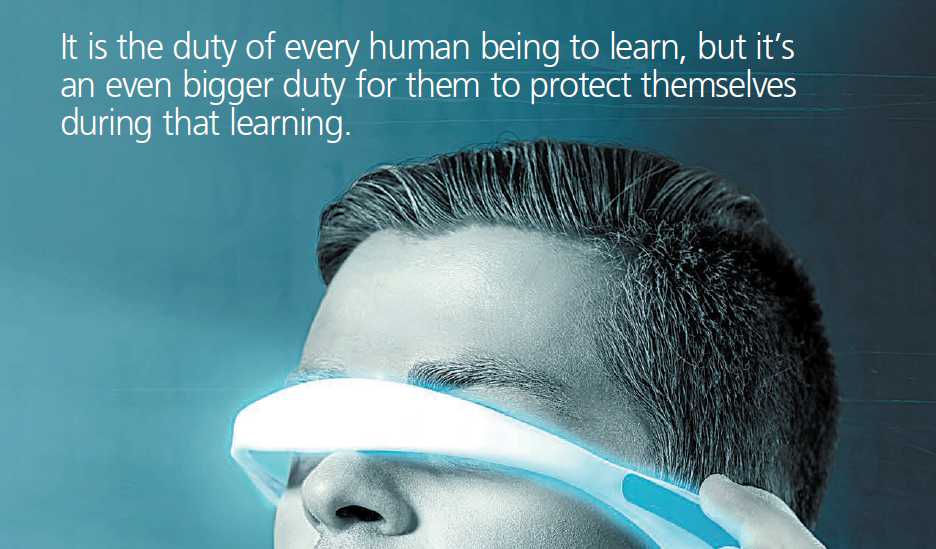 Today's children are all about technology. The minute they are old enough to grasp things in those little fingers you'll probably see them messing with an iPad or mobile phone, pressing the keys or scrolling through those screens. Little do they know that digital technology will play a huge role in their futures. We are all familiar with IQ – Intelligence Quotient and have evaluated our children's IQs by qualified experts.
So what is IQ? It's nothing but a standardised test usually given to a same age group of people designed to assess the person's ability to think and reason which can often be critical in many phases of ones life.
As humans we are bound to work with other people and hence came about 'EQ' or 'Emotional quotient'. For some, emotional intelligence became more important than IQ as just having facts and figures was not enough. It became important to develop mature emotional intelligence skills to better understand, empathize and negotiate with other people as the economy has become more global and success would elude those who didn't have EQ.
Digitization has brought about what is called 'DQ' or 'Digital Intelligence quotient '. Apart from IQ and EQ, DQ is important in today's world as everything is technologically driven. DQ is the capacity to be aware of, participate and contribute in the digital economy for professional and personal reasons.
Technology brings change and a lot of us are stubborn towards change. But we need to keep abreast with technology to be able to participate in an increasingly digital world which is fast covering news, online shopping, personal fitness, communication, education, etc. If we do not embrace change and develop a certain level of digital intelligence, we will be precluded from these services.
DQ has been tried and tested by over 500,000 students and is poised to launch in 17 different countries.
Kids, especially, should keep up with digitization as their success depends on it. Imagine a child not knowing how to operate a computer or an iPad? These things play an important role in their lives as they are being fast integrating as part of their education.
Keeping our children cyber-safe is a huge priority. So we go and search for educational sites where children can learn and have fun without being worried about online dangers like cyber bullying, identity thefts and online predators to name a few.
The DQ INSTITUTE
One such place is the DQ Institute. The institute was founded by Dr. Yuhyun Park and was developed in collaboration with Stanford University, Iowa State University, Yonsei University and Singapore's National Institute of Education and Nanyang Technological University, among others. The Institute has its roots in Seoul, Korea. The DQ World's online education programme has improved children's DQ score and helped minimise the impact of children's risks online.
DQ institute has achieved many feathers in its cap since its inception. It has developed the world's first DQ assessment metrics, has twice been the UNESCO award winning programme, has been tried and tested by over 500,000 students and is poised to launch in 17 different countries.
The Goal of the DQ Institute
In today's hyper- connected digital world children will either become leader's who create new possibilities with the advancing technology or become passive followers and consumers of technology. Their DQ will determine which of these categories they fall into.
DQ's goal is to empower every child to be the master of technology and help create new opportunities for a better future anchored in strong identities and positive values.
The 3 Levels of digital intelligence
The first level is DQ Citizenship where children use digital technology in effective and responsible ways.
Second is DQ Creativity where children learn to co- create new ideas and turn them into a reality and help them become a part of the digital eco- system by using new technologies and media.
And last but not the least DQ Entrepreneurship where they are able to bring a change and solve problems.
There are 8 different aspects of Digital citizenship, most of which are overlooked as focus is on creativity and entrepreneurship. It becomes very important for children to know their digital identity and be aware of the safety and security measures or they will be exposed to various digital risks.
In today's hyper- connected digital world, children will either become leader's who create new possibilities with the advancing technology or become passive followers and consumers of technology.
The institute has formulated 8 topics to make sure that children can effectively, safely and responsibly use digital media and technologies before they become creators or developers.
The topics that are included are Digital Citizen Identity, Screen Time Management, Digital Footprint Management, Cyber Bullying Management, Digital Empathy, Critical Thinking, Privacy Management and Cyber Security Management.
Learning from DQ
DQWorld.net is a platform provided for children to play and learn online (online and mobile e-learning app) unlocking rewards and achievements as they move forward. It provides a conducive environment that does not require close supervision from either parents or teachers for learning and absorbing lessons.
It is recommended for kids between the ages of 9-12 years.
Through this programme every child will have his/her own digital intelligence competency assessed through a DQ profile.
On joining the DQ programme, a preliminary assessment is made by creating a DQ profile on DQWorld.net, after the assessment of the child's DQ competencies they are engaged in a DQ online program and on completion of it a DQ profile is again generated which is used to compare the results with the preliminary assessment to see how well the child has learnt and progressed.
The assessments are done using surveys, quizzes, interactive activities and through mobile chats by communicating through comic characters. This fun way of learning helps the DQ profiling of the child and to understand the strengths and weaknesses of their digital intelligence.
The fun learn and play online platform is built on a sound curriculum and provides a safe online environment for children to self- learn the skills for digital intelligence through gamification. The DQWorld.net was tried and tested on over 90,000 children in Singapore and South Korea and has been highly rated by the children themselves.
DQ helps parents and educators bridge the gap between themselves and children by providing digital tools that help them understand the language that today's kids speak in. Also in guiding children in their quest for digital intelligence.
Schools can introduce the DQWorld.net online program and since its designed to be a self- learning tool it can be assigned as 'Homework' and can be reinforced in classrooms with the help of workbooks and a teacher's guidance.
DQ has 3 educators' programmes, DQ self- learning program, DQ classroom program and DQ school- wide program.
It also helps home schooled children by providing a safe way to acquire the knowledge and skills for digital intelligence.
DQEveryChild™ aims to reach 20 million children aged 8-12 years by 2020.
In association with the DQ Institute, the World Economic Forum will explore the integration of a Global DQ Index – measuring the average DQ™ across participating countries – within one of its main annual reports.
DQEveryChild™ is a combination of online education tools and real-time assessment which is free for every child globally, and can be easily 'plugged' into any national or school curriculum via the DQWorld.net platform.
The curriculum of 20 lessons totalling over 15 hours is delivered through story-telling and gamified design, which makes learning interactive and fun and encourages a positive attitudinal shift and behaviour. At the end of each lesson, children take an online real-time assessment that provides DQ scores for each of the skills acquired.
DQ helps parents and educators bridge the gap between themselves and children by providing tools of digital technology, helping them understand the language that today's kids speak in.
Children are 'scored' against a range of criteria – such as sharing personal data; meeting online strangers; online sexual behaviours; exposure to violent content; cyberbullying and game addiction – with the average DQ score for each set at 100.
Focusing on DQ has been identified as an impactful and effective method for improving digital citizenship by the World Economic Forum. The alliance includes national governments, leading NGOs and ICT companies who are committed to digital citizenship and digital literacy.
More than a dozen countries are already pledging their support for the movement in 2017, including Argentina, India, Australia, Singapore, Korea, Taiwan and the US. Other members include the World Economic Forum, Singtel, the Varkey Foundation, Google, and LG U+.
How does DQ programme handle children's online risky behaviours
Included in the program is a unique system to detect a child's exposure to various cyber-risks. In addition, it can diagnose their parents' digital media mediation style as well as assess support being provided by teachers and schools through internet safety education.
A reporting system will be included in the platform which can be triggered both voluntarily by the child (via a request for support) and when exposure to risk factors are detected. This system will provide a timely and easily accessible avenue of support through the online platform.
In Singapore, they will work with a Singaporean government agency to connect their reporting system to the government's e-counselling system. A 2014 e-counselling study conducted by the National Institute of Education has proven to be effective in increasing happiness, self-regulation and lowering negative emotions of children exposed to cyber-risks. In other words, timely intervention is critical.
DQ is currently exploring options with the government of India if they would like to connect the system with their national counselling program or law enforcement as an intervention program for children at high risks.
More specifically, in the case of Singapore, DQ World's online education programme improved children's DQ score, on an average, from 93 to 106 – a 14% increase. Moreover, it has proven to minimise children's risky online behaviour, and maximise their personal strengths, such as critical thinking and empathy. For example, with a DQ of 93, a child is at 24% risk of sharing personal data online, however, with a DQ of 106, this risk is halved to 12%. Please refer image below.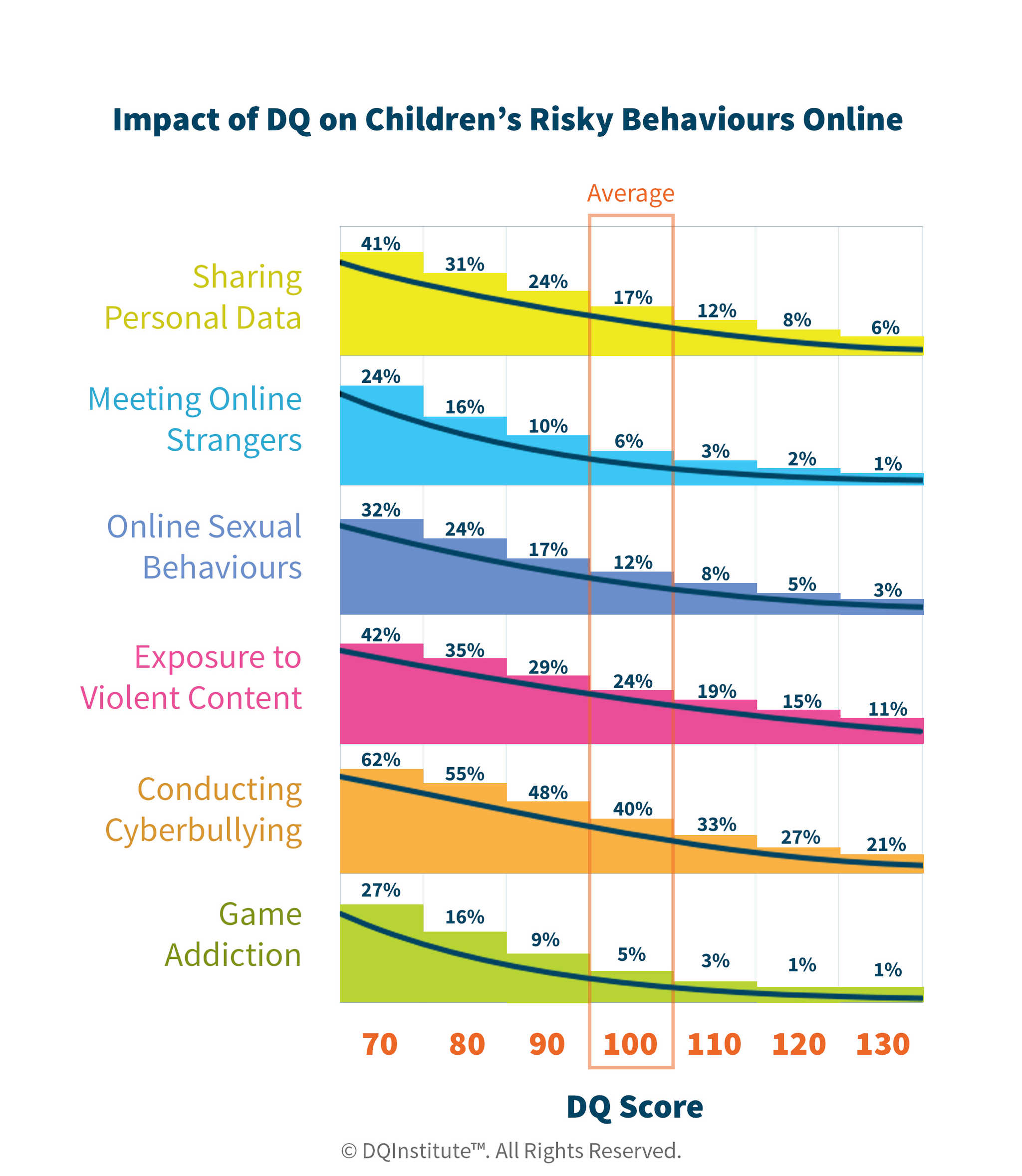 Relevance and scope of DQ in India
DQ is very relevant for all Indian students as the nation is going through a digital transformation. DQ enables students to make discerning and deliberate choices that maximize the benefits of technology while mitigating cyber risks such as technology addiction, fake news, cyber bullying, online radicalisation. It is fundamental to a person's ability to use technology and live happily, successfully and responsibly in the digital world.
DQ will help Indian students level up their ability to thrive in the fast changing digital world, leading them to shape the future of their own lives and the entire nation with well-being, security and economic growth.
It is very important to ensure that every child in India is safely and meaningfully connected online. Educationally, it is important to empower children with digital competencies that can enable them to minimize cyber risks while maximizing opportunities arising from technology.
This platform can be easily incorporated within any public education system and be used by any teacher in India:
At its most basic, it allows for self-learning & play with minimal support from teachers or parents
More detailed assessments are available for parents who want to get more involved in their child's DQ education
Additional teaching resources have been created to allow teachers to use the programme proactively, incorporating DQ World in their classroom as an integral part of lessons & assessment
Likewise schools can use the assessment and metrics as part of school wide DQ programmes.
In India, DQ had an initial discussion with State of Rajasthan and had plans to engage with the private and public sectors to bring the program nation-wide within 3 years to support India to raise the national DQ significantly and inclusively.
Dr Yuhyun Park, founder of the #DQEveryChild™ movement, said:
"In the hyper-connected world we live in, children as young as 8 years old critically need DQ to be smart and responsible users of technology.
These children are the first generation born and raised in a digital world, and they need to learn digital skills for the future. But they are often exposed to various cyber dangers, such as cyber- bullying, fake news, online grooming and radicalization, and are left alone to navigate the negative side effects of technology.
Children need help to navigate this landscape safely. Just like we need a driving license before we can drive on the roads, children need digital education before they start using digital media and technology."
This article was originally published in the May 2017 issue of ScooNews magazine. Subscribe to ScooNews Magazine today to have more such stories delivered to your desk every month.
A Former Monk And His Abode of Love: Jhamtse Gatsal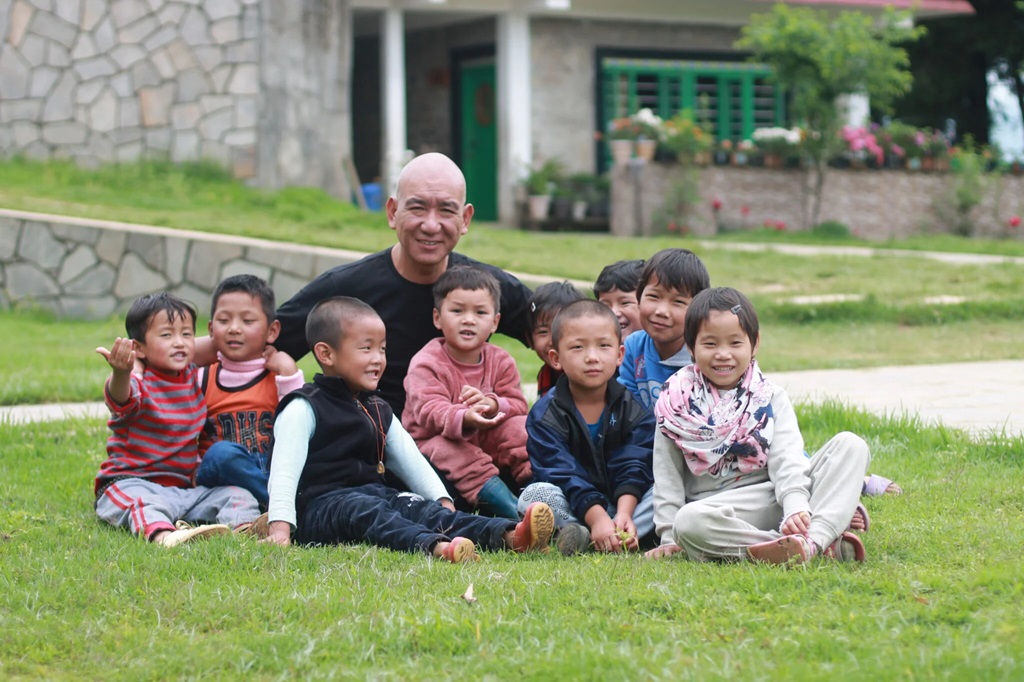 There are only a handful of experiences in everyone's life that get etched in one's heart for a lifetime. My visit to Jhamtse Gatsal qualifies as one such experience; special, unforgettable, and forever a part of me.
'Jhamtse Gatsal' literally, translates to 'garden of love and compassion'. Standing true to its name, it's a place where young souls are nurtured with love and tended to with compassion, much like seeds sown in a garden. It was opened in the year 2006, with 35 kids under its care and today it is home to 128 children.
The physical location of Jhamtse Gatsal is as enchanting as the philosophical essence behind its inception. About 50 Km away from the noise and bustle of the district headquarters in Tawang, it is located in the remote and picturesque Lumla sub-division. Built atop a hill, it is surrounded by majestic mountains that are lush green during summer and sparkling white during the winter. It overlooks the mystic Tawang Chu River meandering through the foothills and demarcating the international border with Bhutan to its left.
Far from the madding crowd and nestled in nature's bounty, it is not an overstatement to say that the place satiates the yearnings and heals the maladies of the soul. Jhamtse Gatsal is a world in itself; complete and self-sustaining. The story of how it came into existence is nothing short of awe-inspiring.
Jhamtse Gatsal is the brainchild of Mr. Lobsang Phuntsok, the former monk who left his fairly comfortable and thriving life in America and came back to his birthplace Tawang, to give back to the place and its people, all that was in his capacity. He is fondly addressed as Gen-la ('Gen' is a Tibetan term for an honored teacher and La is added to indicate respect. Together, Gen-la translates to 'honorable teacher'), by everyone in Jhamtse Gatsal community and beyond it, by others in Tawang. Gen-la's vision, grit, and conviction to transform lives and mold them, comes from the childhood he lived.
Born to an unwed mother, he was looked upon as "an uninvited guest in the universe". Even though the pain and embarrassment his birth brought to his mother and family are not the best memories to go back to, he does not shy away from embracing and sharing his story. He rather acknowledges its instrumentality in shaping the person he is today. He recalls being a difficult child; often detested by the villagers for his notorieties. His loving grandparents saw no way out to mend his ways and finally at the age of 7, with the earnest hope for his life to take a better turn, he was sent away to a Buddhist monastery down south of the country to live a monk's life. Notwithstanding, he recalls his young self continuing with his old ways in the monastery. Eventually, the faith, patience, and compassion shown by his Gurus set him on the path of self-transformation. Reaffirming the fact that behind different facades, lies the inherent human goodness in each one of us.
The children fostered by Gen Lobsang La at Jhamtse Gatsal share stories similar to his own; where the mere accident of birth in a certain family or circumstance left them in a position of pain or disadvantage. His mission is to give these children a fair chance at life and more importantly, guide them to transform themselves into better humans capable of being agents of change wherever they go, in making this world a better place to live in. He shares that, to love, care, provide for, and see the children happy is like time traveling back to his formative years; giving him a chance to relive his childhood through them and experience everything he missed out on. It is true indeed that the love we give is the love we keep. The only way to retain love is to give it away.
In his 50s now, Gen Lobsang la has the exuberance of youth and his passion is evident in the joy with which he shares about his mission and the future plans he has for Jhamtse Gatsal. He is backed by a team of dedicated teaching and non-teaching staff, who are not only competent in their respective specialties but also share some common core values. Benign in their approach, they are professional with a human touch and value, laying the base of a healthy work environment.
Jhamtse Gatsal campus is at present, broadly divided into three main sections – the children's residential complex, the academic block, and an area designated for building a residential colony in the near future. Together, they make up the Jhamtse Gatsal Community. Every aspect of Jhamtse Gatsal is well thought-out and holds meaning. The children's residential complex is sectioned into four parts, each one of them a 'Khemsang', meaning a family house'. The four khemsang have been named – Panggyen, Ganghla, Serchen, and Gurkum after rare plants with medicinal properties and healing capabilities. The thought behind this is to bespeak and symbolize self-healing and then, the the ability to heal others. It is rightly said,
"Hurt people hurt people. And healed people heal others. Free spirits free others, enlightened people enlighten others".
Each khemsang and its children are looked after and taken care of by one 'Ama-la' ('Ama' means mother, 'La' is added to express respect. 'Amala' translates to respected/beloved mother). The four Ama-La(s) manage the four Khemsang(s) just like a mother does in a family. Along with the family-like set up with a mother figure, the older children are also taught to look after and care for the younger ones just like siblings do in a family.
It leaves no room for bullying or domination and instead, develops qualities of affection, a sense of responsibility, and mutual love between children of different age groups. These are just a few subtle and manifest ways in which the system devised at Jhamtse Gatsal empowers children and nudges them to a better path.
Keeping the ideals of a family, the mess at Jhamtse Gatsal has no fixed menu that repeats week after week. The Ama-La in charge decides what is to be fed. From 'Thentuk' (Hand-pulled noodle soup with mixed vegetables) to healthy curries, every meal is cooked with love and dedication.
One of the inspiring routine events I was privileged to take part in, was the weekly one-meal fast (Wednesday dinner). It is not compulsory for guests or even for others in the community to participate, it is a completely voluntary choice. Dinner is still served for anyone who decides or feels the need to eat, along with the younger lot who are strictly exempted from participating.
The apportioned ration for those days is saved and donated to the needy in the villages around. In explaining the idea behind this observance of fast, Gen-La re-defined the notion of charity and sacrifice for me. He says the right way to gauge our dedication and love for fellow human beings is to see what we can forgo for someone else. He says, to be generous, donate, help only when there is an overflowing abundance, or give away that which we don't want/wish to discard, hardly captures the spirit of charity or qualifies as one.
This made me rethink the idea of donating clothes we don't want, and the leftover food on our plates that we give away, as an act of kindness. Sure, something is better than nothing and to feed an empty stomach is better than dumping it in a thrash bin. But it made me wonder that perhaps, cutting out from our portion for someone else is to treat the other person with respect, as equal sentient beings to share and care for, and not subjects of our kindness born out of a condescending privilege. Along with the standard curriculum for each class, children are engaged in a myriad of extracurricular activities, skill training, and other creative projects. The goal is to ensure an all-around development encompassing emotional, spiritual, mental, and physical health.
Each child is counseled, encouraged, and helped to polish their unique strengths by abled teachers and Gen-La, together. Instead of trying to fit everyone in a specific predesigned box, each child is allowed to bloom at its own pace and shine in their unique domains. Teaching the science and art of sustainable living is a major focus and the base on which the edifice of Jhamtse Gatsal Community is built.
Children are exposed to lessons and activities that arm them to live scientifically and in harmony with nature, through fun and interesting engagements. From plastic recycling, waste management, and vermicomposting to arts and crafts, the children at Jhamtse Gatsal are taught and trained by teachers, Ama-la(s), and enthusiastic allies from across the world. Other than professional and academic lessons, it is ensured that children learn basic life skills – cooking, cleaning, and self-care across genders.
Jhamtse Gatsal is a beacon of hope for the world we live in today. In a world of information overload and easy access to social media, it is sometimes dispiriting to witness the tragic events happening across the world. At such a time, Jhamtse Gatsal is a place that felt refreshing and reaffirmed my faith in a shared brotherhood of humanity with the promise of a better, kinder, and harmonious world. In my assignment to write for The Borderlens, I feel fortunate to have discovered my Shangri-La at Jhamtse Gatsal Children's Community; a place that felt like a remotely hidden, beautiful utopia.

Learn more about Gatsal: https://linktr.ee/jhamtsegatsal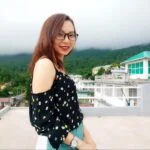 Liyum Karga