Earn respect, not attention, it will last longer.
C Radhakrishnan, the loved watchman of SBOA Matriculation Higher Secondary School tells his story to the "Humans of Chennai"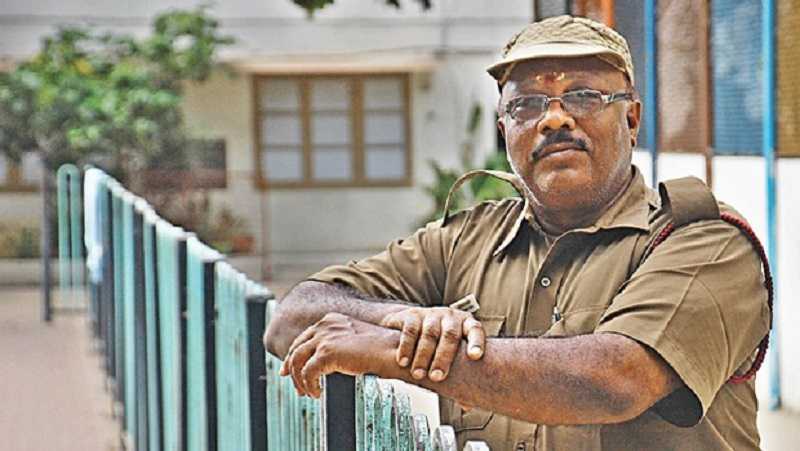 "Earn Respect, not attention. It will last longer."
The recent feature of 'Humans of Chennai' column of City Express touched millions of hearts and 57-year-old C Radhakrishnan received immense love and good wishes from the readers.
In his 20th year as the watchman of SBOA Matriculation Higher Secondary School, Anna Nagar, the man is proud to be where he is right now. All of us aspire to become something in life, to have a certain lifestyle and to earn respect. Radhakrishnan was brought up in Thrissur, Kerala, looking up to his neighbours who were IAS/IPS. The respect that they had in society amazed his little eyes. He noticed the uniform that they would wear and desired to see himself in one.
"A person in his uniform gets huge respect and he will continue to get it," he believed.
His search for someone who could help him with his ambitious dream began and he approached a bureaucrat for a job when he was just in Class VI. But he was too young for the job and was sent home. That little incident was not going to faze this young man with stars in his eyes.
As soon as he completed his class X, he decided to live with his relatives in Chennai, sure that he would get some opportunity there to own a uniform. He spotted an advertisement for all India recruitment by the Army. Keeping aside all his fears and focusing on just his dream, he applied. And did he get it!
"So, on one fine morning in 1978, I walked several kilometers from my residence to Pallavaram. There, I was selected as Sepoy." He was posted at the Madras Regiment in Wellington. For 16 years, he donned the uniform and served as Havaldar.
He then took a VRS and decided to retire.
"I had two young daughters. I had fulfilled my dream to be in uniform. Now there was nothing more."
He came back to Chennai in 1994 but his uniform days were far from over. 2 years later, he got a job at the SBOA School and a uniform to go with it.
"When the Correspondent offered me the job, I had no expectations or even hesitations to accept it. In fact, I was pleased to be a watchman."
While we all differentiate between each other, when he was asked about how he feels saluting every passer-by, his reply is at once humbling and laced with the truth of life;
"Who doesn't salute? Even an IPS/IAS person salutes his superiors. But, even then we don't salute everyone. We are doing it to honour those we like. There is nothing wrong. "We know everyone who comes and goes. It is a position which is very important and I treat my job with the respect it deserves."
It is through his humble attitude that he has won over the hearts of the students and teachers of the school who make sure they greet him every time they pass him. Radhakrishnan has almost 18 months more to go for his retirement and what makes him more happy than his job is that both of his daughters are alumni of the same school and are making him a proud. While the oldest daughter completed her BTech and is working as an IT professional, the youngest has already landed a placement in the final year of her engineering degree.
Radhakrishnan has taught us that life is all about respecting the uniform that we don and no dream is beyond our reach if we work diligently towards it. We wish him and his family the best in life.
Image Courtesy: Indian Express
NIOS celebrates 33rd Foundation Day
Dr. Subhas Sarkar addresses the 33rd Foundation Day Celebrations of NIOS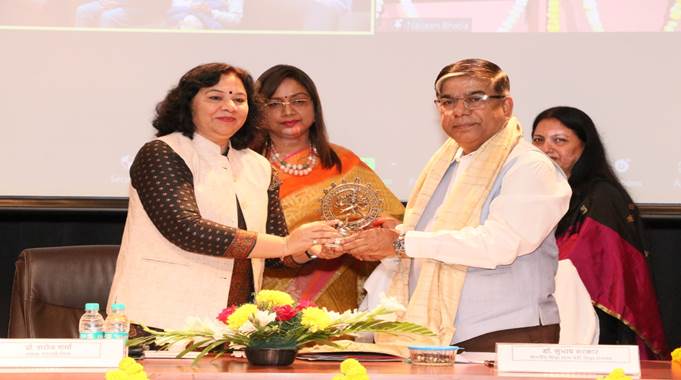 Union Minister of State for Education, Dr. Subhas Sarkar addressed the 33rd Foundation Day Celebrations of NIOS as the Chief Guest.
The function was attended by senior officials of the Ministry of Education, Chairpersons of educational institutions, Heads of Departments, officers, and staff of NIOS. Prof. Naval Kishore Ambasht, former Chairman, of NIOS and Pro-Vice Chancellor, of the Central University of Haryana, Prof. Sushma Yadav graced the occasion.
Dr. Subhas Sarkar in his address appreciated the various programmes and schemes of NIOS and said that NIOS is lighting the lamp of knowledge all over the world. Talking about the Azadi Ka Amrit Mahotsav, he mentioned that today's children will be young people in the age group of 30-40 years on the completion of 100 years of independence and will be responsible for building our nation.
He said that the Ministry of Education has entrusted NIOS with several responsibilities such as developing inclusive education resources, expanding the open and distance education system in states/UTs, translating all courses into more languages as required, creating Indian Knowledge Tradition based courses and propagating Indian culture by translating them into major foreign languages. He also praised the programmes of NIOS enrolling 10 crore adults under 'Basic Literacy Assessment', training of in-service teachers, Gender Green Project, and training in Yoga. He said that Indian Sign Language as a subject at the secondary level has been acknowledged on national and international platforms. He described the launch of an e-library called 'DEEP' by NIOS as a big step forward.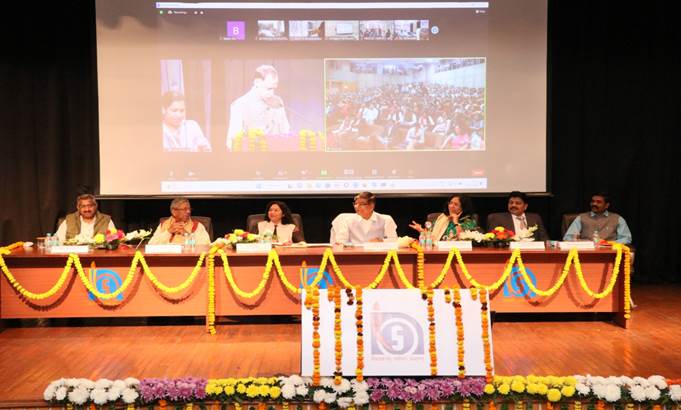 Prof. Saroj Sharma spoke about the journey of 33 years of NIOS and highlighted the special achievements. She said that NIOS is one of the two National Boards of Education under the Ministry of Education, which provides school education through Open and Distance Learning (ODL) for secondary, senior secondary, and vocational education. She elaborated on the role of NIOS in the field of education, efforts being made by NIOS for the successful implementation of the New Education Policy, Virtual Open School, Digital Library (DEEP), NEPIA Project, MoU with Ministry of Defence for Agniveer Project, setting up of Mukta Kaushal Kendras and subjects offered under Indian knowledge Tradition.
It was also conveyed by her that a curriculum called 'Aarambhika' is being developed by NIOS for catering to the Indian Diaspora.
A documentary based on the journey of 33 years of educational endeavours of NIOS was presented on the occasion. In this documentary, 'All England Badminton winner Pullela Gopichand said that most of the players in his badminton academy are getting an education from NIOS.
NIOS alumni, Ms. Niranjana and Vinod Kumar Chaudhary were also felicitated on the occasion. Shri Vinod Kumar said that only due to his education in NIOS, he was able to get the credit of making the Guinness Book of World Records 10 times (8 in Typing and 2 in sports). A proud learner of NIOS, Ms. Niranjana is a successful ventriloquist. Prof. N. K. Ambasht, former Chairman, NIOS said that in this age of technology, innovations must lead to developing 'standalone' courses for the Indian Diaspora, to achieve the goals of the National Education Policy- 2020. Pro-Vice Chancellor, Prof. Sushma Yadav said that the role of NIOS increases in the light of New Education Policy. NIOS has such potential that the institute will be able to achieve the ambitious goals of National Education Policy 2020 in the coming years.
The half-yearly magazine of NIOS 'Pragyan' was released by Dr. Subhas Sarkar on this occasion.