Education Minister Virtually Interacts With Teachers, Parents & Students About Upcoming Exams
During the one hour interaction on 10 Dec 2020, the Minister responded to the various concerns and queries of the students.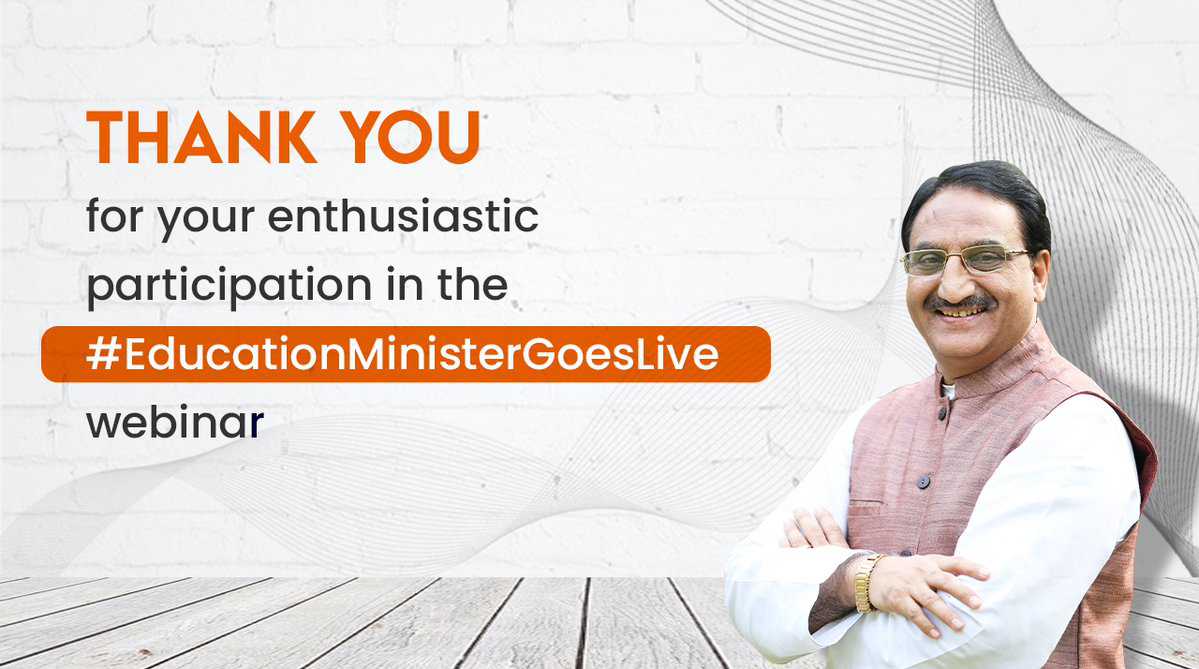 Union Education Minister, Shri Ramesh Pokhriyal 'Nishank,' virtually interacted with teachers, parents and students across the country on upcoming competitive and board exams. During the one hour interaction on 10 Dec 2020, the Minister responded to the various concerns and queries of the students relating to school examinations, entrance examinations, among others.
Speaking on the occasion Shri Pokhriyal said that the students are the brand ambassadors of the National Education Policy 2020. Emphasizing that all of us have to take collective efforts to make the policy a grand success, he sought the cooperation of students and teachers in effective implementation of the policy. While hoping that students will soon return to their normal school days, the Minister urged them to continue their studies along with adhering to all the precautions and guidelines on COVID.
Interacting with teachers, parents and students on upcoming competitive/board exams. #EducationMinisterGoesLive @EduMinOfIndia @SanjayDhotreMP @PIB_India @MIB_India @DDNewslive https://t.co/qOsUBJ2J30

— Dr. Ramesh Pokhriyal Nishank (@DrRPNishank) December 10, 2020
Addressing the students, He suggested that student can use this time to revive the pen friend culture that is writing letters to friends. Going beyond the current trend of SMS, Whatsapp, this practice of writing letters to friends will bring in more joy and happiness. This will also enhance the writing skills of the students, he added.
Recalling the active participation of students in the "My Book, My friend Campaign", Minister asked students to continue the habit of reading. He also asked students to give Book as the birthday present to friends, relatives and others. Following this will develop and build the culture of teaching and learning, he added.
He noted with happiness that even during the lockdown, the process of learning and teaching continued. On various initiatives started by the Ministry of Education to provide education during Covid, he spoke about PM e-Vidya which via Digital/Online/Radio medium, is benefitting crores of students; Diksha, SwayamPrabha, IIT PAL. These programmes have strengthened the accessibility and availability of education. He also mentioned that the Ministry has issued regular directions and SoPs for enabling education to all students during COVID, such as the Pragyata Guidelines, Academic calendar, etc.
He also mentioned that Competitive exams such as NEET and JEE were held successfully and the safety of each and every student undertaking the exam was also ensured.
He also expressed happiness that a toll-free tele-counselling facility for the students was started by the Ministry, providing counselling services to students in India and several countries abroad.
Regarding the concerns raised by students relating to syllabus and dates of JEE Exam, Shri Pokhriyal said that the suggestion of JEE (Main) 2021 to be held four times in a year will be examined positively, beginning at the end of February (thereafter in March, April & May-2021) for 3-4 days during each time. He further said that the syllabus for JEE (Main 2021) to remain same as the previous year and a proposal is under examination where students will be given choice to answer 75 questions (25 questions each in Physics, Chemistry & Mathematics)out of 90 questions(30 questions each in Physics, Chemistry & Mathematics). He mentioned that for JEE (Main) 2020, there were 75 questions which had to be answered by the candidates (25 questions each in Physics, Chemistry & Mathematics), he informed.
The Minister stated that in order to provide flexibility and reduce stress, it has been decided to give the option to candidates to appear one/ two/ three/ four times in JEE (Main) 2021 for admission in the coming academic year, he added. The Minister stated that the exam will be held once in every month, beginning end of February. The candidate will have the option to appear in one/ all months. For the ranking of the candidate, his/ her best performance will be considered, he informed.
In a question relating to syllabus and dates of NEET, the Minister clarified that the schedule for NEET (UG) 2021 is being finalized in consultation with the Ministry of Health and Family Welfare and National Medical Commission (NMC). The same would be declared in near future, he said. Regarding the syllabus for NEET (UG) 2021, Shri Pokhriyal said that the syllabus will remain the same as the previous year. In terms of mode of conduct of examination – online and offline; the Ministry of Health and Family Welfare and National Medical Commission (NMC) are being consulted in this regard, he added.
Informing about the Board Examinations of class 10thand class 12th, the Minister said that the consultations with the stakeholders are in progress for deciding the dates of Board examinations and it will be announced soon based on the feedback from stakeholders.
On a query relating to cancellation or postponement of CBSE practical examinations, the Minister said that CBSE is yet to take a decision on the dates of conducting Board examinations including practical. Consultations with the stakeholders are in progress. In case students are not able to do practical in classes before the examinations alternatives to practical examinations will be explored, he added.
While clarifying the doubts among the students and teachers about the deleted portion of Class 12, the Minister said that CBSE has already uploaded the revised syllabus on its website. Also, details of deleted portion have been given in a summary form. For any doubt, schools may contact CBSE or may visit CBSE website: www.cbseacademic.nic.in. He said he will also instruct C.B.S.E to upload videos of every chapter on their website.
During the interaction on the safety with students Reopening of Schools for the students appearing for boards, Shri Pokhriyal said that the Department of School Education and Literacy, Ministry of Education has already issued SOP/Guidelines for reopening of schools which deals with health and safety aspects for reopening schools and learning with physical/social distancing and the academic aspects related to the delivery of education. Ministries are constantly in contact with states, he added.
While concluding, the Minister expressed his happiness to interact with the students. He appealed the students not to panic. He said the Ministry is committed to ensuring safety and academic welfare of the students. He also informed that latest information regarding examinations, syllabus etc., will be available on the website of the Ministry and its autonomous institutions from time to time.
Indian Debating League 2023 Concludes After 6000 Debates Across 450 Schools, at IIT Delhi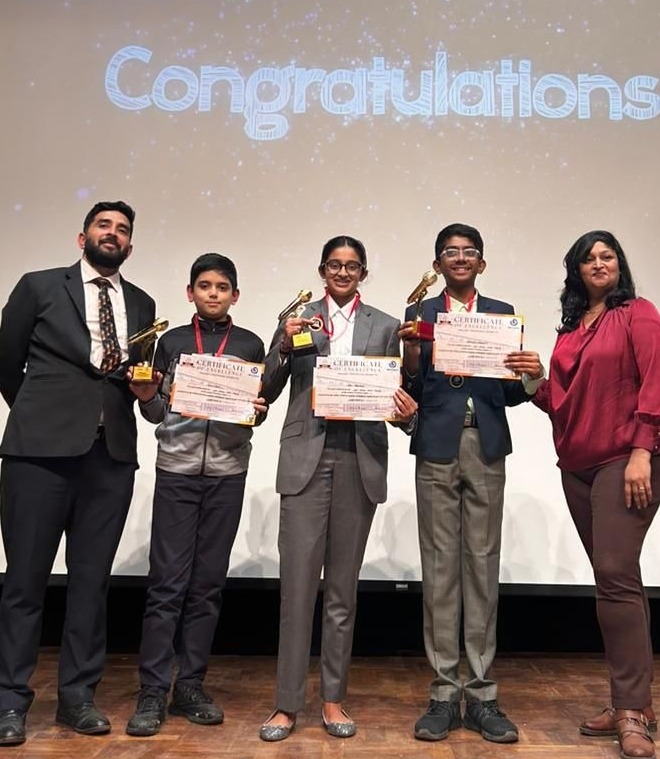 In a thrilling, high-energy competition, the Indian Debating League (IDL) 3.0, which brought together 450 schools across 25 States and Union Territories across the country, successfully concluded its highly anticipated Finale at IIT Delhi today. Team Maharashtra won the coveted title of Indian Debating League in the Middle school category (IDL) 2023- 3rd Edition while Team Haryana stood first in the Junior & Senior school category. This event has not only showcased the remarkable talent of our nation's young debaters but also underscored the importance of exploring our cultural roots across the Eras and reclaiming our heritage. The event promised a dynamic exchange of ideas, with a distinguished panel of Judges from IIT DebSoc. Global Language learning leader, Burlington English and Indian Debating League (IDL) hosted the finals of the Indian Debating League at IIT Delhi.
This year's edition attracted participation from schools from all corners of India, including Vasant Valley, New Delhi; Step by Step, Noida; Strawberry Fields High School, Chandigarh; Dhirubhai Ambani International School, Mumbai; Learning Paths School, Punjab; Jammu Sanskriti School; Kanha Makhan Public School, Vrindavan; Billabong High International, Jabalpur; American International School, Chennai; Woodstock School, Mussoorie; NASR School, Hyderabad and Jayshree Periwal International School, Jaipur.
Amit Baveja, MD, Burlington English India said, "As we conclude the exhilarating journey of the Indian Debating League 3.0 Finals, Burlington English is proud to stand alongside IDL and IIT Delhi in fostering a culture of eloquence, critical thinking, and collaborative learning. As an extension to our commitment towards the New Education Policy 2023 that strongly emphasizes developing oral, written, and digital communication skills, to enable effective expression of ideas and collaboration among students, we align seamlessly with the spirit of this competition. We believe that through platforms like IDL, we are not just shaping skilled debaters but contributing to the development of articulate leaders for tomorrow."
Renowned and celebrated for fostering 21st-century skills in a gamified, engaging format, the Indian Debating League is a unique format modeled on the IPL. Having partnered with Debate Coaches from the top 10 countries on the WSDC Leaderboard, they are keen to put Indian Student Talent on top, tangibility ensuring recognition.
Commending the IDL 3.0 Finale, Rajnish Kumar, co-author of "The Power and Curiosity" and COO, of National e-Governance Division, Digital India Corporation said "Curiosity and the art of debate are two powerful forces that drive intellectual exploration and foster a deeper understanding of the world around us. These interconnected aspects of learning not only stimulate critical thinking but also ignite a passion for knowledge and discovery. When combined with the art of debate, curiosity becomes even more potent. Debates like this can empower individuals to become lifelong learners, critical thinkers, and active participants in shaping a more informed and inclusive society.
Kamal Kashyap, Founder, and CTO of, Indian Debating League said, "In a month the Olympics of Debating will happen at WUDC Vietnam, setting the trend for the hiring of University Coaches at Harvard, Stanford, and Oxford, as well as National Debate Coaches and Judging Paradigm for contemporary themes around the world. Our national Debating Leagues like IDL 3.0, Republic Day Forensics, Frankenstein Sustainability, as well as mentoring the 350+ Adjudicator Landscape for India is the foundation upon which we look forward to leapfrog in building future skills."
The final Event at IIT Delhi was an electrifying display of oratory skills by contestants from 3rd to 12th grades, engaging with the theme The Odyssey of India- Ancient India to AI Led India, rethinking culture and reclaiming our heritage.