Engaging Classroom and Effective Communication, The Key to Happy Students
Dr. Nivedita Ganguli, Principal of DAV Ahmedabad, discusses teacher-parent relationship, teacher-student relationship, and developing education system, and overall development of a student.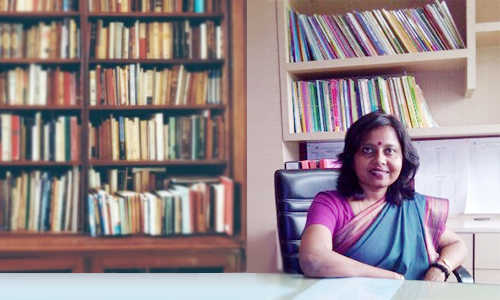 Dr. Nivedita Ganguli, Principal, DAV Ahmadabad, is all that a student might ever need. With a Ph.D. (Emotional Intelligence, Stress and Job Satisfaction) and gold medal in MA (Psychology) in her kitty, she holds a vast experience in training and development. Her award list too is exemplary. To list, she has won Dr. Zakir Hussain 'The Great Teacher Award' from CSRL, Certificate of honour for her achievement as a school counselor in 2012-13 by CBSE and Expressions India, among many others. She also is the author of Journey towards Awakened Life and Changing Perspective Changing Life both of which have been highly successful and helpful to the readers.
Other than all the certificates, awards, and books that she has authored, the most prized possession she has is the love of her students, their parents and teachers.
We recently got a chance to have a word with her, talk about schools and students' overall development, and what we learned from her was an eye-opener. Here's an excerpt:
Q1  Lifestyles have changed a lot. Parents too. Do you find the changes positive.
A1  The lifestyle change is creating lot of problems for mental health of the family. Most of the parents have unhealthy eating pattern and sleeping pattern. This is creating problem in their mental and physical well-being. Thus, the present lifestyle needs to be worked upon seriously so that there can be happy family.
Q2  These changes aren't limited to parents. Life of a teacher too has changed a great deal … Teachers today are blamed of emotional, mental, and physical abuse by parents. So, were we being abused by our teachers? Or are the laws making the teachers be too lenient?
A2  According to me, no one has the right to hurt dignity of any human being. Thus, law is creating a check that any adult should not vent out own frustration on children. But teachers need to empower themselves in managing students with positive approach, creating an engaged classroom with activity based learning. Otherwise, it would be difficult for the teachers to teach today's children who are so apt and savvy with technology.
Q3  Students today are committing suicides for failing in exams, for not getting 99% marks, for not clearing their choice of competitive exams. Why are students losing patience and spirit so easily? How can parents and teachers help them retain it?
A3  I feel that the stress of the parents and teachers pass on to the students. A small child does not know what is 1st and what is 10th. But the reaction that they see on parents face or the words they hear creates emotion of happiness or sadness. It is a tragedy that we focus on results and not on efforts. The more we focus on results, the stress would be high and life happiness index would go down. But the moment we focus on effort, stress would go down and the happiness index would automatically shoot high.
Q4  As a teacher and then a principal of a successful school, please advise the parents reading this on how to not lose temper while making kids understand things.
A4  They need to first train themselves to be peaceful. Until and unless they are not peaceful with themselves, they cannot be peaceful with their kids. Second, they need to focus on not to react while they are angry. They need to take out some time to settle down their anger.
Q5  The real world today is the virtual world. Kids know a lot more about gadgets than their parents. Children are hooked-on to social media; crimes happen. Even the most involved parents are clueless of such activities. How can parents, along with teachers, keep children safe?
A5  The only solution is love children and be more engaged. There are many families where there is only mechanical communication; there is no sharing of feelings. Such things compel children to create a world of their own. There should be some quality family time … away from TVs, computers, mobile phones, etc.
Q6  On the flip side, children don't only suffer these crimes but also commit some. How can parents, guardians, teachers identify such children?
A6  Each adult should be engaged with their children. If they get engaged in sharing emotions, listening to the kids, allowing them to vent out their own feelings in non-threatening atmosphere, we can save our kids from entering into committing crime.
Q7  You being a school principal and psychologist, why do you think there's a gap between teachers and parents?
A7  I think each one is getting into blame game rather than focusing on children's positive development. Parents should be invited to share their skills and talents with the kids, there should be lot of joint venture with the parents which would help the children in their holistic development.
Q8  How can that be effectively bridged?
A8  Each one should focus on this mantra question: "What best I can do and how we can help each other?" rather than focusing on blame-game "Whose fault is it?". If each one plays one's own role in positive manner, there is no question of any gap, and thus any bridge.
Q9  Since technology now offers instant communication, can the gap be bridged by what technology has to offer?
A9  Technology can be used in a positive manner. The work of children can be uploaded in website, the development of each child can be shared by the parents that would enhance the 'feel good' factor and reduce anxiety. The stress can be reduced by sharing notes, etc.
Q10  Though parenting and teaching are tough and there are many concerns on both the sides. However, a common one that both the sides share is sexual education.
A10  I feel that we should be open to educate the children to respect themselves and understand various aspect of sexuality from right perspective. If we don't speak about sexuality, they would enter into several wrong traps.
Q11  For effective teaching, does a teacher need to know parents as well as kids?
A11  Certainly! There is no way out. Once a teacher knows about kids and parents, then only they can help the child on basis of individual needs.
Q12  With all the pressure from schools, parents and students have started preferring home-schooling. Do you think it's helpful for both teachers and students?
A12  It varies from child to child. But I think that if properly trained teachers are available who can teach with compassion, we should not deprive any child of the social development.
Education for Girls
Department of School Education and Literacy (DoSEL), Ministry of Education is implementing 'Samagra Shiksha', for universalization of quality education throughout the country in coordination with the States and UTs.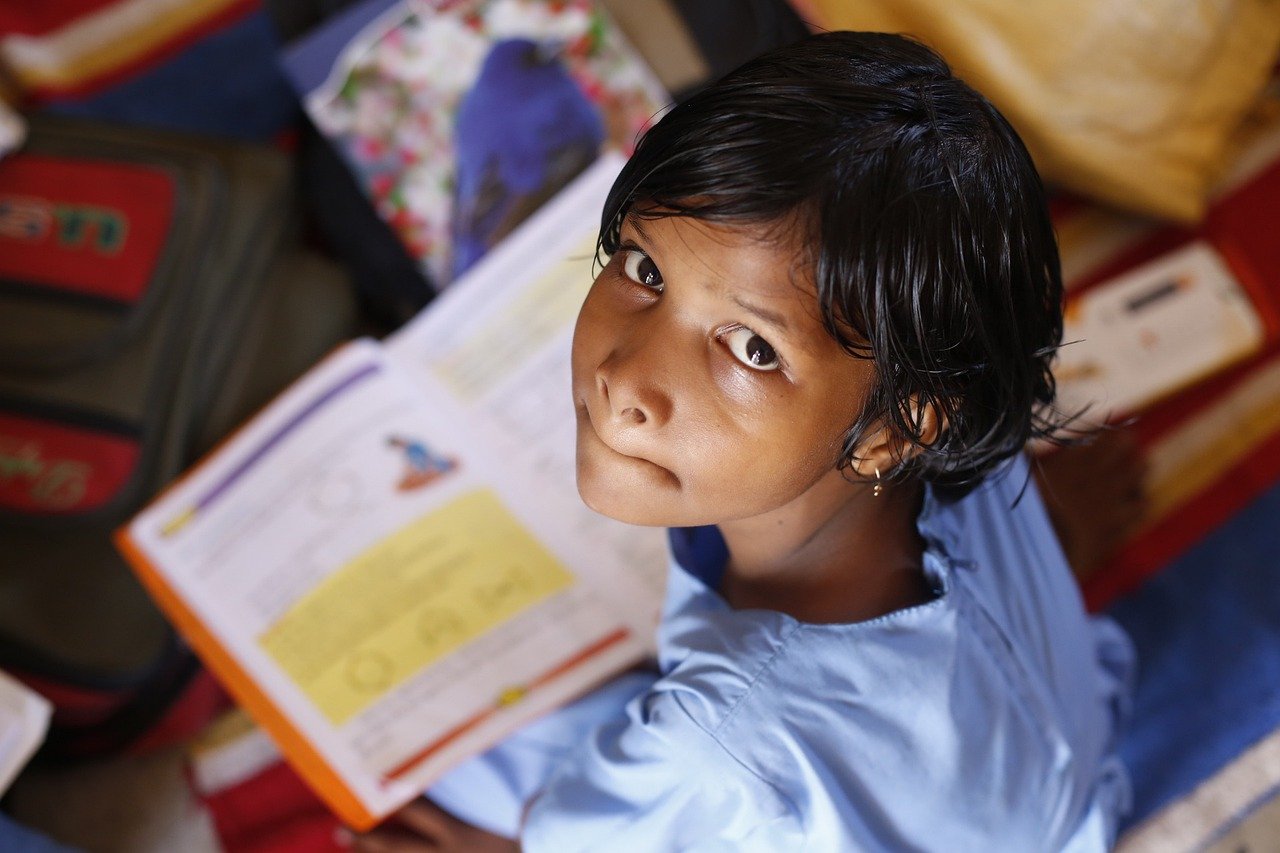 Education is a subject in the concurrent list of the Constitution and the majority of schools are under the jurisdiction of the State Government. Department of School Education and Literacy (DoSEL), Ministry of Education is implementing a centrally sponsored Integrated Scheme for School Education 'Samagra Shiksha', effective from 2018-19, for universalization of quality education throughout the country in coordination with the States and UTs. Bridging gender and social category gaps at all levels of school education is one of the major objectives of the Samagra Shiksha. From the year 2018-19 to 2020-21, the Drop-out rate of girls at the Secondary level decreased from 17.03% to 13.7%, Gross Enrolment Ratio (GER) at the secondary level increased from 76.93 to 79.45, and GER at the higher secondary level has increased from 50.84 to 54.65. (Source: UDISE+).
Under Samagra Shiksha, there is a provision for gender-segregated toilets in all schools. As per UDISE+ 2020-21, 97.45% of Government schools have gender-segregated toilets. Also, there is a provision of a Composite School Grant which may be used for annual maintenance and repair of existing school buildings, toilets, and other facilities to upkeep the infrastructure in good condition.
School Health Programme, under Ayushman Bharat which is a joint collaborative initiative of the Ministry of Health and Family Welfare and DoSEL, Ministry of Education, a module on 'Growing up Healthy' has been incorporated, which interalia includes information on physical challenges during adolescence and attaining puberty.
The National Council of Educational Research and Training (NCERT) is implementing the Adolescence Education Programme (AEP) as part of the National Population Education Project (NPEP). One of the learning outcomes of AEP is to make the learners aware of the concerns of adolescence, i.e. process of growing up during adolescence, and to inculcate in them a positive attitude regarding these concerns.
Additionally, vide a joint letter of Secretary, DoSEL, and Secretary, Ministry of Jal Shakti dated 08.03.2022, the states have been advised to utilize funds earmarked for Menstrual Hygiene Management (MHM) and management of menstrual waste under the Swachh Bharat Mission (Gramin) Phase-II at the village level, for installation or maintenance of incinerators in schools having girls from classes VI to XII and for creating awareness on MHM among adolescent girls and in the society in general.
Moreover, all States and UTs have been requested to take necessary steps to create awareness amongst adolescent girls in schools about the safe usage and the benefits of Sanitary Napkins. It has also been communicated that subsidized sanitary napkins are available at the Jan Aushadi Kendras set up by the Ministry of Chemical and Fertilisers, Government of India.
Under Samagra Shiksha, there is a provision of Kasturba Gandhi Balika Vidyalayas (KGBVs) in the Educationally Backward Blocks, which are residential schools for girls belonging to disadvantaged groups such as SC, ST, OBC, Minority, and Below Poverty Line (BPL). KGBVs were functional for classes 6th to 8th under the erstwhile Sarva Shiksha Abhiyan. Under Samagra Shiksha, a provision has been made to upgrade/converge the KGBVs with girls hostels to cover girls up to classes 10th (Type II) and 12th (Type III) to reduce dropout and enhance enrolment of girls at Secondary and Higher Secondary levels. In KGBVs, specific skill training is imparted to provide need-based vocational education to girls.
Further, Special State Specific Projects for varied interventions under equity are emphasized for enhancing access, retention, and quality of girls by promoting enrolment drives, retention and motivation camps, gender sensitization modules, etc. Financial Support is also being provided under State Specific projects as per the allocation of flexi funds under quality to the state subject to viable proposals received from the respective State and UTs. Such projects include Life Skills, Awareness programmes, Incinerators, Sanitary Pad Vending Machines etc.
Moreover, Samagra Shiksha aims at integrating Vocational Education with general academic education in all Secondary/Senior Secondary schools including KGBVs; enhancing the Employability and Entrepreneurial abilities of the students, providing exposure to working environment; and generating awareness amongst students about various career options so as to enable them to make a choice in accordance with their aptitude, competence, and aspirations.
The information was given by the Minister of State for Education, Smt. Annpurna Devi in a written reply in the Lok Sabha on 1st August 2022.