For all the parents who never gave a chance to their child's dream
Know your child the way he is and not the way the teachers tell you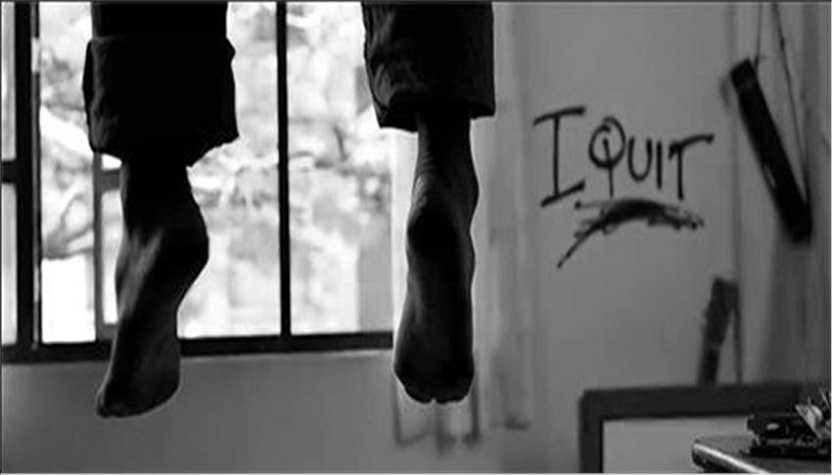 When Armaan was first sent to school, he was introduced to the discipline, rules, and classmates. After coming back home, he discussed it with Mr and Mrs Agarwal. He talked about his teachers, the class and the benches, the colour of the walls, the huge playground, the boys and girls with whom he sat and had lunch or played with throughout the day.
The next day he was introduced to his books and academics. He was also introduced to the academic pressure, although at a very low percentage. When the teacher started reading out from her text book, Armaan noticed that the class was quieter than the previous day, the boys were not playing and the girls were not talking to each other. He also noticed an unusual behaviour that everyone was following; the class was either looking at the blackboard and nodding at the teacher or looking down in the book. When he returned home and told his parents about his unusual day, Mr. Agarwal laughed it off and said, "This is what school is all about. You don't have time to waste on silly pranks and games. You should get used to the disciplined life of school." And Armaan did so. He made himself get used to it. He sometimes had the urge to talk to someone about it but found his friends busy with their tuition classes and he knew what parents would say. So he decided to go with it.
When Armaan was promoted to class 5, he wrote an essay about his dream to become a Pilot. The whole class burst into loud applause. When he went home and showed them the star on his notebook, his parents told him how proud they were. With so much of appreciation from his parents and teachers, he decided to work on his dream.
Armaan was once reading an article on Captain Siddartha Gurung when his dad came into his room. They were having an engaging conversation when Mr. Agarwal told him that he wanted his son to become an architect. Without giving it another thought, Armaan decided to make his father proud and agreed upon taking architecture classes.
In a school assignment, Armaan wrote his first poem. He didn't get over-confident. To test whether it was just a fluke, he tried writing some more for magazines and online. Everyone appreciated it. Some even said that his writings were extra ordinary. Once he was sure that he had a talent in himself, he kept it in front of his parents. He was expecting the same reaction when he had told them about his dream of becoming a Pilot.
But the opposite happened. Mrs. Agarwal burst into tears, accusing her son of being in bad company and comparing him to the neighbour's son. Mr. Agarwal couldn't believe his sons words. He threw questions at Armaan about financial security, stability in life and job opportunities. He came into the room ,tore all his writings and asked him to only concentrate on his studies.
Armaan opted for Science with Maths in class 11. He went by the teachers advice and joined tuitions for his subjects to make his base stronger. But he found himself getting too busy and losing balance between school and tuitions as they had tests and activities every alternate day. It exhausted him.
Even with all the attention and hard work, he barely passed his first-term exams. His parents started talking to him about their expectations and how they were looking forward to his photo in the newspaper with other kids. Armaan could feel the pressure from his parents increasing but didn't say anything. He decided to write it down in a journal. No matter how much he tried, his grades remained the same. His friends suggested that he convinces his parents to change his stream to Arts because it was only supposed to get difficult from here. But he knew his parents opinion and decided to not talk about it. Somehow, he was promoted to class 12.
On the first day itself, Armaan realised that the pressure was more than ever. He didn't believe in himself, his dreams or capabilities. All he could see were books around him, his parents expectations and tuition assignments. One evening, he came back from his tuitions and asked his parents to join him on the table.
"I am really not able to cope up Maa. I have tried a lot but the pressure is too much. I complete one topic and I have five topics pending. It's getting hard for me to retain my notes. I keep forgetting everything. I don't know what to do.." Armaan said and sighed.
"What rubbish are you talking about? This is what you've always wanted to do! Can't you make an effort for your own dreams?" Screamed Mrs. Agarwal.
"It's his friends. They keep telling him nonsense." Mr. Agarwal said and got up from the table.
"Dad, I am serious about this. It is really getting hard for me to.." Mr. Agarwal cut him mid sentence.
"Go in your room and study for your test. We are not discussing this nonsense here."
"I have no idea what this boy is going to do with his life." Mrs. Agarwal said and left his son sitting alone on the table.
Armaan didn't give up. He started studying for his pre-board examinations. On the day of his result, his teachers emptied their bag of complaints and concerns on his parents. Mr and Mrs Agarwal stopped talking to their son. Armaan kept going to school and tuitions, giving everything he had, trying hard to score well. On the last day of his board exams, he realised that he hadn't done well and might even flunk. When he told this to his teachers, they told him that being nervous is normal and asked him to concentrate on his NATA exams which would help him get into a good architecture college.
While preparing for the entrance exam, Armaan wasn't able to recollect anything but his dream of becoming a writer. He tried to convince his parents again but in vain.
Two months passed. A night before his board results, he wrote a poem about his years in school, the pressure and the way he had been ridiculed. After finishing it, he went and hugged his parents and apologized for his silly behaviour and promised to be a good son.
As soon as the bedroom's lights went off, Armaan took his mother's dupatta from the cupboard. It had his mother's smell. He brought it into the room and threw it over the fan, making a loop. All he could think of was disappointment. He was scared that he might fail his exam the next day and bring a bad name to his family. He tore a page from his journal and held it in his hand. The night passed by.
The next morning, when Mr.Agarwal checked the results, he saw that his son had done really well. Excited, Mr. and Mrs. Agarwal went into Armaan's room. They knocked twice and when he didn't open the door, Mr. Agarwal opened it
There was an eerie silence in the room . Armaan's body was hanging on the ceiling fan with a note in his hand.
"Mom and Dad, forgive me for not being able to bear the pressure. I am not strong enough. I don't deserve your love. I am not good enough. I could never be a good son, friend or student. I can see everyone having a bright future but myself. I am lost. I need to put an end to all the frustration, pressure and most of all, the disappointment I bring to our family and my school. You will not have to deal with my problems anymore."
As twitter celebrity @raggedtag says,
"Mera beta hamesha first aata hai syndrome has ruined everything".
SHE STEM 2022 honours and celebrates women
SHE STEM 2022 encourages students to 'Unleash their imagination' as part of the Sweden India Nobel Memorial Week.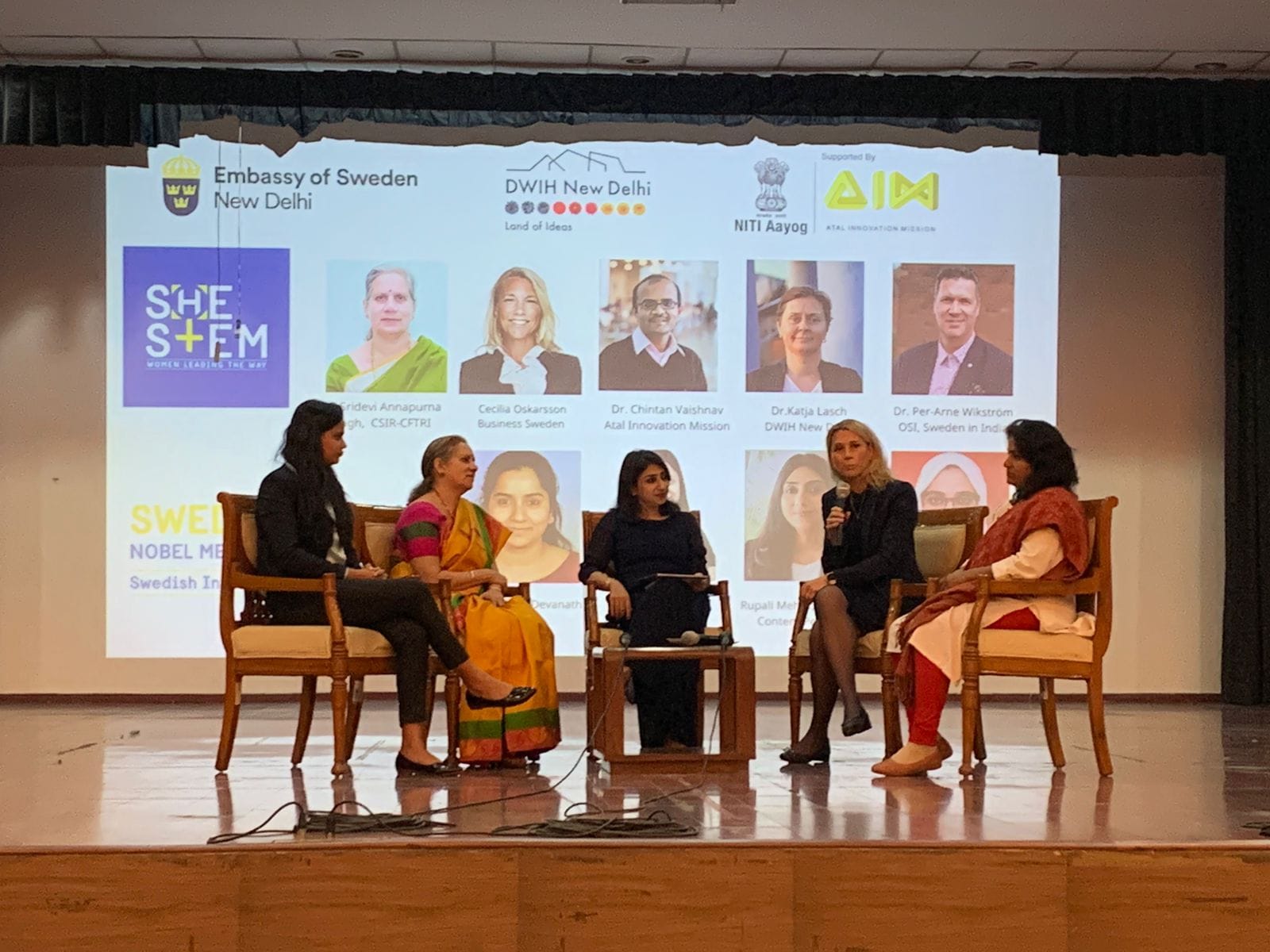 As part of the Sweden-India Nobel Memorial Week, SHE STEM, the annual event to celebrate women in the fields of science, technology, engineering, mathematics, and sustainability, was successfully held for the third year in a row.
The annual event is organized by the Sweden Embassy in India in partnership with the Atal Innovation Mission of the Government of India and the German Centre of Innovation and Research (DWIH New Delhi).
Ambassador of Sweden to India H.E. Jan Thesleff, who also addressed the students via a video message said, "We are very happy to continue the tradition of SHE STEM – it is a flagship event of the Sweden-India Nobel Memorial Week. Congratulations to all the winners of this year's SHE STEM Video challenge."
Dr. Chintan Vaishnav, Director of ATAL Innovation Mission said, "Today, the face of women's involvement in STEM is changing and the rate of participation has increased. It was in ATL Marathon 2021, that there was a spike where the women's participation was 49%. A strong STEM education will go a long way in cultivating such critical thinkers."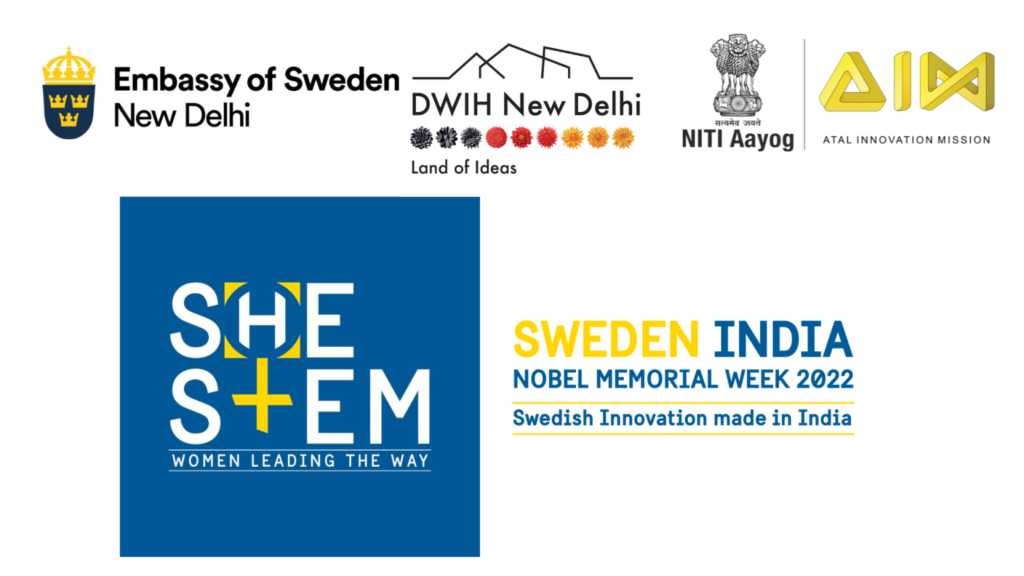 SHE STEM 2022 began with a musical performance by the students of Darbari Lal DAV Model School, New Delhi, the host school for SHE STEM 2022, followed by talks, and a panel discussion with women in the fields of STEM and business, including D. Sridevi Annapurna Singh, Director of Council of Scientific and Industrial Research – Central Food Technological Research (CSIR-CFTRI), Ministry of Science and Technology, Government. of India.
Dr. Annapurna Singh has done extensive work in the development of supplementary foods for undernourished children and in studying the impact of protein-rich food on children. She spoke to the audience about the need for women in fields of STEM to bring in their unique perspectives to problem-solving for a sustainable future.
Other participants included Cecilia Oskarsson, Trade, and Invest Commissioner of Sweden to India, who shared her thoughts on the role of diversity in triggering and enabling positive changes for girls and women, Mamta Kumari, co-founder and CEO of Prepbytes, an ed-tech company in India, and Dr. Vasudharani Devanathan, Neurobiologist and Professor of Biology at the Indian Institute of Science Education Research (IISER). Rupali Mehra, Founder of Content People AB moderated the event.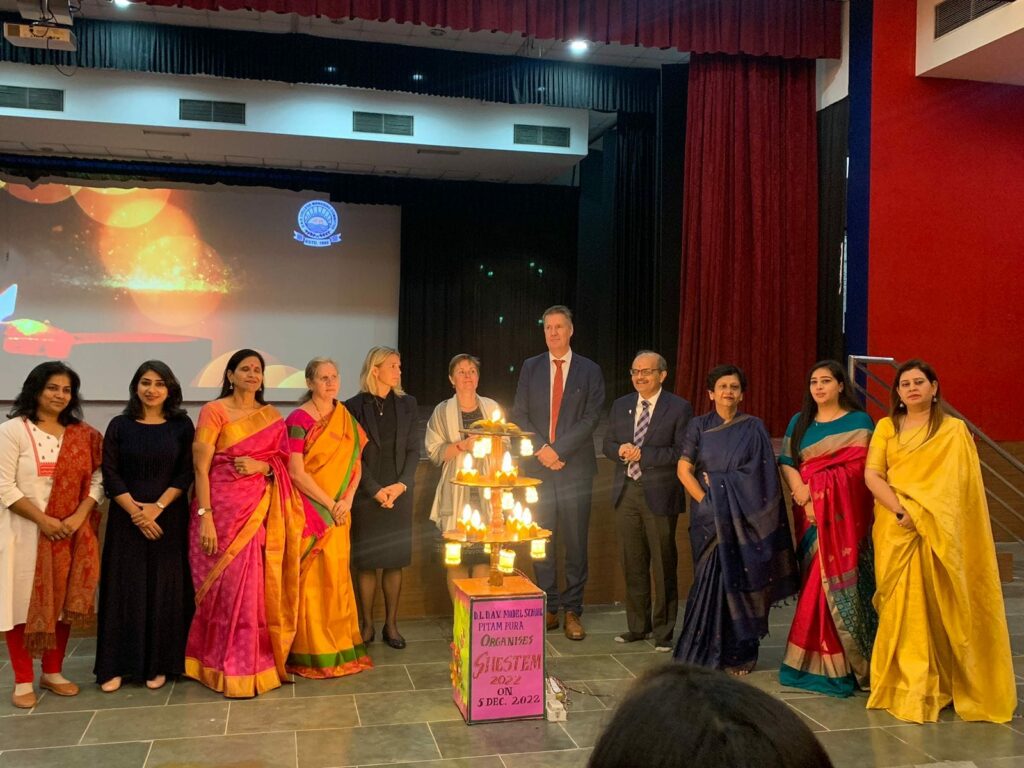 Dr. Per-Arne Wikström, Head of Office of Science & Innovation, Embassy of Sweden in New Delhi said: "When women and girls provide their talent, their knowledge, and their capabilities to science and technology on equal terms with men and boys, then we know that societies prosper and that innovation capacity actually increases. So for us, gender equality is an integrated part and an important aspect of everything that we do. We would like to thank our Indian partners for their support for this very important initiative."
"As Johann Wolfgang von Goethe said, 'who is not curious will not gain knowledge,' so keep your curiosity on, drive your knowledge forward and who knows maybe one or other idea will be implemented," said Dr. Katja Lasch, responsible for Strategy Management at the German Centre for Research and Innovation (DWIH New Delhi) and head of German Academic Exchange Service (DAAD) Regional Office in New Delhi.
Following the success of the Insta-reels Video Challenge in 2021, SHE STEM hosted the #SHESTEM2022 Video Challenge across Instagram, Youtube, Facebook, and Google Drive for students of ages 13 to 17, asking them to imagine themselves in the year 2047, and speak about an innovation of theirs that has helped in tackling climate change. The response was overwhelming with over 930 videos of which 15 were shortlisted. SHE STEM had an extensive jury round of 3 jury teams; Atal Innovation Mission Team led by Dr. Chintan Vaishnav, the Swedish Embassy team, led by Dr. Per-Arne Wikström, and the German Centre for Research and Innovation, represented by Dr. Katja Lasch.
The videos were assessed on the:
Novelty of idea
Clarity of thought and articulation
Sustainability or climate action angle
G. Nivethiga Rani who created a video on how she as a STEM Leader in 2047 had invented a robot that collected and converted biodegradable and non-biodegradable waste into electricity, won the first prize in the video challenge. The second prize was tied between T Shatananda Dhanwantari and Shreya Singh and Nistha Aswal, who participated as a team. Gaurav Hanjoora won third place.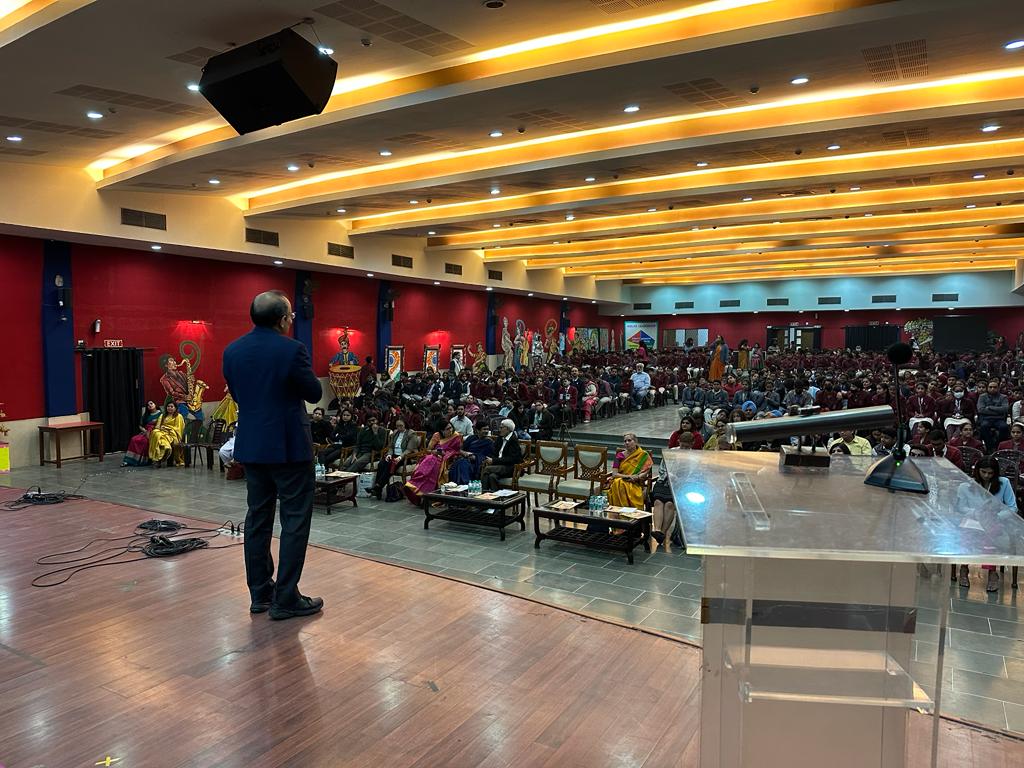 "I congratulate all the winners of the SHE STEM 2022. I have to say what caught my attention was that every single idea was addressing a fundamental constraint confronting us," said Dr. Chintan Viashnav.