GESS Education Awards put the spotlight on the most innovative and inspiring teachers and community leaders
Bindu Thankappan Vijayamma received the Innovation in Education Awards for successfully getting students to become more interested and proficient in mathematics with his unique methodologies.  Annie Barrows – Clarion School won the Best use of ICT / eLearning in the Classroom award

The winners of the 2017 edition of the GESS Education Awards have been revealed, putting the spotlight on some of the most innovative and inspiring teachers and community leaders in the region.
The awards are held in conjunction with the Global Educational Supplies and Solutions (GESS) Dubai exhibition and conference, the annual recognition programme has received thousands of entries from around the world including the UK, Denmark, Spain, South Africa, Colombia, Pakistan, Australia, India and Egypt; in addition to entries received from around the Middle East.
An esteemed panel of educators chose 23 outstanding initiatives and achievements by individuals, organisations and companies who have made significant contributions to the advancement of education in the Middle East.
The Lifetime Achievement Award, in partnership with Táaleem, was given to Rob Stoke (OBE), managing director of Al Futtaim Education Foundation, and former director of Jumeirah English Speaking School. He was selected by a prestigious panel of educators and recognised for developing and leading one of the most successful school groups in the UAE. He has been instrumental in curriculum design working with both the National Curriculum for England and the IB, and is a founder member of the KHDA-led What Works initiative in Dubai.
Among the big winners recognised in ceremonies held in Dubai were DTC School Bus System (SME Company of the Year), 21st Century Learning International (Start-Up Company of the Year), 3P Learning (Multinational Company of the year).
Other notable winners given trophies were PASCO Scientific (Innovation Product Awards – STEM), WinjiGo by ITWORX Education (Innovation Product Awards – E-Learning / Software / Apps), Funzi (Best Free ICT / App Product), STEAM Craft Edu (Best Free ICT / App Product), Pobble (Best Paid for ICT / App Product) and BabNoor (Best Paid for ICT / App Product).
Companies supplying a variety of products and services for use in different school levels were also honoured for their effectiveness in helping teachers and students perform better. Winners include The Knowledge Hub – Learning A-Z (SEN Resource / Equipment Supplier of the Year), Connect Childcare (Early Years Resource / Equipment Supplier of the Year), PG Online Ltd (Primary Resource / Equipment Supplier of the Year), Extramarks Education Singapore Pte Ltd. (Secondary & Higher Education Resource / Equipment Supplier of the Year), Kalemon Arabic Language Learning (Best resource or equipment – non ICT), Seppo (Best Product to Promote Health and Fitness in the Classroom), Pomegranate Language Institute (Judges Commendation Award – Supplier)
Bindu Thankappan Vijayamma received the Innovation in Education Awards for successfully getting students to become more interested and proficient in mathematics with his unique methodologies. Annie Barrows – Clarion School won the Best use of ICT / eLearning in the Classroom award for her untiring commitment to the better utilisation and application of ICT tools and technologies in the classroom.
Other individual awardees honoured for their achievements were Asha Alexander – The Kindergarten Starters (Ambassador for the Environment), Mohamed Mohtady Mohamed (Community Award for Citizenship), Shougat Nazbin Khan (Outstanding Contribution in Education Awards) and Rasha Al-Najjar (Judges Award – Educational Professional).
NIOS celebrates 33rd Foundation Day
Dr. Subhas Sarkar addresses the 33rd Foundation Day Celebrations of NIOS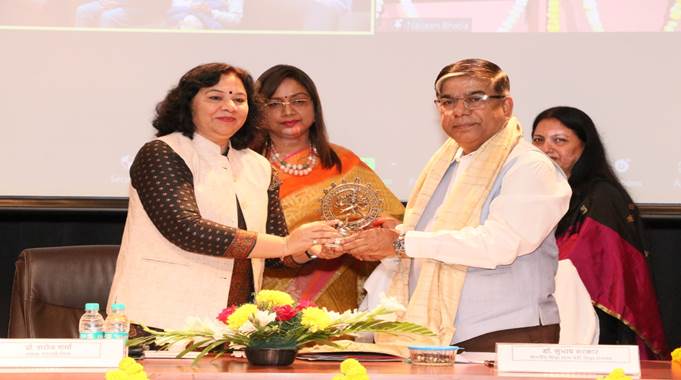 Union Minister of State for Education, Dr. Subhas Sarkar addressed the 33rd Foundation Day Celebrations of NIOS as the Chief Guest.
The function was attended by senior officials of the Ministry of Education, Chairpersons of educational institutions, Heads of Departments, officers, and staff of NIOS. Prof. Naval Kishore Ambasht, former Chairman, of NIOS and Pro-Vice Chancellor, of the Central University of Haryana, Prof. Sushma Yadav graced the occasion.
Dr. Subhas Sarkar in his address appreciated the various programmes and schemes of NIOS and said that NIOS is lighting the lamp of knowledge all over the world. Talking about the Azadi Ka Amrit Mahotsav, he mentioned that today's children will be young people in the age group of 30-40 years on the completion of 100 years of independence and will be responsible for building our nation.
He said that the Ministry of Education has entrusted NIOS with several responsibilities such as developing inclusive education resources, expanding the open and distance education system in states/UTs, translating all courses into more languages as required, creating Indian Knowledge Tradition based courses and propagating Indian culture by translating them into major foreign languages. He also praised the programmes of NIOS enrolling 10 crore adults under 'Basic Literacy Assessment', training of in-service teachers, Gender Green Project, and training in Yoga. He said that Indian Sign Language as a subject at the secondary level has been acknowledged on national and international platforms. He described the launch of an e-library called 'DEEP' by NIOS as a big step forward.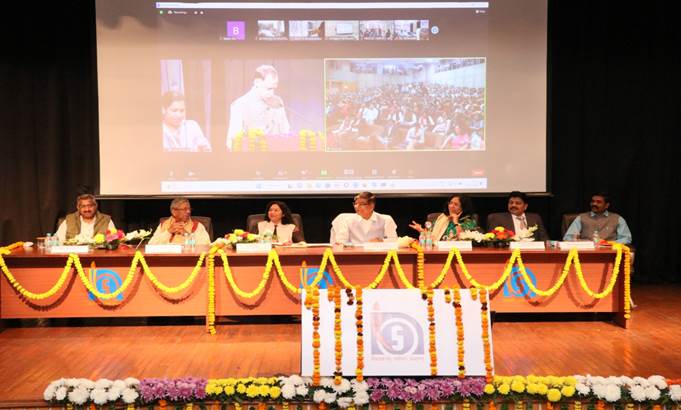 Prof. Saroj Sharma spoke about the journey of 33 years of NIOS and highlighted the special achievements. She said that NIOS is one of the two National Boards of Education under the Ministry of Education, which provides school education through Open and Distance Learning (ODL) for secondary, senior secondary, and vocational education. She elaborated on the role of NIOS in the field of education, efforts being made by NIOS for the successful implementation of the New Education Policy, Virtual Open School, Digital Library (DEEP), NEPIA Project, MoU with Ministry of Defence for Agniveer Project, setting up of Mukta Kaushal Kendras and subjects offered under Indian knowledge Tradition.
It was also conveyed by her that a curriculum called 'Aarambhika' is being developed by NIOS for catering to the Indian Diaspora.
A documentary based on the journey of 33 years of educational endeavours of NIOS was presented on the occasion. In this documentary, 'All England Badminton winner Pullela Gopichand said that most of the players in his badminton academy are getting an education from NIOS.
NIOS alumni, Ms. Niranjana and Vinod Kumar Chaudhary were also felicitated on the occasion. Shri Vinod Kumar said that only due to his education in NIOS, he was able to get the credit of making the Guinness Book of World Records 10 times (8 in Typing and 2 in sports). A proud learner of NIOS, Ms. Niranjana is a successful ventriloquist. Prof. N. K. Ambasht, former Chairman, NIOS said that in this age of technology, innovations must lead to developing 'standalone' courses for the Indian Diaspora, to achieve the goals of the National Education Policy- 2020. Pro-Vice Chancellor, Prof. Sushma Yadav said that the role of NIOS increases in the light of New Education Policy. NIOS has such potential that the institute will be able to achieve the ambitious goals of National Education Policy 2020 in the coming years.
The half-yearly magazine of NIOS 'Pragyan' was released by Dr. Subhas Sarkar on this occasion.