GESS Education Awards put the spotlight on the most innovative and inspiring teachers and community leaders
Bindu Thankappan Vijayamma received the Innovation in Education Awards for successfully getting students to become more interested and proficient in mathematics with his unique methodologies.  Annie Barrows – Clarion School won the Best use of ICT / eLearning in the Classroom award

The winners of the 2017 edition of the GESS Education Awards have been revealed, putting the spotlight on some of the most innovative and inspiring teachers and community leaders in the region.
The awards are held in conjunction with the Global Educational Supplies and Solutions (GESS) Dubai exhibition and conference, the annual recognition programme has received thousands of entries from around the world including the UK, Denmark, Spain, South Africa, Colombia, Pakistan, Australia, India and Egypt; in addition to entries received from around the Middle East.
An esteemed panel of educators chose 23 outstanding initiatives and achievements by individuals, organisations and companies who have made significant contributions to the advancement of education in the Middle East.
The Lifetime Achievement Award, in partnership with Táaleem, was given to Rob Stoke (OBE), managing director of Al Futtaim Education Foundation, and former director of Jumeirah English Speaking School. He was selected by a prestigious panel of educators and recognised for developing and leading one of the most successful school groups in the UAE. He has been instrumental in curriculum design working with both the National Curriculum for England and the IB, and is a founder member of the KHDA-led What Works initiative in Dubai.
Among the big winners recognised in ceremonies held in Dubai were DTC School Bus System (SME Company of the Year), 21st Century Learning International (Start-Up Company of the Year), 3P Learning (Multinational Company of the year).
Other notable winners given trophies were PASCO Scientific (Innovation Product Awards – STEM), WinjiGo by ITWORX Education (Innovation Product Awards – E-Learning / Software / Apps), Funzi (Best Free ICT / App Product), STEAM Craft Edu (Best Free ICT / App Product), Pobble (Best Paid for ICT / App Product) and BabNoor (Best Paid for ICT / App Product).
Companies supplying a variety of products and services for use in different school levels were also honoured for their effectiveness in helping teachers and students perform better. Winners include The Knowledge Hub – Learning A-Z (SEN Resource / Equipment Supplier of the Year), Connect Childcare (Early Years Resource / Equipment Supplier of the Year), PG Online Ltd (Primary Resource / Equipment Supplier of the Year), Extramarks Education Singapore Pte Ltd. (Secondary & Higher Education Resource / Equipment Supplier of the Year), Kalemon Arabic Language Learning (Best resource or equipment – non ICT), Seppo (Best Product to Promote Health and Fitness in the Classroom), Pomegranate Language Institute (Judges Commendation Award – Supplier)
Bindu Thankappan Vijayamma received the Innovation in Education Awards for successfully getting students to become more interested and proficient in mathematics with his unique methodologies. Annie Barrows – Clarion School won the Best use of ICT / eLearning in the Classroom award for her untiring commitment to the better utilisation and application of ICT tools and technologies in the classroom.
Other individual awardees honoured for their achievements were Asha Alexander – The Kindergarten Starters (Ambassador for the Environment), Mohamed Mohtady Mohamed (Community Award for Citizenship), Shougat Nazbin Khan (Outstanding Contribution in Education Awards) and Rasha Al-Najjar (Judges Award – Educational Professional).
Smile Foundation and Shell Launch STEM Project on Pi Day
The initiative will benefit less-privileged students from government schools.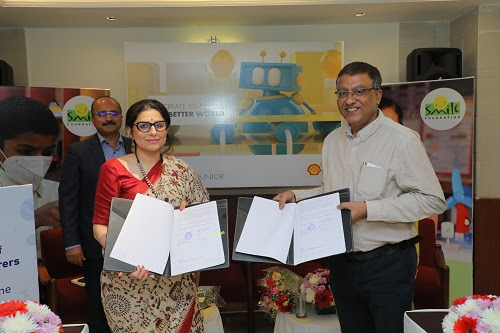 On the occasion of International Pi (π) Day, Smile Foundation and Shell launch 'NXplorers Junior' programme in three Indian states. NXplorers is Shell's global flagship Social Investment STEM (Science, Technology, Engineering, and Mathematics) educational programme aims to benefit over 25,000 children during the first year by enabling them to understand, navigate and address local and global challenges, as underlined in the Sustainable Development Goals (SDGs). NXplorers is also aligned with the National Education Policy 2020 and delivers societal benefits.
The innovative initiative will benefit less-privileged students from government schools and affordable private schools, studying in rural and hard-to-reach areas in the states of Andhra Pradesh, Telangana and Kerala. Its design also includes endeavour to create awareness amongst parents on the importance of STEM education, especially for girl children.
"Shell firmly believes that, provided with the necessary skills and guidance, young people can be a driving force to find sustainable solutions to the major global challenges of our time. Launched in 2018, Shell's global flagship STEM programme NXplorers is aligned with the National Education Policy 2020 that aims to transform India into an equitable and vibrant knowledge society. With the Smile Foundation partnership, we aim to expand this programme to Andhra Pradesh, Kerala, and Telangana and offer young minds the platform to design sustainable solutions to ease the pressure on food, water, and energy," said Ms. Latika Taneja, Head of Corporate Relations – India.
The programme is being rolled out in concurrence with the educational authorities of the respective state governments. Besides students, teachers, parents and communities are involved actively while implementing the programme so that it remains sustainable in the long-term.
"We are excited to roll out this innovative programme in India. We are hopeful that our children will not only leverage STEM education in building their future career but also will grow up and develop leadership ability in finding sustainable solutions in various walks of life," said Mr. Santanu Mishra, Co-founder & Executive Trustee, Smile Foundation.
The NXplorers Juniors will train both 6th and 7th grade students. NXplorers Juniors Level-I course will be delivered through a combination of teacher's guide, PowerPoint slides, and several instructional videos. The facilitator guide will outline the essentials to be covered in each session, exercises, discussion, checkpoint questions, a summary, assessment, and research to be undertaken by students after the session.
The United Nations Sustainable Development Goals (SDGs), exploring SDG Solutions, researching global goals, and developing a challenge and choosing a solution etc. are covered in the NXplorers Juniors Level-1.
NXplorers – Learning for a Life Time, envisions to provide a minimum of 3-5 years of NXplorers exposure to the students at various levels. The objectives include developing strong knowledge and skill set among students so that local and global challenges can be addressed by them. Developing sustainable models of implementation by engaging teachers, school leaders and communities effectively, creating awareness amongst parents regarding the importance of STEM education, especially concerning girl education are part of the overall goals.
About Smile Foundation
Smile Foundation is a national development organization directly benefiting over 1.5 million underprivileged children and their families every year through more than 400 welfare projects in education, healthcare, livelihood and women empowerment spread across 2,000 remote villages and urban slums in 25 states of India.
About Shell
Shell is one of the most diversified international energy company in India with over 10,000 employees and presence across upstream, integrated gas, downstream, renewable energy, and deep capabilities in R&D, digitalisation, and business operations; with a retail presence across six states – Karnataka, Tamil Nadu, Telangana, Maharashtra, Gujarat, and Assam.