Hanan Al Hroub from Palestine wins the prestigious Global Teacher Prize 2016
Hanan Al Hroub from Palestine won the prestigious Global Teacher Prize which recognises the contribution of teachers in making a difference to the society. In a star studded event at UAE, Hanan received the award at the hands of Sunny Varkey of the Varkey foundation.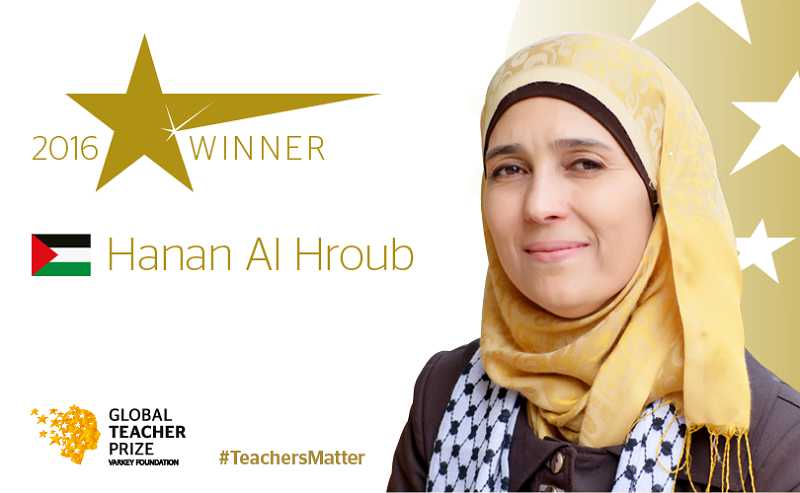 The Global Teacher Prize Ceremony was held on the 13th of March, 2016 at the Atlantis Palm Hotel in Dubai. The event saw many prestigious guests in attendance but the most exciting moment of the night was Pope Francis announcing the 2016 Winner of Global Teacher Prize, Hanan Al Hroub from Palestine.
The Global Teacher Prize is a US $1 million award presented annually to an exceptional teacher who has made an outstanding contribution to their profession.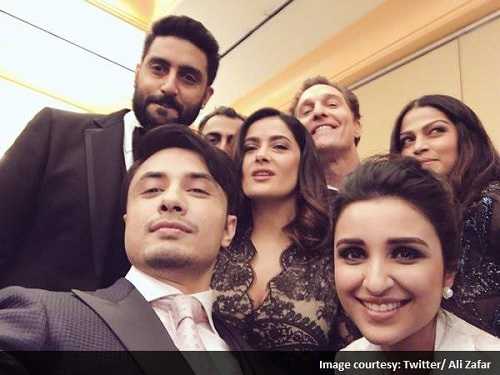 The prize serves to underline the importance of educators and the fact that, throughout the world, their efforts deserve to be recognised and celebrated. It seeks to acknowledge the impacts of the very best teachers – not only on their students but on the communities around them.
Hanan received her Global Teacher Prize award from Sunny Varkey of the Varkey Foundation.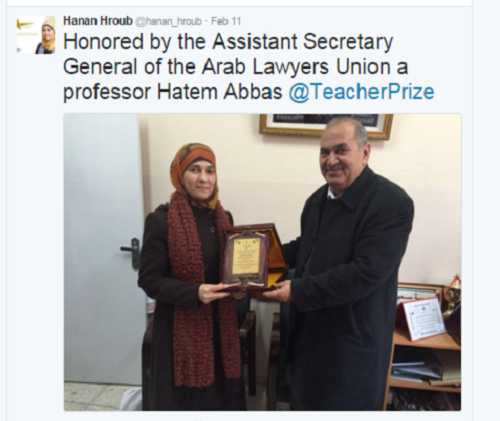 Hanan's story holds special significance given the exemplary work she has done in the face of growing indiscriminate violence around her. She grew up in the Palestinian refugee camp of Bethlehem, where she was regularly exposed to acts of violence. She went into primary education after her children were left deeply traumatised by a shooting incident they witnessed on their way home from school.
Her experiences in meetings and consultations to discuss her children's behaviour, development and academic performance in the years that followed led Hanan to try to help others too who, having grown up in similar circumstances, require special handling at school.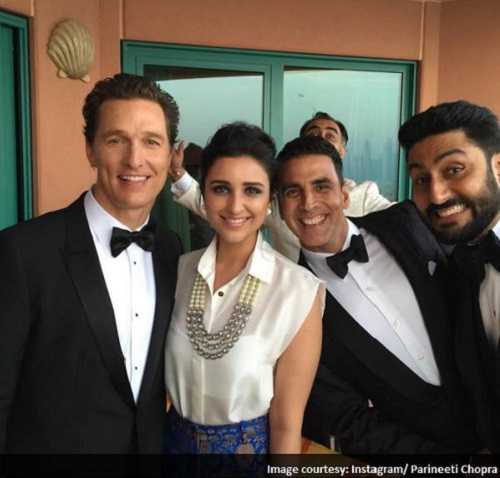 With so many troubled children in the region, Palestinian classrooms can be tense environments. Hanan embraces the slogan 'No to Violence' and uses a specialist approach she developed herself, detailed in her book, 'We Play and Learn'. She focuses on developing trusting, respectful, honest and affectionate relationships with her students and emphasises the importance of literacy. She encourages her students to work together, pays close attention to individual needs and rewards positive behaviour.
Her approach has led to a decline in violent behaviour in schools where this is usually a frequent occurrence. Whats more, she has inspired her colleagues to review the way they teach, their classroom management strategies and the sanctions they use.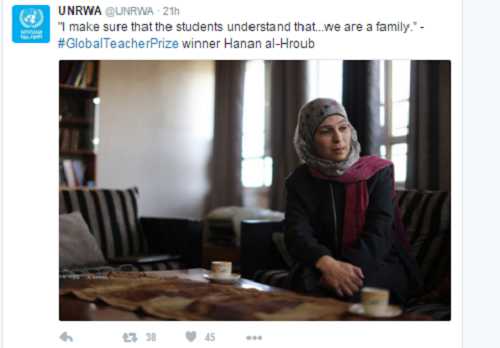 In fact, so strong is her desire to spread the approach developed by her that she has shared her perspective at Ministry conferences, meetings and teacher training seminars. She hopes that, with education, her people can reclaim their homeland.
The award ceremony was a start studded affair with international stars showing their solidarity with the event. The ceremony kicked off with an incredible cultural performance of Shakuntala by GEMS Modern Academy followed by an opening address delivered by Her Excellency Reem Al Hashimi, Minster of State, UAE talking about the importance of teachers and their ability to inspire their students.
His Highness Sheikh Mohammed bin Rashid Al Maktoum Vice President and Prime Minister of the UAE and Ruler of Dubai then arrived at the 2016 Global Teacher Prize Ceremony.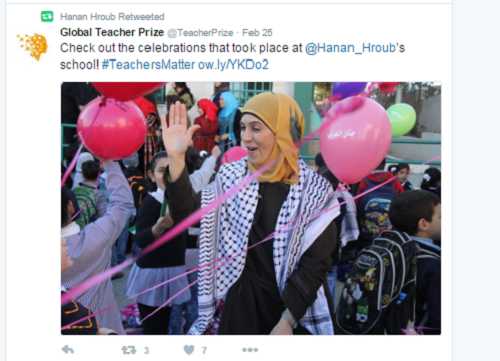 Actors Matthew McConaughey and Abhishek Bachchan took to the dias, sharing how teachers have impacted their lives. Matthew McConaughey credits his mum who is a teacher herself. Abhishek Bachchan introduced the Global Teacher Prize Top 10 Finalists while Professor Stephen Hawking welcomed them to the stage.
This was followed by Parineeti Chopra and Fareed Zakaria introducing a video message from former US president, Bill Clinton where he congratulated all of the Top 10 Finalists.
Inspirational video messages were played from Vice President of the USA, Joe Biden and HRH Prince William Duke of Cambridge.
Finally, Akshay Kumar and Salma Hayek introduced Pope Francis who introduced the winner of the Global Teacher Prize.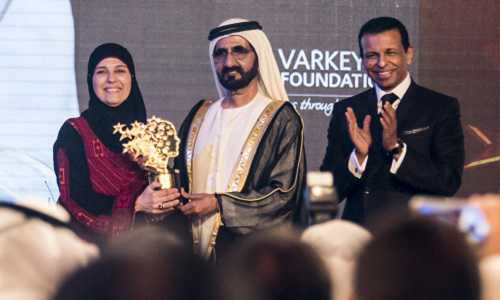 In a society torn apart by conflict where children are regularly exposed to violence, Hanan is building trust and supporting children suffering psychological trauma – from the heart of her classroom.
Deservingly, Hanan Al Hroub was engulfed by media frenzy as soon as the ceremony was over!
Image Courtesy: www.globalteacherprize.org/Twitter A/c of Hanan Al Hroub
NIOS celebrates 33rd Foundation Day
Dr. Subhas Sarkar addresses the 33rd Foundation Day Celebrations of NIOS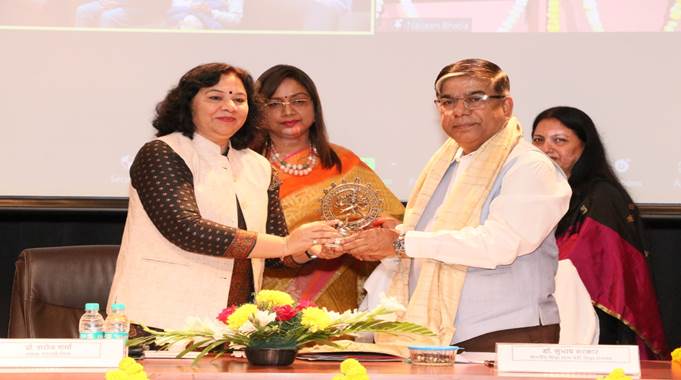 Union Minister of State for Education, Dr. Subhas Sarkar addressed the 33rd Foundation Day Celebrations of NIOS as the Chief Guest.
The function was attended by senior officials of the Ministry of Education, Chairpersons of educational institutions, Heads of Departments, officers, and staff of NIOS. Prof. Naval Kishore Ambasht, former Chairman, of NIOS and Pro-Vice Chancellor, of the Central University of Haryana, Prof. Sushma Yadav graced the occasion.
Dr. Subhas Sarkar in his address appreciated the various programmes and schemes of NIOS and said that NIOS is lighting the lamp of knowledge all over the world. Talking about the Azadi Ka Amrit Mahotsav, he mentioned that today's children will be young people in the age group of 30-40 years on the completion of 100 years of independence and will be responsible for building our nation.
He said that the Ministry of Education has entrusted NIOS with several responsibilities such as developing inclusive education resources, expanding the open and distance education system in states/UTs, translating all courses into more languages as required, creating Indian Knowledge Tradition based courses and propagating Indian culture by translating them into major foreign languages. He also praised the programmes of NIOS enrolling 10 crore adults under 'Basic Literacy Assessment', training of in-service teachers, Gender Green Project, and training in Yoga. He said that Indian Sign Language as a subject at the secondary level has been acknowledged on national and international platforms. He described the launch of an e-library called 'DEEP' by NIOS as a big step forward.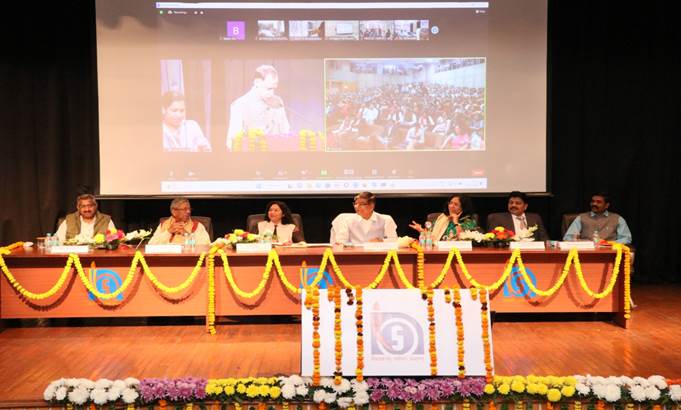 Prof. Saroj Sharma spoke about the journey of 33 years of NIOS and highlighted the special achievements. She said that NIOS is one of the two National Boards of Education under the Ministry of Education, which provides school education through Open and Distance Learning (ODL) for secondary, senior secondary, and vocational education. She elaborated on the role of NIOS in the field of education, efforts being made by NIOS for the successful implementation of the New Education Policy, Virtual Open School, Digital Library (DEEP), NEPIA Project, MoU with Ministry of Defence for Agniveer Project, setting up of Mukta Kaushal Kendras and subjects offered under Indian knowledge Tradition.
It was also conveyed by her that a curriculum called 'Aarambhika' is being developed by NIOS for catering to the Indian Diaspora.
A documentary based on the journey of 33 years of educational endeavours of NIOS was presented on the occasion. In this documentary, 'All England Badminton winner Pullela Gopichand said that most of the players in his badminton academy are getting an education from NIOS.
NIOS alumni, Ms. Niranjana and Vinod Kumar Chaudhary were also felicitated on the occasion. Shri Vinod Kumar said that only due to his education in NIOS, he was able to get the credit of making the Guinness Book of World Records 10 times (8 in Typing and 2 in sports). A proud learner of NIOS, Ms. Niranjana is a successful ventriloquist. Prof. N. K. Ambasht, former Chairman, NIOS said that in this age of technology, innovations must lead to developing 'standalone' courses for the Indian Diaspora, to achieve the goals of the National Education Policy- 2020. Pro-Vice Chancellor, Prof. Sushma Yadav said that the role of NIOS increases in the light of New Education Policy. NIOS has such potential that the institute will be able to achieve the ambitious goals of National Education Policy 2020 in the coming years.
The half-yearly magazine of NIOS 'Pragyan' was released by Dr. Subhas Sarkar on this occasion.