Hanan Al Hroub from Palestine wins the prestigious Global Teacher Prize 2016
Hanan Al Hroub from Palestine won the prestigious Global Teacher Prize which recognises the contribution of teachers in making a difference to the society. In a star studded event at UAE, Hanan received the award at the hands of Sunny Varkey of the Varkey foundation.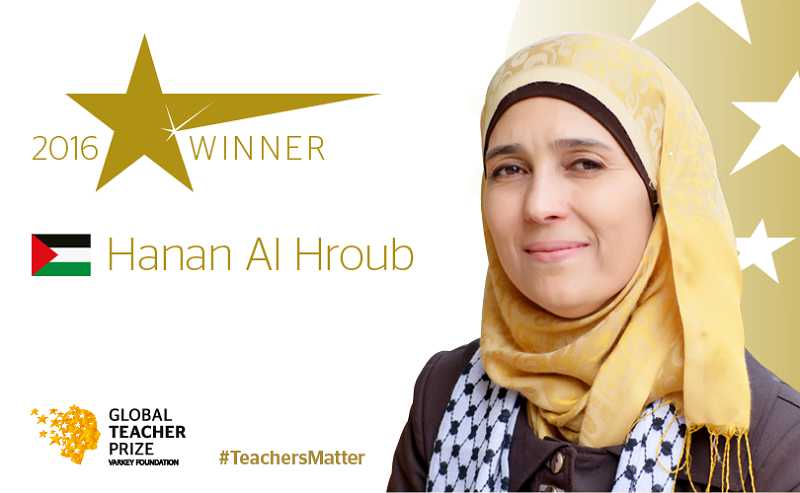 The Global Teacher Prize Ceremony was held on the 13th of March, 2016 at the Atlantis Palm Hotel in Dubai. The event saw many prestigious guests in attendance but the most exciting moment of the night was Pope Francis announcing the 2016 Winner of Global Teacher Prize, Hanan Al Hroub from Palestine.
The Global Teacher Prize is a US $1 million award presented annually to an exceptional teacher who has made an outstanding contribution to their profession.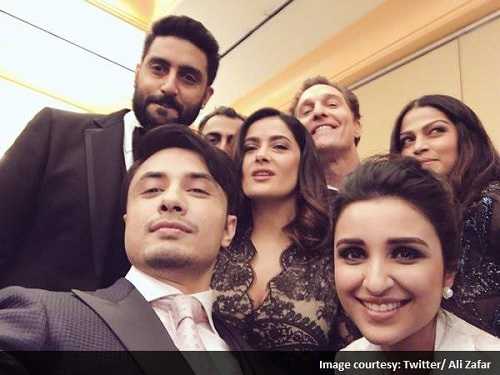 The prize serves to underline the importance of educators and the fact that, throughout the world, their efforts deserve to be recognised and celebrated. It seeks to acknowledge the impacts of the very best teachers – not only on their students but on the communities around them.
Hanan received her Global Teacher Prize award from Sunny Varkey of the Varkey Foundation.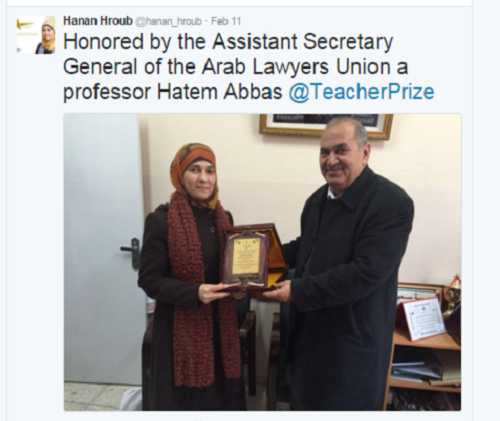 Hanan's story holds special significance given the exemplary work she has done in the face of growing indiscriminate violence around her. She grew up in the Palestinian refugee camp of Bethlehem, where she was regularly exposed to acts of violence. She went into primary education after her children were left deeply traumatised by a shooting incident they witnessed on their way home from school.
Her experiences in meetings and consultations to discuss her children's behaviour, development and academic performance in the years that followed led Hanan to try to help others too who, having grown up in similar circumstances, require special handling at school.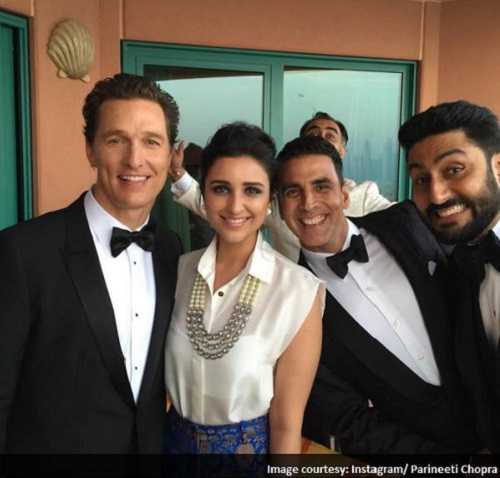 With so many troubled children in the region, Palestinian classrooms can be tense environments. Hanan embraces the slogan 'No to Violence' and uses a specialist approach she developed herself, detailed in her book, 'We Play and Learn'. She focuses on developing trusting, respectful, honest and affectionate relationships with her students and emphasises the importance of literacy. She encourages her students to work together, pays close attention to individual needs and rewards positive behaviour.
Her approach has led to a decline in violent behaviour in schools where this is usually a frequent occurrence. Whats more, she has inspired her colleagues to review the way they teach, their classroom management strategies and the sanctions they use.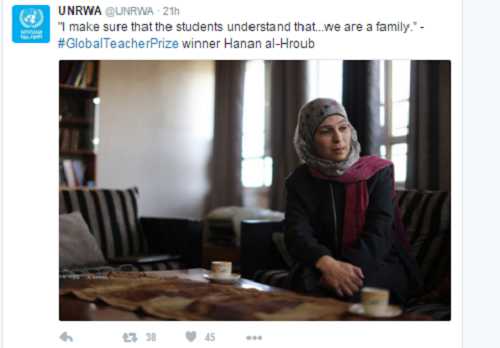 In fact, so strong is her desire to spread the approach developed by her that she has shared her perspective at Ministry conferences, meetings and teacher training seminars. She hopes that, with education, her people can reclaim their homeland.
The award ceremony was a start studded affair with international stars showing their solidarity with the event. The ceremony kicked off with an incredible cultural performance of Shakuntala by GEMS Modern Academy followed by an opening address delivered by Her Excellency Reem Al Hashimi, Minster of State, UAE talking about the importance of teachers and their ability to inspire their students.
His Highness Sheikh Mohammed bin Rashid Al Maktoum Vice President and Prime Minister of the UAE and Ruler of Dubai then arrived at the 2016 Global Teacher Prize Ceremony.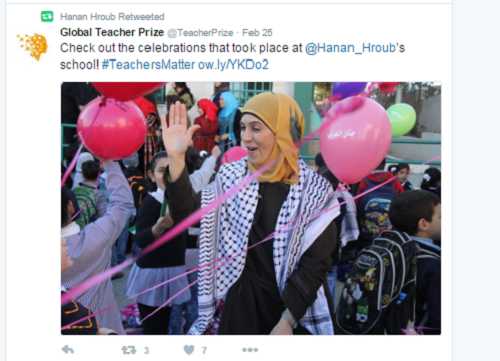 Actors Matthew McConaughey and Abhishek Bachchan took to the dias, sharing how teachers have impacted their lives. Matthew McConaughey credits his mum who is a teacher herself. Abhishek Bachchan introduced the Global Teacher Prize Top 10 Finalists while Professor Stephen Hawking welcomed them to the stage.
This was followed by Parineeti Chopra and Fareed Zakaria introducing a video message from former US president, Bill Clinton where he congratulated all of the Top 10 Finalists.
Inspirational video messages were played from Vice President of the USA, Joe Biden and HRH Prince William Duke of Cambridge.
Finally, Akshay Kumar and Salma Hayek introduced Pope Francis who introduced the winner of the Global Teacher Prize.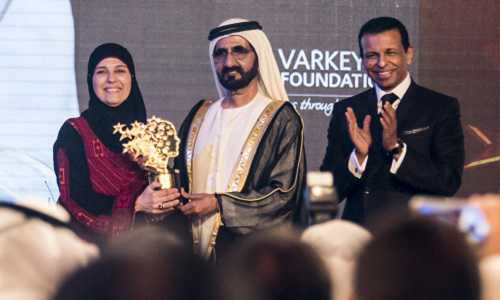 In a society torn apart by conflict where children are regularly exposed to violence, Hanan is building trust and supporting children suffering psychological trauma – from the heart of her classroom.
Deservingly, Hanan Al Hroub was engulfed by media frenzy as soon as the ceremony was over!
Image Courtesy: www.globalteacherprize.org/Twitter A/c of Hanan Al Hroub
Smile Foundation and Shell Launch STEM Project on Pi Day
The initiative will benefit less-privileged students from government schools.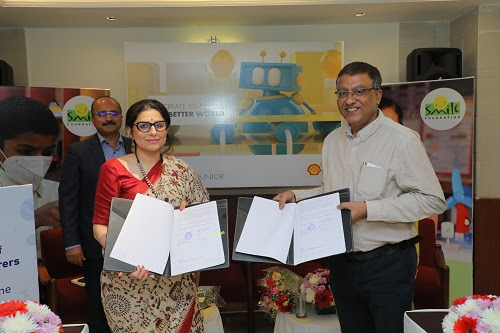 On the occasion of International Pi (π) Day, Smile Foundation and Shell launch 'NXplorers Junior' programme in three Indian states. NXplorers is Shell's global flagship Social Investment STEM (Science, Technology, Engineering, and Mathematics) educational programme aims to benefit over 25,000 children during the first year by enabling them to understand, navigate and address local and global challenges, as underlined in the Sustainable Development Goals (SDGs). NXplorers is also aligned with the National Education Policy 2020 and delivers societal benefits.
The innovative initiative will benefit less-privileged students from government schools and affordable private schools, studying in rural and hard-to-reach areas in the states of Andhra Pradesh, Telangana and Kerala. Its design also includes endeavour to create awareness amongst parents on the importance of STEM education, especially for girl children.
"Shell firmly believes that, provided with the necessary skills and guidance, young people can be a driving force to find sustainable solutions to the major global challenges of our time. Launched in 2018, Shell's global flagship STEM programme NXplorers is aligned with the National Education Policy 2020 that aims to transform India into an equitable and vibrant knowledge society. With the Smile Foundation partnership, we aim to expand this programme to Andhra Pradesh, Kerala, and Telangana and offer young minds the platform to design sustainable solutions to ease the pressure on food, water, and energy," said Ms. Latika Taneja, Head of Corporate Relations – India.
The programme is being rolled out in concurrence with the educational authorities of the respective state governments. Besides students, teachers, parents and communities are involved actively while implementing the programme so that it remains sustainable in the long-term.
"We are excited to roll out this innovative programme in India. We are hopeful that our children will not only leverage STEM education in building their future career but also will grow up and develop leadership ability in finding sustainable solutions in various walks of life," said Mr. Santanu Mishra, Co-founder & Executive Trustee, Smile Foundation.
The NXplorers Juniors will train both 6th and 7th grade students. NXplorers Juniors Level-I course will be delivered through a combination of teacher's guide, PowerPoint slides, and several instructional videos. The facilitator guide will outline the essentials to be covered in each session, exercises, discussion, checkpoint questions, a summary, assessment, and research to be undertaken by students after the session.
The United Nations Sustainable Development Goals (SDGs), exploring SDG Solutions, researching global goals, and developing a challenge and choosing a solution etc. are covered in the NXplorers Juniors Level-1.
NXplorers – Learning for a Life Time, envisions to provide a minimum of 3-5 years of NXplorers exposure to the students at various levels. The objectives include developing strong knowledge and skill set among students so that local and global challenges can be addressed by them. Developing sustainable models of implementation by engaging teachers, school leaders and communities effectively, creating awareness amongst parents regarding the importance of STEM education, especially concerning girl education are part of the overall goals.
About Smile Foundation
Smile Foundation is a national development organization directly benefiting over 1.5 million underprivileged children and their families every year through more than 400 welfare projects in education, healthcare, livelihood and women empowerment spread across 2,000 remote villages and urban slums in 25 states of India.
About Shell
Shell is one of the most diversified international energy company in India with over 10,000 employees and presence across upstream, integrated gas, downstream, renewable energy, and deep capabilities in R&D, digitalisation, and business operations; with a retail presence across six states – Karnataka, Tamil Nadu, Telangana, Maharashtra, Gujarat, and Assam.