"Heavy rain can easily break-down our school," says headmaster
The infrastructural condition of schools in rural India has worsened and the govt. is not taking any action to improve it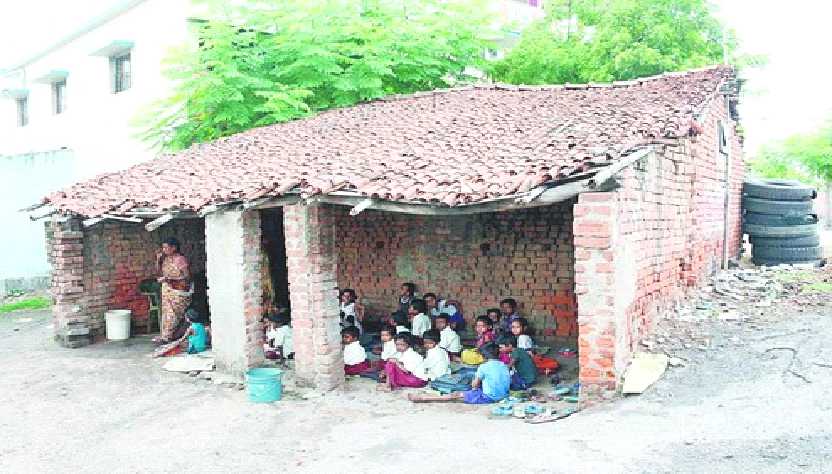 A four-decade old state-run primary school in Bhuiyandih, Jamshedpur, is in such a dreadful condition that the school officials are telling parents not to send their wards to school during rain and thunderstorms. The school consists of a single room and a verandah where 70 students and 2 para-teachers are crammed in.
Parents who are not able to arrange even two full-meals per day rely on the mid-day meal to be the only proper meal for their children. But children miss out on that because the school is often called-off due to bad weather conditions. Ironically, the school is barely a kilometer away from chief minister Raghubar Das' home in Jamshedpur, making a mockery of his ambitious Vidyalaya Chale, Chalayein Abhiyan, which besides enrolling children to formal education, also envisages overhauling infrastructure.
Arun Kumar who officiates as headmaster expressed his regret, "We don't have any option but to cancel school on days of heavy rains as water dripping from the roof makes it difficult for the students to even sit, let alone study. We are afraid that the roof can collapse any time."
Ask the children and their response is resignation at the situation mixed with regret over missing their lunch. "When it rains suddenly, I have fever. I love going to school and eating my lunch but what can we do," said Class IV girl Arti Munda (12), daughter of a rickshaw-puller Ganesh Munda. Fifth grader Sudhir Kumar (10), son of a vegetable seller, agreed. "If school is closed, we miss the lunch," he said. "Can't we have a nice roof so that we can have school on all days, even when it rains?"
To this, Kumar expressed his helplessness. "The school management committee is not at all serious," he said. "I have written to the district superintendent of education about repairing the building but no action has been taken. The education department gives us Rs 5,000 annually for school development which, today, is too small a sum."
He added, "The education officials had spoken about a merger with a nearby school but even that has not happened. Our students have grown an attachment to the school and they cannot just leave and go somewhere else."
East Singhbhum district superintendent of education Indrabhushan Singh says he is aware about the situation. "We know the school building is dilapidated. We will table before East Singhbhum DC Amitabh Kaushal a proposal for its merger with any other school within 1km which has good building infrastructure," Singh said.
Image courtesy: telegraphindia.com
Sarala Birla Gyan Jyoti honoured with prestigious 'Climate Action Project School of Excellence' Award
Only 250 schools globally were recognized because of their intense work on climate education in a whole-school approach. The recognition was awarded by Cartoon Network Climate Champions and Climate Action Project.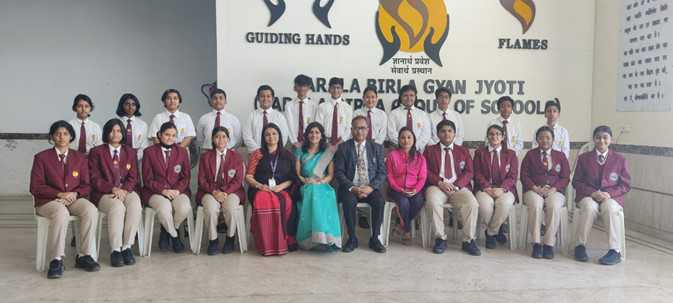 Sarala Birla Gyan Jyoti in Guwahati, India, was awarded the Climate Action Project School of Excellence. Only 250 schools globally were recognized because of their intense work on climate education in a whole-school approach. The recognition was awarded by Cartoon Network Climate Champions and Climate Action Project.
Cartoon Network Climate Champions is a climate change awareness initiative that sets out to inspire kids to take on daily challenges that collectively can make a big difference to the health of our planet. It has been developed in collaboration with WWF, a world-renowned environmental organization.
Climate Action Project is a free, global education project that was launched by Take Action Global, an education non-profit based in the USA, involving 2,700,000 teachers and students across 146 countries. The project aims to help students learn about the climate crisis in authentic ways and disseminate solutions online. The recognized schools submitted their work for the past year and met extensive criteria, including a school-wide commitment to climate education and student solutions.
Sarala Birla Gyan Jyoti has participated in global projects RiseUp4SDGs (India), Let's Be Human, Be One (Serbia), LeapEd Global Learning – Climate Change (Malaysia), the 17 Sustainable Development Goals competitions, implementing the three R's schoolwide and planting gardens in the community, at home and school. Students committed to training to become active Global SDG Ambassadors to raise awareness during virtual Student Hubs with 21 other countries. Students also actively collaborated with students in Brazil, Croatia, South Africa, Sweden and the UK in task-based projects. Currently, all Climate Change projects are student-led.
The selected 250 Climate Action Project Schools of Excellence were announced on 4 November 2021, during Climate Action Day, an annual online live event attended by 250,000 people globally. The event speakers included HRM Prince William, President James Alix Michel, Seychelles, Rick Davis, NASA, Matt Larsen-Daw, WWF, HRM Princess Esmeralda, Belgium, Juan Pablo Celis Garcia, UN Environment Programme, and other world leaders and climate scientists.
The winners were announced by Dan Russell, the voice actor behind several characters in Cartoon Network global hit series The Amazing World of Gumball, and Nandi Bushell, an 11-year-old musician, an influencer, and passionate climate advocate.
Statement by HRM Prince William "We need youth's creativity to repair our planet. We need students to invent and to innovate – to think beyond where we are now and to be optimistic about our future."
Statement by Koen Timmers, Climate Action Project: "Young people have the capacity to do more than learning about climate change. They all can come up with solutions, take small actions, and inspire others to change their lifestyles."
Statement by Dr. Jennifer Williams, Climate Action Project: "Our community of educators has come together in support of climate education for all. We are committed to ensuring students have access to information, ideas, and opportunities to take action for the planet, and, today, these Schools of Excellence are leading the way for the entire world."
Statement by Dr. Diganta Halder, Principal Sarala Birla Gyan Jyoti: "Stopping Climate Change has become a critical issue that needs to be addressed by every human being, but even more importantly in our schools. Students should be aware of Climate Action and the importance of achieving the goals set by the United Nations for peace and prosperity for all by 2030 and to become leaders of impact in the future."