Here Are India's Efforts in Building Resilience in Education System
G20 States' Education Ministers share best practices and express commitment for collaborative efforts to promote teaching and learning in times of COVID crisis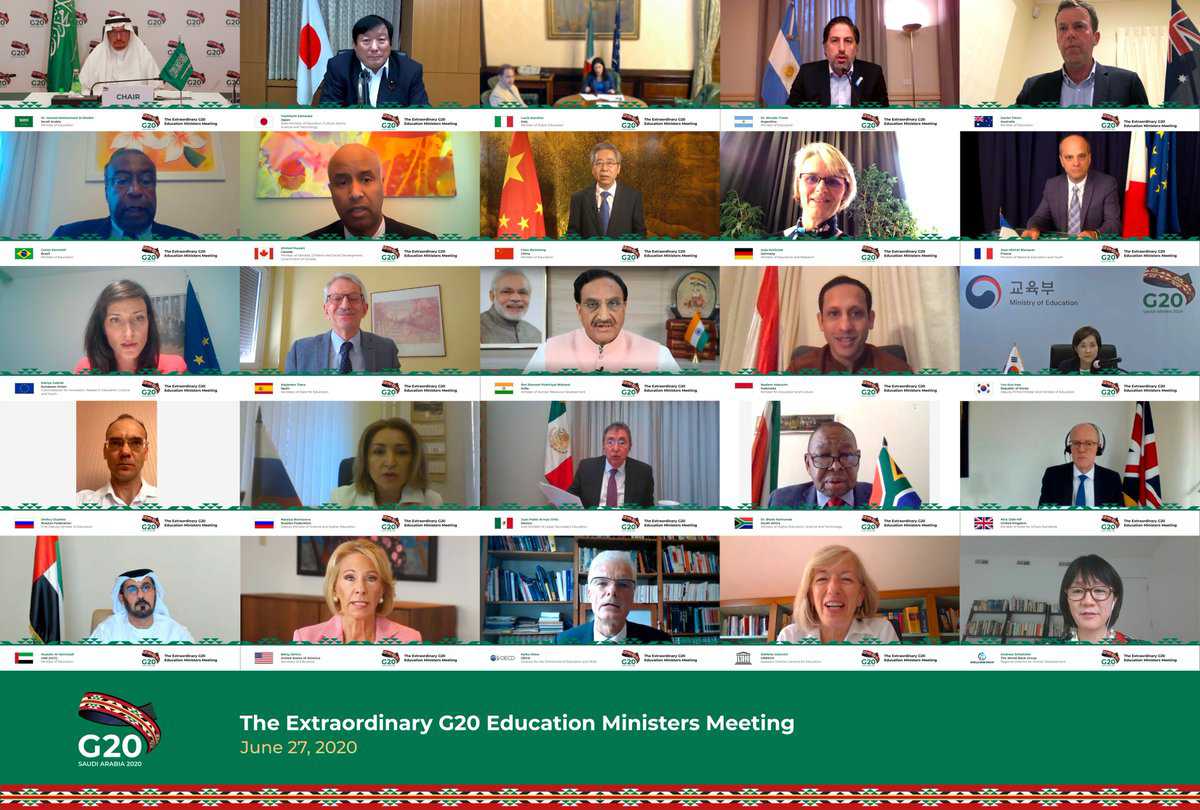 Union HRD Minister, Shri Ramesh Pokhriyal 'Nishank,' on 27 JUN 2020, virtually participated in G20 Extraordinary Virtual Education Ministers' Meeting. This special session has been convened to discuss the effects of the COVID-19 pandemic on the education sector, how different nations have dealt with it and how the Member States can collaborate to further the cause of education in these difficult times.
In his statement, the Union Minister expressed his gratitude towards Chairperson for his initiative to organise this historic and relevant meeting of the G20 nations to collaboratively address the widespread disruptions caused by the pandemic in the education sector.
The Union Minister informed all members about India's efforts to mitigate the impact of COVID-19 on all sectors including education. He said that Prime Minister of India, Shri Narendra Modi, has recently launched a clarion call for an 'Atmanirbhar Bharat' or Self Reliant India. Government of India has also announced an unprecedented economic package worth around 10% of India's GDP with substantial financial allocations to reinvigorate the education and health sectors of our country.
Shri Pokhriyal also shared information about efforts of the HRD Ministry to promote digital learning during COVID-19 crisis. He said that they have developed excellent digital educational content over the years. These are available on various platforms like DIKHSA, SWAYAM, Virtual labs, e-PG Pathshala and National Digital Library to name a few.
He further said, " We recognize that many students do not have adequate access to digital means of education. To address the digital divide, we are making extensive use of TV channels SWAYAM PRABHA, a group of 34 DTH channels, and Radio including Community Radio. With the help of these, we have succeeded in providing education 24×7 to students in the remotest areas."
The Indian HRD Minister said that in order to bring all e-resources on a common platform, they are soon going to launch the Prime Minister eVIDYA programme. This will include:
ONE NATION ONE DIGITAL PLATFORM
All educational e-resources will be brought on one platform under the concept of One Nation One Digital Program, with easy navigation through single integrated search.
ONE CLASS ONE CHANNEL
There will be one dedicated TV channel per grade for classes 1 to 12, to provide quality educational material.
The PM eVidya programme is expected to benefit nearly 25 crore school children.
ONLINE PROGRAMMES IN UNIVERSITIES
100 top-ranked universities in the country are soon going to start full-fledged online programmes. Permissible online components in Conventional, Open and Distance modes of education will be enhanced from 20 % to 40%.
SWAYAM MOOCS COURSES: These courses are being mapped with university curriculum and Higher Education Institutions are being encouraged to make it part of the curriculum.
REGIONAL LANGUAGES: e-learning resources are being prepared in eight regional languages.
DAISY: The study material for the differently-abled is being developed on Digitally Accessible Information System (DAISY) and in sign language.
MANODARPAN: Manodarpan is an initiative by the Education Ministry for psychosocial support of students, teachers and families for their mental health and emotional wellbeing. A National Helpline has been set up to provide counselling.
The Union Minister reaffirmed India's commitment to the efforts being taken by the G-20 Group of Nations to continue with its focus on the development and advancement of flexible learning strategies, including a variety of distance and e-learning solutions within different country contexts.
आज #G20 वर्चुअल शिक्षा मंत्रियों की बैठक में प्रतिभाग किया।#COVID_19 @PMOIndia @HMOIndia@PIB_India @MIB_India@DDNewslive @HRDMinistry pic.twitter.com/hwUK28sgFP

— Dr. Ramesh Pokhriyal Nishank (@DrRPNishank) June 27, 2020
5 Computer Exercises You Can Teach Your Students in School for Better Computer Literacy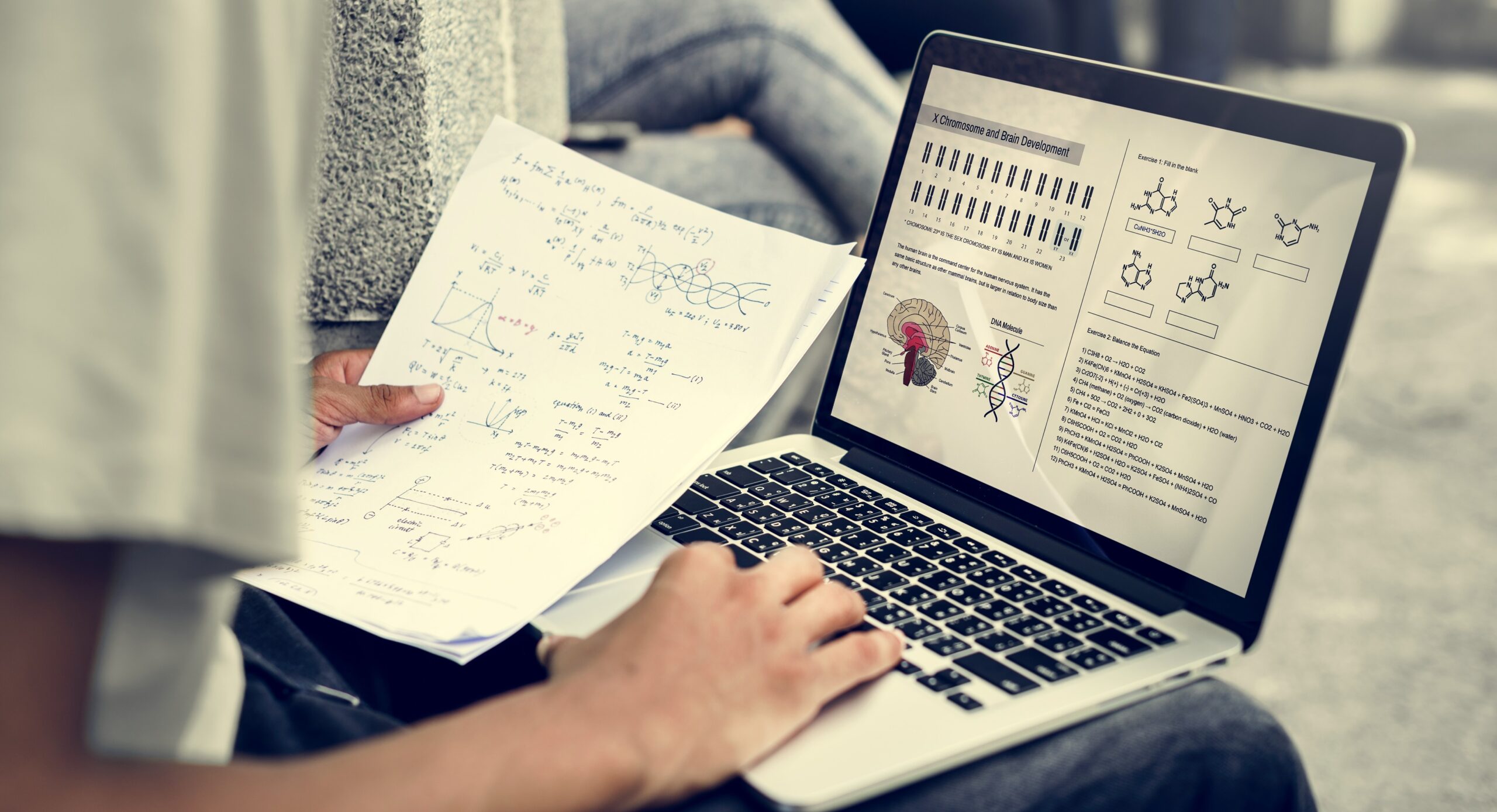 As the world observed Computer Literacy Day this past Saturday, December 2nd, we must discuss how Indian schools can take proactive measures to enhance computer literacy among students.
Computer literacy is the ability to use computers and related technologies effectively and efficiently. It is a vital skill for children to learn today, as computers are ubiquitous and indispensable in almost every aspect of life. Here are some reasons why computer literacy is important for children to know:
Cyberbullying and cybercrimes: As more and more children use the internet and social media, they are exposed to the risks of cyberbullying and cybercrimes, such as harassment, identity theft, fraud, and hacking. Computer literacy can help children to protect themselves from these threats, by teaching them how to use online security tools, such as passwords, antivirus software, and encryption. It can also help them to recognize and report cyberbullying and cyber crimes, and to seek help and support when needed.
Artificial intelligence (AI): AI is the technology that enables machines to perform tasks that normally require human intelligence, such as learning, reasoning, and decision-making. AI is transforming various fields and industries, such as education, health care, entertainment, and transportation. Computer literacy can help children to understand and interact with AI, by teaching them how AI works, what its benefits and limitations are, and how to use it responsibly and ethically.
School curriculum and career opportunities: The school curriculum and the job market are increasingly demanding computer literacy skills, such as coding, web design, data analysis, and media creation. Computer literacy can help children to excel in their academic and professional pursuits, by teaching them how to use various tools and software that are relevant and useful for their learning and work. It can also help them to explore and discover new interests and passions, and to develop their creativity and problem-solving skills.
However, many schools are behind in teaching students about actual tools and software that they must know. They are only taught the basic HTML, MS Office, and some redundant software which are now becoming obsolete. They must teach students beneficial software and exercises, such as:
Coding basics: This exercise introduces students to the fundamentals of programming, such as variables, loops, functions, and logic. Students can use online platforms such as Code.org, Code For Life, Microsoft MakeCode, Machine Learning for Kids, or Scratch, these are free-to-use tools available to create interactive games, animations, and stories using block-based or text-based coding languages.
Web design: This exercise teaches students how to create and design their websites using HTML, CSS, and JavaScript. Students can use online editors such as Codemoji, Weebly, Adobe Express, Google Sites, and WordPress.com to write and run their code and see the results in real-time. They can also learn from tutorials and examples on YouTube.
Media creation: This exercise encourages students to express their creativity and communication skills through digital media, such as images, videos, and podcasts. Students can use online tools such as Canva, Pixlr, Storybird, Padlet, and Tellagami, to edit and create images, WeVideo or Animoto, VN or Photogrid to edit and create videos, and Spotify, Anchor or SoundTrap to record and produce podcasts. They can also share their media creations with their peers and teachers on online platforms.
Online research: This exercise trains students to find and evaluate information from various online sources, such as search engines, databases, and websites. Students can use online tools such as AI Tools named Bing or ChatGPT to search for information on different topics, Google Scholar or Zotero to generate citations and references, and Grammarly to check and improve their writing.
Digital citizenship: This exercise educates students about the ethical and responsible use of technology, such as online safety, privacy, and cyberbullying. Students can use online resources such as Common-Sense Education or The Achievery to learn about the best practices and guidelines for being a good digital citizen. They can also participate in online discussions and activities that foster digital citizenship skills and awareness.