Home tutor provider Qriyo raises funding from Dubai-based NB Ventures
Jaipur based personalised learning and Home Tutor Provider Qriyo raised undisclosed amount of funding from Dubai based Neelesh Bhatnagar's NB Ventures as part of its Series-A Funding round. Qriyo is an app-based platform which provides Home Tutors for 300+ courses.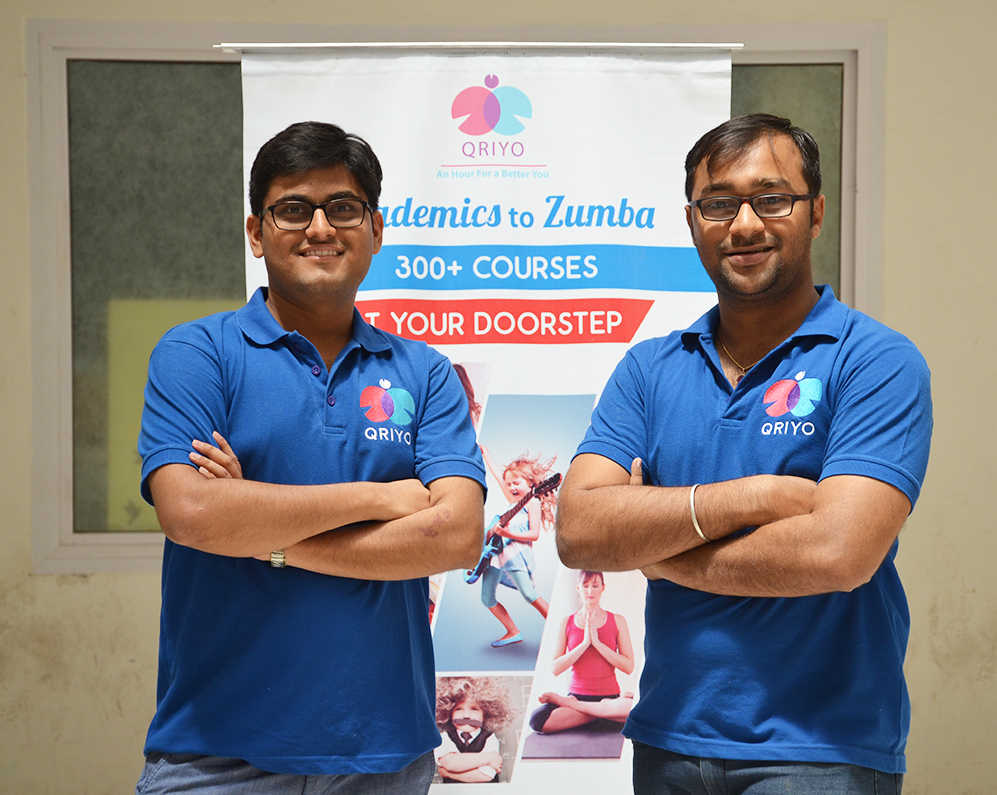 Jaipur based personalised learning and Home Tutor Provider Qriyo raised undisclosed amount of funding from Dubai based Neelesh Bhatnagar's NB Ventures as part of its Series-A Funding round. Qriyo is an app-based platform which provides Home Tutors for 300+ courses. The startup provides an end to end delivery, tracking and progress report for all the courses taught by Home Tutors or Qriyo Guru. They provide Gurus for Academics, Yoga, Dance, Music, and Fitness etc.
Story so far
Qriyo was founded in 2015 by IIT-B Alumni, Mudit Jain & Rishabh Jain. Qriyo positioned itself as end to end Home Tutor Provider platform. It combines the power of technology with real human services to deliver best possible learning by Qriyo Gurus. The venture currently has 8000+ tutors in Jaipur, Jodhpur, Udaipur and Ahmedabad. They have 2500+ customers with 50,000+ hours of teaching delivered via their platform. They received seed round of funding from UAE based Idein Ventures in January 2016.
Qriyo has separate apps for tutors 'Gurus' and for Students. The app enables tutors to see nearby opportunities, manage tuitions and improve knowledge. It also vets tutors using Guru Evaluation test on 17 parameters including subject knowledge, behavioral patterns like – ethics, anger management, empathy etc. The dedicated customer app enables students to check Guru Profiles, give feedback, track attendance, renew and pay for classes. They have also developed proprietary Matchmaking Algorithm which automates tutor selection process, hence customer can get single most suitable profile.
The startup earns majority of its revenue via tutor commission. Talking to co-founder and CEO, Mudit described that they have different slabs for different courses ranging from 15% to 50% per month. Qriyo incentivizes tutors who are associated with them for longer duration and have good customer ratings. He said that Qriyo is also providing tutors and instructors to schools, institutes and summer camps. He informed that Qriyo has 62% renewal rate and 30% upselling. Share of organic business stands at 60% and is increasing every month.
Mudit said, "Qriyo is the only tech player in the country who has long term vision of enabling transactions in this listing and lead-generation space. We have built a tech platform that makes it super easy for customer to learn anything at home. They don't have to browse through endless tutor profiles to select a tutor. Our newly launched website along with our mobile apps make it super easy for our customers to book a tutor. We track all guru parameters including real customer ratings, punctuality, attendance, conversion percentage, student score improvement which gives us power to automate tutor profiling like no other player can. We are making conventional home tuition agency business truly scalable. Many tutors are making 5 digit remuneration by just teaching few hours of tuitions. We are truly humbled by response of our Gurus and Customers."

With this fresh round of funding Qriyo aims to expand its operations in Chandigarh by June 2017. They will also expand the courses offered in personalised competitive exams preparation & pet training categories. They also aim to on-board 16,000 more gurus by end of this year. With improved technology Qriyo is expecting to automate part of its support and cut Teacher Match Time to half in next 6 months.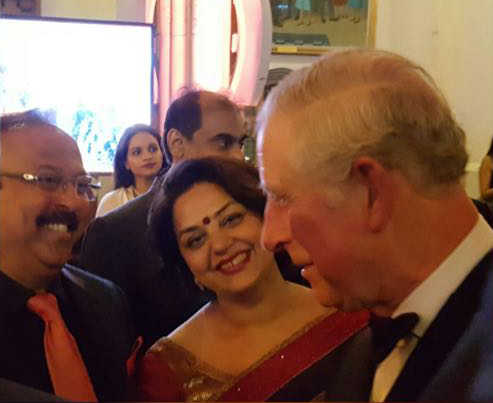 Speaking of funding, Neelesh said, "Qriyo is a lifestyle business, I can see huge demand for their services. Qriyo team is working towards creating an automated ecosystem for delivering quality learning services at home. It has been 1 year since I am associated with the team as a mentor. I look forward to helping them expand to the Middle East at the right time. Qriyo's growth journey has been fascinating so far."

Neelesh has earlier invested in Bengaluru based startups HealthifyMe & LetsTransport. He is also a joint owner of Dubai team of Indian Tennis Premier League (ITPL) with Virat Kohli. Neelesh Bhatnagar was one of the shareholders of Landmark Group and Ex-CEO of Emax and Landmark Arabia.

Qriyo aims to use the additional funding to strengthen tech and operations. Talking about 2017, Co-Founder and COO Rishabh said, "The summer months are crucial for us as it brings great demands both in academics and extracurricular segment. We are already profitable in 2 cities & we will achieve companywide operational break even overall without impacting the growth. 30% MoM growth will continue in terms of sales & guru on boarding for next 6 to 9 months. We are also in negotiation stage of UAE expansion. We have strong support & mentoring from both our investors Idein Ventures and Neelesh."
Ashwin Srivastava, director of Idein Ventures and Qriyo, says, "We are extremely proud of our investment in Qriyo as it has started changing the definition of education in small cities of India. We see them as a major international player in the long run, as problems of education in India are similar to those in UAE, China and rest of Asia. We have contributed a lot to Qriyo beyond money and hope to continue the same and take them global in the long run."
NIOS celebrates 33rd Foundation Day
Dr. Subhas Sarkar addresses the 33rd Foundation Day Celebrations of NIOS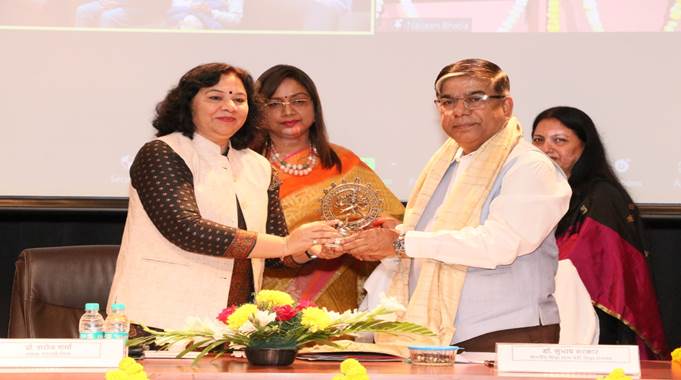 Union Minister of State for Education, Dr. Subhas Sarkar addressed the 33rd Foundation Day Celebrations of NIOS as the Chief Guest.
The function was attended by senior officials of the Ministry of Education, Chairpersons of educational institutions, Heads of Departments, officers, and staff of NIOS. Prof. Naval Kishore Ambasht, former Chairman, of NIOS and Pro-Vice Chancellor, of the Central University of Haryana, Prof. Sushma Yadav graced the occasion.
Dr. Subhas Sarkar in his address appreciated the various programmes and schemes of NIOS and said that NIOS is lighting the lamp of knowledge all over the world. Talking about the Azadi Ka Amrit Mahotsav, he mentioned that today's children will be young people in the age group of 30-40 years on the completion of 100 years of independence and will be responsible for building our nation.
He said that the Ministry of Education has entrusted NIOS with several responsibilities such as developing inclusive education resources, expanding the open and distance education system in states/UTs, translating all courses into more languages as required, creating Indian Knowledge Tradition based courses and propagating Indian culture by translating them into major foreign languages. He also praised the programmes of NIOS enrolling 10 crore adults under 'Basic Literacy Assessment', training of in-service teachers, Gender Green Project, and training in Yoga. He said that Indian Sign Language as a subject at the secondary level has been acknowledged on national and international platforms. He described the launch of an e-library called 'DEEP' by NIOS as a big step forward.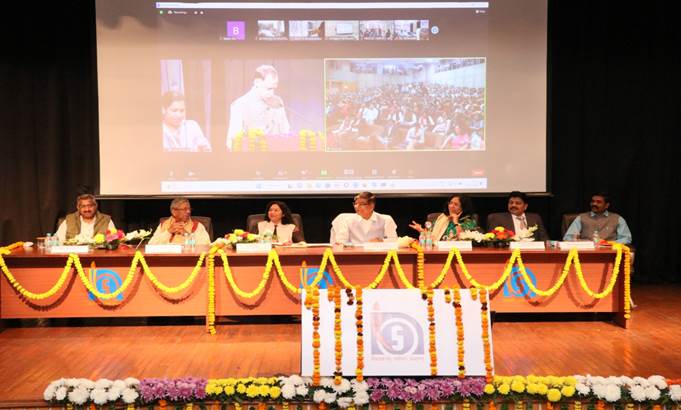 Prof. Saroj Sharma spoke about the journey of 33 years of NIOS and highlighted the special achievements. She said that NIOS is one of the two National Boards of Education under the Ministry of Education, which provides school education through Open and Distance Learning (ODL) for secondary, senior secondary, and vocational education. She elaborated on the role of NIOS in the field of education, efforts being made by NIOS for the successful implementation of the New Education Policy, Virtual Open School, Digital Library (DEEP), NEPIA Project, MoU with Ministry of Defence for Agniveer Project, setting up of Mukta Kaushal Kendras and subjects offered under Indian knowledge Tradition.
It was also conveyed by her that a curriculum called 'Aarambhika' is being developed by NIOS for catering to the Indian Diaspora.
A documentary based on the journey of 33 years of educational endeavours of NIOS was presented on the occasion. In this documentary, 'All England Badminton winner Pullela Gopichand said that most of the players in his badminton academy are getting an education from NIOS.
NIOS alumni, Ms. Niranjana and Vinod Kumar Chaudhary were also felicitated on the occasion. Shri Vinod Kumar said that only due to his education in NIOS, he was able to get the credit of making the Guinness Book of World Records 10 times (8 in Typing and 2 in sports). A proud learner of NIOS, Ms. Niranjana is a successful ventriloquist. Prof. N. K. Ambasht, former Chairman, NIOS said that in this age of technology, innovations must lead to developing 'standalone' courses for the Indian Diaspora, to achieve the goals of the National Education Policy- 2020. Pro-Vice Chancellor, Prof. Sushma Yadav said that the role of NIOS increases in the light of New Education Policy. NIOS has such potential that the institute will be able to achieve the ambitious goals of National Education Policy 2020 in the coming years.
The half-yearly magazine of NIOS 'Pragyan' was released by Dr. Subhas Sarkar on this occasion.