How the Tech girls of Dharavi are coding their way out of problems
The Tech Girls of Dharavi is a venture of filmmaker Nawneet Ranjan that teaches the children of dharavi to learn coding and eventually make mobile apps that solve local problems.
Nawneet Ranjan, a filmmaker who also used to teach at an art college in San Francisco, first got involved with Dharavi when he was making a film on the locality called Dharavi Diary in 2012. It focused on the problems faced by the inhabitants. Though the film got screened at several film festivals and received good reviews, Ranjan felt that it didn't actually make a positive difference to Dharavi.
Ranjan moved to India in 2014 and started Dharavi Diary, a slum innovation project for girls in the Naya Nagar neighbourhood. He set up the small computer lab with the aim of helping young girls become catalysts of change "We started with the premise that in every house there was at least one smartphone now, so mobile apps seemed the most logical idea," he explains. He taught the girls coding and even enrolled some of them in an online programme called the Technovation Challenge, which motivates young girls around the world build apps that address social problems.
In his office, a small room set among a maze of narrow lanes just off the main road, there is palpable excitement as children are huddled in groups of 3 with a series of laptops on the floor, each trying to come up with unique solutions to their neighbourhood's problems.
The exercise has not only given the children an outlet to their creativity but has also thrown up some dazzling applications which could have been possible only through a local connect and deep understanding of local issues. Among the host of application developed by the Tech Girls of Dharavi here are some for your information.
Within a year of joining the Dharavi Diary program, Ansuja Madiwal, a 15-year-old student, has become so proficient at coding that she designed an app called Women Fight Back to help women in distress. The app offers SMS alerts, alarms, and a provision to make an emergency phone call. Ansuja proudly points out that it already has over a 100 downloads on Google Play Store.
Take Paani hai Jeevan, the brainchild of 14-year-old Fauzia Aslam Ansari, built as an online alternative to setting up a queue to collect water at the local tap. " The biggest problem that we face here is that we get water every day for only about two hours, from 7.30 pm to 9.30 pm. It often leads to fights because people try and move their buckets ahead of others in the queue when they move away to do something else," explains Fauzia.
Another app still in development is the Clean and Green which aims to organise a cleanliness drive. It allows users to click pictures of locations where garbage is dumped or the place is defaced and share the same with the concerned civic authorities. It even allows users to report illegal activities, like the burning of plastic etc. It also allows people to volunteer for weekend clean-up drives.
Enthused by the numerous ideas being generated and the apps to back them up, Ranjan says that they are trying to build an independent server for the apps developed by the members of the project, before they can go live with the several apps in the pipeline.
The Dharavi Diary project started with a small group of 15 girls but now has over 200 children, including several boys, visiting the office at different shifts throughout the day.
This Young Woman From A Tribal Village Is Teaching The Children While Schools Are Closed
The only graduate of a Tamil Nadu village has volunteered to teach the children of the village while the pandemic persists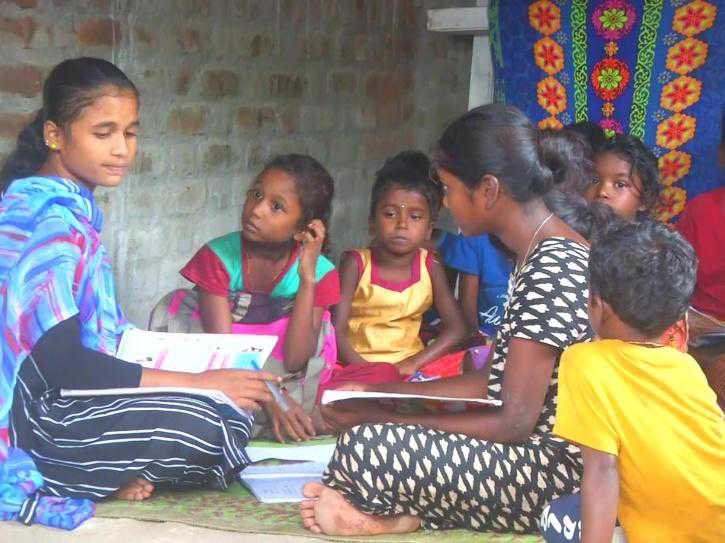 Where the digital network failed these tribal children in the southern part of India, their own stood to support them. Sandhya volunteers in teaching the kids of her village, Chinnampathy in Tamil Nadu. She is a graduate of B.Com, she is the only person from her village to have graduated college. Sandhya told India Today, "If it rains, we can't go to school. We only have one bus to our village and so after a certain age, people drop out of school."
Having gone through struggles herself, Sandhya knows how important a teacher and school is for growing children. So she volunteered to teach the children by herself, so they don't lag behind due to school closure. Sandhya said "When I was a child, I had no one to help me study. These children here have me to help them study."
One must ask the children from a remote rural or economically backward area, how it feels to not have the proper learning opportunities. The pandemic took more than the ability to roam about freely, it snatched away the ability to go to school for children on a global level. While it is easier for families with better income to support their child's online learning, most rural and financially challenged families are struggling.
The Indian government did start many projects for such students, but even learning via a television channel or free online course needs some basic gadgets and network connection. Many remote villages, like the tribal village, Chinnampathy, can not find enough network strength to have their children sit in front of a television and learn via the education channels.
On being asked how her classes are enduring she said, "The children come and ask me very freely all their doubt and they are not afraid of me. I see these children learning well and answering all the questions when I ask them."
Youth like Sandhya, who appreciate and signifies the work educators do and want to help the cause, are the future of the education sector!