Hypnotizing Annual Function by Students of SV Public School, Jaipur
Sadhu Vaswani Public School Jaipur, better known as SV Public School, celebrated its annual function at Birla Auditorium on 1st November. The entire event was a splendid one and saw the presence of parents in large number. The event started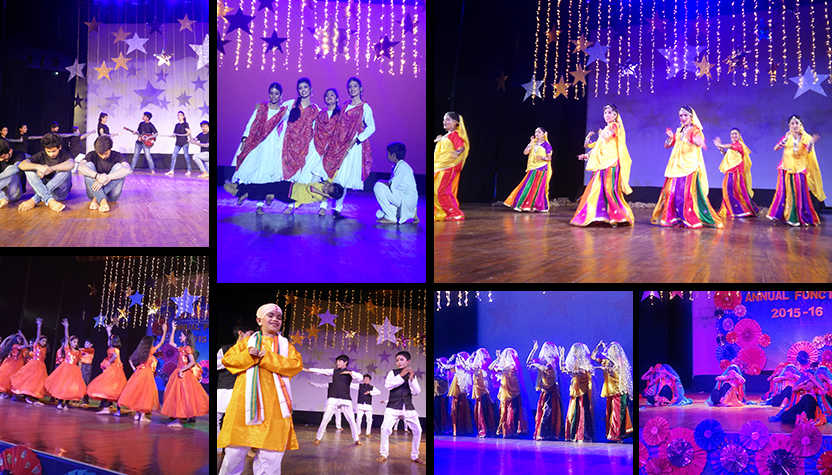 Sadhu Vaswani Public School Jaipur, better known as SV Public School, celebrated its annual function at Birla Auditorium on 1st November. The entire event was a splendid one and saw the presence of parents in large number. The event started with the Principal Ma'am, Rita P Taneja, introducing the school and its achievements in the past few years, which was followed by speeches of distinguished guests. The eminent personalities along with the chief guest, Honourable Justice Sunil Ambwani (former Chief Justice of Rajasthan High Court) and guest of honour, Shri Gyandev Ahuja (member of Legislative Assembly, Rajasthan) together released the school magazine 'Milestone'. After the magazine release, meritorious students were awarded with cash prize and momentos.
Taking the evening further were students who danced to represent Unity in Diversity of our nation. The performance was on an amalgamation of songs and had students dancing to represent different religions. It began with girls performing Bharatnatyam on Maa Saraswati Sharde, followed by a performance with students dressed-up as Sufi saints dancing on Khwaja Mere Khwaja, from the movie Jodha Akbar, some other students dressed-up as Sikh grooved to Bhangra and finally some dressed-up in the costumes of Popes reciting Teri Aaradhna Karu. This performance ended with all of them getting together symbolizing unity.
Nobody in the world could keep oneself away from loving and adoring the toddlers. What if you get to see tiny tots dancing gleefully?! The lil' angels of SV Public School are no exceptions. Group of toddlers decked up as various animals danced away to the tunes of Prem se Humko Jeene do…. Complimenting them came a bunch of girls beautifully dressed in glittering dresses to dance on Maine Kaha Foolon Se…. Some sight it was!
Apart from this, Team ScooTalks was amazed to see how the talented students of the school performed a classical dance on one the latest foot-tapping number, Sun Sathiya, from the Bollywood movie ABCD2. Donning white salwar suit with red bandhani, they gave a complete different look to the song.
The school didn't forget to highlight the importance of our own state's culture and hence students performed on several Rajasthani numbers too. The entire audience went in a frenzy as soon as the the Rajasthani folk song, 'laldli luma jhuma re' was played. Another one was where the girls entered on stage concealing their faces with veils and dancing on the song Thari shararat sab janu mai…. Though the state of Rajasthan is known for such antics, yet the highlight of the entire performance was a girl student in the centre, who balanced a big sized lit earthen lamp on her head. What seemed to be the most captivating of all the Rajasthani dances was a dance performance by doll like young girls dancing holding earthen pots in their hands to the tunes of Run Jhun Baje Ghunghara.
What should be called as the highlight of the entire evening was an enactement by senior students, where they talked about ill-effects and advantages of social media like Facebook, Watsapp, Twitter, etc.
They threw light on the fact that some of the world's top notch universities go through candidates' social media presence before giving admissions; also brought forth was real life incident where these social media sites proved to be a boon, one of them was Dinesh Singh, vice chancellor of DU who initiated a page on FB to solve problems of students.
Talking about its ill-effects, they talked how getting closer to somebody on these sites have proved depressing and in some cases even fatal.
Finally in the end, they arrived at a conclusion that its not the social sites that is causing all the harm but its use without guidance, check and control.
After this play, the evening continued with some more amazing dance performances. One of them, on the song Ek Chatur Naar, was a hilarious one, while the other, a hip-hop dance where students surprised everyone with their flexible moves. They also used many other antics and tactics to keep the audience glued.
The evening was a memorable one not only for the participants and the teachers but also for us, as we, the Team ScooTalks thoroughly enjoying the event found ourselves hooting as well!
Smile Foundation and Shell Launch STEM Project on Pi Day
The initiative will benefit less-privileged students from government schools.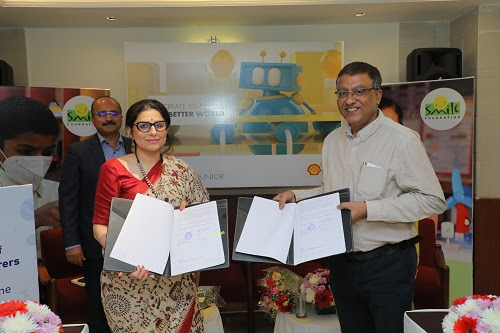 On the occasion of International Pi (π) Day, Smile Foundation and Shell launch 'NXplorers Junior' programme in three Indian states. NXplorers is Shell's global flagship Social Investment STEM (Science, Technology, Engineering, and Mathematics) educational programme aims to benefit over 25,000 children during the first year by enabling them to understand, navigate and address local and global challenges, as underlined in the Sustainable Development Goals (SDGs). NXplorers is also aligned with the National Education Policy 2020 and delivers societal benefits.
The innovative initiative will benefit less-privileged students from government schools and affordable private schools, studying in rural and hard-to-reach areas in the states of Andhra Pradesh, Telangana and Kerala. Its design also includes endeavour to create awareness amongst parents on the importance of STEM education, especially for girl children.
"Shell firmly believes that, provided with the necessary skills and guidance, young people can be a driving force to find sustainable solutions to the major global challenges of our time. Launched in 2018, Shell's global flagship STEM programme NXplorers is aligned with the National Education Policy 2020 that aims to transform India into an equitable and vibrant knowledge society. With the Smile Foundation partnership, we aim to expand this programme to Andhra Pradesh, Kerala, and Telangana and offer young minds the platform to design sustainable solutions to ease the pressure on food, water, and energy," said Ms. Latika Taneja, Head of Corporate Relations – India.
The programme is being rolled out in concurrence with the educational authorities of the respective state governments. Besides students, teachers, parents and communities are involved actively while implementing the programme so that it remains sustainable in the long-term.
"We are excited to roll out this innovative programme in India. We are hopeful that our children will not only leverage STEM education in building their future career but also will grow up and develop leadership ability in finding sustainable solutions in various walks of life," said Mr. Santanu Mishra, Co-founder & Executive Trustee, Smile Foundation.
The NXplorers Juniors will train both 6th and 7th grade students. NXplorers Juniors Level-I course will be delivered through a combination of teacher's guide, PowerPoint slides, and several instructional videos. The facilitator guide will outline the essentials to be covered in each session, exercises, discussion, checkpoint questions, a summary, assessment, and research to be undertaken by students after the session.
The United Nations Sustainable Development Goals (SDGs), exploring SDG Solutions, researching global goals, and developing a challenge and choosing a solution etc. are covered in the NXplorers Juniors Level-1.
NXplorers – Learning for a Life Time, envisions to provide a minimum of 3-5 years of NXplorers exposure to the students at various levels. The objectives include developing strong knowledge and skill set among students so that local and global challenges can be addressed by them. Developing sustainable models of implementation by engaging teachers, school leaders and communities effectively, creating awareness amongst parents regarding the importance of STEM education, especially concerning girl education are part of the overall goals.
About Smile Foundation
Smile Foundation is a national development organization directly benefiting over 1.5 million underprivileged children and their families every year through more than 400 welfare projects in education, healthcare, livelihood and women empowerment spread across 2,000 remote villages and urban slums in 25 states of India.
About Shell
Shell is one of the most diversified international energy company in India with over 10,000 employees and presence across upstream, integrated gas, downstream, renewable energy, and deep capabilities in R&D, digitalisation, and business operations; with a retail presence across six states – Karnataka, Tamil Nadu, Telangana, Maharashtra, Gujarat, and Assam.