Arabian Nights Gala at Birla Auditorium: St. Edmund's School, Jawahar Nagar, Jaipur
'Annual Day Celebrations', the most awaited event for any school, are in full swing these days in the entire Pink City. And Team ScooTalks is having a gala of time watching students from all over the city.
The latest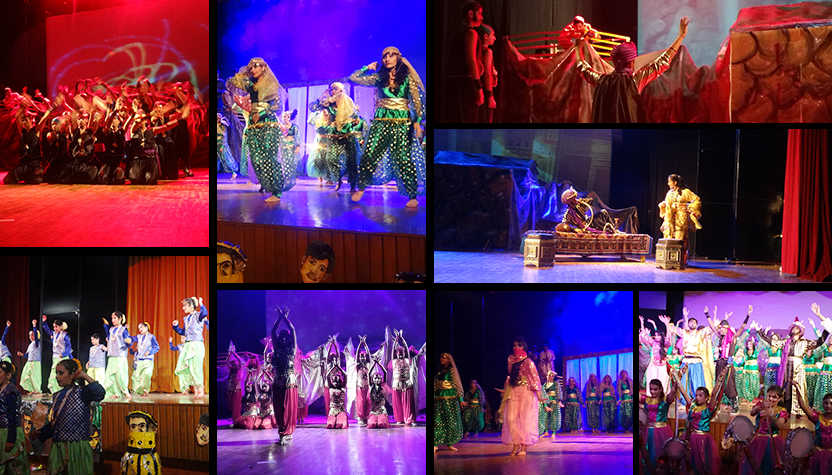 'Annual Day Celebrations', the most awaited event for any school, are in full swing these days in the entire Pink City. And Team ScooTalks is having a gala of time watching students from all over the city.
The latest that we attended was a themed event by St. Edmunds, Jawahar Nagar, Jaipur at Birla Auditorium on 31st October. A lot of grandeur and fan-fare was seen at 'Alibaba and Forty Thieves' which transferred the audience to a different era of Arabian Nights. Before the event could even start, we noticed parents mesmerized by the décor in the hall. Yeah … they were.
The evening began with the lightening of the auspicious lamp, which was followed by speech of the honorable Chief Guest, IAS Mr. Vipin Chandra Sharma. Encouraging and guiding the students for striving for success, Mr. Sharma said that one can be happy for other's success, never own it, and others success comes for their hard work. So, to be really happy, don't rely on "sifarish,"said he further clarified, "koi bhi achi job sifarish se nahi milti." One has to work hard for having a reputed job. The motivational speech by the chief guest was received by applauses from audiences sitting at every hook and corner of the hall.
He left the stage … and darkness presided, occasionally flashing with multi-colored lights, giving a slight hint of some bright colors on stage.Amid all these lightening effects, the students wearing violet tops and green lowers, faintly visible initially … took over the stage and danced to evoke Lord Ganesha's blessings.
Next came the pre-primary kids, who looked adorable in red glittering dresses grooving to the music with silver pom-poms in their hands. Their cute dance moves endeared them all the more.
Dressed in black-silver and black-golden entered another set of students, who looked charming in their Arabic pants and danced on the Arabic music with ribbons in their hands.
The world of children is full of fantasies and innocence. Taking the audience into their world were lil' kids, all dressed up in dazzling pink dresses. Giving the audiences a feel of Arabia, they danced on the song 'Marjaani Marjaani' from Billu Barber. These tots sent the audience into a frenzy, who couldn't stop swaying along with the kids. Hoots, claps, taps came from all around!
Finally, the cast of the much-anticipated act 'Alibaba and Forty Thieves' was on stage. The play that began with the market scene took the audience through a roller coaster ride of emotions. It not only tickled the funny bone of the viewers, but with a death scene, also made them a bit sad. The play Alibaba and Forty Thieves is quite a well-known one, counted among the fables now. However, students of St. Edmunds, Jawahar Nagar, presented it a very different, innovative and attractive manner. The anchors enacted the characters and eavesdropping to whatever was happening, giving it a humorous touch which captivated the attention of all.
What added all the more charm to the play were dances played as fillers in between. Although every dance was at par with the other but the dance of the thieves, in which they did some act with the sword and then started tapping their feet on the beats was an unusual one and made the left the audience whoop for more.
The program ended, but it took a while for the audience to come out of Arabic scenario. They seemed to be lost into the world of camels and sandunes even after the show. As we gradually made our way out of the auditorium amid the guests, we surely tried over-hearing some of the conversations. It was pleasant to hear parents congratulating other parents for the brilliant performances of other students. Many of them talked about how each performance had impressed them.
We take this opportunity to thank the school authorities, and also congratulate them for such a brilliant performance!
Smile Foundation and Shell Launch STEM Project on Pi Day
The initiative will benefit less-privileged students from government schools.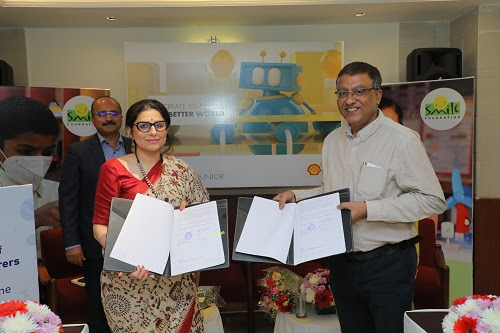 On the occasion of International Pi (π) Day, Smile Foundation and Shell launch 'NXplorers Junior' programme in three Indian states. NXplorers is Shell's global flagship Social Investment STEM (Science, Technology, Engineering, and Mathematics) educational programme aims to benefit over 25,000 children during the first year by enabling them to understand, navigate and address local and global challenges, as underlined in the Sustainable Development Goals (SDGs). NXplorers is also aligned with the National Education Policy 2020 and delivers societal benefits.
The innovative initiative will benefit less-privileged students from government schools and affordable private schools, studying in rural and hard-to-reach areas in the states of Andhra Pradesh, Telangana and Kerala. Its design also includes endeavour to create awareness amongst parents on the importance of STEM education, especially for girl children.
"Shell firmly believes that, provided with the necessary skills and guidance, young people can be a driving force to find sustainable solutions to the major global challenges of our time. Launched in 2018, Shell's global flagship STEM programme NXplorers is aligned with the National Education Policy 2020 that aims to transform India into an equitable and vibrant knowledge society. With the Smile Foundation partnership, we aim to expand this programme to Andhra Pradesh, Kerala, and Telangana and offer young minds the platform to design sustainable solutions to ease the pressure on food, water, and energy," said Ms. Latika Taneja, Head of Corporate Relations – India.
The programme is being rolled out in concurrence with the educational authorities of the respective state governments. Besides students, teachers, parents and communities are involved actively while implementing the programme so that it remains sustainable in the long-term.
"We are excited to roll out this innovative programme in India. We are hopeful that our children will not only leverage STEM education in building their future career but also will grow up and develop leadership ability in finding sustainable solutions in various walks of life," said Mr. Santanu Mishra, Co-founder & Executive Trustee, Smile Foundation.
The NXplorers Juniors will train both 6th and 7th grade students. NXplorers Juniors Level-I course will be delivered through a combination of teacher's guide, PowerPoint slides, and several instructional videos. The facilitator guide will outline the essentials to be covered in each session, exercises, discussion, checkpoint questions, a summary, assessment, and research to be undertaken by students after the session.
The United Nations Sustainable Development Goals (SDGs), exploring SDG Solutions, researching global goals, and developing a challenge and choosing a solution etc. are covered in the NXplorers Juniors Level-1.
NXplorers – Learning for a Life Time, envisions to provide a minimum of 3-5 years of NXplorers exposure to the students at various levels. The objectives include developing strong knowledge and skill set among students so that local and global challenges can be addressed by them. Developing sustainable models of implementation by engaging teachers, school leaders and communities effectively, creating awareness amongst parents regarding the importance of STEM education, especially concerning girl education are part of the overall goals.
About Smile Foundation
Smile Foundation is a national development organization directly benefiting over 1.5 million underprivileged children and their families every year through more than 400 welfare projects in education, healthcare, livelihood and women empowerment spread across 2,000 remote villages and urban slums in 25 states of India.
About Shell
Shell is one of the most diversified international energy company in India with over 10,000 employees and presence across upstream, integrated gas, downstream, renewable energy, and deep capabilities in R&D, digitalisation, and business operations; with a retail presence across six states – Karnataka, Tamil Nadu, Telangana, Maharashtra, Gujarat, and Assam.