St. Xavier's School, Nevta, celebrates 1st Annual Sports Day in School Premises!
What happens when a newly established school decides to celebrate its annual function? What happens when a well-known name like Xavier's decides to start a new branch and then celebrate its annual function? When it is about St. Xavier&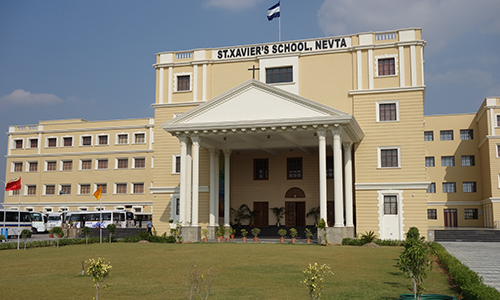 What happens when a newly established school decides to celebrate its annual function? What happens when a well-known name like Xavier's decides to start a new branch and then celebrate its annual function?
When it is about St. Xavier's School, it has to be something outstanding! And here's the well-know name in the field of education starting a yet another branch, spreading the best of education to the outskirts of Jaipur, Nevta. St. Xavier's School, Nevta celebrated its first Annual Sports Day in its school grounds.
Enthusiasm and energy are two words to summarize the entire event. The day at Nevta started with the school warmly welcoming the chief guest, Shri Vijay Kumar Singh, IPS, Anti-corruption Bureau, Rajasthan, extending floral wishes to him. Mr. C.K. Punnoose started the event with the welcome address and inviting the chief guest for school sports flag hoisting. This was soon followed by an outstanding march past by the students of Xavier's, Nevta. The students marching past deserve huge applauds, as these youngsters have been trained for 3 months only. With 3-month training behind them, the students have seemingly mastered the art! Behind them trailed the band of Xavier's School, Jaipur, who did all the justice to their preceding march past. Both the march past and band complimented each other as both were equally beautifully, smartly and tactfully performed!
Band performance and march past gave way to other athletic races. These races, we noted, were not merely competitions, but had a lesson in them. Some of these races taught team-work, mental alertness, focusing, etc. Rock and Roll, for students of Class 1, needed the students needed to dress up to look ready for a rock-and-roll performance. For the boys of Class 2 was Zig Zag race, which needed each of the participant to stay mentally and physically alert. Ball in the Basket, for girls of Class 2, tested their dexterity. Dressing-up race for the boys of Class 3 asked the participants to clear the hurdles of getting well-dressed for in their school uniform. For the girls of Class 3 was Alphabet Making, which saw them tactfully, yet beautifully, creating various alphabets before reaching the finish line.
Giving a break to the athletes here were the students of Class 3, 4 and 5, displaying their PT skills. Well-synchronized and disciplined, we must say. The students looked smart and sharp displaying PT, all in school uniforms. Father Principal John Ravi next took the stage to address the gathering, appreciating the students, their performances, congratulating the teachers and parents for their hard-work behind each and every display by students.
What came next was a test of team work for the boys of Class 4. Divided in teams of two, they had to reach the finish line with one students seated in the wheel-barrow, the other one pushing the cart. The girls of Class 4 tested their team-work with Ball balancing race, as each team of two were made to reach the finish line with a basketball balanced between them. Senior students (Class 5-6) performed Yoga asanas, all in unity, which had quizzed the audience. The agility in the bodies of these students had left the audience dumbstruck. Next were a series of flat races with varied distances to be covered by the participants and a rhythmic Aerobics performance.
Next was what makes students wait … what makes them swell with pride. The chief guest, IPS Shri Vijay Kumar Singh and Father Principal were invited to give away prizes to the victorious students.
Parents in the audience were not to left out … the school had organized for a race for parents too. Parents, in couples, participated in needle and thread race, old-fashioned yet fun to watch. Coordination among parents still made the audience have a blast!
Special show by special students wows Jaipur
As much as the students are special so was their performance, although few expected it to be such an outstanding show. Read how students of Disha, a school for special children, proved their mettle.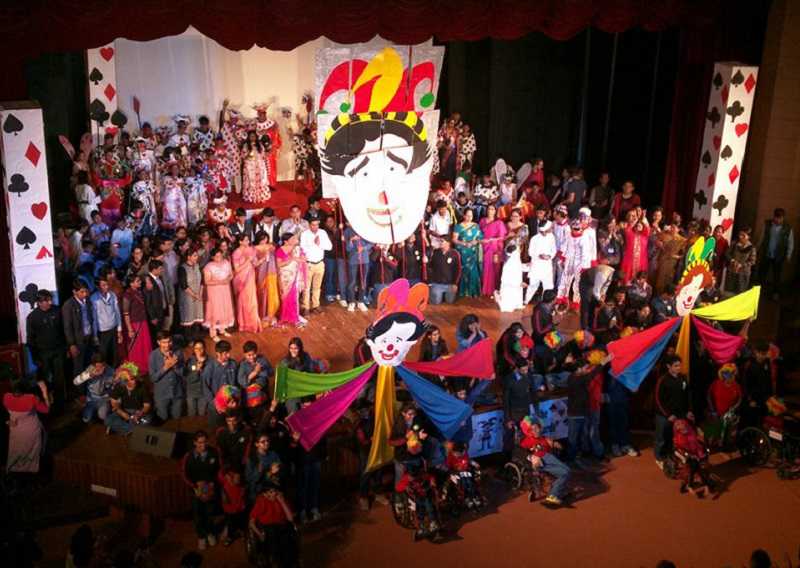 This was not one of those regular annual functions. What was experienced at Birla Auditorium Jaipur on Saturday had six months of hard work written all over it.
Celebrating their school's 20th anniversary, the students of Disha, A Resource Center for Multiple Disabilities, Jaipur put up a sparkling adaptation of Rabindranath Tagore's Tasher Desh, wowing their school chums, parents, educators and other people from the city.
Titled 'Jokers in the Kingdom of Cards', the play revolved around a prince with a deep desire to escape his royal destiny. In pursuance of it, he lands up on an authoritarian island where people blindly follow rules, who are ultimately invoked by the prince to follow their heart and mind, thus starting a revolution.
As the play unfolded, the audience sat spellbound. Some actors couldn't walk, others couldn't talk, yet they tried… and emerged winners. The audience went along, tapping their feet and clapping along with the children.
Bhavya's father, Hemant Mishra, sat teary-eyed. It had been two years now that his daughter had been at Disha, and the outcome had been beyond expectation, he said. She can now perform onstage!
"What Disha is doing is wonderful; it provides an unexpected platform to special children," said Arun Dhandhania, an elderly gentleman in the audience. "The teachers here are very dedicated to helping students perform well as all-rounders."
It wasn't just the audience that enjoyed the show, but also students from other, mainstream schools like MGD School, Jayshree Periwal High School, Sanskar School, etc. But it wasn't just for fun that they were here, what the students learnt here is something that we need to advocate to the rest of the society too.
Kshitiz Khandelwal from Jayshree Periwal School, volunteering for a couple of weeks with Disha in the run-up to the show, said that it was 'love and affection' that he had learnt from these children, while Pooja Khandelwal, also a volunteer, said she had learnt the value of 'acceptance in life'.
"It is not sympathy, what these children need is empathy," Stuti Uppal and Jyotiraditya, wise beyond their years, tried to explain it better. "They too have abilities, some special ones, which we need to recognise and appreciate and help them develop it."
And the special educators were delighted as they handed over the children to their parents after the show. None could hold their smiles. "Yes, these children are special and inspiring. It took us all six months to get to the stage, yet all these days not once did we see any sign of negligence or tiredness on their faces," teacher Shail Gupta said emotionally. "What more can we ask for, we got a standing ovation…."
Needless to say, the show was a huge success with the audience giving a standing ovation to not just the students, but also the teachers whose hard work was clearly visible.
Earlier, the evening began with the lamp being lit by Disha chairperson Dr Ashok Panagariya, trustee chairperson Basantt Khaitan, Prof VS Vyas, Dr Sudhir Bhandari, Advisor PN Kavoori with Suniti Sharma, the principal of MGD Girls School, Krishna Bhati, the principal of MSMSV, Rama Dutt, the principal of Sanskar School, and Jayshree Periwal of the Jayshree Periwal group, etc, marking their eminent presence. The school founder and advisor PN Kavoori then thanked the special educators, foreign donors, council members, parents and donors for their support through the journey that began in 1995. This was followed by a school report card presentation, which talked about how the so-called disabled students had outperformed limits set by the world.