Saint Xavier's Annual Prize Distribution Ceremony a grand success
The elite St. Xavier's school celebrated its Annual Prize Distribution Ceremony on May 2, Monday. Fr. T.J.Jose took the audience through the various achievements in the field of sports and academics. Every announcement was met with a roaring applause. The ceremony included a lively performance by th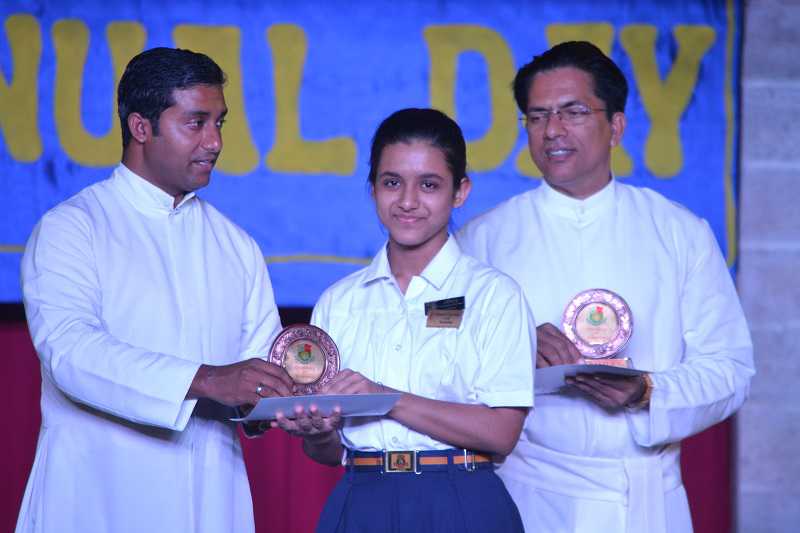 The elite St. Xavier's school celebrated its Annual Prize Distribution Ceremony on May 2, Monday. As is the tradition, a lively cultural festival was held in the evening punctuated with some soulful singing and dazzling dance performances.
Fr. Sobin Martin S.J. the Vice-Principal warmly welcomed the august gathering of academicians, parents and alumni and Rev. Fr. John Ravi S.J., Former Principal and now heading St. Xavier's Nevta Branch who was the guest of honour for the evening.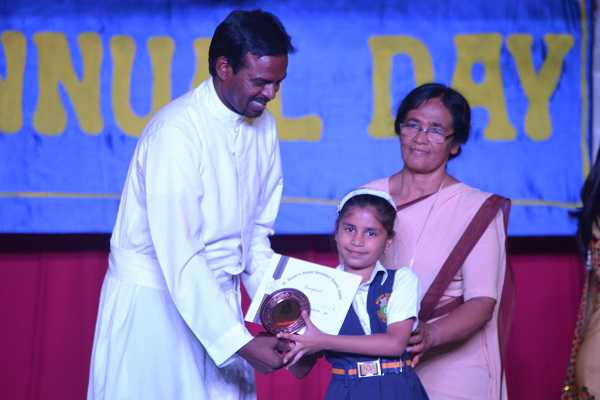 Rev. Fr. T.J. Jose took to the dais, presenting the Annual Report for the year gone by. He began by expressing gratitude to the Lord for ushering the school in the 75th glorious year of existence. He went on to thank the Hon'ble Chief Minister Smt. Vasundhara Raje and The Apostolic Nuncio of the Holy See in India & Nepal His Grace Salvatore Penachio for gracing the Platinum Jubilee Celebration and extending their very kind patronage.
He moved on to sharing the school's accomplishment for the year. With great pride Fr. T.J.Jose shared that a new record has been set now that 50 students have scored 10 CGPA in the Class X Boards and 64 students scoring more than 90% and above. In fact, many students got selected in professional colleges, 5 students cracked IIT JEE and 14 made it through AIPMT. A special mention was made of Bharat Bhargava who stood 2nd in the Mathematics Olympiad across India.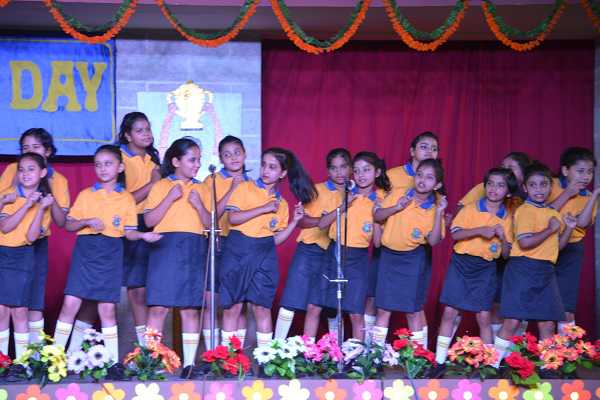 Fr. Jose moved on to share the shining achievements in the field of Sports. 92 St. Xavierites represented Rajasthan at the National Level of which bagged National Sports Talent Search Scholarship.
St. Xavier's swimming team lifted the trophy in the West Zone National Championship bagging a staggering 15 golds, 28 silver and 30 bronze medals.
The girls Under 19 Table Tennis team was celebrated as they brought in 4 silver and 3 bronze medals at the National level.
Lastly, Fr. Jose reiterated the commitment of St. Xavier's towards the upliftment and education of the underserved sections of the society. At present around 500 students are studying by availing financial assistance from the school.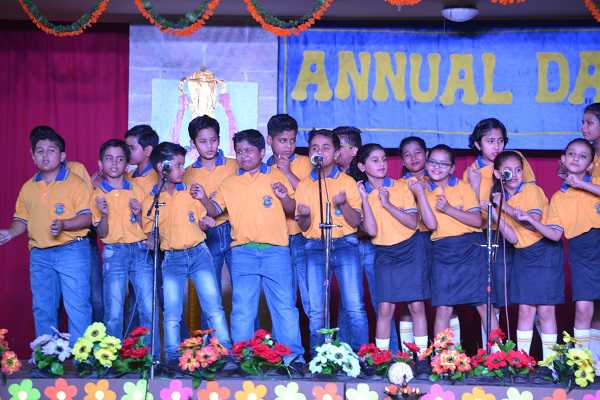 Rev. Fr. John Ravi took stage to personally congratulate the young achievers and emphasized that Xavier's stands for all round development including the values and teachings professed by our holy founders. He also urged the parents and teachers to encourage the children to become more self reliant and responsible. Lastly, he urged the children to exercise discernment – choose the right and reject the wrong.
The award distribution ceremony came to an end with Hardik Khandelwal, representative of the prefect body extending a vote of thanks to the audience and the respected dignitaries and guests.
Smile Foundation and Shell Launch STEM Project on Pi Day
The initiative will benefit less-privileged students from government schools.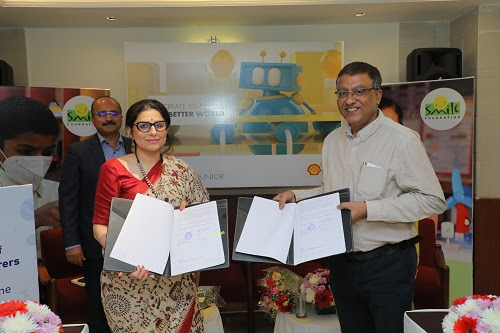 On the occasion of International Pi (π) Day, Smile Foundation and Shell launch 'NXplorers Junior' programme in three Indian states. NXplorers is Shell's global flagship Social Investment STEM (Science, Technology, Engineering, and Mathematics) educational programme aims to benefit over 25,000 children during the first year by enabling them to understand, navigate and address local and global challenges, as underlined in the Sustainable Development Goals (SDGs). NXplorers is also aligned with the National Education Policy 2020 and delivers societal benefits.
The innovative initiative will benefit less-privileged students from government schools and affordable private schools, studying in rural and hard-to-reach areas in the states of Andhra Pradesh, Telangana and Kerala. Its design also includes endeavour to create awareness amongst parents on the importance of STEM education, especially for girl children.
"Shell firmly believes that, provided with the necessary skills and guidance, young people can be a driving force to find sustainable solutions to the major global challenges of our time. Launched in 2018, Shell's global flagship STEM programme NXplorers is aligned with the National Education Policy 2020 that aims to transform India into an equitable and vibrant knowledge society. With the Smile Foundation partnership, we aim to expand this programme to Andhra Pradesh, Kerala, and Telangana and offer young minds the platform to design sustainable solutions to ease the pressure on food, water, and energy," said Ms. Latika Taneja, Head of Corporate Relations – India.
The programme is being rolled out in concurrence with the educational authorities of the respective state governments. Besides students, teachers, parents and communities are involved actively while implementing the programme so that it remains sustainable in the long-term.
"We are excited to roll out this innovative programme in India. We are hopeful that our children will not only leverage STEM education in building their future career but also will grow up and develop leadership ability in finding sustainable solutions in various walks of life," said Mr. Santanu Mishra, Co-founder & Executive Trustee, Smile Foundation.
The NXplorers Juniors will train both 6th and 7th grade students. NXplorers Juniors Level-I course will be delivered through a combination of teacher's guide, PowerPoint slides, and several instructional videos. The facilitator guide will outline the essentials to be covered in each session, exercises, discussion, checkpoint questions, a summary, assessment, and research to be undertaken by students after the session.
The United Nations Sustainable Development Goals (SDGs), exploring SDG Solutions, researching global goals, and developing a challenge and choosing a solution etc. are covered in the NXplorers Juniors Level-1.
NXplorers – Learning for a Life Time, envisions to provide a minimum of 3-5 years of NXplorers exposure to the students at various levels. The objectives include developing strong knowledge and skill set among students so that local and global challenges can be addressed by them. Developing sustainable models of implementation by engaging teachers, school leaders and communities effectively, creating awareness amongst parents regarding the importance of STEM education, especially concerning girl education are part of the overall goals.
About Smile Foundation
Smile Foundation is a national development organization directly benefiting over 1.5 million underprivileged children and their families every year through more than 400 welfare projects in education, healthcare, livelihood and women empowerment spread across 2,000 remote villages and urban slums in 25 states of India.
About Shell
Shell is one of the most diversified international energy company in India with over 10,000 employees and presence across upstream, integrated gas, downstream, renewable energy, and deep capabilities in R&D, digitalisation, and business operations; with a retail presence across six states – Karnataka, Tamil Nadu, Telangana, Maharashtra, Gujarat, and Assam.