Imparting Values via Festive Celebrations
Smriti Agarwal pens down her thoughts on imparting values via festive celebrations.
At Podar Jumbo Kids, we have introduced 'Number Magic', a numeracy programme which gives form to abstract numbers for young children. Our language programme called 'Symphonics' has helped kindergarteners excel at reading skills by giving them a proper understanding of the soft sounds of letters, diagraphs and blends. However, our unique Life Skill and Parent Partnership Programme which we implement in our school festivals and events, is even more special. Here we go beyond the surface level of festivals and occasions, and aim to celebrate the underlying values they represent. By involving the parents in the execution of the same, we hope the learning moves beyond the school and is implemented in the child's home-life as well. The effects and response to this mindfulness are truly momentous and awe-inspiring; when we see the children absorb and practice the life-lessons we bring to the fore.
Life skills like compassion, sharing, friendship, resilience, courage in the face of adversity and many others are taught to children through the activities they participate in and enjoy during each celebration. We have come to realise the importance of Life Skills Education and how EQ (Emotional Quotient) is as important as IQ (Intelligence Quotient). These important skills are emphasised and learned through the spirit of the festival giving the children and parents a unique perspective towards the culture of community and empathy. Festivals are not celebrated for their religious implications, but rather for their cultural heritage and the spirit of community skills.
Instead of being a simple day off, national events are celebrated on the same day, to ensure the children understand the historical importance of the day and understand its implications on the present. At every event, parents are invited to the school to celebrate and participate with their children, to strengthen the child's belief that they are a part of a collaborative, harmonious and supportive environment. Parents often miss out on essential play-time with their children, and are unable to give them undivided attention because of professional and household obligations. However, at the school events they are placed in a space free of distractions to simply be a child with their offspring, while enjoying the myriad activities on hand.
Out of the 45 different events we hold, here are a few of my favourites that show the ways we have co-opted the traditional celebrations, and given them our own unique spin-
Gandhi Jayanti – Bapu ke anek roop – Educating parents and children on the different roles our father of the nation fulfilled in his lifetime; that of a lawyer, weaver, scavenger, potter etc
Gurunanak Jayanti – The theme is 'Wisdom, Power and Knowledge', implying that the attributes of Gurunanakji are focused on, imbibed and practiced instead of celebrating it religiously.
Janmashtami – 'Milk and milk products help me grow, give me more, give me more' – Children learn about healthy eating habits and understand the process and benefits of consuming milk products during growing years.
Halloween – 'Fear will run when we have Halloween fun' – With shadow play and neon lit dark rooms as a few of the activities for children, it helps them realise that shadows or darkness which they are scared of are more fictitious than real.
Rakshabandhan – Children make the rakhis which they tie to trees and plants with the promise to protect the environment.
Kartavya – Silent walkathon by children and parents to advocate safety on roads and urging people to follow traffic rules and regulations.
Our anniversary celebrations do not rely on pop-culture references and themes, instead we choose a specific theme that would be fun and educational for the children, every year. We immerse the children in the history and understanding behind the theme for months leading up to the annual day, so that they are not merely repeating lines but are rather sharing the insight they have gained. This is shared in the form of a musical extravaganza that is written in-house by our educators and represents almost every state and culture of the nation, like the last year's theme 'Jai Jawan Jai Kisan' or this year's 'Weaves of India'.
Parents are encouraged to participate with DIY Prop-Making Parties and a special Parent's Dance, which also fosters a kinship between the educators and the families.
The themes for the annual Sports Meet also showcase that learning can be fun through a playful and stress-free experience. This year 'Sports With The Magic Of Numbers' had children doing math activities and gaining numerical skills on the race track. A Sports Meet is not about competition or winning but about completing the task at hand and learning from it. We implement a 100% participation policy to include every child and foster the spirit of sportsmanship over competition by presenting each child with a certificate.
Teaching academic subjects or life subjects needs to have a wider range of focus which reduces the dependency on books and classrooms. Let's take every opportunity to make learning experiential and engaging through play and hands-on activities.
Smriti Agarwal is Senior Headmistress, Podar Jumbo Kids Mumbai,
Education for Girls
Department of School Education and Literacy (DoSEL), Ministry of Education is implementing 'Samagra Shiksha', for universalization of quality education throughout the country in coordination with the States and UTs.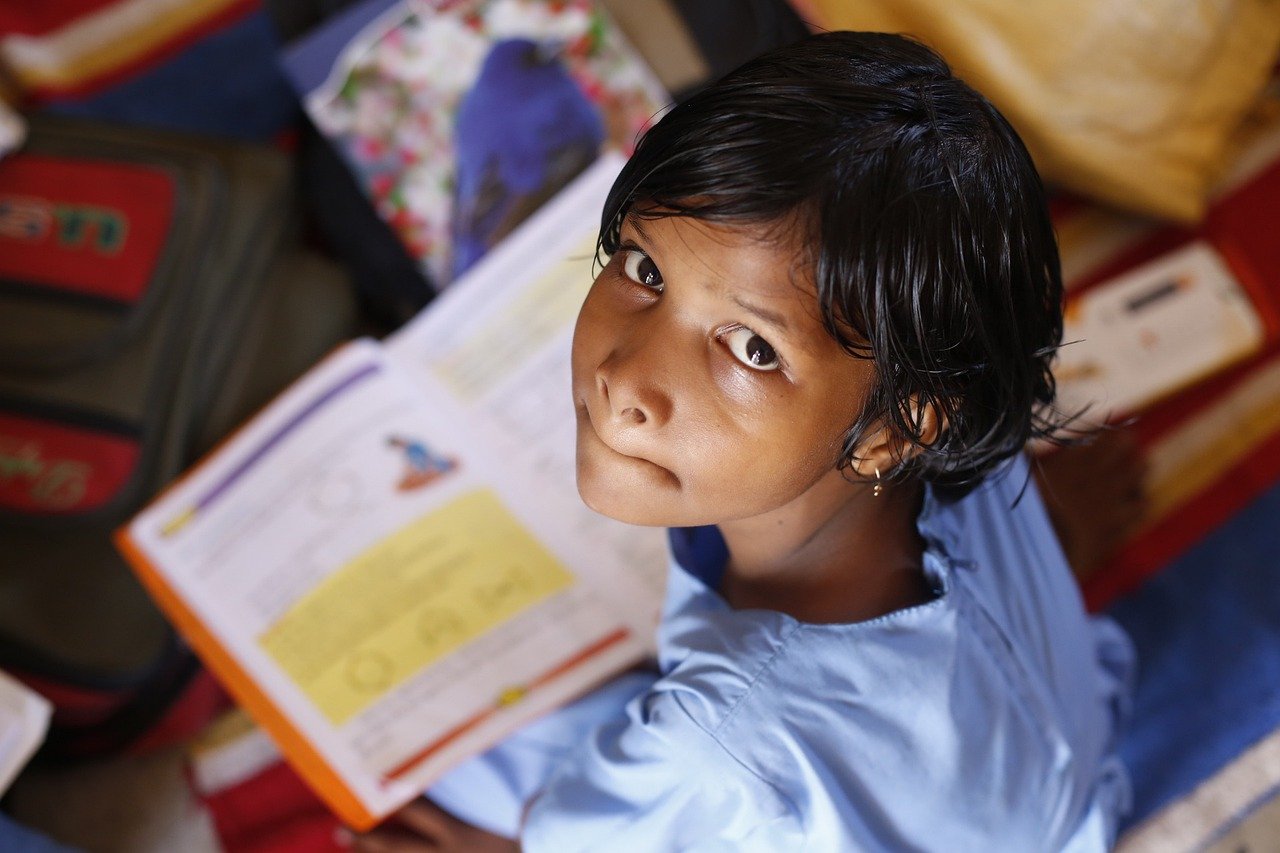 Education is a subject in the concurrent list of the Constitution and the majority of schools are under the jurisdiction of the State Government. Department of School Education and Literacy (DoSEL), Ministry of Education is implementing a centrally sponsored Integrated Scheme for School Education 'Samagra Shiksha', effective from 2018-19, for universalization of quality education throughout the country in coordination with the States and UTs. Bridging gender and social category gaps at all levels of school education is one of the major objectives of the Samagra Shiksha. From the year 2018-19 to 2020-21, the Drop-out rate of girls at the Secondary level decreased from 17.03% to 13.7%, Gross Enrolment Ratio (GER) at the secondary level increased from 76.93 to 79.45, and GER at the higher secondary level has increased from 50.84 to 54.65. (Source: UDISE+).
Under Samagra Shiksha, there is a provision for gender-segregated toilets in all schools. As per UDISE+ 2020-21, 97.45% of Government schools have gender-segregated toilets. Also, there is a provision of a Composite School Grant which may be used for annual maintenance and repair of existing school buildings, toilets, and other facilities to upkeep the infrastructure in good condition.
School Health Programme, under Ayushman Bharat which is a joint collaborative initiative of the Ministry of Health and Family Welfare and DoSEL, Ministry of Education, a module on 'Growing up Healthy' has been incorporated, which interalia includes information on physical challenges during adolescence and attaining puberty.
The National Council of Educational Research and Training (NCERT) is implementing the Adolescence Education Programme (AEP) as part of the National Population Education Project (NPEP). One of the learning outcomes of AEP is to make the learners aware of the concerns of adolescence, i.e. process of growing up during adolescence, and to inculcate in them a positive attitude regarding these concerns.
Additionally, vide a joint letter of Secretary, DoSEL, and Secretary, Ministry of Jal Shakti dated 08.03.2022, the states have been advised to utilize funds earmarked for Menstrual Hygiene Management (MHM) and management of menstrual waste under the Swachh Bharat Mission (Gramin) Phase-II at the village level, for installation or maintenance of incinerators in schools having girls from classes VI to XII and for creating awareness on MHM among adolescent girls and in the society in general.
Moreover, all States and UTs have been requested to take necessary steps to create awareness amongst adolescent girls in schools about the safe usage and the benefits of Sanitary Napkins. It has also been communicated that subsidized sanitary napkins are available at the Jan Aushadi Kendras set up by the Ministry of Chemical and Fertilisers, Government of India.
Under Samagra Shiksha, there is a provision of Kasturba Gandhi Balika Vidyalayas (KGBVs) in the Educationally Backward Blocks, which are residential schools for girls belonging to disadvantaged groups such as SC, ST, OBC, Minority, and Below Poverty Line (BPL). KGBVs were functional for classes 6th to 8th under the erstwhile Sarva Shiksha Abhiyan. Under Samagra Shiksha, a provision has been made to upgrade/converge the KGBVs with girls hostels to cover girls up to classes 10th (Type II) and 12th (Type III) to reduce dropout and enhance enrolment of girls at Secondary and Higher Secondary levels. In KGBVs, specific skill training is imparted to provide need-based vocational education to girls.
Further, Special State Specific Projects for varied interventions under equity are emphasized for enhancing access, retention, and quality of girls by promoting enrolment drives, retention and motivation camps, gender sensitization modules, etc. Financial Support is also being provided under State Specific projects as per the allocation of flexi funds under quality to the state subject to viable proposals received from the respective State and UTs. Such projects include Life Skills, Awareness programmes, Incinerators, Sanitary Pad Vending Machines etc.
Moreover, Samagra Shiksha aims at integrating Vocational Education with general academic education in all Secondary/Senior Secondary schools including KGBVs; enhancing the Employability and Entrepreneurial abilities of the students, providing exposure to working environment; and generating awareness amongst students about various career options so as to enable them to make a choice in accordance with their aptitude, competence, and aspirations.
The information was given by the Minister of State for Education, Smt. Annpurna Devi in a written reply in the Lok Sabha on 1st August 2022.