Impartus Innovations is delivering video versions of your classroom lectures via the cloud.
The Bengaluru-based start-up provides learning solutions based on the video platform allowing educational institutions to capture, edit, and distribute classroom lectures. The flagship product, called 'Lecture Capture' captures the lecture , including vocal lectures by educators, PowerPoint project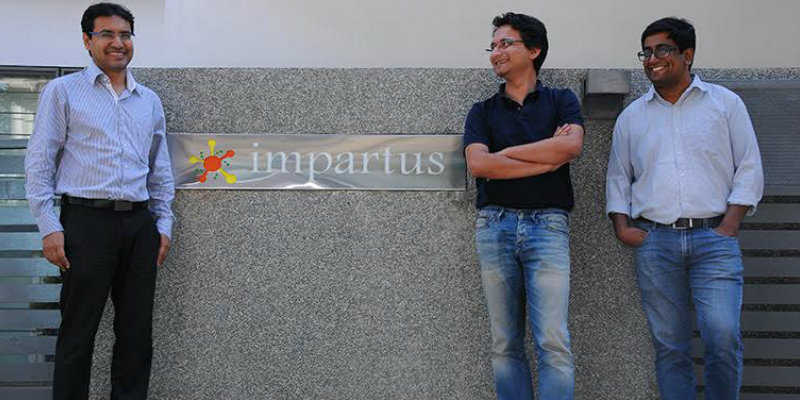 Ever sat in a classroom attending a lecture to suddenly realise that you have lost thread of the topic sometime back and now keeping up with the teacher is a task? 3 friends Amit Mahensaria, Manish Kumar, and Alok Choudhury – faced the same predicament. It was a big task for them to keep up the classroom lecture while taking down notes at the same time in college.
Addressing the very problem led to the genesis of Impartus Innovations in December 2013. When the 3 friends came together they brought with them diverse skill sets which together would provide a strong backbone to Impartus. Amit, an IIT Delhi alumnus, brought with him more than 10 years of experience of working in the finance and education sector. Manish, an IIT Delhi graduate, brought in his comfort of developing software approaches to solving problems for Citigroup. Alok, an IIT Madras alumnus, in his 12 years of experience was a designer with experience in designing circuits, chips, algorithms and software.
The solution
The Bengaluru-based start-up provides learning solutions based on the video platform allowing educational institutions to capture, edit, and distribute classroom lectures. The flagship product, called 'Lecture Capture' captures the lecture , including vocal lectures by educators, PowerPoint projections, black/white board writings and even students' responses.
"We record classroom lectures for the outside-the-classroom learning sessions or during exam preparation. The same can be live streamed to students across the globe, enabling institutions to connect to multiple campuses real-time", says Amit.
The Impartus Innovation platform enables teachers to reconnect with students after classroom hours and share additional inputs on topics taught in the class by adding notes, links and other related material to the videos available online.
Bootstrapping
In the initial days, the trio chipped in with their personal savings and borrowed funds from friends and families. One of the earliest lessons learned was that no matter how meticulous the financial planning, the actual need for money will always outpace the budgeted amount.
The next difficulty was the unwillingness of academic institutions and professors to adopt the video technology. Simply meeting the Principal of a school took days if not hours and then too the replies were never forthcoming.
In some cases, the team met resistance from the IT administrators of Universities who were concerned about additional maintenance burden. To allay these fears, Impartus decided to provide complete end-to-end solution, including hardware, software, and extensive customer service. The Impartus solution is delivered via the cloud (SaaS) and just needs a web browser on the user device like the computer, laptop or mobile device.
The validation of the idea of Impartus Innovation came after educational giants IIM-Bangalore and PES Institute of Technology expressed interest. This helped on board more institutions.
Today, Impartus Innovations boasts of more than 70 institutions in the higher education sector of India including premier institutes like IIM-B, Shiv Nadar School, PES University Bangalore, IFIM Business School Bangalore, Anna University Chennai, Symbiosis Institute of Business Management Pune and IIIT Bangalore.
The company claims to have recorded over 2,00,000 hours of classroom lectures, catering to more than 2,000 faculty users and 35,000 students across 600 classrooms.
Funding and future plans
Last year, the start-up successfully raised $4.1 million in Series A funding from Kaizen Private Equity, an education-focussed fund. The company currently operates with a team of 80 people across India and plans to expand to Asia Pacific market (Greater China and South East Asia) and East Africa. The revenues are driven by B2B sales and by subscriptions from universities/institutions.
In the coming years, Impartus plans to target distance-learning academies and corporate enterprises that wish to provide personalised and cost-efficient employee training.
Impartus have a few competitors in the video learning space. Kolkata-based interactive education platform, Zeroinfy.com allows students to buy video lectures made by teachers. Hassan (Karnataka)-based Ignus introduced tablet-based coaching, which records the classroom sessions of the professors and display the same in the tablets.
Bengaluru-based cloud-based solution provider LinkStreet uses video for learning and collaboration. It has raised an undisclosed investment in Series A funding led by Faering Capital India Evolving Fund.
According to India Brand Equity Foundation, India is considered as the second largest country after US in the area of e-learning.
Read the original story by Aparajita Choudhury at www.yourstory.com
NIOS celebrates 33rd Foundation Day
Dr. Subhas Sarkar addresses the 33rd Foundation Day Celebrations of NIOS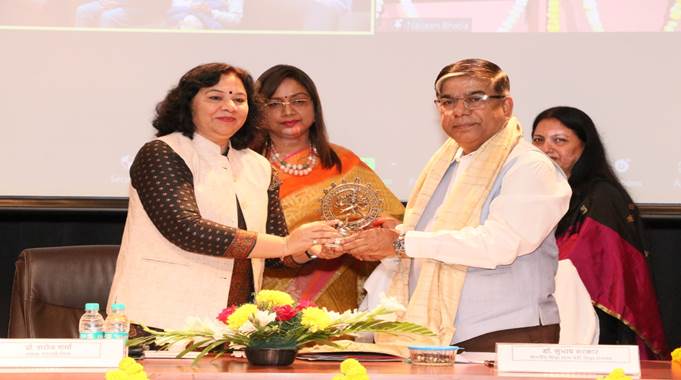 Union Minister of State for Education, Dr. Subhas Sarkar addressed the 33rd Foundation Day Celebrations of NIOS as the Chief Guest.
The function was attended by senior officials of the Ministry of Education, Chairpersons of educational institutions, Heads of Departments, officers, and staff of NIOS. Prof. Naval Kishore Ambasht, former Chairman, of NIOS and Pro-Vice Chancellor, of the Central University of Haryana, Prof. Sushma Yadav graced the occasion.
Dr. Subhas Sarkar in his address appreciated the various programmes and schemes of NIOS and said that NIOS is lighting the lamp of knowledge all over the world. Talking about the Azadi Ka Amrit Mahotsav, he mentioned that today's children will be young people in the age group of 30-40 years on the completion of 100 years of independence and will be responsible for building our nation.
He said that the Ministry of Education has entrusted NIOS with several responsibilities such as developing inclusive education resources, expanding the open and distance education system in states/UTs, translating all courses into more languages as required, creating Indian Knowledge Tradition based courses and propagating Indian culture by translating them into major foreign languages. He also praised the programmes of NIOS enrolling 10 crore adults under 'Basic Literacy Assessment', training of in-service teachers, Gender Green Project, and training in Yoga. He said that Indian Sign Language as a subject at the secondary level has been acknowledged on national and international platforms. He described the launch of an e-library called 'DEEP' by NIOS as a big step forward.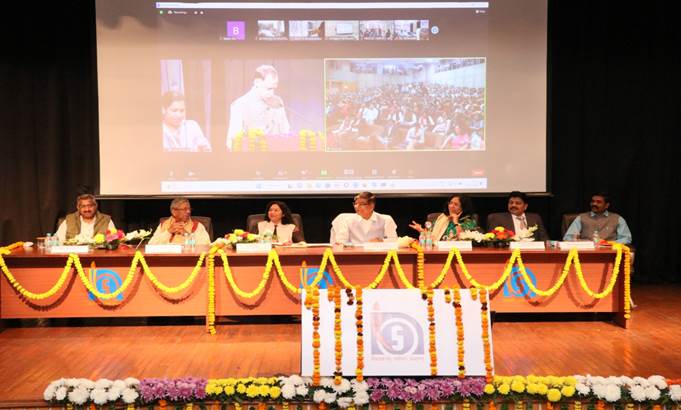 Prof. Saroj Sharma spoke about the journey of 33 years of NIOS and highlighted the special achievements. She said that NIOS is one of the two National Boards of Education under the Ministry of Education, which provides school education through Open and Distance Learning (ODL) for secondary, senior secondary, and vocational education. She elaborated on the role of NIOS in the field of education, efforts being made by NIOS for the successful implementation of the New Education Policy, Virtual Open School, Digital Library (DEEP), NEPIA Project, MoU with Ministry of Defence for Agniveer Project, setting up of Mukta Kaushal Kendras and subjects offered under Indian knowledge Tradition.
It was also conveyed by her that a curriculum called 'Aarambhika' is being developed by NIOS for catering to the Indian Diaspora.
A documentary based on the journey of 33 years of educational endeavours of NIOS was presented on the occasion. In this documentary, 'All England Badminton winner Pullela Gopichand said that most of the players in his badminton academy are getting an education from NIOS.
NIOS alumni, Ms. Niranjana and Vinod Kumar Chaudhary were also felicitated on the occasion. Shri Vinod Kumar said that only due to his education in NIOS, he was able to get the credit of making the Guinness Book of World Records 10 times (8 in Typing and 2 in sports). A proud learner of NIOS, Ms. Niranjana is a successful ventriloquist. Prof. N. K. Ambasht, former Chairman, NIOS said that in this age of technology, innovations must lead to developing 'standalone' courses for the Indian Diaspora, to achieve the goals of the National Education Policy- 2020. Pro-Vice Chancellor, Prof. Sushma Yadav said that the role of NIOS increases in the light of New Education Policy. NIOS has such potential that the institute will be able to achieve the ambitious goals of National Education Policy 2020 in the coming years.
The half-yearly magazine of NIOS 'Pragyan' was released by Dr. Subhas Sarkar on this occasion.