Strong representation by Skill India team at the Grand Opening Ceremony of WorldSkills 2017 in Abu Dhabi
India's 77 strong member contingent, marched their way out to the middle and were cheered aggressively by the capacity crowd at the 44th WorldSkills Competition grand Opening Ceremony which was held on Saturday, 14th October, 2017 at du Arena, Abu Dhabi.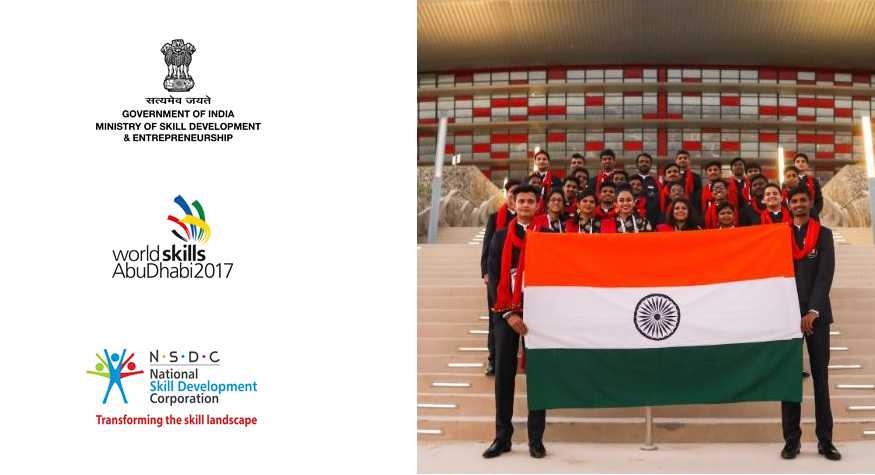 India's 77 strong member contingent, marched their way out to the middle and were cheered aggressively by the capacity crowd at the 44th WorldSkills Competition grand Opening Ceremony which was held on Saturday, 14th October, 2017 at du Arena, Abu Dhabi.
The men wore blue blazer trouser combination and finished the look with a red stole around their neck while the women participants were beautifully dressed in traditional Indian sarees. It is for the is the first time that the WorldSkills International Competition which is the Olympics of Skills is held in the Middle East and the North Africa (MENA) region.
The spectacular ceremony witnessed thousands of competitors, officials, and guests who were gathered together to watch the Parade of Nations. The official start of the competition began with the Parade of Nations – including 60 plus countries and regions represented by more than 1300+ competitors with their country flags flying and heads held high- demonstrating their joy and delight in representing their country at a global stage. Close to 1300 Competitors, 10,000 international visitors, and 100,000 visitors from UAE are expected to attend, with around 80,000 UAE students registered to visit the event. The night featured grandeur performances presenting the best of the culture, heritage and art of the Middle East.
National Skill Development Corporation (NSDC) is the nodal agency for WSAD 2017 and has been leading country's participation at World Skills International Competitions since 2011. As part of Skill India mission, World Skills India is an initiative of the NSDC under the aegis of Ministry of Skill Development and Entrepreneurship (MSDE).
Another highlight at the event was that the India's Ambassador to the UAE Navdeep Suri inaugurated the very unique India Pavilion today at Olympic of Skills, which is this time built in an architectural style resembling the Taj Mahal – an embodiment of genuine architectural skills. The pavilion saw many from the India's diaspora interacting on options to invest in India, hiring from India and advisory services in skills.
Congratulating the team on their participation in WorldSkills, Mr Suri said, "Events like the WorldSkills provide us with the opportunity to learn and imbibe the best practices across skill sets and network with skill providers across the world. With participation from so many countries, we have the opportunity to showcase our skills in multiple areas by some leading exponents from India. I wish them all the best in their participation over the next three days and I look forward to meet, engage and learn from them during the course of the event."
Addressing the gathering at the opening ceremony, the WorldSkills President Simon Bartley began by thanking the hosts, organizers, sponsors, and partners. He wished the competitors good luck and told them that this competition is just the start of many great things they will do in life and that each competitor at the global platform is already a WorldSkills Champion and a master in his skill set.
The event also saw, Chirag Goel, a World Skills Competitor in web design in the year 2015 from India representing Asia be chosen as the one of nine Champions Trust representatives to promote World Skills Competitions as the major global hub for skills excellence. Champions Trust is a group of Champions working to help the bridge the gap between Champions and Word skills beyond the Competition.
Wishing the candidates for WorldSkills 2017, Minister for Skill Development and Entrepreneurship, Shri Dharmendra Pradhan said, "Our good wishes to all the competitors who will be showcasing their best of skills in the next four days. It is sheer dedication and efforts of these competitors that has helped them in representing their countries in various skills at a global platform. We are proud of our team of 28 competitors who will be taking up the challenge against the competitors from other countries. We are sure that they will win laurels for our country and make India proud. They are already champions for us in India and will inspire many to hone a skill and add to their personal and nation's growth."
Encouraging the teams, Shri Rajesh Agrawal, Official delegate India for WorldSkills 2017 said, "WorldSkills is a global platform that helps us inspire our youth to compete in skills of transnational standards and quality. It's a huge experience for us to learn the best in technology across skill sets through this international competition and be abreast with the global industry requirement. The youth are tested here on their finish, their delivery time, and the techniques they learn; and it's a very proud moment for us to see the energy and passion with which the Indian Team is all set to give a tough match to 60+ other countries across the globe in this Olympics of Skills. My best wishes to the teams. May the best Skill win."
Feeling proud of the Indian contingent, Mr. Manish Kumar, MD & CEO, NSDC said, "Each of these 28 competitors has undergone rigorous training under the guidance and supervision of respective industry experts. They have received international exposure through trainings conducted abroad and participation in other global skill competitions. The team has put their heart and soul into the preparations and I'm confident they will come out with flying colours and prove their worth."
During the send off ceremony last week, the Hon'ble minister has also announced, the reward for the winners of the competition on their return.
WorldSkills Competitor

Rs 10 Lakh

Rs 8 Lakh

Rs 6 Lakh

Rs 2 Lakh

WorldSkills Experts

Rs 4 Lakh

Silver

Rs 3 Lakh

Bronze

Rs 2 Lakh

Medallion

Rs 1 Lakh
Smile Foundation and Shell Launch STEM Project on Pi Day
The initiative will benefit less-privileged students from government schools.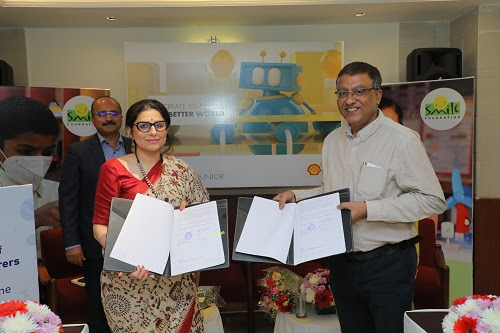 On the occasion of International Pi (π) Day, Smile Foundation and Shell launch 'NXplorers Junior' programme in three Indian states. NXplorers is Shell's global flagship Social Investment STEM (Science, Technology, Engineering, and Mathematics) educational programme aims to benefit over 25,000 children during the first year by enabling them to understand, navigate and address local and global challenges, as underlined in the Sustainable Development Goals (SDGs). NXplorers is also aligned with the National Education Policy 2020 and delivers societal benefits.
The innovative initiative will benefit less-privileged students from government schools and affordable private schools, studying in rural and hard-to-reach areas in the states of Andhra Pradesh, Telangana and Kerala. Its design also includes endeavour to create awareness amongst parents on the importance of STEM education, especially for girl children.
"Shell firmly believes that, provided with the necessary skills and guidance, young people can be a driving force to find sustainable solutions to the major global challenges of our time. Launched in 2018, Shell's global flagship STEM programme NXplorers is aligned with the National Education Policy 2020 that aims to transform India into an equitable and vibrant knowledge society. With the Smile Foundation partnership, we aim to expand this programme to Andhra Pradesh, Kerala, and Telangana and offer young minds the platform to design sustainable solutions to ease the pressure on food, water, and energy," said Ms. Latika Taneja, Head of Corporate Relations – India.
The programme is being rolled out in concurrence with the educational authorities of the respective state governments. Besides students, teachers, parents and communities are involved actively while implementing the programme so that it remains sustainable in the long-term.
"We are excited to roll out this innovative programme in India. We are hopeful that our children will not only leverage STEM education in building their future career but also will grow up and develop leadership ability in finding sustainable solutions in various walks of life," said Mr. Santanu Mishra, Co-founder & Executive Trustee, Smile Foundation.
The NXplorers Juniors will train both 6th and 7th grade students. NXplorers Juniors Level-I course will be delivered through a combination of teacher's guide, PowerPoint slides, and several instructional videos. The facilitator guide will outline the essentials to be covered in each session, exercises, discussion, checkpoint questions, a summary, assessment, and research to be undertaken by students after the session.
The United Nations Sustainable Development Goals (SDGs), exploring SDG Solutions, researching global goals, and developing a challenge and choosing a solution etc. are covered in the NXplorers Juniors Level-1.
NXplorers – Learning for a Life Time, envisions to provide a minimum of 3-5 years of NXplorers exposure to the students at various levels. The objectives include developing strong knowledge and skill set among students so that local and global challenges can be addressed by them. Developing sustainable models of implementation by engaging teachers, school leaders and communities effectively, creating awareness amongst parents regarding the importance of STEM education, especially concerning girl education are part of the overall goals.
About Smile Foundation
Smile Foundation is a national development organization directly benefiting over 1.5 million underprivileged children and their families every year through more than 400 welfare projects in education, healthcare, livelihood and women empowerment spread across 2,000 remote villages and urban slums in 25 states of India.
About Shell
Shell is one of the most diversified international energy company in India with over 10,000 employees and presence across upstream, integrated gas, downstream, renewable energy, and deep capabilities in R&D, digitalisation, and business operations; with a retail presence across six states – Karnataka, Tamil Nadu, Telangana, Maharashtra, Gujarat, and Assam.