International Literacy Day: Kavita Sanghvi on Student-Centred Classes & Inquiry-Based Learning
On this International Literacy Day, a principal's take on education, its meaning and the right kind to be imparted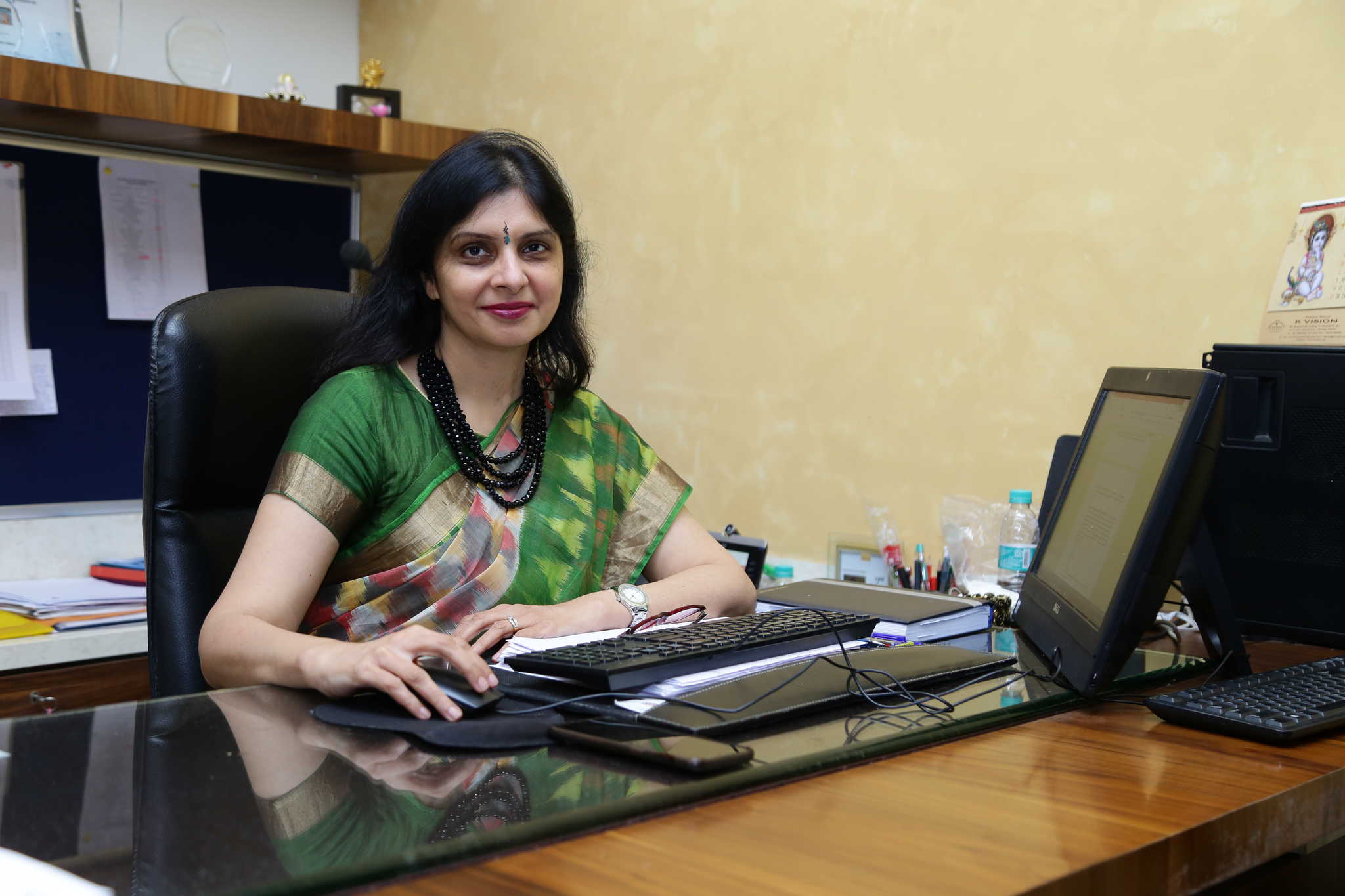 The world celebrates 'International Literacy Day' by UNESCO on 8th September. This year, the theme is 'Literacy teaching and learning in the COVID-19 crisis and beyond with a focus on the role of educators and changing pedagogies.'
Reflect and you'll observe that the word 'Literacy' holds different meaning to Governments across the world. Its dictionary meaning 'ability to read and write' is what most countries adhere to but in OECD countries, it means "to work within the knowledge (information) societies that will dominate the twenty-first century" (OECD, 1997). In this view, once again, literacy has a clear functional role in the context of a globalizing world.
In the past 20 years, working as a teacher, Head and teacher trainer, I have witnessed teaching practices across the world that puts literacy in the new perspective region wise. Some of the pedagogical practices have inspired me to incorporate the same in my practice and train teachers for the same.
In 2013, I had been accepted by the British Council for their Global Teacher Accreditation program, commonly known as GTA. Around 100 teachers across India had been selected and the program necessitated that we conduct action research in school for any academic assignment that intrigues us with the help of a mentor and present the findings. My research topic was 'Introducing Experiential Learning Theory in teaching Physics to students of Grade 9 to develop thinking skills.' In the process of conducting the research, I had to study the theory of the pedagogy profoundly, revisit my lesson plans, design assessments, modify teaching practices and at the end, take 360-degree feedback to evaluate my efforts. The entire experience opened a new door completely as the classroom was no more teacher-centred but student-centred and also rebuff the theory of experiential being centred on experiments. Experiments are a slice of experiential but not the complete whole. Later, as I began visiting unique schools across the nation and world like MGIS, ISHA Home School, I could tell that one facet of their school pedagogy was entirely experiential in nature.
The journey of being offered a GTA opened new windows of opportunity to me. In 2015, British Council initiated a Core Skills program where they desired that 21st Century skills like Communication and Collaboration, Digital literacy, Student Leadership, Creativity and Imagination, Critical Thinking & Problem Solving was interwoven into academics. Through a strict validation program, I was selected as the Core Skills Trainer and began training teachers across India for the same. The program entailed that we first trained ourselves, trained teachers and study the impact of Skill education on students through Reflection sessions after 3 months of the implementation. The content was rich with immense scope of application. Over the years, I have trained thousands of teachers and assessed them and realized one thing, a passionate and hardworking educator does justice to a CPD in spite of all challenges but the best of knowledge fails in a teacher who works only for a certificate. Today is the era of skills and the New National Education policy stresses on it vehemently. Every known pedagogy needs to be reviewed for adaptation to the current scenario and teacher training is the first step to realize that dream. The policy to create teachers through a 4-year program is highly welcome as the Instructional Core vehemently speaks that classroom instructions revolve around three things primary – Teacher, Student, and Content and at the centre is the task.
In 2017, as part of the Varkey Foundation, Global Teacher Prize, I interacted with teachers across the world. I witnessed the Master class of the Top 10 teachers over three years and arrived at the conclusion that there was something common to all the sessions. All the teachers asked deep questions, they prompted you to answer, they involved you in creating a hypothesis and evaluate them to arrive at conclusions, from the beginning of the lesson to the end, you were engaged. Further, they asked you to take it from there and implement it in your countries to study the outcomes. I went deeper into the lessons and realized that they were all using the inquiry-based learning coupled with project-based learning.
IBL theory begins with deep questioning, could be a scenario, an event or an experiment. Ex: Why is the lemon black in colour? The student is prompted to examine, suggest a hypothesis, design experiments to test and evaluate and arrive at conclusions to validate their hypothesis. PBL allows you to take any problem and analyse it to seek solutions. Both theories make you think critically and re-impose that judgements should be based on pieces of evidence and not on hearsay.
As a Scientix Ambassador for the past 3 years, I have studied numerous STEM courses, conducted Teach Meet, designed lesson plans and conducted researches which I have shared on world platforms. I regularly interact with the teachers from Europe and comprehended that digital literacy is the first step and paramount to deepening your knowledge and network. Further, all their lesson plans revolve around students engaging, students assessing each other's work and student's presentation through e-booklets or e-posters or other digital platforms. The assessment is more on concept application and evaluation and this informs us that we, too, need a robust assessment policy to make the teaching-learning process more centred on skill-building. The New Education Policy dictates it and we await it eagerly.
Finally, given that currently under COVID-19 times where all teachers and students overnight moved from offline to online with minimum training but maximum determination and my personal experience over the years, the meaning of literacy can no more be basic read or write but a quest to develop an aptitude for research, hunger for new-found knowledge, competency to analyse information critically, the power to evaluate evidence and vision to create sound theories and judgements.
About the author
Kavita Sanghvi, Principal at Chatrabhuj Narsee Memorial School
What is Hybrid/Blended Learning?
We are lifelong learners and need to keep pace with the fast-paced technology so that our students are ready to take the next leap. Our classrooms have to echo that thought and vision at all times through new pedagogies and teaching-learning strategies.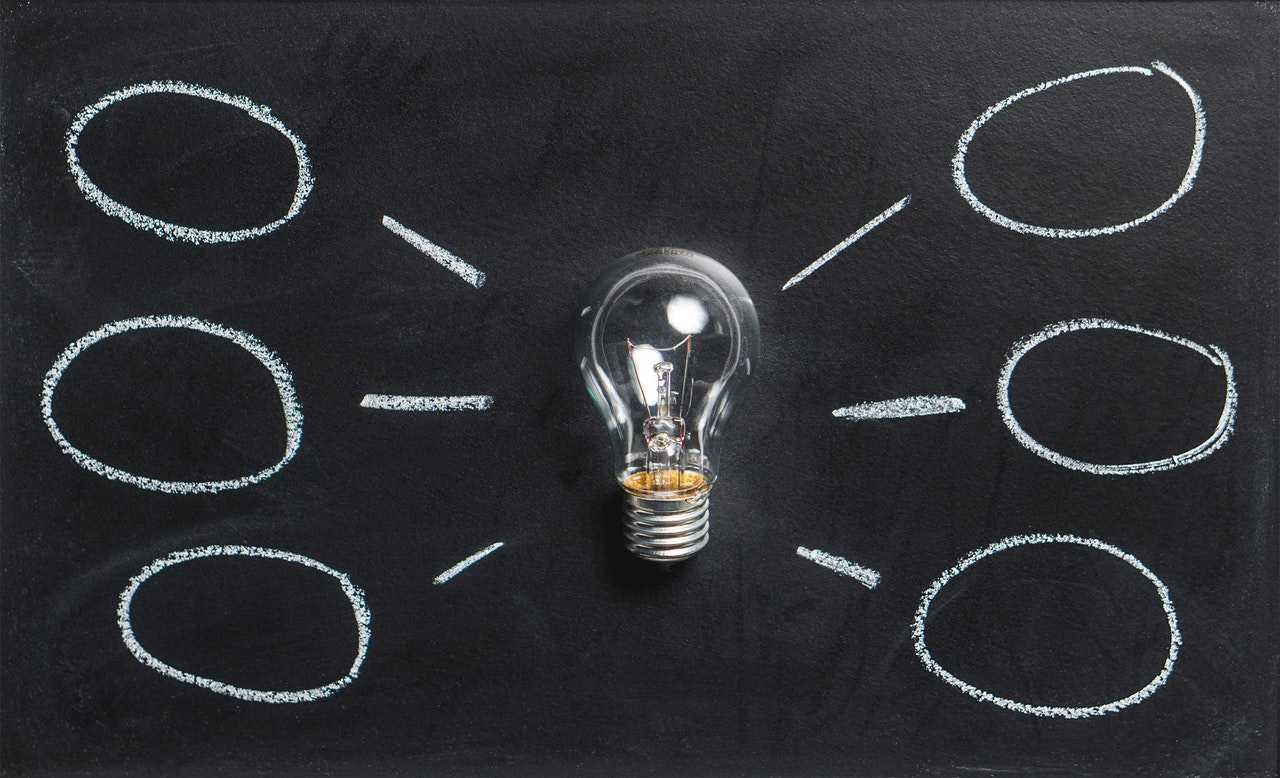 The COVID wave – consider it a bane or boon – but it somersaulted us to an array of digital world experiences. It propelled us to rethink and reorganize our mindsets, our practices, and our expectations. Overnight, we moved from an offline teaching mode to online, and credit to the teaching community for doing it so seamlessly. Now, we are back to offline teaching but do we continue with our old practices? An obvious no so we need to infuse our online experiences within the offline to ensure that quality education reaches one and all.
One key pedagogy to achieve the goal is blended learning, an approach that combines face-to-face learning with online learning incorporating certain elements that support students to have control over the pace, time, and place. The material resource investment is minimal but human resource investment is high till the ethos is assimilated within all.
So let's understand the varied types of blended learning and its implementation in the school teaching-learning process.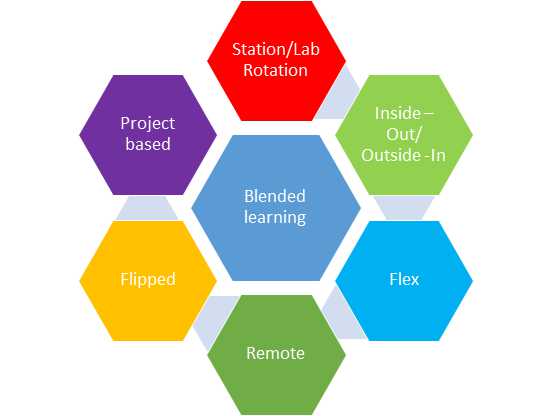 1. Station Rotation
In Station Rotation, students will rotate on a fixed schedule as per the teacher's discretion. The teacher begins her class of 40 students with instruction on narrative writing from 9:00 am to 9:15 am. She then splits the class into three groups where one group continues to learn with her. The second group works on a collaborative assignment on narrative writing and the third use their laptops or computers placed in the class and researches blended learning and after 15 minutes the group switches so that every group has varied experiences. A block class of English can support the various transactions and supports students to build research, collaborative and knowledge skills.
In the same format, if computers or laptops are not available in class then students use the computer laboratory in school and this rotation would then be called as Lab Rotation.
In this methodology, all students with varied learning needs are supported. The only challenge is the Technology and time management skills.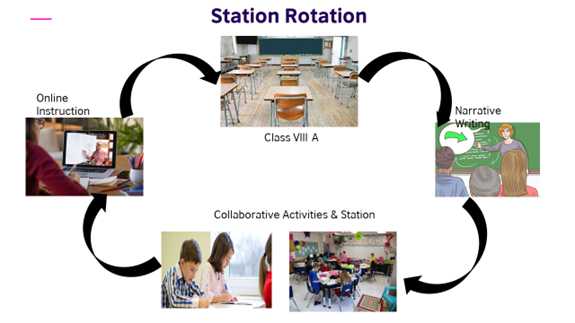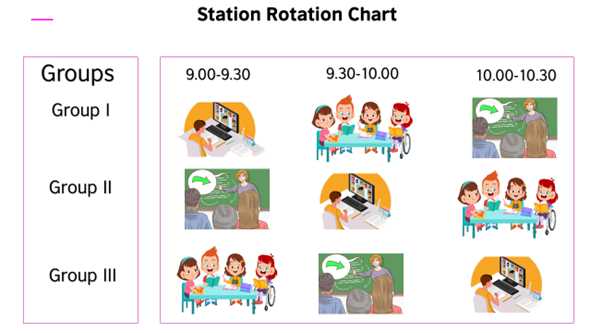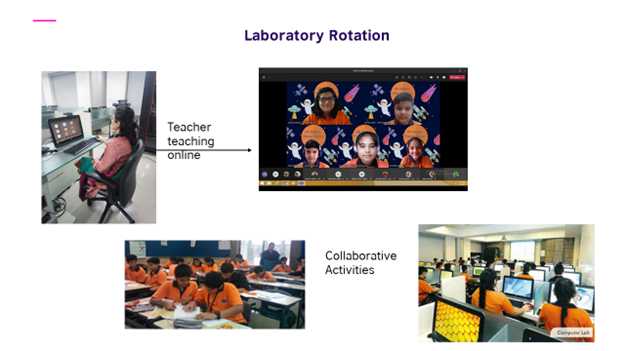 2. Remote & enriched virtual learning
It is a course or subject in which students have required face-to-face learning sessions with their teacher of record and then are free to complete their remaining coursework remote from the face-to-face teacher. In class, the teacher gives a project to students on 'Analysing any work of Shakespeare's or Rabindranath Tagore's Kabuliwalla' w.r.t. the criterion of plot, characters, theme, language, thought and values.
She briefs students on works of Shakespeare and the elements of a play within the school timetable and they complete all the work at home.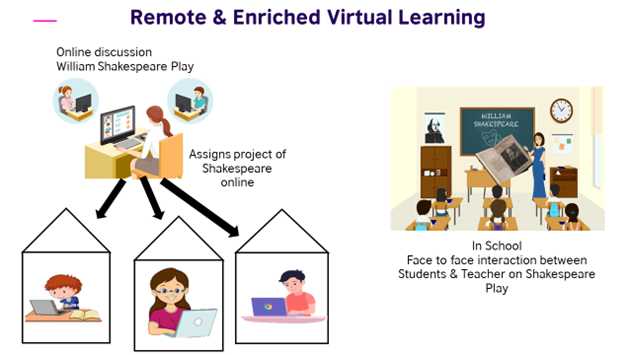 3. Flex blended learning
During certain weekends if the teacher wishes to support the students further in class especially if the concept has been challenging or students have underperformed in an evaluation, the teacher records her remedial teaching and uploads in-class computers. She designs a task around remedial teaching. She expects students to report to school wherein students enter the class on their own time, access the teaching, complete the task and leave. If they have any further doubts, they could approach the teacher in the school or their peers. A useful TIP would be for the teacher to Collaborate with their colleagues in club activities.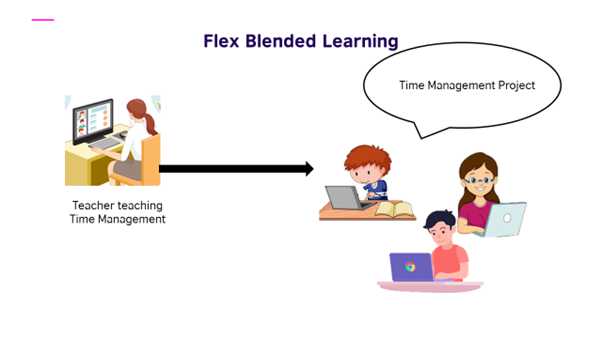 4. Flipped learning
As per TeachThought, a flipped classroom is a type of blended learning where students are introduced to content at home and practice working through it at school. This is the reverse of the more common practice of introducing new content at school, then assigning homework and projects to be completed by the students independently at home.
This methodology is most useful when you want students to have some knowledge of the content before analyzing it further. So if a teacher wishes to conduct a 'Book review'. She shares the e-book, 'Totto-chan' with the students. She asks them to read and shares certain discussion points. In school, students discuss the book and write personal book reviews. The teacher has used her class time constructively and has been to achieve greater learning outcomes.
5. Individual rotation blended learning
As per https://www.blendedlearning.org/models/, the Individual Rotation model allows students to rotate through stations, but on individual schedules set by a teacher or software algorithm. Unlike other rotation models, students do not necessarily rotate to every station; they rotate only to the activities scheduled on their playlists.
The teacher allows students to rotate through different kinds of classrooms called stations. A specific ILP [Individual learning plan] is created for each student. For example: Parth and Mona's examples work on clauses, Mona is struggling with Clauses so she attends classes and solves assignments whereas Parth will attend classes, watch a few videos, and also complete a research project on clauses. Thus the teacher knows her students' skills in greater depth and supports them individually to achieve her target learning outcomes.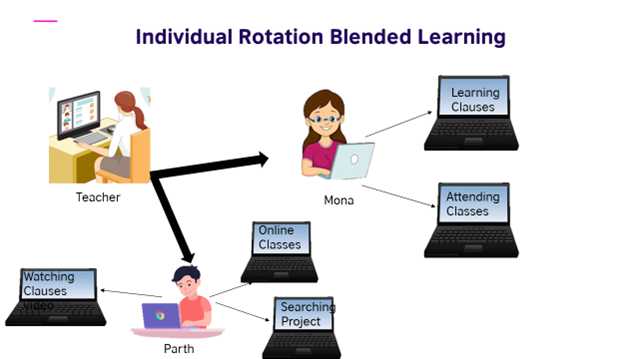 6. Inside-out and outside-in blended learning
In Inside-out, teaching and learning begin inside the classroom and move to an outside environment and in an outside-in classroom, it begins in an outside environment and moves inside the classroom. In a class environment, the Teacher discusses with students about 'Sound of Music' in class and ends the lesson by taking them to the theatre to watch the play. In Outside-In, Students watch the play in a digital environment and end the lesson in a physical environment by conducting role-plays.
The list of models is many but one has to review their resources and plan accordingly.
One can mention that they may face challenges in terms of technology, lack of training on digital platforms, lack of resources to create self-paced learning environments, or time management with vast syllabuses to complete.
Certain tips that can come useful are:
1. Teachers can begin with easily available digital content like Khan Academy, Pinterest, discovery Education, PBS Learning Media, and much more.
2. Review the available resources and plan a timetable. Most importantly, a team achieves more so collaborate with your colleagues in club activities.
3. Take small simple steps – "The journey of a thousand miles begins with one step." Lao Tzu. Choose the model that you are comfortable executing and then move forward.
As teachers, we are ever-evolving and we are that one profession that creates more professions so our responsibility and accountability stretch beyond the classroom. We are lifelong learners and need to keep pace with the fast-paced technology so that our students are ready to take the next leap. Our classrooms have to echo that thought and vision at all times through new pedagogies and teaching-learning strategies.
References:
Christensen Institute, Blended Learning definitions, https://www.christenseninstitute.org/blended-learning-definitions-and-models/
About the author:
Kavita Sanghvi holds a Masters in Physics, Masters in Education, Masters in Philosophy of Education, and CAEL [Certificate in Advanced Course in Educational Leadership] Diploma from Harvard University. She heads SVKM's CNM School, in Mumbai. She is a Teach SDG's Ambassador, Climate Action Ambassador, and Scientix Ambassador for India. She is a British Council Trainer and Ambassador.