Jigme Karuna Yangchen, of the Kung Fu Nuns of the Himalayas, on how creative problem-solving often lies in the hands of female youth
Most people think that Buddhism is a religion but for us, Buddhism is a philosophy of life. It is a way of living positively. We have a lot to learn and experience in our life.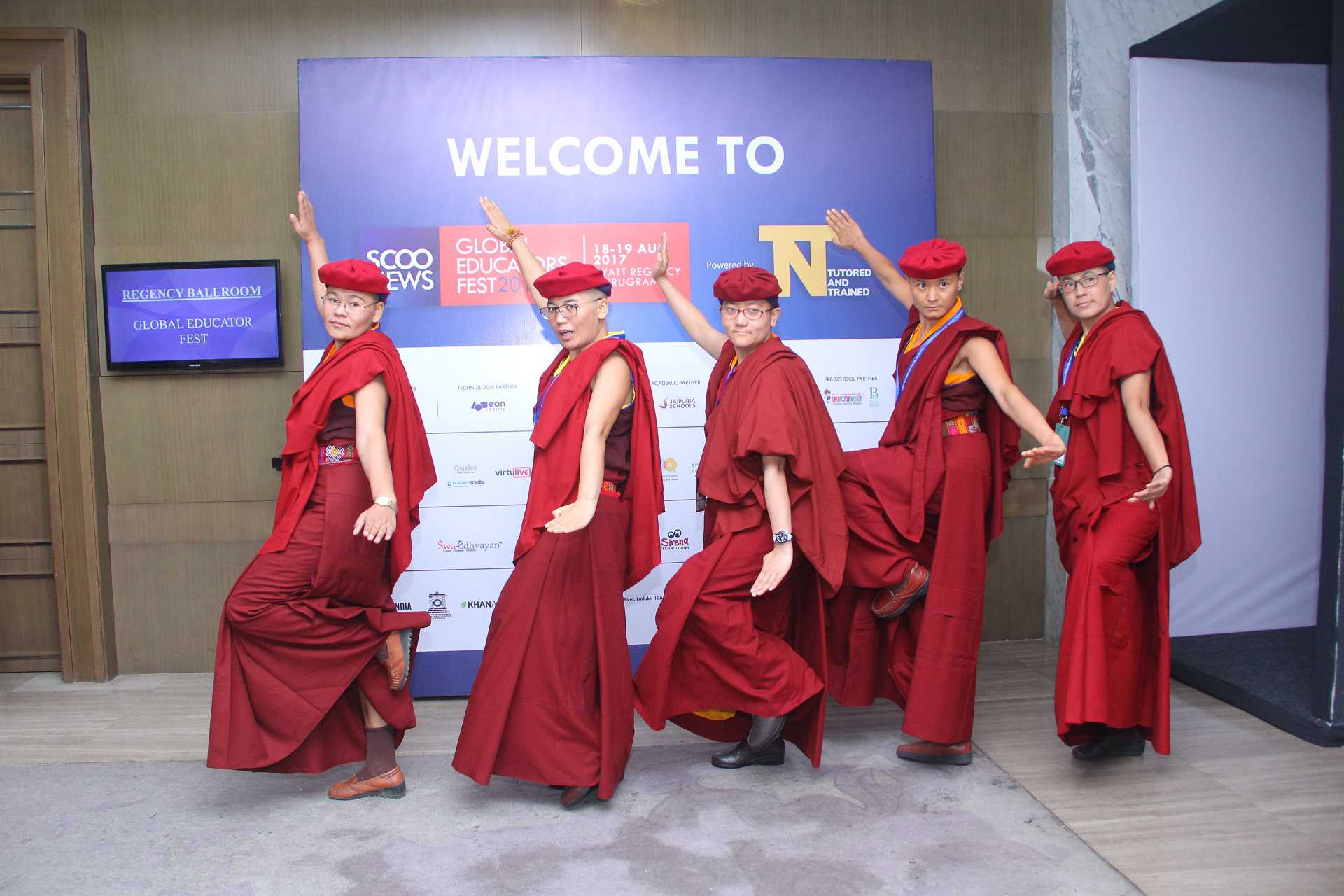 Juleh! On behalf of my 700 fellow Drukpa Kung Fu Nuns, I hope to bring the female voices hidden in the high mountains far away…
Why Kung Fu?
Most people think that Buddhism is a religion but for us, Buddhism is a philosophy of life. It is a way of living positively. We have a lot to learn and experience in our life. Our daily schedule in our nunnery is filled with chanting of mantras and sadhanas, learning spiritual texts and ritual instruments, and practising yoga. All this prepares us to be spiritually stronger to serve others with compassion, love and kindness.
So many people have asked us, 'You are nuns and sanyasis, aren't you supposed to stay peacefully in your ashrams, practicing meditation and doing Pooja for your deities? Why are you learning Kung Fu?' Let me share with you the reason why we embraced Kung Fu in our lives. There was a time when we were facing many adverse and dangerous situations. Whenever we went out on our walking pilgrimage, whenever we had meditation in the forest, and whenever we visited holy places, we were teased and bullied by men. We were very scared and we did not know what to do. We had no solution and we had no confidence; we felt hopeless. Our guruji, His Holiness the Gyalwang Drukpa decided to include Kung Fu in our daily learning. Kung Fu experts from Vietnam were invited to teach us self-defence. For 9 years we have been learning and practicing Kung Fu and recently we have been training young girls in the Himalayas in the art of Kung Fu.
The main reason we became nuns or sanyasis is because we want to live a life not for ourselves but for the sake of others, for the happiness of others. But if we are not strong, if we are weak, how can we help others? Then our renunciation makes no sense! We need the power, we need the self-confidence to be able to go out and help others – and Kung Fu gave us that. It is a great solution. Without needing to give up meditation, ritual practice, yoga and study of philosophy, Kung Fu is the additional learning that we have provided to enable us to go out and share our spiritual knowledge and understanding with everyone.
Confidence in Service
Knowing Kung Fu has helped us in many ways. It has not only helped us to develop physical strength, but we also build up mental strength and spiritual concentration. We have become more active physically and more confident in doing everything that we do, especially when we are needed to help and benefit others. During the earthquake in Nepal in 2015 we travelled to the most affected and the most remote areas, to help those in need. We carried supplies and medicines in our bags. Wherever we went, we offered moral support and prayers for the victims. We divided ourselves into five groups, visited 29 districts in Nepal, distributing 3000 tonnes of rice, milk powder, tents, clothes, food, blankets and so on. It was because of our Kung Fu training that we had no fear during the earthquake and the aftershocks. We refused to be evacuated because we should not run away from those who need help.
The Kung Fu training supported our meditation, which in turn supported our cultivation of compassion. Because our physical power developed from Kung Fu training, we were helped and we were able to help each other and everyone in need. Without having power, how can we help people? We would not be able to put our compassion, our loving kindness into practice. We need the power to go into society, to the disaster areas, to help others. And this is our life-long commitment.
We also go to different parts of the Himalayas to do different humanitarian works. We visit different communities to educate them through action because we realise that nothing is better than education in action. Why? Because when people see visually that we are doing something good, they get inspired by our actions. We human love to copy – we copy fashion, we copy bad things, we copy violence. Why can't we copy a positive power, a positive action? We should all join together to rise up and help each other because the world doesn't belong only to you or to me – it belongs to all of us! You cannot change the world alone and nor can I. But if we all come together, we will be able to bring some positive change.
Our guruji, the Gyalwang Drukpa repeatedly teaches that we need to live a righteous life. We need to live a life that benefits others, that inspires others by becoming a positive example to everyone.
Helping Hands
We have cycled 10,000 kilometres from Nepal to India and in different areas in India, through the dangerous terrain in the Himalayas, and dangerous areas in Bihar and Uttar Pradesh to raise awareness about human trafficking, promote gender equality, and encourage eco-friendly ways of living. Wherever we cycled, we spoke to the girls and women, trying our best to encourage them by showing that if the nuns can do it, they can do it too. We have completed 7,000 km of padyatra in India, Nepal, Bhutan and Sri Lanka, promoting peace, gender equality and spreading positivity. We have collected 20 tonnes of non-biodegradable garbage during our bicycle yatras and padyatras. We have been involved in animal rescue. As you know, stray dogs are a huge menace in India. We work on compassionate solutions without harming life, such as sterilisation, adoption of dogs, and education of humans. We also work with the local community to nurture sick animals.
We would like to share with others the little compassion, wisdom and power that we have learnt from our guru. We realise that the more we share, the stronger, wiser and more compassionate we become. Experiential knowledge empowers us much more than anything we have learnt. We need the support and participation of all of you in our activities. This would be a huge encouragement to us. We welcome you to visit our ashrams in Kathmandu and Ladakh. We would like to help by conducting self-defence workshops for your girls at your schools. Just for your knowledge, 20 of my colleagues are presently in Ladakh conducting a 5-day self-defence workshop for more than 100 young girls. So please reach out to us, we can be a part of your solutions.
This story appeared in the September 2017 issue of ScooNews magazine.
This Young Woman From A Tribal Village Is Teaching The Children While Schools Are Closed
The only graduate of a Tamil Nadu village has volunteered to teach the children of the village while the pandemic persists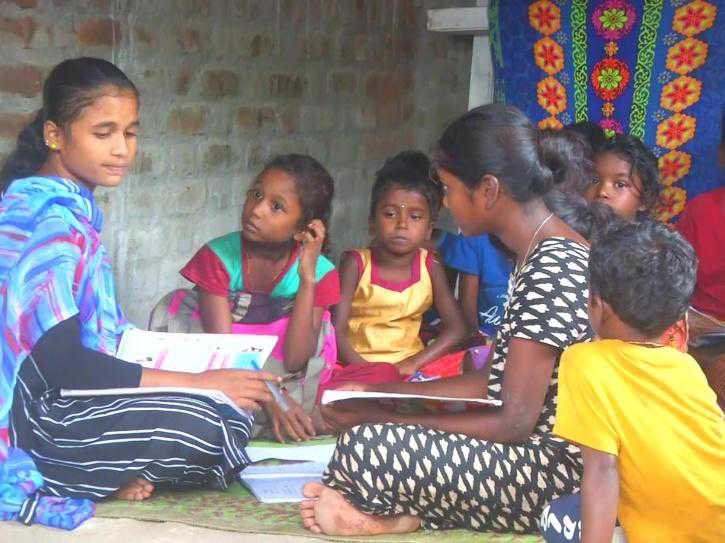 Where the digital network failed these tribal children in the southern part of India, their own stood to support them. Sandhya volunteers in teaching the kids of her village, Chinnampathy in Tamil Nadu. She is a graduate of B.Com, she is the only person from her village to have graduated college. Sandhya told India Today, "If it rains, we can't go to school. We only have one bus to our village and so after a certain age, people drop out of school."
Having gone through struggles herself, Sandhya knows how important a teacher and school is for growing children. So she volunteered to teach the children by herself, so they don't lag behind due to school closure. Sandhya said "When I was a child, I had no one to help me study. These children here have me to help them study."
One must ask the children from a remote rural or economically backward area, how it feels to not have the proper learning opportunities. The pandemic took more than the ability to roam about freely, it snatched away the ability to go to school for children on a global level. While it is easier for families with better income to support their child's online learning, most rural and financially challenged families are struggling.
The Indian government did start many projects for such students, but even learning via a television channel or free online course needs some basic gadgets and network connection. Many remote villages, like the tribal village, Chinnampathy, can not find enough network strength to have their children sit in front of a television and learn via the education channels.
On being asked how her classes are enduring she said, "The children come and ask me very freely all their doubt and they are not afraid of me. I see these children learning well and answering all the questions when I ask them."
Youth like Sandhya, who appreciate and signifies the work educators do and want to help the cause, are the future of the education sector!