Tips for educators on accepting, employing and enjoying digital learning from Prof. Sugata Mitra
This generation doesn't take to orders, not because they are indisciplined – we often think they are indisciplined but every generation says about the next, 'Oh they are all going to the dogs!' Nobody is indisciplined, we are just adjusting and living with our time. This generation needs a reason.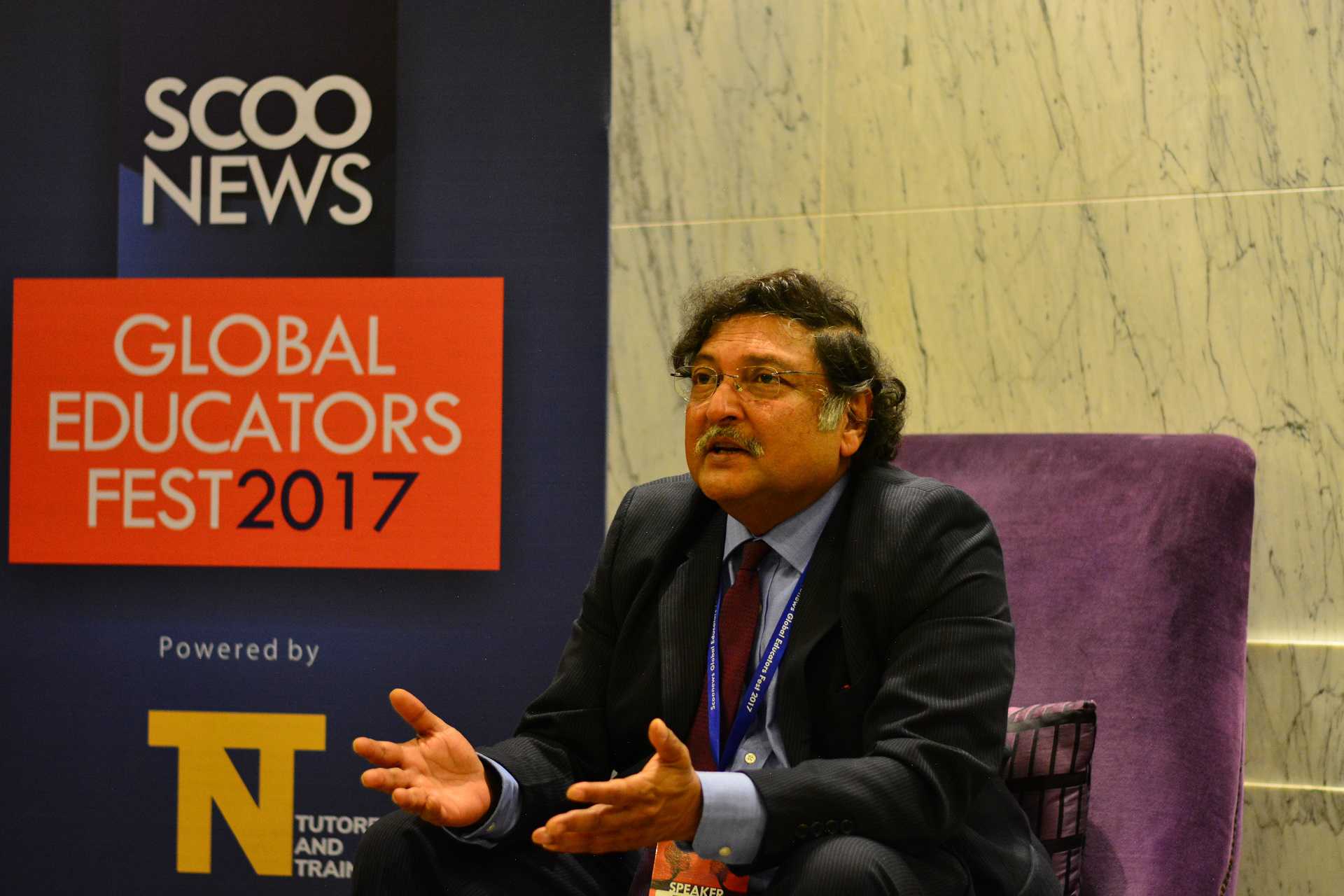 Books as Technology
If you look at the way the education system has evolved, there is a rationale. The rationale is that for the first 16 to 17 years of your life, you learn a whole lot of things. You are taught by people who know it. Why do you have to be taught? Because you don't have access to that information easily. This was the case, for example, in the 15th century, where if you wanted to learn something, you had to find an expert and ask him or her to please explain it to you. So that's where the teaching bit comes. When books came, which was the first sort of impact of technology, suddenly the teacher's knowledge could be tapped into a non-human form – the book. And there was equal controversy, I believe, at that time about the fact that books were going to ruin the education system! 'What will teachers now do? Children will just pick up the book and they will figure it out!' Then the teachers said, 'No, that's not going to happen because how do you know which book you have to read? The teacher will tell you!' So, the curriculum, the library, the books, that kind of system came in…
The Big Shift
This happens for the first 17 years because after that, once you get into your job, you don't have access to all those books. You can't carry your library on your head – you have to have it inside your head! So if you are lost, you are stuck, you are on a ship going somewhere and you want to know where you are, you use your sextant, point to a star, you use your knowledge of trigonometry, you look at your watch and you figure it out. All this you learnt in the first 17 years. But what happens when you can carry the library with you? That's the shift that we are going through. Not just the library, you can carry everything with you! So, if you're now stuck on a ship, the new generation looks at a sextant and says, 'What is this?' Then you say 'Well, trigonometry…' and he says, 'What is that?' And you say, 'But how will you find out where you are?' And the new generation will say, 'Here's my phone'.
We have to make that shift. We still believe that there is something very deep and important about using a sextant and trigonometrical knowledge and so on to figure out things. And we find it very bad that you just look at your phone and it tells you where you are! Fifty years from now there will be teachers who will say, 'What is trigonometry? I don't know'. Teachers will not think that the internet is such a big thing. So the SGEF conference you are having today, where we are talking about the internet and technology all the time, if there was a 10-year-old here – and this has happened to me in England – he would ask, 'This conference is about the internet? But why are you having a conference about the internet? It's everywhere!' He has never known a world where the internet never existed.
'Just In Time' Learning
The first thing we must remember is that packing your head for the first 17 years of your life, like a suitcase for a journey, is no longer required. The stuff is available everywhere – whenever you need it, you can have it. You don't need a 'just-in-case' education. Why were you taught trigonometry? Just in case you were stuck on a ship going nowhere. First of all, you know you're never going to be stuck on a ship going nowhere. And secondly, even if you were, you could figure it out. You can type into your phone 'Teach me some Trigonometry' and it will teach you in 10 minutes. So the shift is from 'just in case' to 'just in time'.
So what do we have to do? Are we teachers not needed? It's not true. We have to enable children to do 'Just In Time' learning. How to learn quickly, how to learn accurately, how to search for the right thing – this is our job! So the job is changing. If teachers could realise that, then they wouldn't have this attitude of 'Technology is evil, technology will take away my job!' We have to understand, technology doesn't remain technology. You don't think my clothes are technology, do you? It was once upon a time huge technology! My watch, my shoes, they used to be technology – they are not technology any more. To the generation that is growing up, the internet and smartphones are not technology; they are things that you live with.
Teaching Using Tech
One of the topmost things to do, is instead of saying 'I will teach you', you shift to, 'Can you learn this?' It becomes a question. Instead of saying 'I'm going to teach you about volcanoes', you could say, 'You know, it's important to know certain things about volcanoes, so I'll give you 20 minutes, can you figure it out and tell me?' So you are reversing the process – the student is telling you, and not the other way around. It's not a hard change to make once you are sensitive to it.
This generation doesn't take to orders, not because they are indisciplined – we often think they are indisciplined but every generation says about the next, 'Oh they are all going to the dogs!' Nobody is indisciplined, we are just adjusting and living with our time. So you must understand that with this generation you cannot tell them something like, 'Don't slouch, walk properly'. Now you will wonder why you shouldn't tell someone this, it's a nice thing to tell somebody. Well, it isn't. This generation needs a reason. So they will come back with, 'Why can't I slouch? I want to slouch'. So then you reply, 'You know, there are three muscles here which get weakened periodically if you slouch…' something like that! They will understand that language. If you don't know, you say something like, 'I think it does something to your skeletal-muscular system. We are bipeds, we are meant to walk in a certain way. Just google it…' If he googles it, he won't slouch after that because he knows the reason. In a way, I welcome that quality in this generation because it's the generation of reason, not orders.
I often hear teachers say, 'My role has changed, from a teacher to that of a guide'. That's not true anymore. You cannot guide people inside the internet; it's too big to guide. Guide means you know where you are going – you often don't anymore. So what is your role? The role of a teacher, I think, is of a friend. What you are saying to your class is, 'You go there, I don't know where you will land up, but I'll be with you'. …From the back, instead of from the front. And children love it if they can go home and say, 'My teacher is my friend'.
Reading vs. Internet
I am often told that reading a book helps you go deeper into the topic while the internet gives quick, superficial answers to questions. But I think it goes both ways. It's true what you're saying – if you read a book you can sometimes go deeper inside but I could take another example of where reading is not as good as speaking. The context would be poetry. To speak out a poem has a different, deeper connect than to read it. It's the argument turned backwards where reading isn't as good as it seems! On the internet what happens is that yes, you don't get the depth of the book but you get the width that the book could never offer. Books don't point to other books; the internet is all about pointing. So it's a different medium. Should we not read books? I'm not sure. I'm from a different generation where I am horrified by the idea that we won't read books! I think we should read books but then maybe I'm old-fashioned, maybe the day of the book is over…
The Lazy Issue
Does the internet make children lazy? Again, just for the sake of being argumentative, I could apply that to history. Don't you think that a farmer from 1500 BC would have looked at you and said, 'They are terribly lazy! Look at the way they look, they have no muscles, they can't stand up properly, they can't work in the field etc'. We were very active but that's because of anthropological reasons – we got down from the trees, we got up on our feet, we had to run for our food, we had to protect our families, shield ourselves from the weather, the works! We were a lot hardier… but we used to die at 30. Now, we are soft, we are lazy by those standards, we are like a sack of potatoes sitting there, every one of us eats too much, we probably sleep too much, we don't bother about anything… we live to be 75! So, to me, it's an achievement. It's the achievement of homo sapiens. So, yes we are lazier – thank god!
Lines that find resonance…
Oh poetry on order! Why not? You know, teachers sometimes ask, 'What should I look for in my job, in my career?' Here's what you should look for…
'…to see the bright eyes of the dear one discover
She thought that I was not unworthy to love her.
There chiefly I sought thee, there only I found thee;
Her glance was the best of the rays that surround thee;
When it sparkled o'er aught that was bright in my story,
I knew it was love, and I felt it was glory.'
Byron
This interview appeared in the September 2017 issue of ScooNews magazine.
Curriculum specialist Rashenah Walker on the exciting future ahead, in an exclusive at SGEF 2017
"It helps to go into the classroom and know what works with the children and what works with the teacher so that I know that something is perfect or whether something needs to be redesigned", says Rashenah Walker, Curriculum specialist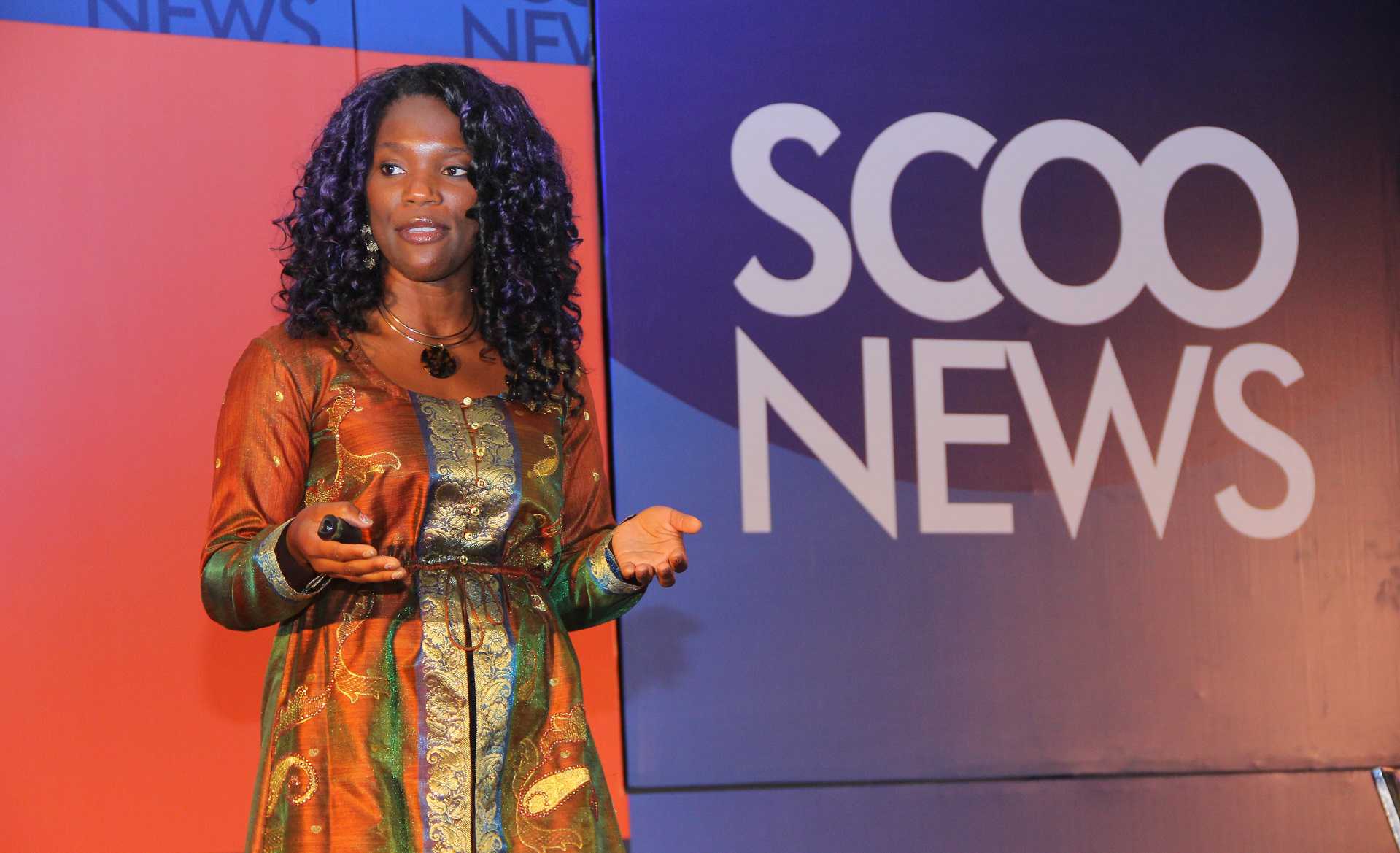 How do you assess the effectiveness of a curriculum?
Assessing the effectiveness of a curriculum includes many components, starting with the need to know what type of curriculum you are dealing with, whether it is American or British curriculum or Indian curriculum. You should make sure that the teachers know what the standards are and what the objectives are that you want the students to know. What I suggest is that you need to start backwards and work your way forward. First figure out what's the end outcome. After you finish a lesson or a unit, what do you want your students to know and, from there, work your way backwards. How are you going to get the students to know this? What activities are you going to get them to do and what is going to be the assessment? Once you figure out the 'how', the actual implementation is so much easier.
Since you have designed curriculum for many countries, what type of curriculum do children learn best from?
The curriculum doesn't matter. What matters is the process that you are going through and that you have varied instruction, so that you present it in so many different ways. Something that I have noticed in the International schools is that they have many teachers who have no training or a teaching license. They have not gone to school, they don't have pedagogy. So it is kind of like they are just thrown in the profession. But the truth is teaching is a difficult profession. Just like how a doctor cannot work without formal training, a teacher cannot do justice to the profession without formal training. But the good thing is in teaching you will see people from diverse backgrounds – I've known IT specialists, engineers, people who have worked in the military, who have transitioned into teaching. So they have a different perspective that they can bring into the profession. But the problem is when it comes to curriculum, they are not sure how to take what's on paper and put it in real life. They don't know how to take what's on paper and communicate it to a small mind. I know that the British curriculum is easy to work with because it's already readymade, so it is not much for the teacher to do. It is literally like open a book; a lot of resources are already pre-made. But the American curriculum is so diverse. You have the standards but we don't care how a student learns a noun or a pronoun as long as they learn it. It can be great for a creative teacher that says, 'Oh wow, we are going to play this game' or 'We are going to do this activity', or 'We're going to try this experiment'. But if there is a new teacher who doesn't have a background in teaching, they won't know how to teach what a noun or a pronoun is. But that's the great thing about teaching. It can be so diverse and you can do it any way that you want. But at the same time, if you don't have the support needed for the teachers, it can be an absolute disaster.
Do you interact with kids while designing curriculum?
Yes, I do. I love the kids. I go into the classroom and I love seeing them learn and I love seeing them play. So that's the positive but I also have to see how the curriculum is working because maybe I'll look at something and I'll have an idea in my head. But working with International schools, it is very difficult when you are dealing with second language learners and what their culture allows. Working in the Middle East, of course you have a strong Islamic culture and a strong local culture. If you are looking at an American curriculum school, one of the most common things that we teach in high school is Romeo and Juliet. That is such a die-hard story and everybody knows it but we can't teach Romeo and Juliet (in the Middle East) because it is a love story and the two don't get married and that's against Islam. So I have to find another story to teach the skill of analysing the story and its characters. It does help to know the students and the base that I'm dealing with, so I can figure out their skills and provide support accordingly. It helps to go into the classroom and know what works with the children and what works with the teacher so that I know that something is perfect or whether something needs to be redesigned.
Did you ever get a chance to work with the Indian education system?
I have not. They do have Indian schools in Dubai and actually they are some of the best performing schools in Dubai. I'm not sure why but clearly, you guys are doing something good with the curriculum! (laughs) It's always been something that I've been interested in because I want to know why they are some of the best performing schools and how the students are able to perform so well. I don't know if it has to do with the home base. Maybe this is an expectation from home while other parents say 'Just do your best, whatever that is'. For example, if you're a D student and that's your best, 'Good job'! But for some families, your 'best' is not good enough. It is something that I'm interested in researching and looking at schools and finding what works there and figuring out how that can be implemented in other schools' systems and curriculum.
How did you get into curriculum designing?
It's a strange job and what makes it a little bit different here or in the Middle East or any international markets for education versus in the United States is that in the States you never see them. They are always at the board or at the county level, so they never actually come into the schools and see what's happening. They work remotely and they only have the standards and they put together activities, objectives and that's it. And all you see is a piece of paper when you go to work at a school. But here what I love is I get to see the interaction, what is working and what is not. I get to go to other schools, I get to give them ideas as to how to change their curriculum and design it in a better way. You can see the teachers, you can see how the students are interacting to it and you can see what's working. Like I said, in the Middle East, we have to change a lot of the content to make it culturally sensitive. But even with that, when you are dealing with second language learners, you have to look at the curriculum as a whole.
If it's the American curriculum, you are using American books. So there are some stories that have a certain vernacular, a certain tone which you would understand only if you are American. So when you are looking at resources, you have to find books that fit the students' ability to understand and grasp the ideas. The student should not just be able to read but also understand it. So when I'm in a classroom, I understand exactly what a child understands whereas if you are at a county level, you never know what's happening!
Have you designed curriculum for children with special needs?
Yes, I have. Actually, my certification in the States is with special education. I've worked with special education kids for about six years. When you look at special education, it's not that a child is 'dumb' or 'slow' – they learn 'differently'. It's almost like a puzzle. It is my job to figure out how they learn. It doesn't matter if they need extra time, maybe they need to be told in a different way, maybe it needs to be repeated multiple times, maybe instead of taking a traditional test, they take it in a different way. They may give oral responses or they are able to do it on the computer.
SGEF 2017 – Enlightening!
Honestly, I was very surprised. I don't know anything about the Indian education system and I wanted to see what's happening here, what's new, where are you guys in the process as far as educational design is concerned. I can see exactly where you are in the process. It's definitely going through reform. I see that there is a huge interest in it and that you have so many things up and coming. I'm really excited about the next five years, about what's going to come up here. I love the forum because it's a place where everybody can come and share ideas and I love how they had one of the executives from the Board and all the teachers are so excited just to put their input in and he was excited to listen to what's happening in all the different states. You had Prof. Sugata Mitra known for the Hole in the Wall experiment. I did not know it was him when I first saw him and then when he got up on stage I was like, "Oh my God, that's him!" because I actually used his video to train some of my teachers in Dubai – the idea of letting go as a teacher and letting the kids explore and discover on their own. It was amazing to see him here. Also it was enlightening to listen to the perspective of someone from the Board and someone from the classroom. You are going through the process of reform that most countries are. Whether to get the expensive book or to get a cheaper one, do they have the same content, how do you choose etc… I'm glad that the problems are being recognised and steps are being taken to solve them.
This story appeared in the September 2017 issue of ScooNews magazine.