Khan Academy is knocking at the doors of the Rs. 5.9 lakh Cr Indian education market
Khan Academy is one of the world's leading online educators and now it has its sights set firmly on India. The Academy has partnered with Tata Trusts to create specialised, freely available online content tailor-made for India.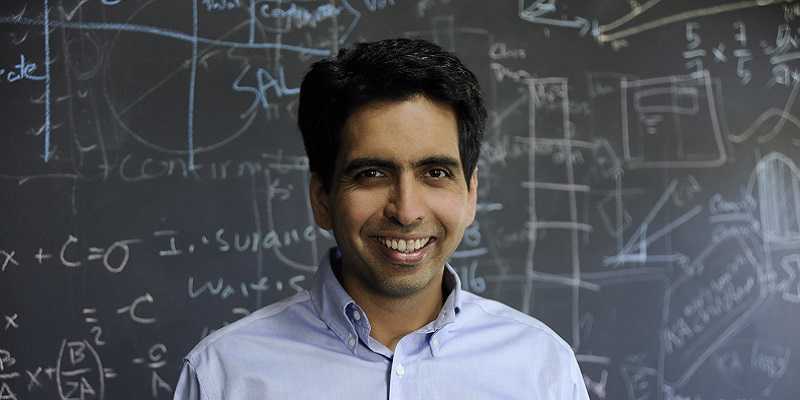 The Khan Academy was born out of simple desire of Salman Khan to help out his cousin Nadia in mathematics. But since Nadia lived in New Orleans and Salman was in Boston working at a hedge fund, he began tutoring her remotely and would record videos and post them on YouTube. This was circa 2004.
Salman realised that making videos was working as his cousins could watch them whenever they needed to, at their own pace and even multiple times. Soon others stumbled upon his videos, which gave him enough of a business case to set up the now-famous Khan Academy. From then, there was no looking back for Salman.
The next 6 years saw the release of approximately 2,000 tutorials which garnered a viewership of one lakh eyeballs a day. Finally, in 2008, Khan Academy was incorporated as a non-profit, and until late 2009, Salman worked on the academy in his free time. Soon after, he quit his hedge fund job and focused his complete attention on Khan Academy. Currently, the academy has over 90 full-time employees in Mountain View, California.
Khan Academy currently boasts of 31 million registered students, one million registered teachers, 15 million site visits per month, users across 190 countries, 580 million lessons delivered and over four billion completed problems. Currently, there are courses in Polish, English, Czech, Hindi, Malayalam, Chinese, Swahili, Russian, Indonesian, German, Spanish, Turkish, Xhosa, Urdu, Arabic, Bengali and many others. The team intends to add more Indian languages in the coming years.
So how does this online education behemoth plan to establish itself in the Indian market? The Indian education market is believed to be worth Rs 5.9 trillion and the online education space is believed to touch $40 billion by 2017. With the growing Internet and mobile phone penetration happening in the country, there are several startups trying to make their presence felt in the education and tutoring space. Embibe, SimpliLearn, Vedantu, Edurekha and Xamcheck are some of the key players in the space.
On this front, the team says it observed that India is currently the fifth largest user base for Khan Academy. Since 2012, the video views have grown at 45 % y-o-o in India, and over 40 % of the user base is from secondary school or college students. The plan of action is to build a team in India in 3 areas – content, growth/adoption, and partnerships and implementation.
Sandeep Bapna, who earlier was a part of International Finance Corporation (IFC), World Bank and had even founded edutech platform Engrami, is now the India Country Manager at Khan Academy.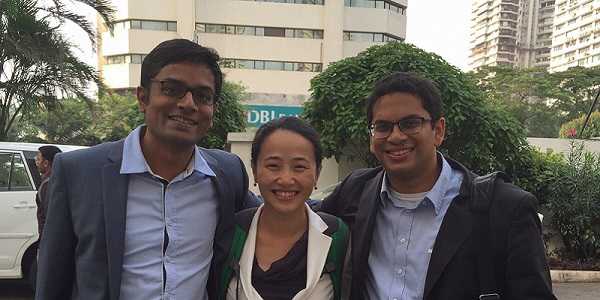 Sandeep Bapna – India Head, Yin Lu – Head of International, and Arif Kadir – Head – Strategic Initiatives. (with pic)
He says, The sheer scale and diversity of the Indian education landscape presents a significant challenge for any educator. The challenge for Khan Academy will be to deliver sufficiently versatile education resources that can be adapted to, and remain relevant to learners in these different environments. In particular, it will be challenging — but still vital — to reach under-served populations who may lack the awareness and have limited access to broadband networks and devices, among other issues.
Apart from support from Bill and Melinda Gates Foundation, The Board Foundation, O'Sullivan Foundation, Google and Skool Foundation, the non-profit also partnered with Tata Trusts to create specialised, freely available online content tailor-made for India. Apart from hiring Indian teachers, the team will also be creating content in Indian languages based on the NCERT textbooks.
Smile Foundation and Shell Launch STEM Project on Pi Day
The initiative will benefit less-privileged students from government schools.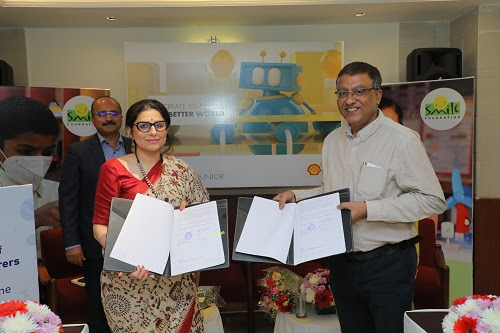 On the occasion of International Pi (π) Day, Smile Foundation and Shell launch 'NXplorers Junior' programme in three Indian states. NXplorers is Shell's global flagship Social Investment STEM (Science, Technology, Engineering, and Mathematics) educational programme aims to benefit over 25,000 children during the first year by enabling them to understand, navigate and address local and global challenges, as underlined in the Sustainable Development Goals (SDGs). NXplorers is also aligned with the National Education Policy 2020 and delivers societal benefits.
The innovative initiative will benefit less-privileged students from government schools and affordable private schools, studying in rural and hard-to-reach areas in the states of Andhra Pradesh, Telangana and Kerala. Its design also includes endeavour to create awareness amongst parents on the importance of STEM education, especially for girl children.
"Shell firmly believes that, provided with the necessary skills and guidance, young people can be a driving force to find sustainable solutions to the major global challenges of our time. Launched in 2018, Shell's global flagship STEM programme NXplorers is aligned with the National Education Policy 2020 that aims to transform India into an equitable and vibrant knowledge society. With the Smile Foundation partnership, we aim to expand this programme to Andhra Pradesh, Kerala, and Telangana and offer young minds the platform to design sustainable solutions to ease the pressure on food, water, and energy," said Ms. Latika Taneja, Head of Corporate Relations – India.
The programme is being rolled out in concurrence with the educational authorities of the respective state governments. Besides students, teachers, parents and communities are involved actively while implementing the programme so that it remains sustainable in the long-term.
"We are excited to roll out this innovative programme in India. We are hopeful that our children will not only leverage STEM education in building their future career but also will grow up and develop leadership ability in finding sustainable solutions in various walks of life," said Mr. Santanu Mishra, Co-founder & Executive Trustee, Smile Foundation.
The NXplorers Juniors will train both 6th and 7th grade students. NXplorers Juniors Level-I course will be delivered through a combination of teacher's guide, PowerPoint slides, and several instructional videos. The facilitator guide will outline the essentials to be covered in each session, exercises, discussion, checkpoint questions, a summary, assessment, and research to be undertaken by students after the session.
The United Nations Sustainable Development Goals (SDGs), exploring SDG Solutions, researching global goals, and developing a challenge and choosing a solution etc. are covered in the NXplorers Juniors Level-1.
NXplorers – Learning for a Life Time, envisions to provide a minimum of 3-5 years of NXplorers exposure to the students at various levels. The objectives include developing strong knowledge and skill set among students so that local and global challenges can be addressed by them. Developing sustainable models of implementation by engaging teachers, school leaders and communities effectively, creating awareness amongst parents regarding the importance of STEM education, especially concerning girl education are part of the overall goals.
About Smile Foundation
Smile Foundation is a national development organization directly benefiting over 1.5 million underprivileged children and their families every year through more than 400 welfare projects in education, healthcare, livelihood and women empowerment spread across 2,000 remote villages and urban slums in 25 states of India.
About Shell
Shell is one of the most diversified international energy company in India with over 10,000 employees and presence across upstream, integrated gas, downstream, renewable energy, and deep capabilities in R&D, digitalisation, and business operations; with a retail presence across six states – Karnataka, Tamil Nadu, Telangana, Maharashtra, Gujarat, and Assam.