KiiT University and Myperfectice sign MoU to provide personalized learning experience to students of School of Engineering
KiiT University has formed a strategic alliance with US based Perfectice LLC, which has operating legal entity in India as Perfectice Eduventure Private Limited (MyPerfectice).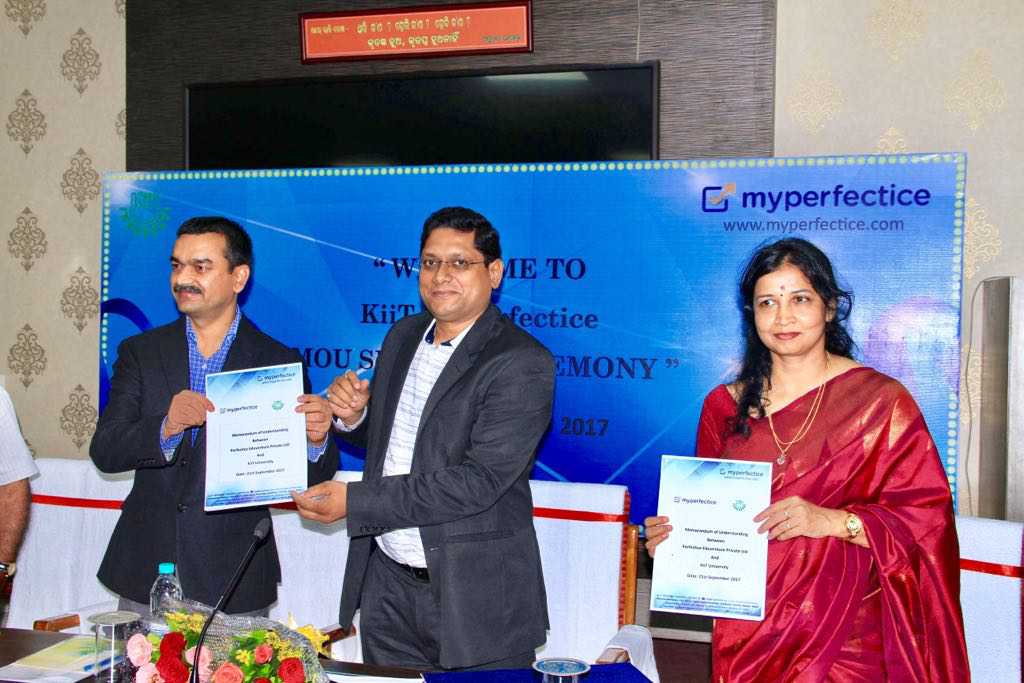 KiiT University has formed a strategic alliance with US based Perfectice LLC, which has operating legal entity in India as Perfectice Eduventure Private Limited (MyPerfectice).
KiiT University and Myperfectice signed MoU to provide personalized learning experience to the students of School of Engineering from first to final year in the gracious presence of KiiT & KISS founder Dr. Achutya Samanta. The University of KiiT and KISS caters to around 40,000 students every year.
The MOU was signed between them on 21st September, 2017 to launch a PERSONALIZED LEARNING PLATFORM for KiiT University students to
help build a strong foundation in non-engineering (Campus Placement Segment) skills like Critical Reasoning, Quantitative Aptitude and English – this will ensure higher degree of employability before students graduate from the University
enhance their knowledge and develop skills on Core Engineering Curriculum so that KiiT students can perform exceptionally well in Semester Exams, Higher Studies and other engineering related competitive exams like GATE, IES etc.
MyPerfectice is an Analytics based Personalized Learning Platform to enable the students for DIGITAL LEARNING using DATA ANALYTIC and INSIGHT, along with the classroom learning. Every student is different – their speed of learning is different, their interests and aspirations are different, their strengths and weaknesses are different. Personalized learning is the need of the hour and through this partnership, KiiT and MyPerfectice, is bring a technology platform to help one student at a time – develop and enhance their skills so that they are HIGLY EMPLOYABLE and can also pursue other opportunities after graduation like Higher Study GATE, Study Abroad, CAT, IES, UPSC etc.
The platform and DATA ANALYTICS will also be used by faculties of KiiT and parents/mentor. The faculties will use the data to provide guidance and mentorship via Mentor-Mentee program
KiiT MyPerfectice Android app was also launched after MoU signing. This will help students to practice anytime and anywhere – online or offline.
About KiiT University
Established in 1992 and opened five years later as a centre for higher learning, KIIT University is today one of the most prestigious universities in India. Its commitment to teaching excellence led to the grant of university status under Section 3 of UGC Act, 1956 by the Ministry of Human Resources Development, Govt. of India in 2004, within only seven years of its inception. KIIT is relatively young, but prizes excellence and ambition. The contributions of KIIT's faculty, students and alumni have been earning national and international recognition.
About MyPerfectice
MyPerfectice is an education technology start-up incorporated in USA, Perfectice LLC, with an operating legal entity in India. Perfectice Eduventure Private Ltd., The company is formed with a mission to use technology (data and insight) to help teachers, students and parents, bring personalized learning to students. The leadership team brings in technology and education expertise and experience from USA and India. Myperfectice platform is used by schools in K-12, Competitive exam prep like CAT, JEE, NEET, Banking etc. and University.
MyPerfectice was SELECTED by Govt of Jharkhand to participate in their Global Investors Summit – Momentum Jharkhand on 16-17th Feb'17. MyPerfectice has been recognized as DISRUPTER in the EdTech space that will redefine education.
GD Goenka's Shooting Championship 2023 to Honour the legacy of Abhinav Bindra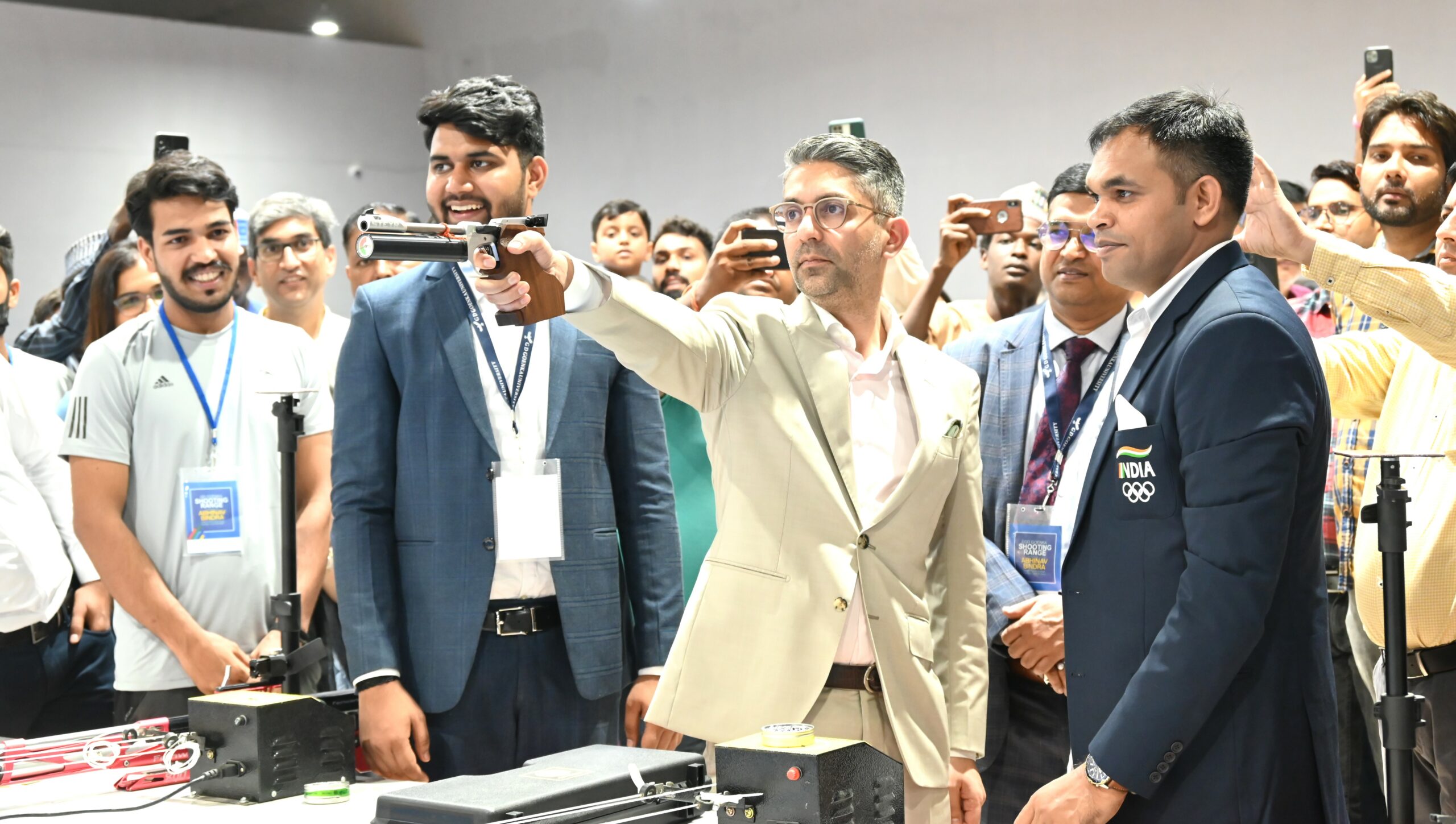 GD Goenka University is excited to introduce the inaugural Gayatri Devi Goenka Memorial Shooting Championship, a remarkable event that underscores the university's unwavering commitment to nurturing sports excellence and paying tribute to the exceptional sharpshooters from all corners of India. Set to be held from September 26 to September 29, 2023, at the GD Goenka Shooting Range featuring 25 professional lanes, this championship is poised to become one of the nation's most prestigious shooting competitions and will be conducted using Electronic Scoring Target System (EST).
This championship serves as a testament to promoting sportsmanship and fostering the talents of both emerging and seasoned shooters. With participation from over 500 competitors hailing from across India, the event promises to be a grand spectacle, celebrating the passion and precision of shooters who have honed their craft to perfection.
Notably, this championship holds particular significance as it pays homage to Abhinav Bindra, India's first individual Olympic gold medalist. The GD Goenka Shooting Range, dedicated in his honor in 2022, stands as a guiding light for aspiring shooters, offering world-class facilities and expert guidance to nurture their talents.
During the inauguration, Abhinav Bindra expressed his thoughts, stating, "I extend my heartfelt congratulations to GD Goenka for the remarkable facilities they have established and the emphasis they place on sports across their educational institutions. I am confident that the students will achieve remarkable success in various tournaments, but more importantly, they will imbibe the values that sports instill in us."
Nipun Goenka, Managing Director of GD Goenka Group, aptly remarked, "The Gayatri Devi Goenka Memorial Shooting Championship transcends mere competition; it's a celebration of the essence of sportsmanship, camaraderie, and unwavering dedication. We take immense pride in providing a platform for India's talented marksmen and markswomen to shine, and we firmly believe that this championship will serve as an inspiration to a new generation of shooting enthusiasts."