MHRD Facilitates eLearning Through SWAYAM PRABHA DTH Channels
NIOS initiates a unique method to ensure effective schooling to reach the unreached directly at doorstep, in wake of COVID-19. Innovations by NIOS in the telecast of Live sessions through Skype in association with KVS, NVS and CBSE & NCERT through Swayam Prabha DTH Channels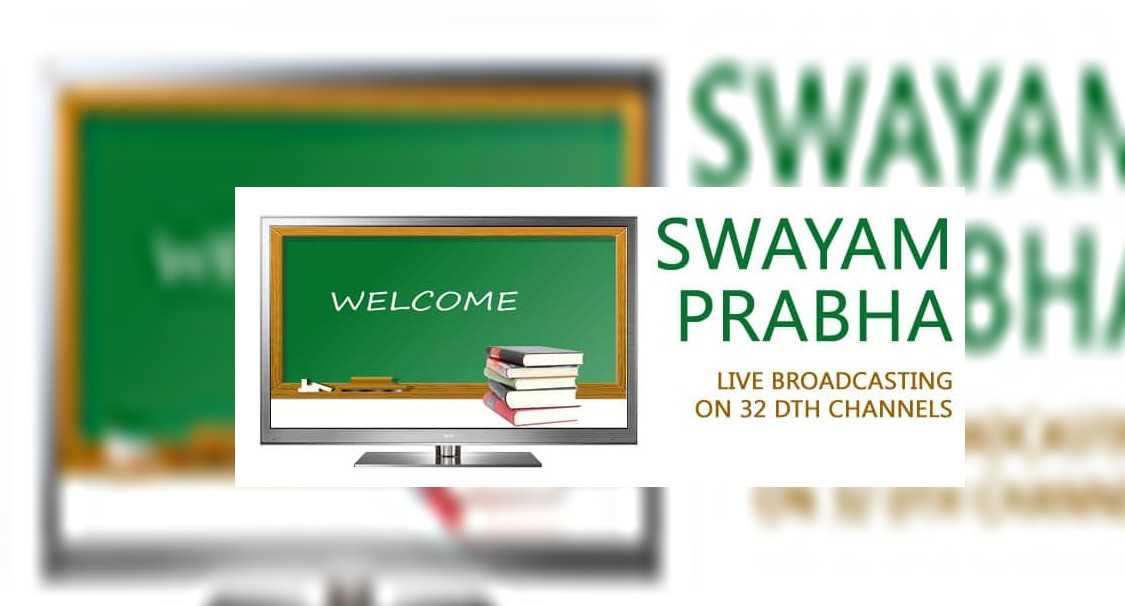 The HRD Ministry has taken several prompt, new and unique initiatives to ensure that the education of learners should not get affected by the challenging situation arising out of COVID 19.
Under the direction of MHRD, NIOS has initiated a unique method to ensure effective schooling to reach the unreached directly at doorstep. Fulfilling the objectives of quality education, content is being made available online through 'SWAYAM' MOOC platform of MHRD for various subjects from class 9th to 12th. Along with Self Learning Material, 'SWAYAM' portal provides video lectures and facility of self-assessment. The questions and queries of the learners are also being resolved through discussions forum.
In addition, for those who do not have much access to the internet, these video lectures are telecast on MHRD SWAYAMPRABHA TV channels with Live sessions to interact with their teachers and subject experts.
Those students who are preparing for JEE and NEET are benefited while sitting at home through this initiative.
In wake of COVID-19 pandemic, NIOS has made excellent innovations in the telecast of Live session through Skype in joint association with KVS, NVS and CBSE & NCERT through Swayam Prabha DTH Channel Panini (#27), Channel Sharda (#28) of NIOS and Channel Kishore Manch (#31) of NCERT. Now, the subject experts are able to connect for the Live telecast of SWAYAMPRABHA through the SKYPE from their home.
The learners can watch the lesson based educational programs on these DTH Channels and NIOS YouTube channel 6 hours of the recorded broadcast from 7.00 AM to 1.00 PM followed by 6 hours of Live session from 1.00 PM to 7.00 PM with four different subject experts for one and half hour session each. Learners can ask questions directly to the subject experts from their home through a phone call on the number displayed during Live session and through 'Student Portal' of NIOS web site directly in a live telecast.
On the request of the Union Minister for HRD Shri Ramesh Pokhriyal 'Nishank' and Union Minister of I&B Sri Prakash Javadekar Tata Sky and Airtel DTH operators have agreed to air three Swayam Prabha DTH channels on their DTH platform. Now these three Swayam Prabha DTH channels are available through all DTH service providers besides DD-DTH and Jio TV App. People can request their DTH 'Service Provider' for these channels without any extra cost as these are free to air channels. The learners can continue their education and learn even sitting at home in this difficult situation arisen due to unfortunate outbreak ofCOVID-19.
The channel number in different DTH service providers are as follows:
In Airtel TV: Channel # 437, Channel # 438 & Channel # 439
In vmVideocon: Channel # 475, Channel # 476, Channel # 477
In Tata sky: Channel # 756 which pops up a window for Swayamprabha DTH channels.
In Dish TV: Channel # 946, Channel # 947, Channel # 949, Channel # 950
SWAYAM PRABHA is an effective tool of learning for those who do not have internet access at their home. The SWAYAM PRABHA is a group of 32 DTH channels devoted to telecasting of high-quality educational programmes on a 24X7 basis using the GSAT-15 satellite. Every day, there will be new content for at least (4) hours which would be repeated 5 more times in a day, allowing the students to choose the time of their convenience. The channels are uplinked from BISAG, Gandhinagar. The contents are provided by NPTEL, IITs, UGC, CEC, IGNOU, NCERT and NIOS. The INFLIBNET Centre maintains the web portal. All 32 channels are available at DD DTH and JIO TV mobile App.
The DTH Channels cover the following:
a) Higher Education: Curriculum-based course contents at a post-graduate and under-graduate level covering diverse disciplines such as arts, science, commerce, performing arts, social sciences and humanities, engineering, technology, law, medicine, agriculture, etc. All courses would be certification-ready in their detailed offering through SWAYAM, the platform being developed for offering MOOCs courses.
b) School education (9-12 levels): modules for teacher's training as well as teaching and learning aids for children of India to help them understand the subjects better and also help them in preparing for competitive examinations for admissions to professional degree programmes.
c) Curriculum-based courses that can meet the needs of life-long learners of Indian citizens in India and abroad.
d) Assist students (class 11th & 12th) prepare for competitive exams.
Channels 01-10 are managed by CEC-UGC
Channels 11 to 18 are Managed by NPTEL
Channels 19 -22 are managed for high School students by IIT Delhi and is called IIT PAL
Channels 23, 24, 25 and 26 are managed by IGNOU New Delhi
Channels 27, 28 and 30 are managed by the NIOS, New Delhi
Channels 29 is managed by UGC-INFLIBNET, Gandhinagar
Channel 31 is managed by NCERT
Channel 32 is managed by IGNOU and NIOS jointly
For more details of SWAYAM PRABHA Channels kindly click the given link https://www.swayamprabha.gov.in/index.php/ch_allocation
Source: pib.gov.in
During A National Consultation Discussions Were Conducted For Class 12th Exams & Entrance Exams
Education Ministry with other significant departments of the Indian government will come to a conclusion soon regarding the 12th Board Exams & Professional Entrance Exams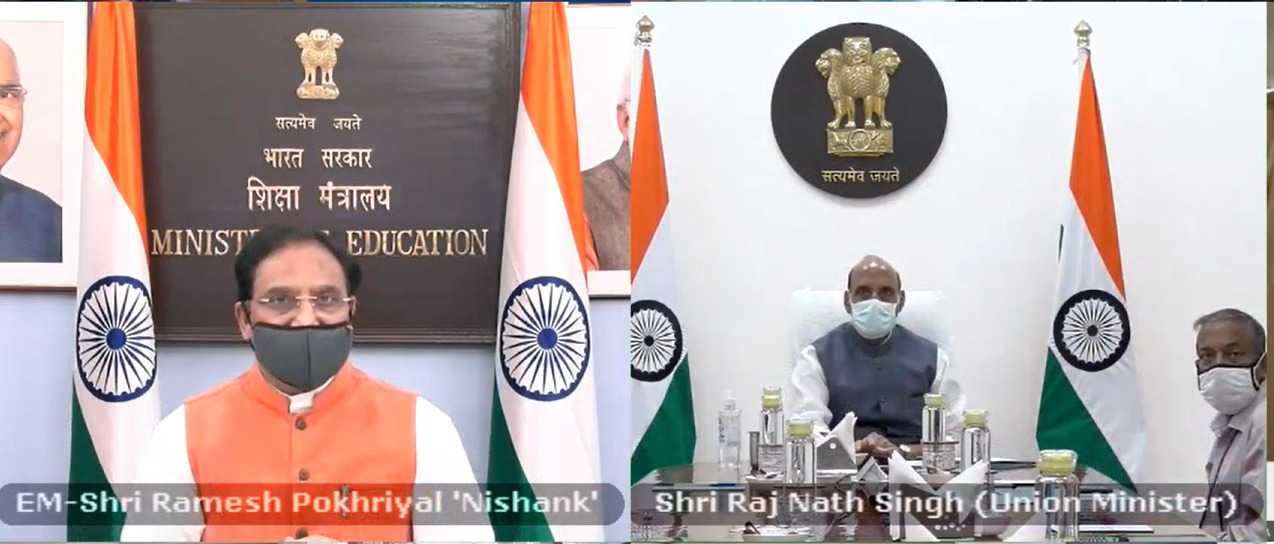 A national consultation was arranged on 23 May 2021 by the Ministry of Education, Government of India with the Education Ministers and Administrators of all States and UTs. The consultation was chaired by the Union Defence Minister Shri Rajnath Singh and was attended by Union Education Minister Shri Ramesh Pokhriyal 'Nishank', Union Minister for Women and Child Development and Textiles, Smt. Smriti Zubin Irani, Union Minister for Forest, Environment and Climate change and Information and Broadcasting, Shri Prakash Javadekar and Minister of State for Education Shri Sanjay Dhotre. Secretary, Higher Education Shri Amit Khare; Secretary, School Education Smt Anita Karwal and senior officials of the Ministry also attended the meeting.
I thank all the Hon'ble Chief Ministers, Education Ministers, and officers associated with the world's largest education system for participating in the high-level meeting chaired by Hon'ble Minister of Defence Shri @rajnathsingh Ji. pic.twitter.com/i4e8p5lH90

— Dr. Ramesh Pokhriyal Nishank (@DrRPNishank) May 23, 2021
While opening the forum for discussions, the Minister for Education, Shri Ramesh Pokhriyal"Nishank' expressed his gratitude to the cabinet ministers from the Government of India who attended the meeting on 23 May 2021, for their extensive support in the preliminary discussions leading to this consultation and for remaining present in the meeting. It may be mentioned that a high-level meeting was held on 21 May 2021 under the chairmanship of the Prime Minister with nine Union Cabinet Ministers and senior officials to discuss about the conduct of Board exams for Class XII and All India Entrance exams. The Minister expressed his gratitude to Defence Minister Shri Rajnath Singh for giving his time and valuable suggestions relating to the exams. He thanked the Union Minister for Women and Child Development, Union Minister for Information and Broadcasting, Minister of State for Education for attending the meeting. The Minister of Education also expressed commitment towards the safety and security of children as the first priority of the Government of India. The Minister said the entire country has come together to ensure the safety and academic welfare of the students and the smooth functioning of the education system. He said that despite challenges posed by Covid-19, the Government has left no stone unturned to successfully bring education to online mode. He said that the homes were converted into schools.
The Minister discussed the importance of the Class XII Board exams and the All India Entrance exams in shaping the future and defining the careers of students. The Minister said keeping in view the present circumstances we decided to cancel the CBSE Board examinations of Class X and evaluate through internal assessment but Class-XII examinations are very important to decide the future of a student.
He said that this meeting was called to enable Central and State Boards and other examination agencies to be able to examine various options available in the present challenging circumstances through a consultation process. Shri Pokhriyal assured that the deliberations with all stakeholders in the meeting on 23 May 2021 will help in reaching a suitable decision on exams in the interest of all the students and ensuring a bright future for our children.
The discussions were held around two themes, i.e, board exams to be conducted for Class XII by the Central Board of Secondary Education and other State Boards and the All-India Entrance examinations for various higher education institutions and professional courses. Various options regarding the methodology, process, duration and timings of the exams were discussed. While a broad consensus was there, however, it was decided that States and UTs may like to further examine the matter and send their feedback in writing by the 25th of May,2021.
The meeting was attended by Chief Minister of Jharkhand and Goa, Deputy Chief Minister of Uttar Pradesh and Delhi and State Education Ministers, State Education Secretaries, Chairpersons of Examination Boards, Administrators of Union territories, Secretaries of Higher Education Department and School Education Department of Government of India, Chairman CBSE, UGC and AICTE, DG NTA and several other officials.
While summing up, Union Defence Minister, Shri Rajnath Singh thanked all the participants for putting forth their positive suggestions on the proposals for conducting examinations. He requested States and UTs to submit other suggestions, if any, to the Ministry of Education by this Tuesday i.e. 25th May. The Ministry will consider all those suggestions and take a final decision soon, he added. He reiterated that the priority of the Government is to conduct all the examinations in a safe and secure environment.
Earlier on 14th April, the Central Board of Secondary Education had notified that Class XII exams have been postponed and that further information with regard to Class XII board exams would be given to students by the 1st of June. In this context, following the consultative meeting with the States and UTs on 23 May 2021, the Government of India will examine the suggestions received from the various State Governments this week and convey further information in this regard to the students by or before the 1st of June 2021.