ScooNews Webinar: Explore The Power Of Puppets in Education With Sangya Ojha 
A webinar was hosted by ScooNews with panellist Sangya Ojha, a Puppeteer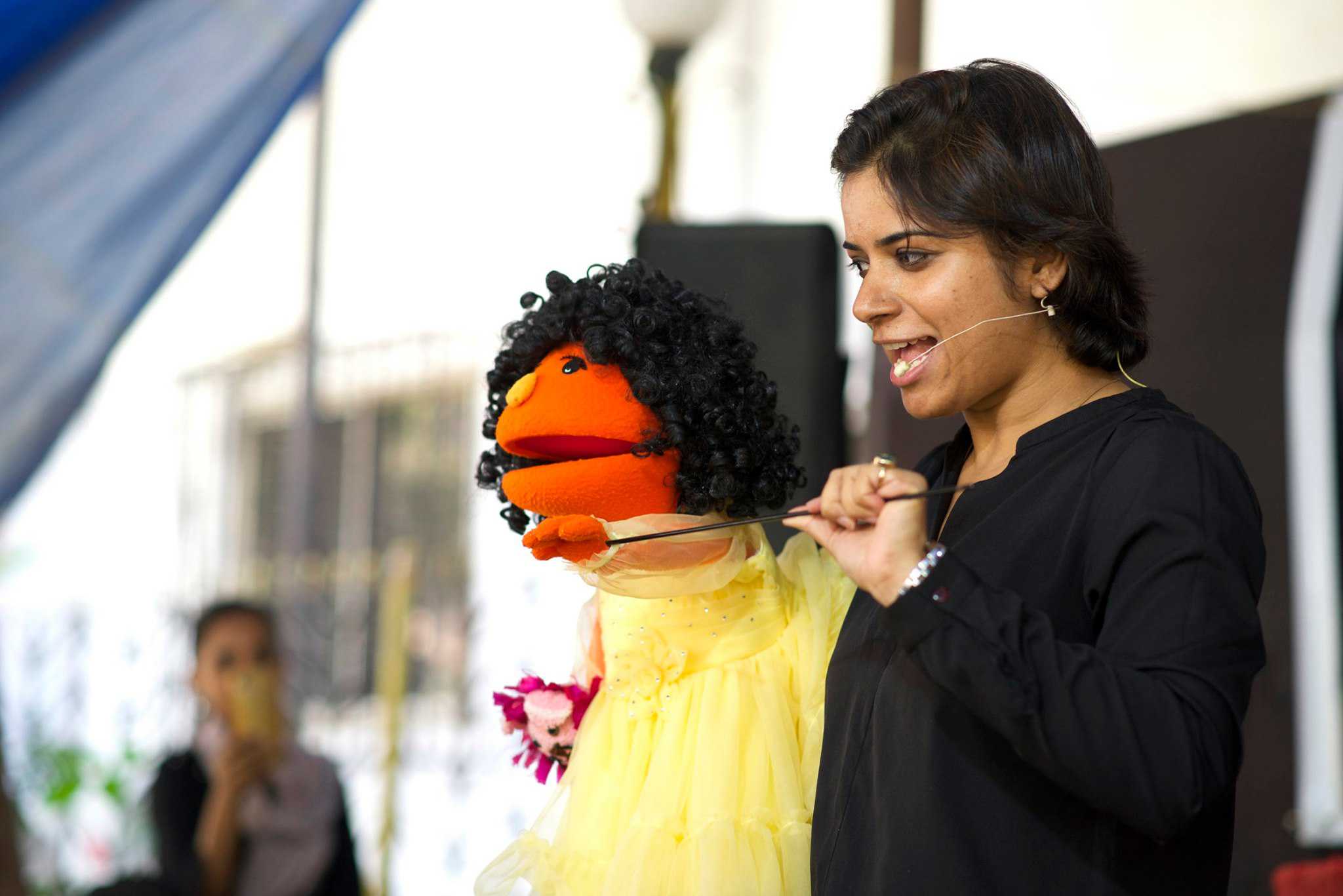 ScooNews organized a one of a kind webinar with Sangya Ojha, a Puppeteer from Mumbai. Sangya is the co-founder of The Puppetarians and has been a Puppeteer for Sesame Street India (also known as Galli Galli Sim Sim, on-air Cartoon Network and POGO) since its inception and has also played the character of Anchoo and Elmo—the famous international muppet characters. Interestingly, she has been trained under some well-known legends from the Puppet world like Martin P. Robinson, Charles Tuthill, Nyanga and Noel MacNeal.
Here are the excerpts from the conversation Sangya had with more than three thousand ScooNews educators from across India about Puppets, the art of Puppetry and the positive impact it can have on children and adults. The views expressed below are her own.
The art of Puppetry
Anything can be a puppet! Puppetry is not a one-way street, not just the puppeteer but the audience gets involved, too. Since the puppeteer only gives certain sounds and gestures to the puppet, it's actually the audience's minds that are at work the whole time interpreting the story.
Everyone can be a Puppeteer
Puppetry does not need to be professional or one does not need to master the art to entertain themselves and the audience or maybe send a message. Puppetry has been integrated into our lives since childhood when children would play with their dolls or other playthings or just shadow puppets on the walls, it's inanimate coming to life.
For learning, puppets are very useful because when we are having fun, it becomes easier for us to retain the information. Even when we know that the puppet is not real, it is easy to invest oneself with it. Well, that's the power of Puppetry.
Kinds of puppets
There are different kinds of puppets and Puppetry, for example, Finger Puppets, Shadow Puppets, Glove Puppet, String Puppet, Rod Puppets, Muppet Puppet, etc. Sock Puppets, amongst them, are very interesting and also easy to make and work with. They are a good way of getting introduced into Puppetry and performing for children. It does not take as much time to make Sock Puppets as other big ones and the technique of performing them is comparatively easier, too.
Making a Sock Puppet
Take a colourful sock
Put it on your hand: put your 4 fingers towards the toe and thumb towards the heel so as to make a mouth when you close your hand
On the puppet's face, use small round white balls for its eyes just below the knuckles
Use black dots/bindis for the eyeballs and place them in the centre front so it faces the audience.
Use some colourful wool for its hair just behind the eyes
A pom-pom ball for the nose can be used
Using double-sided tape for sticking everything on the sock puppet is a good idea
If infant clothing is available, put them on the puppet to give it a more realistic feel
Working a Puppet
Give your puppet a name, age, whimsical characteristics, and voice
Imagine the puppet before you want to play for the children
Practice lip-syncing with the puppet's mouth moments
Practice the voice you want to go with it
Decide what message or knowledge you want your puppet to impart on the kids
Voicing a Puppet
Do not do random hand movements for talking of the puppet
Sync the movement with your speech
Move the thumb in order to only move the lower jaw of the puppet so it feels real
Thumb moves once with every syllable
Stand in front of the mirror and practice
Use voice modulation to make it interesting
Using puppets in schools
Making and performing a puppet is only for a teacher to do. Children can do it along with them and learn. It is a great way of sending a message to your students, especially during a current crisis like COVID-19. Explain to them how they can stay home, stay safe and practice social distancing for when the lockdown is over.
Puppetry can also be used to teach otherwise important lessons like Unsafe Touch or Mental health-related topics, etc. The art of Puppetry is not only for younger kids but for everyone and it is very easy to address any kind of topics via puppets. The topic will not become personal and intrusive for children since it is very clear to them that the puppet is inanimate. At the same time, being impersonal, it will still give a strong memorable message without putting anyone at the stop.
Apart from the current issues and topics going on, Puppetry is also a big tool to remind children that it is not compulsory to choose an invariable field of work when they grow up. It tells them that they can choose to become anything and everything that they desire or feel a pull towards. Puppetry can be used to motivate them, make them learn, provide information and what not!
Enjoyed these playful learning tips from our favourite Puppeteer, Sangya Ojha? Share your reviews with us on [email protected].
Those of you who could not catch the Live session, check out this link of ScooNews's FB page – https://www.facebook.com/watch/?v=1148012778879617.
Reach The Puppetarians, co-Founded by Sangya Ojha, at http://www.thepuppetarians.com/home.php
SHE STEM 2022 honours and celebrates women
SHE STEM 2022 encourages students to 'Unleash their imagination' as part of the Sweden India Nobel Memorial Week.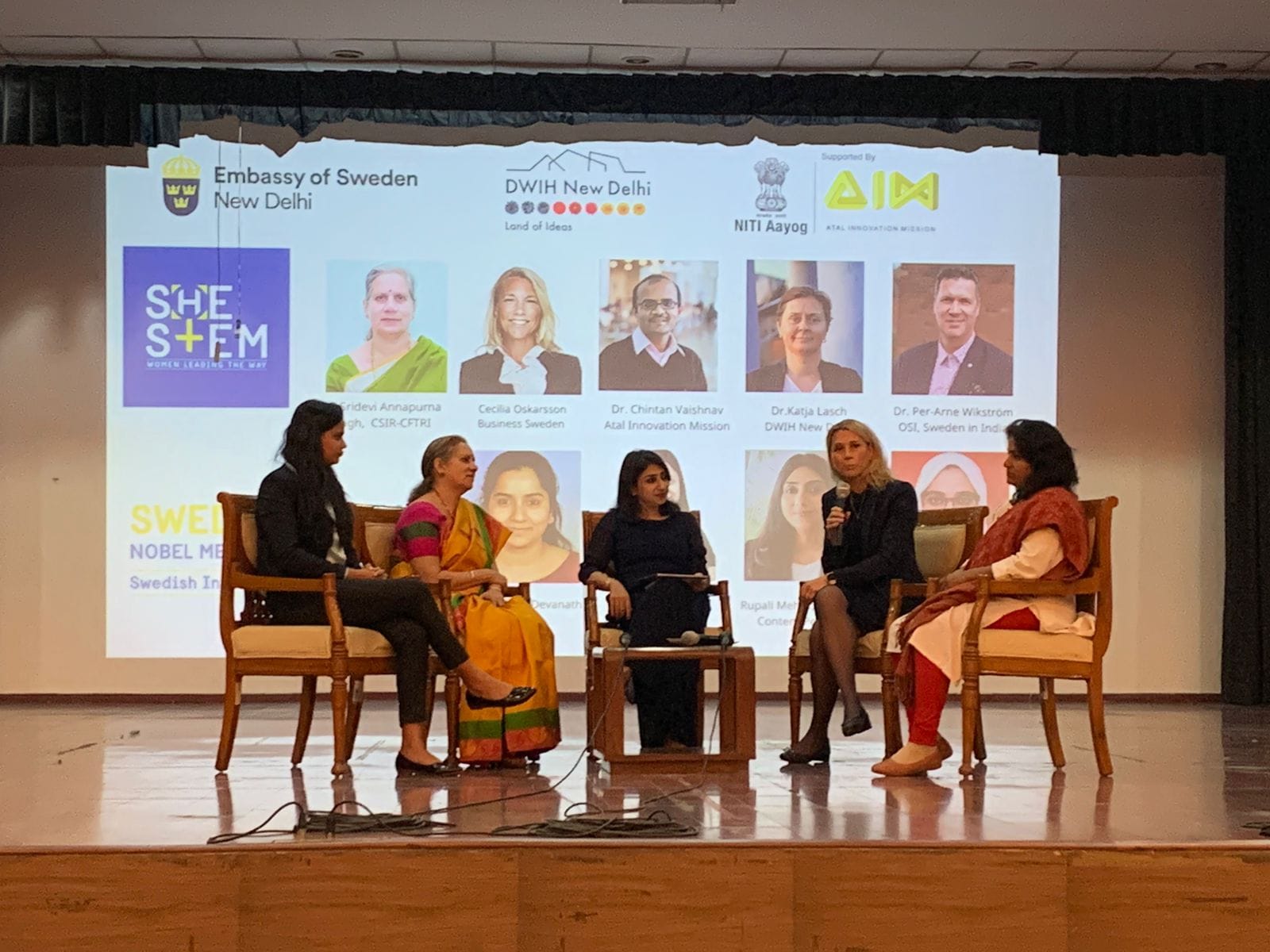 As part of the Sweden-India Nobel Memorial Week, SHE STEM, the annual event to celebrate women in the fields of science, technology, engineering, mathematics, and sustainability, was successfully held for the third year in a row.
The annual event is organized by the Sweden Embassy in India in partnership with the Atal Innovation Mission of the Government of India and the German Centre of Innovation and Research (DWIH New Delhi).
Ambassador of Sweden to India H.E. Jan Thesleff, who also addressed the students via a video message said, "We are very happy to continue the tradition of SHE STEM – it is a flagship event of the Sweden-India Nobel Memorial Week. Congratulations to all the winners of this year's SHE STEM Video challenge."
Dr. Chintan Vaishnav, Director of ATAL Innovation Mission said, "Today, the face of women's involvement in STEM is changing and the rate of participation has increased. It was in ATL Marathon 2021, that there was a spike where the women's participation was 49%. A strong STEM education will go a long way in cultivating such critical thinkers."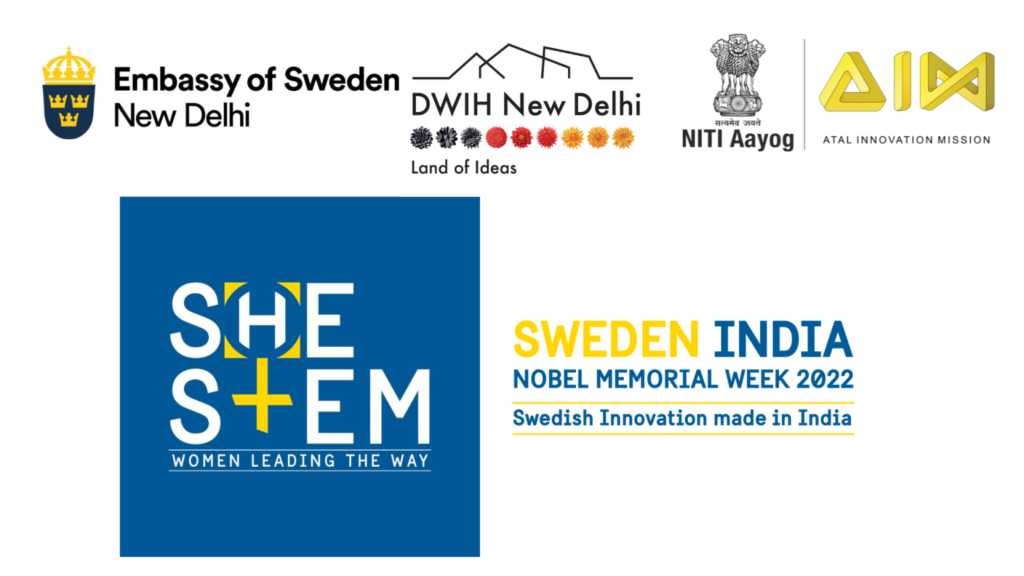 SHE STEM 2022 began with a musical performance by the students of Darbari Lal DAV Model School, New Delhi, the host school for SHE STEM 2022, followed by talks, and a panel discussion with women in the fields of STEM and business, including D. Sridevi Annapurna Singh, Director of Council of Scientific and Industrial Research – Central Food Technological Research (CSIR-CFTRI), Ministry of Science and Technology, Government. of India.
Dr. Annapurna Singh has done extensive work in the development of supplementary foods for undernourished children and in studying the impact of protein-rich food on children. She spoke to the audience about the need for women in fields of STEM to bring in their unique perspectives to problem-solving for a sustainable future.
Other participants included Cecilia Oskarsson, Trade, and Invest Commissioner of Sweden to India, who shared her thoughts on the role of diversity in triggering and enabling positive changes for girls and women, Mamta Kumari, co-founder and CEO of Prepbytes, an ed-tech company in India, and Dr. Vasudharani Devanathan, Neurobiologist and Professor of Biology at the Indian Institute of Science Education Research (IISER). Rupali Mehra, Founder of Content People AB moderated the event.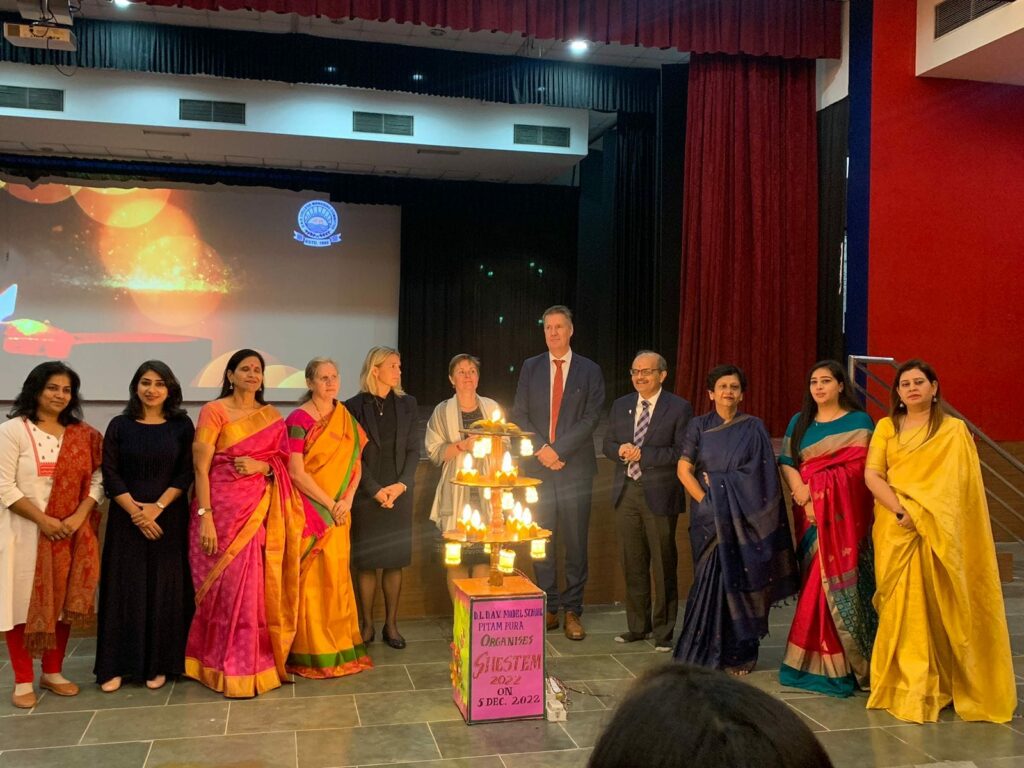 Dr. Per-Arne Wikström, Head of Office of Science & Innovation, Embassy of Sweden in New Delhi said: "When women and girls provide their talent, their knowledge, and their capabilities to science and technology on equal terms with men and boys, then we know that societies prosper and that innovation capacity actually increases. So for us, gender equality is an integrated part and an important aspect of everything that we do. We would like to thank our Indian partners for their support for this very important initiative."
"As Johann Wolfgang von Goethe said, 'who is not curious will not gain knowledge,' so keep your curiosity on, drive your knowledge forward and who knows maybe one or other idea will be implemented," said Dr. Katja Lasch, responsible for Strategy Management at the German Centre for Research and Innovation (DWIH New Delhi) and head of German Academic Exchange Service (DAAD) Regional Office in New Delhi.
Following the success of the Insta-reels Video Challenge in 2021, SHE STEM hosted the #SHESTEM2022 Video Challenge across Instagram, Youtube, Facebook, and Google Drive for students of ages 13 to 17, asking them to imagine themselves in the year 2047, and speak about an innovation of theirs that has helped in tackling climate change. The response was overwhelming with over 930 videos of which 15 were shortlisted. SHE STEM had an extensive jury round of 3 jury teams; Atal Innovation Mission Team led by Dr. Chintan Vaishnav, the Swedish Embassy team, led by Dr. Per-Arne Wikström, and the German Centre for Research and Innovation, represented by Dr. Katja Lasch.
The videos were assessed on the:
Novelty of idea
Clarity of thought and articulation
Sustainability or climate action angle
G. Nivethiga Rani who created a video on how she as a STEM Leader in 2047 had invented a robot that collected and converted biodegradable and non-biodegradable waste into electricity, won the first prize in the video challenge. The second prize was tied between T Shatananda Dhanwantari and Shreya Singh and Nistha Aswal, who participated as a team. Gaurav Hanjoora won third place.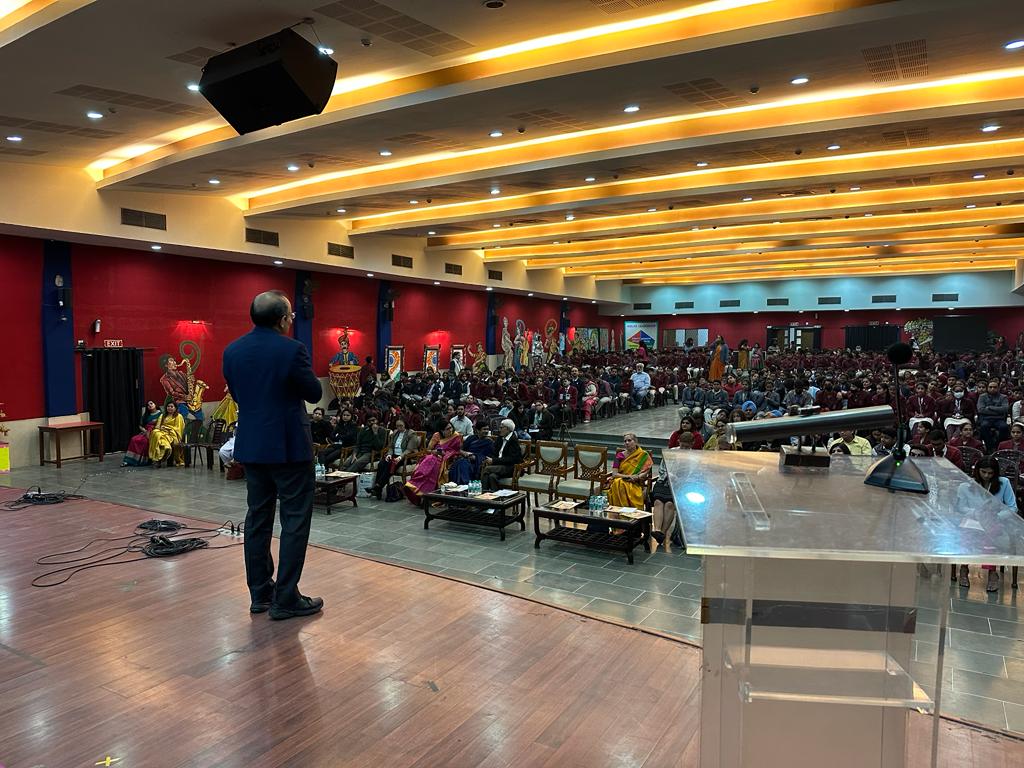 "I congratulate all the winners of the SHE STEM 2022. I have to say what caught my attention was that every single idea was addressing a fundamental constraint confronting us," said Dr. Chintan Viashnav.