MHRD takes various steps to improve quality of teachers
Ministry of Human Resource Development takes various steps towards improving the quality of teachers across the country.
As education is in the Concurrent List of the Constitution, a majority of the schools are under the jurisdiction of respective States and Union Territories (UT). Hence, the recruitment, service conditions and deployment of teachers are primarily in the domain of respective State Governments and UT Administrations. However,Samagra Shiksha, a centrally sponsored scheme which has been launched in 2018-19 for the education sector extending from pre-school to class 12 by subsuming three erstwhile schemes i.e., Sarva Shiksha Abhiyan (SSA), Rashtriya Madhyamik Shiksha Abhiyan (RMSA) and Teacher Education (TE) has provisions for induction and in-service training of teachers.
The purpose of teachers' training is not only improvement of skills but also to facilitate a shift in the understanding of teaching and learning as stipulated by the Right of Children to Free and Compulsory Education (RTE) Act, 2009 and National Curriculum Framework (NCF) 2005. The RTE Act also attaches immense significance to the role of teachers in improving elementary education by making available professionally trained teachers for the school system. Moreover, teacher training is provided for all levels of teachers from pre-primary to the higher secondary level. In-service teacher training is provided to elementary school teachers through the institutional structure of Block Resource Clusters and Cluster Resource Centers. Additionally, pre-service teacher training is provided to eligible candidates in Government Teacher Education Institutes like District Institute of Education and Training (DIET), Colleges of Teacher Education (CTEs) and Institutes of Advanced Studies in Education (IASEs). The State Council of Educational Research and Training (SCERT) prepares a combined annual teacher training calendar with active participation of various state agencies and is also the nodal agency in the state for conduct of Teacher Training. Accordingly, funds are provided to states and UTs for Teacher Training under Samagra Shiksha.
Section 23(2) of The Right of Children to free and Compulsory Education Act, 2009 has been amended, according to which all untrained in-service elementary teachers are required to acquire minimum qualifications as laid down by the academic authority by 31st March, 2019. The National Institute of Open Schooling (NIOS) has been entrusted with the task of conducting the training of untrained in-service elementary teachers. 13,78,979 untrained in-service teachers have confirmed admissions at NIOS Portal. NIOS is conducting D.El.Ed. programme through Open Distance Learning (ODL) mode and SWAYAM platform. SWAYAMPRABHA DTH channels are also used for this purpose.
Further, a four year B.Ed integrated course to bring about qualitative improvement in teacher education programmes in India has been conceptualised and regulations for this course has been published in official gazette on 22nd November, 2018. The model curriculum prepared for this course includes crucial aspects like Gender, Inclusive education, ICT, Yoga, Global Citizenship Education (GCED) and Health & Sanitation. The teaching specialization would primarily be for the primary levels and the secondary level.
In order to provide supplementary learning material for students and for upgrading the skills of teachers, MHRD has developed a dedicated Digital Infrastructure for Knowledge Sharing (DIKSHA) platform. The high quality e-learning material both for students and teachers are being uploaded by Ministry and States/UTs on this portal. This is expected to substantially augment the knowledge base of the students and technical skills of teachers at no additional cost.
Sarala Birla Gyan Jyoti honoured with prestigious 'Climate Action Project School of Excellence' Award
Only 250 schools globally were recognized because of their intense work on climate education in a whole-school approach. The recognition was awarded by Cartoon Network Climate Champions and Climate Action Project.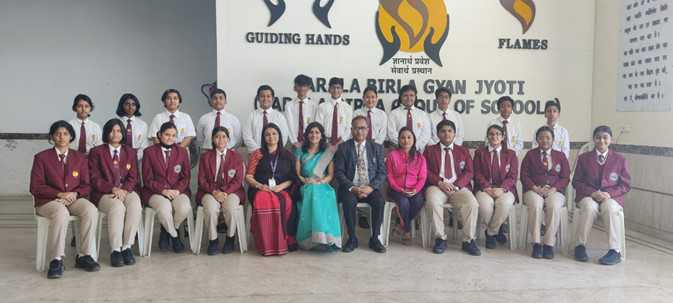 Sarala Birla Gyan Jyoti in Guwahati, India, was awarded the Climate Action Project School of Excellence. Only 250 schools globally were recognized because of their intense work on climate education in a whole-school approach. The recognition was awarded by Cartoon Network Climate Champions and Climate Action Project.
Cartoon Network Climate Champions is a climate change awareness initiative that sets out to inspire kids to take on daily challenges that collectively can make a big difference to the health of our planet. It has been developed in collaboration with WWF, a world-renowned environmental organization.
Climate Action Project is a free, global education project that was launched by Take Action Global, an education non-profit based in the USA, involving 2,700,000 teachers and students across 146 countries. The project aims to help students learn about the climate crisis in authentic ways and disseminate solutions online. The recognized schools submitted their work for the past year and met extensive criteria, including a school-wide commitment to climate education and student solutions.
Sarala Birla Gyan Jyoti has participated in global projects RiseUp4SDGs (India), Let's Be Human, Be One (Serbia), LeapEd Global Learning – Climate Change (Malaysia), the 17 Sustainable Development Goals competitions, implementing the three R's schoolwide and planting gardens in the community, at home and school. Students committed to training to become active Global SDG Ambassadors to raise awareness during virtual Student Hubs with 21 other countries. Students also actively collaborated with students in Brazil, Croatia, South Africa, Sweden and the UK in task-based projects. Currently, all Climate Change projects are student-led.
The selected 250 Climate Action Project Schools of Excellence were announced on 4 November 2021, during Climate Action Day, an annual online live event attended by 250,000 people globally. The event speakers included HRM Prince William, President James Alix Michel, Seychelles, Rick Davis, NASA, Matt Larsen-Daw, WWF, HRM Princess Esmeralda, Belgium, Juan Pablo Celis Garcia, UN Environment Programme, and other world leaders and climate scientists.
The winners were announced by Dan Russell, the voice actor behind several characters in Cartoon Network global hit series The Amazing World of Gumball, and Nandi Bushell, an 11-year-old musician, an influencer, and passionate climate advocate.
Statement by HRM Prince William "We need youth's creativity to repair our planet. We need students to invent and to innovate – to think beyond where we are now and to be optimistic about our future."
Statement by Koen Timmers, Climate Action Project: "Young people have the capacity to do more than learning about climate change. They all can come up with solutions, take small actions, and inspire others to change their lifestyles."
Statement by Dr. Jennifer Williams, Climate Action Project: "Our community of educators has come together in support of climate education for all. We are committed to ensuring students have access to information, ideas, and opportunities to take action for the planet, and, today, these Schools of Excellence are leading the way for the entire world."
Statement by Dr. Diganta Halder, Principal Sarala Birla Gyan Jyoti: "Stopping Climate Change has become a critical issue that needs to be addressed by every human being, but even more importantly in our schools. Students should be aware of Climate Action and the importance of achieving the goals set by the United Nations for peace and prosperity for all by 2030 and to become leaders of impact in the future."