Mittal Patel: Works tirelessly to ensure the children of Nomadic and De-Notified Tribes their right to education
Our series "Teacher Warriors" honours some of the country's best and bravest teacher warriors, striving to give kids a fighting chance at a better present and a future floating with possibilities. In the eighth episode, Nichola Pais speaks to Mittal Patel, founder, Vicharta Samuday Samarthan Manch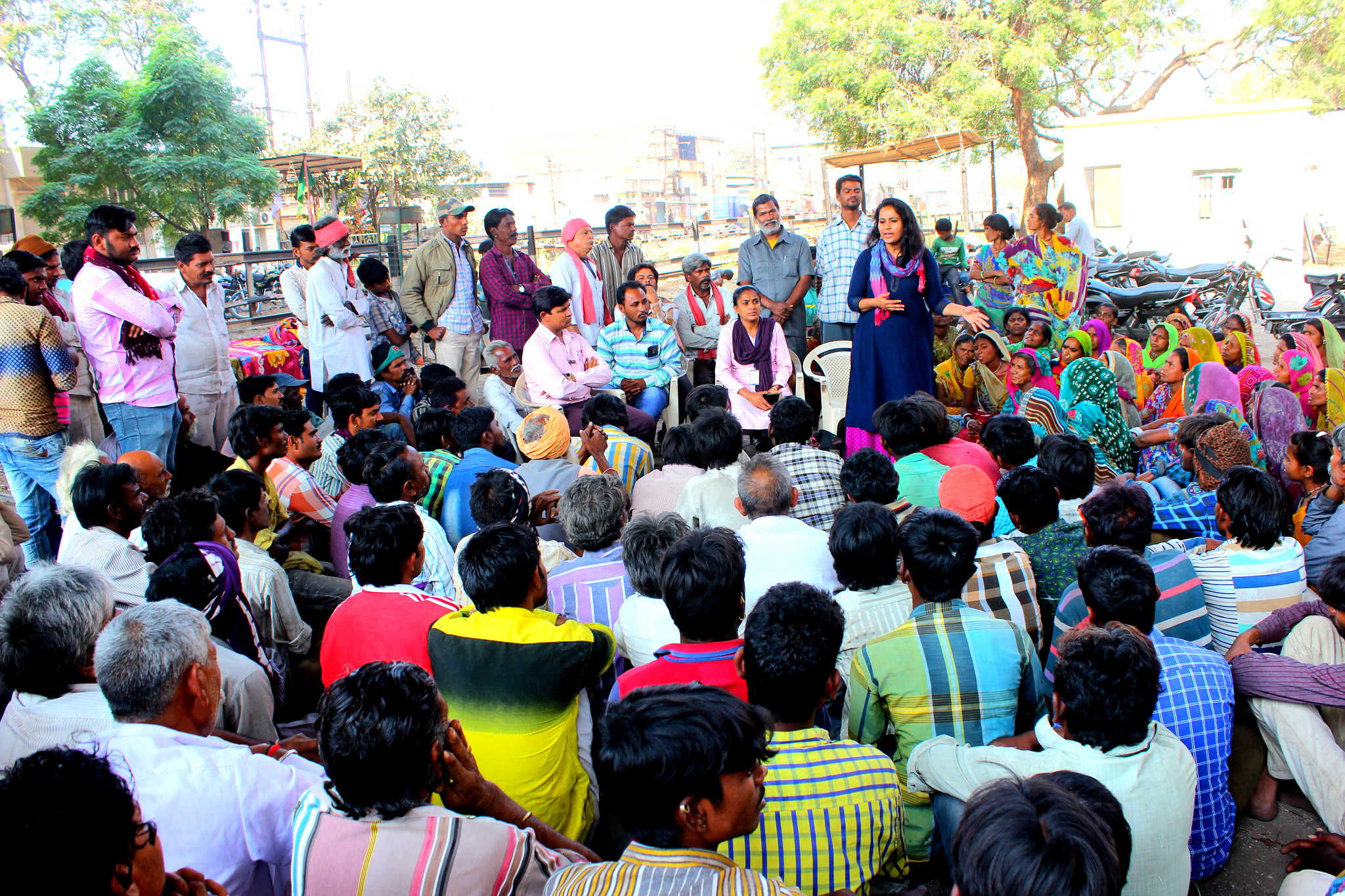 Our series "Teacher Warriors" honours some of the country's best and bravest teacher warriors, striving to give kids a fighting chance at a better present and a future floating with possibilities. In the eighth episode, Nichola Pais speaks to Mittal Patel, founder, Vicharta Samuday Samarthan Manch (VSSM), Gujarat:
"Even after 69 years of Independence, they live a life of slaves – slaves of their fate, lost in desolation," says Mittal Patel. With government authorities and bureaucrats largely unconcerned about the issues and maintaining a calculated distance from these communities, their basic rights have been blatantly disregarded for too long, their very existence denied. But not any longer…Under the umbrella of Vicharta Samuday Samarthan Manch (VSSM), Mittal and her committed team strive to give social identity, citizen's rights, education, health facilities, housing and livelihood options to the various communities of Nomadic Tribes and De-Notified Tribes (NT-DNTs).
VSSM has reached out to more than 30,000 families from more than 1000 settlements in 18 districts. They work with 40 different communities from NT-DNTs. Their work has borne fruit in the barren, poverty-stricken world of the once-nameless, faceless nomads. Over the years, more than 5000 families were helped to make ration cards, 70,000 individuals acquired voter ID cards, residential plots were allotted to 1000 families, construction of houses for 300 families was supported, vocational training was provided to 396 individuals and more than 1150 interest-free loans were given to start businesses or for other requirements. More hearteningly, VSSM has educated large numbers of nomad children – more than 300 children currently stay in two hostels run by the organisation.
What, in a nutshell, is your mission at Vicharta Samuday Samarthan Manch (VSSM)?
Our mission at VSSM is to enable the communities of nomadic and de-notified tribes attain and lead a life of dignity. We want to ensure that all the children from NT-DNTs enjoy their fundamental Right to Education. We work to enable these communities to avail of their fundamental rights and entitlements. Facilitating the creation of alternate employment opportunities in lieu of the traditional occupations that have been rendered obsolete with time, is what we strive to do. Our objective is to ensure that the NT-DNTs acquire a roof, a place to settle and get an address of their own.
How does VSSM go about educating the disadvantaged children of these communities?
We have a two-pronged approach:
Bridge School: The experience of working with these communities made me realise that the literacy level in Nomadic and De-Notified Tribes Communities is very low. Thus, a greater emphasis on orientation of children toward education is necessary to realise our goal as an organisation. Primarily, we run Bridge Schools within their settlements where children are introduced to the current education system. Once the children are prepared, we enrol them in regular schools.
Hostels: Once the children are ready to be enrolled and their parents are adequately sensitised, the children are brought to VSSM run hostels where their future can be properly moulded for future challenges. The aim of hostels is to provide a conducive, education-friendly environment. All these efforts are destined to realise the mission of making these children an example for others from the community that only literacy can
resolve the long impounding drudgery they have been enduring.
The challenges must be many…
The biggest challenge was sensitising the parents of these children to the importance of education. The main reason being, these communities never
had any exposure to the present trends. Neither had they felt the necessity of education, as these children do not have an academics-friendly home environment. Due to absence of literacy, sometimes it becomes troublesome to convince them even for silly matters while some complicated matters, which we feel would demand much effort, require no effort! This uncertain behaviour within all these communities requires us to plan our efforts and interventions coherently.
On other hand, the political and social apathy towards these communities plays a role of fuel to the fire. Society in general, does not carry a healthy and empathising opinion towards them while large section of society, bureaucrats, and government authorities carry a negative approach towards most of them. Our major efforts are wasted in convincing them to extend a hand of amity… but largely in vain.
This article was originally published in the June 2017 issue as a part of our cover story on Teacher Warriors. Subscribe to ScooNews Magazine today to have more such stories delivered to your desk every month.
Images courtesy – Mittal Patel
This Young Woman From A Tribal Village Is Teaching The Children While Schools Are Closed
The only graduate of a Tamil Nadu village has volunteered to teach the children of the village while the pandemic persists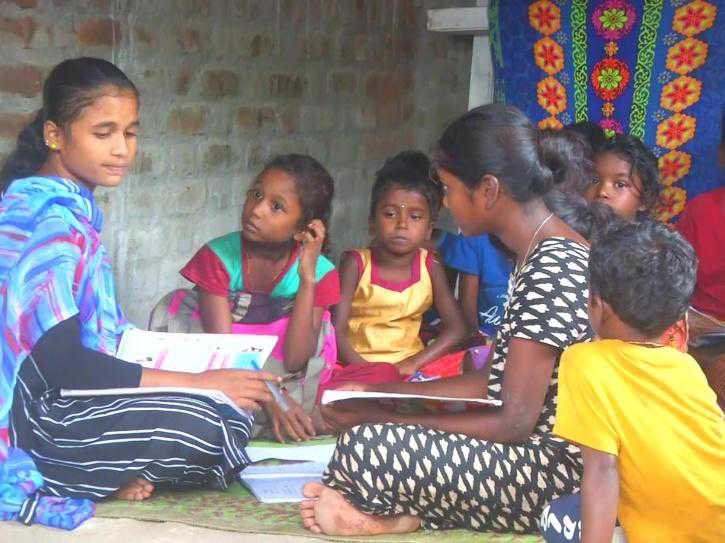 Where the digital network failed these tribal children in the southern part of India, their own stood to support them. Sandhya volunteers in teaching the kids of her village, Chinnampathy in Tamil Nadu. She is a graduate of B.Com, she is the only person from her village to have graduated college. Sandhya told India Today, "If it rains, we can't go to school. We only have one bus to our village and so after a certain age, people drop out of school."
Having gone through struggles herself, Sandhya knows how important a teacher and school is for growing children. So she volunteered to teach the children by herself, so they don't lag behind due to school closure. Sandhya said "When I was a child, I had no one to help me study. These children here have me to help them study."
One must ask the children from a remote rural or economically backward area, how it feels to not have the proper learning opportunities. The pandemic took more than the ability to roam about freely, it snatched away the ability to go to school for children on a global level. While it is easier for families with better income to support their child's online learning, most rural and financially challenged families are struggling.
The Indian government did start many projects for such students, but even learning via a television channel or free online course needs some basic gadgets and network connection. Many remote villages, like the tribal village, Chinnampathy, can not find enough network strength to have their children sit in front of a television and learn via the education channels.
On being asked how her classes are enduring she said, "The children come and ask me very freely all their doubt and they are not afraid of me. I see these children learning well and answering all the questions when I ask them."
Youth like Sandhya, who appreciate and signifies the work educators do and want to help the cause, are the future of the education sector!