Open Educational Resources – A boon for education
Open Educational Resources have stemmed from the 'Open' philosophy. The philosophy includes free sharing, duplication prevention, access to stakeholders, avoiding restrictive practices (copyright) along with the promotion of economic efficiencies.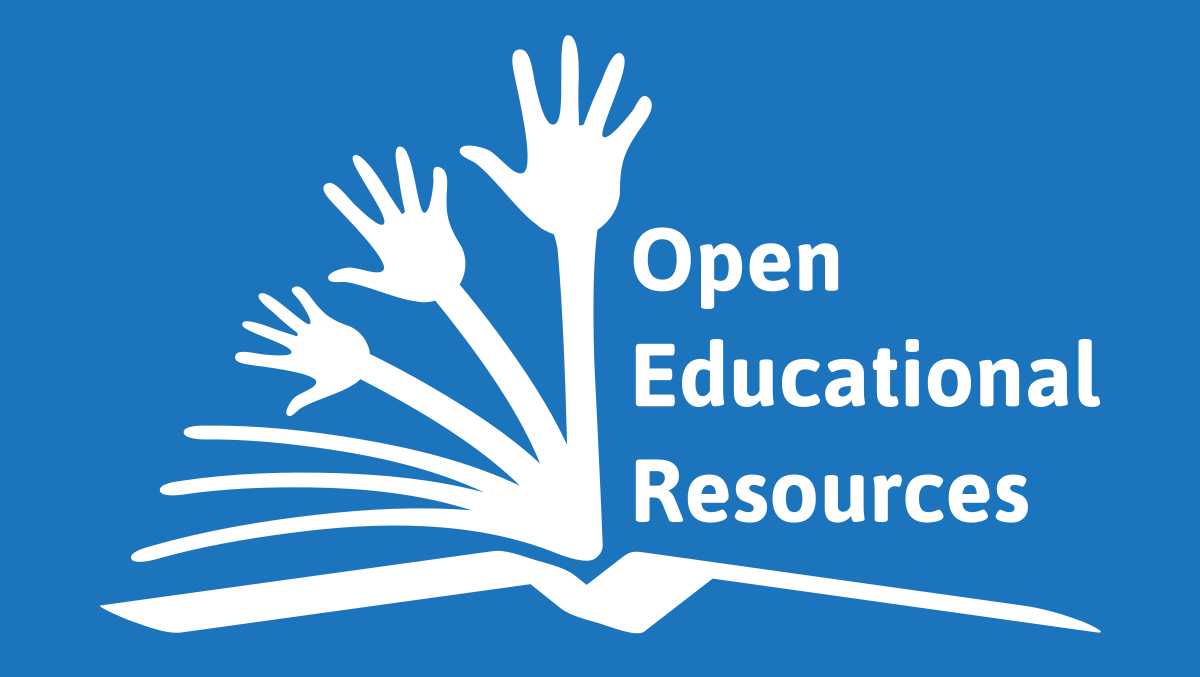 Open Educational Resources have stemmed from the 'Open' philosophy. The philosophy includes free sharing, duplication prevention, access to stakeholders, avoiding restrictive practices (copyright) along with the promotion of economic efficiencies. Any teaching and learning material that is available on the internet and is accessible, without any fee, to anyone is known as Open Educational Resources. OER include a plethora of resources from around the world namely complete courses, course modules, syllabi, lectures, assignments, quizzes, lab and classroom assignments, pedagogical materials, games, simulations, and more.
The Open philosophy and model has resulted in the creation and development of an umbrella of resources such as Open source (relating to business and technology), Open source software, Open source hardware, Open standards, Open access (research), Open design, Open knowledge, Open data, Open content, Open Courseware, Open educational resources and Open educational practice.
Thanks to the Open Movement, learning is literally just one click away. And the emergence of Open Educational Resources or resources that are licensed to be used and re-used in a broader as well as specific educational context, has made education extensively accessible and instantly available. These movements and philosophies have a key role in the growth of an education niche and promoting educational technology, research, learning, and teaching.
First introduced at the UNESCO conference, the term Open Educational Resources (OER) referred to providing free access to quality educational resources at the global level. According to OECD, 2007, OER refers to 'digitised materials offered freely and openly for educators, students, and self-learners to use and reuse for teaching, learning, and research'.
It is widely expected and believed that sharing and openness bring benefits to stakeholders in the educational community. However, at the other pole, the barriers to the sharing process include traditional cultures, practices, managerial approaches along with broader legal complexities. (refs: CD LOR, TRUST DR, Sharing e-learning content, Good Intentions report).
The process of learning and teaching plays a central role in the upliftment of the country as a global powerhouse. Along with informational content, it is helpful to identify learning resources by their granularity levels. A learning activity should be embedded with information content through digital assets (image, video or audio clip), information objects, learning objects, learning activities and/or learning design.
Within the past few years, OER related projects and programmes, from large institution-based or institution-supported initiatives to numerous small-scale activities, have witnessed a boom in the education sector. We, at ScooNews, listed 10 innovative and resourceful Open Education Resources.
UNESCO OER CONGRESS
On Friday 22 June 2012, the UNESCO World Open Educational Resources (OER) Congress released the 2012 Paris OER Declaration which called on governments to openly license publicly funded educational materials.
UNESCO member states unanimously approved the declaration, which highlights the importance of open educational resources and gives recommendations to governments and institutions around the globe.
National Repository of Open Educational Resources (NROER)
The National Repository of Open Educational Resources (NROER). NROER is developed by CIET, NCERT. It was launched during the National Conference on ICT (Information and Communication Technology) for School Education. NROER was launched on 13 August 2013 in New Delhi in collaboration with the Department of School Education and Literacy, Ministry of Human Resource Development, Government of India. Metastudio, the platform hosting the repository is an initiative of Knowledge Labs, Homi Bhabha Centre for Science Education, Mumbai. NROER hosts a large number of educational resources in many subjects and in different Indian languages for Primary, Secondary and Senior Secondary classes. Resources are available in different formats like Video, Image, Audio, Document and Interactive. Apart from this, all NCERT books are available in Flipbook format. NROER is a collaborative platform, intended to reach the un-reached and institutions like SCERT, SIERT, SIE, Vigyan Prasar, CCERT, Gujarat Institute of Educational Technology (GIET), SIET and other stakeholders have a share in the educational content.
NPTEL
To improve the quality of higher education in India, IIT Madras came up with an initiative called NPTEL (National Programme on Technology Enhanced Learning) in the year 1999. As per this initiative, all the IITs, along with the IISc Bangalore would come up with a series of video lecture-based courses across all the streams of engineering. This initiative has gained wide popularity in India and the lectures are being used by several engineering students from across India.
Khan Academy
Khan Academy is a non-profit educational organisation created in 2005 by Salman Khan with the goal of creating a set of online tools that help educate students. The organisation produces short lessons in the form of YouTube videos. Its website also includes supplementary practice exercises and materials for educators.
TESS-India
It is led by The Open University and Save The Children India, funded by UK Aid. It is a multilingual teacher professional development programme that aims at supporting India's national education policy through the use of freely available and adaptable OER. A collaboration between the educational experts and policymakers of India and UK, the OER focuses on the enhancement of pedagogic practices parallel to Language, Literary, Science, Mathematics, and English. It aims at supporting learner-centers, inclusive, participatory, engaging and effective classroom pedagogy to influence the progress and achievements of students through quality schooling.
CK-12 Foundation

The CK-12 Foundation is a California-based non-profit organisation whose stated mission is to reduce the cost of and increase access to, K-12 education in the United States and worldwide. CK-12 provides free and fully customisable K-12 open educational resources aligned to state curriculum standards and tailored to meet student and teacher needs. The foundation's tools are used by 38,000 schools in the US, and additional international schools.
CK-12 was established in 2007 by Neeru Khosla and Murugan Pal to support K-12 Science, Technology, Engineering, and Math (STEM) education. The organisation first generated and distributed educational content via a web-based platform called the "FlexBook." CK-12 has updated its FlexBook platform and has begun to focus on concept-based, multi-modality learning. CK-12 is being funded by the Amar Foundation and by Vinod and Neeru Khosla.
Gooru
Teachers have millions of free online multimedia resources and quiz questions at their fingertips, often making it difficult and time-consuming to create a learning experience geared expressly for their students. Gooru is a free personalised learning solution that helps teachers to find, remix, and share collections of web resources on any K-12 topic.
Gooru organises all online learning content. It connects a community of educators and learners. It supports many different instructional uses and types of learners to improve all students' learning outcomes. Its online quiz environment gives students instant feedback on their progress and provides teachers with assessment results and learning resource suggestions.
ISKME – Institute for the Study of Knowledge Management in Education
An independent and education nonprofit platform, it aims at improving the practice of continuous learning, collaboration, and change in the education sector. Established in 2002, ISKME conducts social science research, develops research-based innovations, and facilitates innovation that improves knowledge sharing in education. ISKME supports innovative teaching and learning practices throughout the globe and is well known for its pioneering open education initiatives. ISKME also assists policymakers, foundations, and educational institutions in designing, assessing, and bringing continuous improvement to education policies, programs, and practice. As such, ISKME helps schools, colleges, universities, and the organisations that support them expand their capacity to collect and share information and create open knowledge-driven environments focused on learning and success.
Curriki
It is a free community that provides OER for K-12, which are contributed by members of the Curriki community including educators, parents, and other partners from over 193 countries. All the material is peer-reviewed to maintain the quality. It helps in cost savings to teachers, since the teachers can use Curriki OER, instead of using supplemental materials.
Connexions – Openstax CNX
A global repository of educational content for learners from all walks of life, it includes K-12 and higher education in nearly every discipline, including math, science, psychology, sociology, history etc. Connexions' repository consists of more than 17,000 learning objects or modules and over 1000 collections (textbooks, journal articles etc.). These resources can be remixed and edited for reuse and can be easily downloaded free of cost on any mobile device. The platform is provided and maintained by Rice University.
All images used only for a representational purpose and are the copyrights of their respective owners.
The Mental Health Algorithm
Before we talk about how to help children with their mental health it is important to remind ourselves of a safety instruction used on airplanes- put on your oxygen mask first before helping others.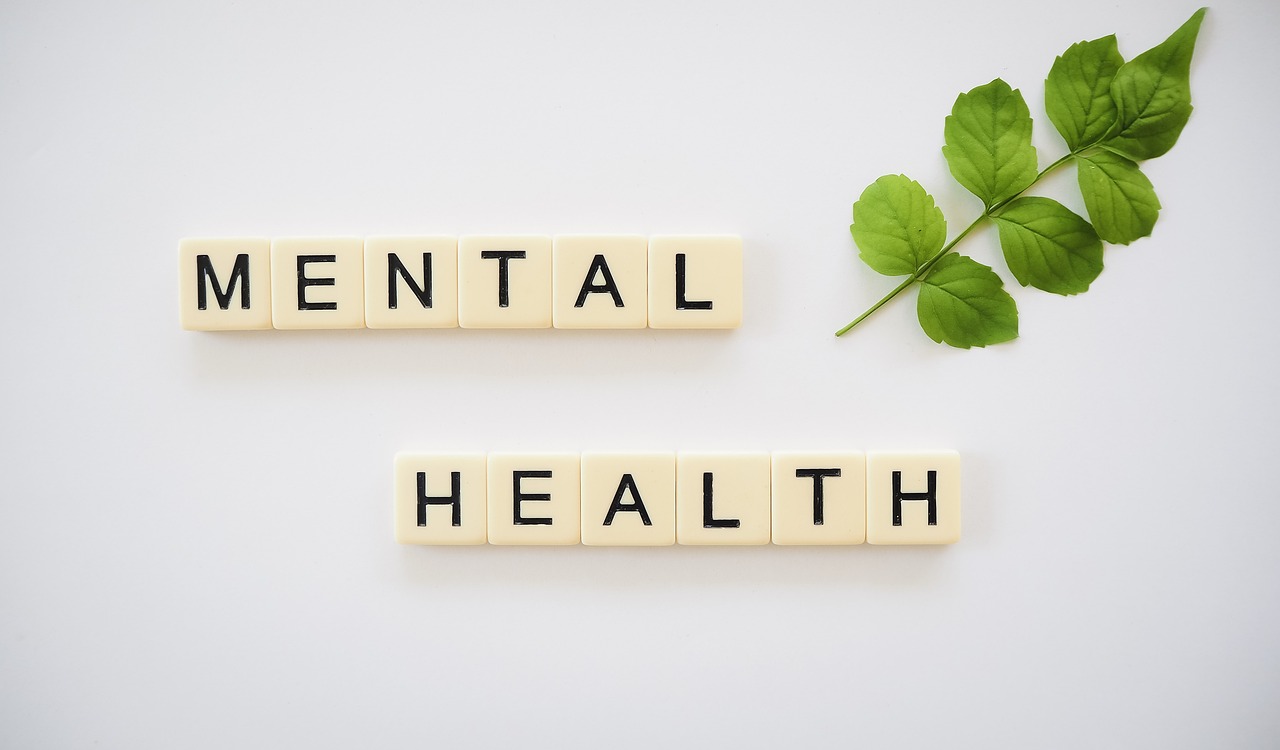 Why have I called it an algorithm? Because mental health needs the following –
Decomposition- breaking the task into smaller, manageable tasks. Breaking mental health into smaller, manageable things to do every day
Pattern recognition- finding a pattern in how children behave when confronted with certain situations or stress
Abstraction- teaching ourselves to focus on what matters and ignore the other things, so when children misbehave focus on the why and not the how, what, and other clutter.
Algorithmic thinking- creating a set of steps to follow to help children cope with their emotions, talk about mental health and be happy.
Can young children suffer from depression, anxiety, stress, and trauma? The answer is yes. But what does this look like? It can be any of these behaviors or a combination of them-
Children start having tantrums and start misbehaving
Become moody
Become aggressive
They start bedwetting, and nail-biting.
They are unable to focus or remember new learning
They start over or undereating.
Suffer from lack of sleep and start dozing off during the day.
Parents and teachers should be worried if these last for more than two weeks consistently.
Dr. Maria Kovacs, professor of psychiatry at the University of Pittsburgh School of Medicine says that when young children are depressed "the primary mood is irritability not sadness- children come across as being very cranky. The best way for parents and teachers to recognize depression in young children is not so much by what a child says as by what the child does- or stops doing."
Dr. Helen Egger until recently the chair of child and adolescent psychiatry at NYU Langone Health says, " in a preschool-aged child depression may look like a behaviour problem but is really driven by what the child is feeling inside."
But before we talk about how to help children with their mental health it is important to remind ourselves of a safety instruction used on airplanes- put on your oxygen mask first before helping others. Adults who take care of children especially teachers must first take care of their mental health and give it importance because if they do not consider it an important aspect of holistic health then they will never be able to take care of the mental health of their students. Teachers go through a lot of stress, and anxiety which if bottled up for a long time can trigger serious mental health issues.
Causes of stress in teachers-
Inability to handle workplace politics
Struggling with issues at the home and family front
The guilt of not being able to give their best to the special needs children in their class
Inability to handle workload due to lack of time management, prioritization and other issues.
Nervousness about handling upset parents.
So let's code teacher's mental health-
Taking care of your mental health should become a part of your daily routine, make time for it and prioritize it –
Set some time aside every day to unwind.
Plan and prioritize – time management is an extremely important life skill, but is not taught to us in any course. Learn and imbibe it. Don't use your brain to remember tasks, for that keep a diary or a reminder on your phone. Brains get stressed when we only use them to remember things, brains are for logic and thinking.
Set boundaries- especially for your texts, messages and emails, and most importantly social media.
Appreciate your skills and learn new ones- never stop learning, as they say still water stagnates.
Move. Move. – don't ignore physical exercise.
Seek help. Seek support. Seek advice- don't struggle alone with your personal or professional dilemmas, seek the right support.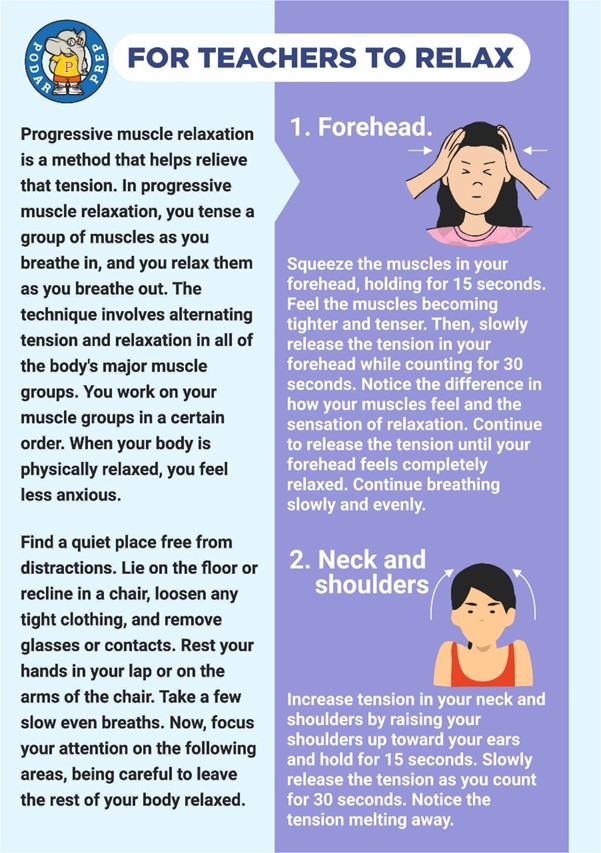 Teaching Coping and resilience-
It is said that those who survived the pandemic without facing mental health issues are those who were resilient. What is resiliency? It means the ability to bounce back from difficult situations, it means the ability to feel the negative emotions, let them wash over you like a super wave but not allowing them to engulf or drown you, it means surviving with your emotional health intact.
To be resilient one has to learn coping skills, and these need to be taught to children from a young age. Children learn by imitation so they will learn how to cope with the adults in their environment, hence it is important that we display good coping skills.
Coping is nothing but the ability to 'turn down' your reaction to a situation, emotion, or stress.
Some coping skills to teach children are-
Self-soothing- engage the body in a ritual of natural calming- deep breathing, counting to ten etc
Distraction- redirecting your attention to something more interesting and positive- look outside the window, start dancing, clap your hands, etc
Mindfulness- focussing on your feelings and what is happening to your body and how to calm down and reclaim your emotions. – deep breathing, labelling the emotion, knowing positive ways to react to that emotion instead of choosing negative ways.
Try these breathing games with children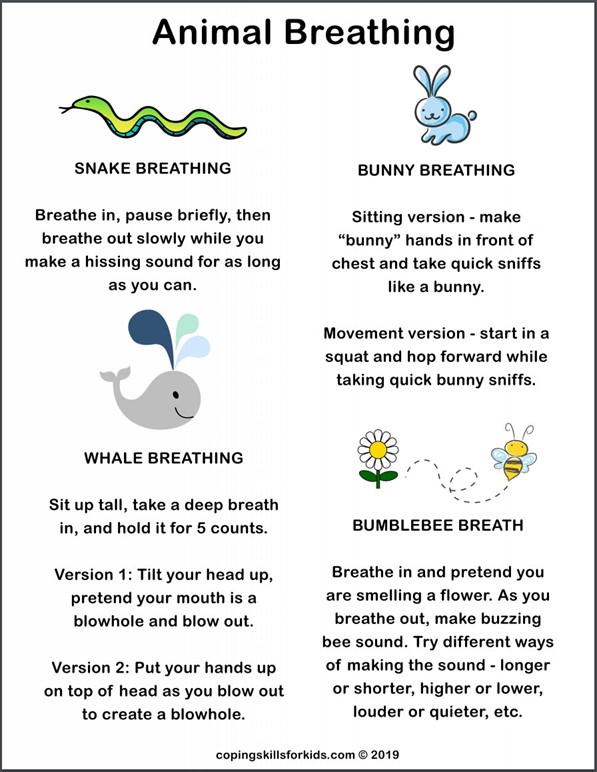 Mindfulness is the key…
The ability to reflect upon what is happening, while it is happening is called Mindfulness.  Mindfulness helps children be aware of their emotions and feelings and they are then better able to control and voice out their emotions. It works for everyone, have you ever said something that you later regret? Well, it means you were not 'mindful' about your speech, you blurted out whatever you were thinking and feeling! You responded to a stimulus without pausing and 'thinking'. Mindfulness is the pause that you take between a stimulus and a reaction. Teaching this to children will help them move from 'I can't, I don't want." to understanding 'I can, Why I don't want, what should I do.'
Mindfulness is being aware or mindful of your body and its needs and condition and meditation is the ability to control your body to calm your thoughts. That is why meditation requires an upright-seated posture. Deep breathing exercises while sitting upright with the eyes closed, is a great combination of both mindfulness and meditation.
One of the simplest mindfulness activities is to get children to close their eyes and listen to their breathing. Ask questions like-
Can you hear your breathing?
How is it fast or slow?
Put your hand on your chest, can you feel your heartbeat?
Now make them do rigorous jumping and then stop and again ask them the same questions, and ask them what is the difference in their breathing and heartbeat now? Now make them sit down, close their eyes, and take deep breaths in and out – now how do they feel?
The above will help children feel their breath, and their heartbeat and understand how their breathing and heartbeat change when they do any physical activity, it also changes when they are upset or angry. Explain to them what to do when they experience these feelings…take a deep breath to calm down and think.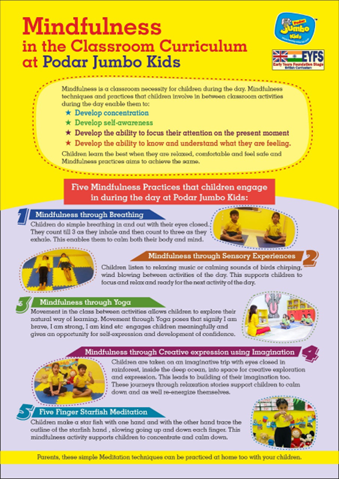 Emotional labelling –
Out-of-control emotions can make smart people stupid.- Daniel Goleman
In the early years, emotions and feelings are something that children are experiencing for the first time and it can lead to a lot of confusion if we always ask them to 'behave', 'don't cry' etc. because then they throw tantrums and have meltdowns. But there is a way we can have a balance between ignoring a strong emotion and completely indulging in it, it is called 'affect labelling' or 'emotion labelling'. By labelling something we are able to understand and acknowledge it and thus able to deal with it or quell it.
In any stressful situation, children experience a range of emotions and feelings of fear, boredom, irritability, sadness, etc. How we help them acknowledge those feelings or help them find acceptable ways of releasing them, will define their positive emotional development, which will also impact their social and cognitive development.
How can early childhood educators and parents help enhance emotional development in the early years?
Help children identify and label their feelings and thus enable them to deal with them appropriately. Use sentences like these to help them label emotions, "I see you are angry because you did not get the blue crayon…..", or "I see you are sad that your friend did not sit next to you….." and then extend the sentences to help enable them to cope with the emotions, "….but you can colour with the red one till the blue one is available." Or "….but you can sit with Yash today and maybe share with him all the fun."
Stories and story characters can be used as an important tool to help kids cope with and understand emotions. Use appropriate stories and then use discussion starters like-
Talking and discussing the emotions shown by the story characters, both positive and negative.
Asking the children how they think a character felt at the end of a story or when something important happened in the story. E.g. "How do you think baby bear felt on seeing his chair broken?"
Asking the children what they would do to help the character in the story feel better. E.g. "If you were Goldilocks what would you do to make the baby bear feel better?"
Accept emotional responses; learn to teach them to reject the emotional behaviour or to channel it. For example, if a child bites someone, the feeling is of anger or frustration. So teach the child to acknowledge the emotion by saying, "I know you are feeling angry or frustrated that you are unable to get a chance on the slide but you can talk to me about it but it is not acceptable to bite or hit someone."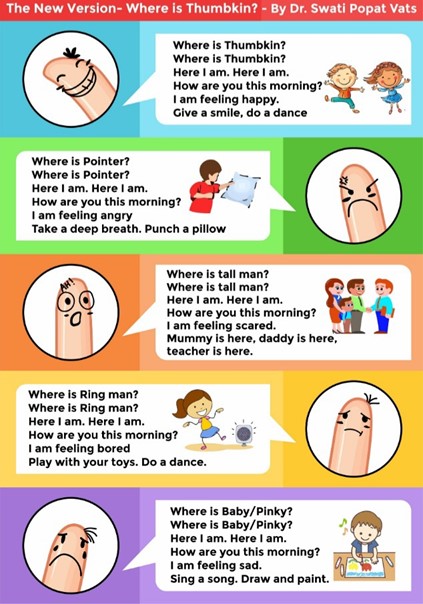 Use this new version of 'Where is Thumbkin?' to help children label emotions and understand safe and acceptable ways of showing emotion or dealing with it.
Let's talk about mental health and arm the child with the ability to cope, and this comes from emotional intelligence,  so understand children's emotional needs and give the support and care required to strengthen their emotional armour and mental health.
Happiness can always be found, even in the darkest of times, if only one remembers to turn on the light." – Dumbledore.
About the author:
Dr. Swati Popat Vats is President, Early Childhood Association India, Association for Primary Education & Research, and Podar Education Network.