Over 360 students representing 88 nationalities join NYU Abu Dhabi as this year's Class of 2021
New York University Abu Dhabi (NYUAD) has welcomed 361 of the world's best students into its Class of 2021, a diverse group of young men and women representing 88 nationalities and speaking some 71 languages.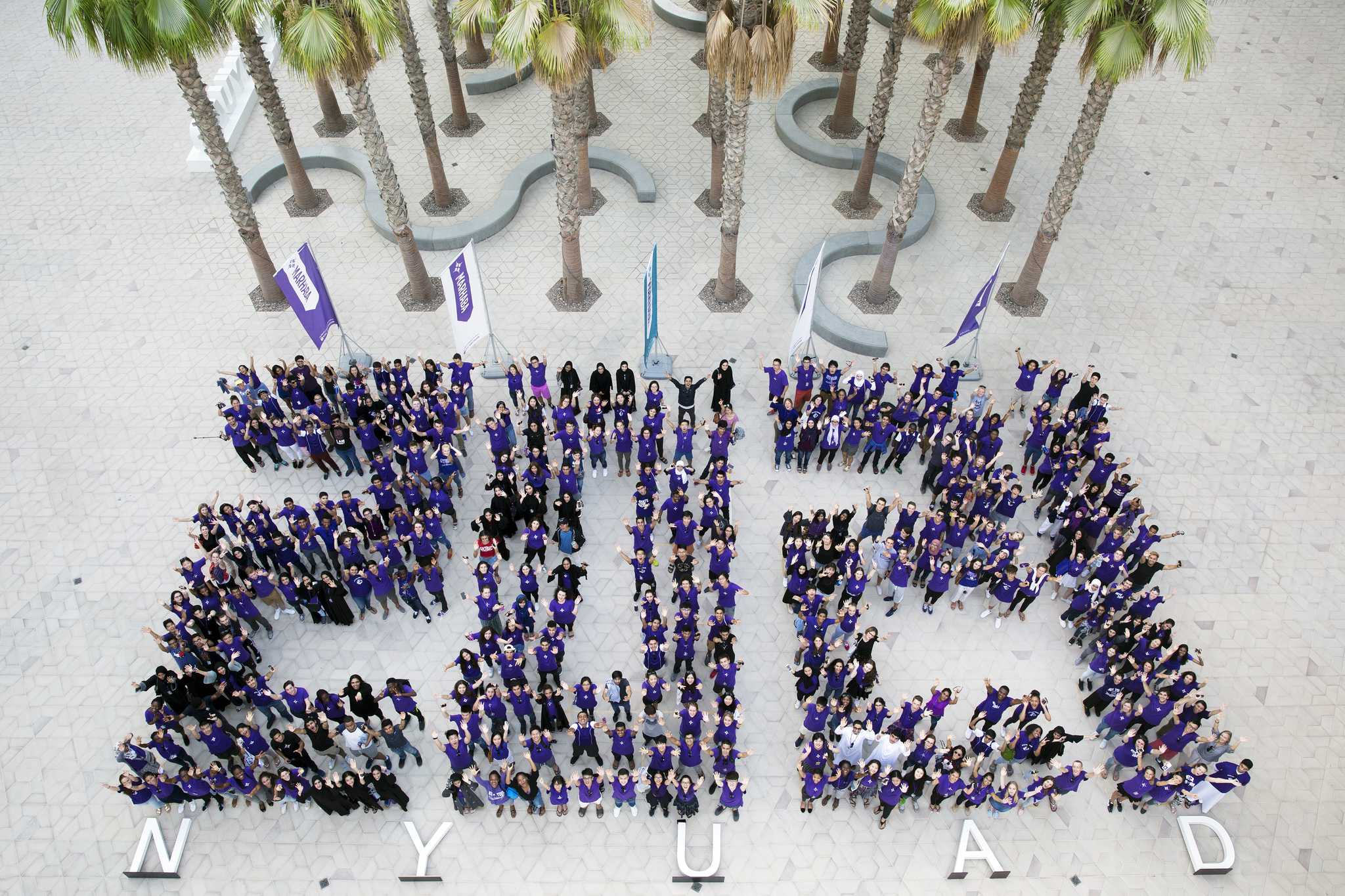 New York University Abu Dhabi (NYUAD) has welcomed 361 of the world's best students into its Class of 2021, a diverse group of young men and women representing 88 nationalities and speaking some 71 languages.
UAE Nationals and Americans make up the two largest groups of students by nationality, with 51 Emirati students and 43 Americans in the Class of 2021. Students from India, Korea, China, Egypt, Pakistan, Sri Lanka, Russia, Nepal, Ethiopia, the United Kingdom, and Mexico make up the next largest cohorts with six or more students from each country in the class.
Also, for the first time, NYUAD's incoming class includes students from Iceland, Liberia, and Tajikistan.
NYUAD's Class of 2021 was selected from over 11,500 applicants around the world. The yield for the incoming class — the percentage of students who choose to attend NYUAD after being admitted — was nearly 82 percent.
Including the Class of 2021, NYUAD's total student population has grown to nearly 1,250 students from more than 115 countries who speak over 115 languages, reflecting the international diversity and multicultural character of Abu Dhabi.
NYU President Andrew Hamilton said:"I'm delighted to welcome the Class of 2021 to NYU Abu Dhabi, and the larger global community that is NYU. You are embarking on an exciting, remarkable, and, at times, challenging journey, full of possibilities and promise, and I encourage each of you to be active participants in this adventure. Ask the hard questions, hold yourself accountable, inspire one another, take risks, and be there to support your fellow students. At NYU Abu Dhabi, you are part of a uniquely diverse and close-knit family of just over 1,200 students. Yet at the same time you are a part of NYU, with the opportunity to benefit from global and multidisciplinary research, teaching, learning, and collaboration. I look forward to an extraordinary journey ahead."
NYU Abu Dhabi Vice Chancellor Al Bloom said: "A very special welcome to the extraordinary students of the Class of 2021. In less than a decade, NYU Abu Dhabi has proven its ability to attract among the finest students from around the world —students from over 115 nations who share passion for academic and creative pursuit and resolve to move beyond their own differences to build a more productive, humane, and peaceful world."
"UAE Nationals make up the largest single nationality within the Class. Their remarkable insight and generosity of spirit combined with the convergence between Abu Dhabi's own commitment to education as a foundation for a more inclusive and generous world and the University's commitment to place education and research at the service of such a world make NYU Abu Dhabi deeply proud to be among the leading institutions of this Emirate and Nation."
Class of 2021 student Al Reem Al Hosani from the UAE said: "Being a student at NYUAD means a lot to me. I am excited about joining a smart and creative community, which will enhance my learning from within the classroom, and I am truly looking forward to an amazing four years here."
Class of 2021 student Gabrielle Branche from Trinidad and Tobago said: "I am thrilled to be part of school that is still so young, because it allows me to give back to this University through contributing to its formation. We are so privileged to be in this environment. As the school facilitates our needs and supports our ambition, I don't feel like just a freshman in the Class 2021 but an equal member of NYUAD."
Class of 2021 student Maryam Khalili from Afghanistan said: "NYU Abu Dhabi attracts diverse students from across the world, resulting in a University buzzing with cheerful and optimistic students from multicultural backgrounds. The remarkable thought of learning and interacting with unique students from all around the world motivates me, as each individual will hold information and perspective that may be new to me."
Class of 2021 student Katharina Klaunig from the United States said: "I chose NYUAD for its unique combination of a liberal arts education with an incredibly diverse and cosmopolitan student body. The concept of everyone being a minority (in terms of nationality) and that much of the faculty, staff, and student body shared the experience of being a foreigner, was really appealing to me. In addition, NYUAD is a relatively young university with an incredibly passionate and engaged student body. NYUAD's youth gives students the power to shape the future of the University."
NYU Abu Dhabi, NYU Shanghai, and NYU in New York form the backbone of NYU's global network of degree-granting campuses and academic centers across six continents. The first of its kind, this global university represents a transformative shift in higher education, one in which the intellectual and creative endeavors of academia are shaped and examined through an international and multicultural perspective. NYU ranks 27th globally in the Times Higher Education World University rankings for 2018, and 11th globally in the QS Graduate Employability rankings for 2018. All rankings are based on enrollment and programs throughout all campuses of New York University, including NYU Abu Dhabi.
NYUAD students undergo a rigorous selection and interview process and must demonstrate impressive academic credentials. In pre-arrival surveys, members of the Class of 2021 report choosing NYUAD over some of the world's most prestigious universities – including Cornell, Dartmouth, Harvard, Stanford, Northwestern, University of Cambridge, University of Oxford, McGill University, University of Melbourne, University of Hong Kong, King's College London – for its small class sizes, rigorous and innovative curriculum, geographic location, and incredible student diversity.
NYUAD, like NYU in New York, accepts a number of options that satisfy its testing requirements in recognition of the international composition of both institutions. Results include:
SAT [this includes the old version of the SAT and new version]: of the students who were judged on the SAT, the 75th percentile for the SAT Math score was 780 (with 20 students receiving perfect 800 scores), while at the 25th percentile, the score was 700. At the 75th percentile for Evidence-Based Reading & Writing was 750 (with 5 students receiving perfect 800 scores). At the 25th percentile, it was 650. The median overall SAT score was 1,460 (out of the 1,600 scale).
ACT: The ACT — a US-based standardized test that encompasses English, Mathematics, Reading, and Science Reasoning — median composite score was 32 out of a 36-point scale.
International Baccalaureate (IB): Students completing the IB Diploma reported a median predicted score of 39 (out of a scale of 42).
NYU Abu Dhabi serves as a center for scholarly thought, advanced research, and knowledge creation and exchange through its academic, research, and creative activities. NYUAD, which opened its doors in 2010, was established in partnership with NYU and the Emirate of Abu Dhabi and founded upon a shared understanding of the essential roles and challenges of higher education in the 21st century.
SHE STEM 2022 honours and celebrates women
SHE STEM 2022 encourages students to 'Unleash their imagination' as part of the Sweden India Nobel Memorial Week.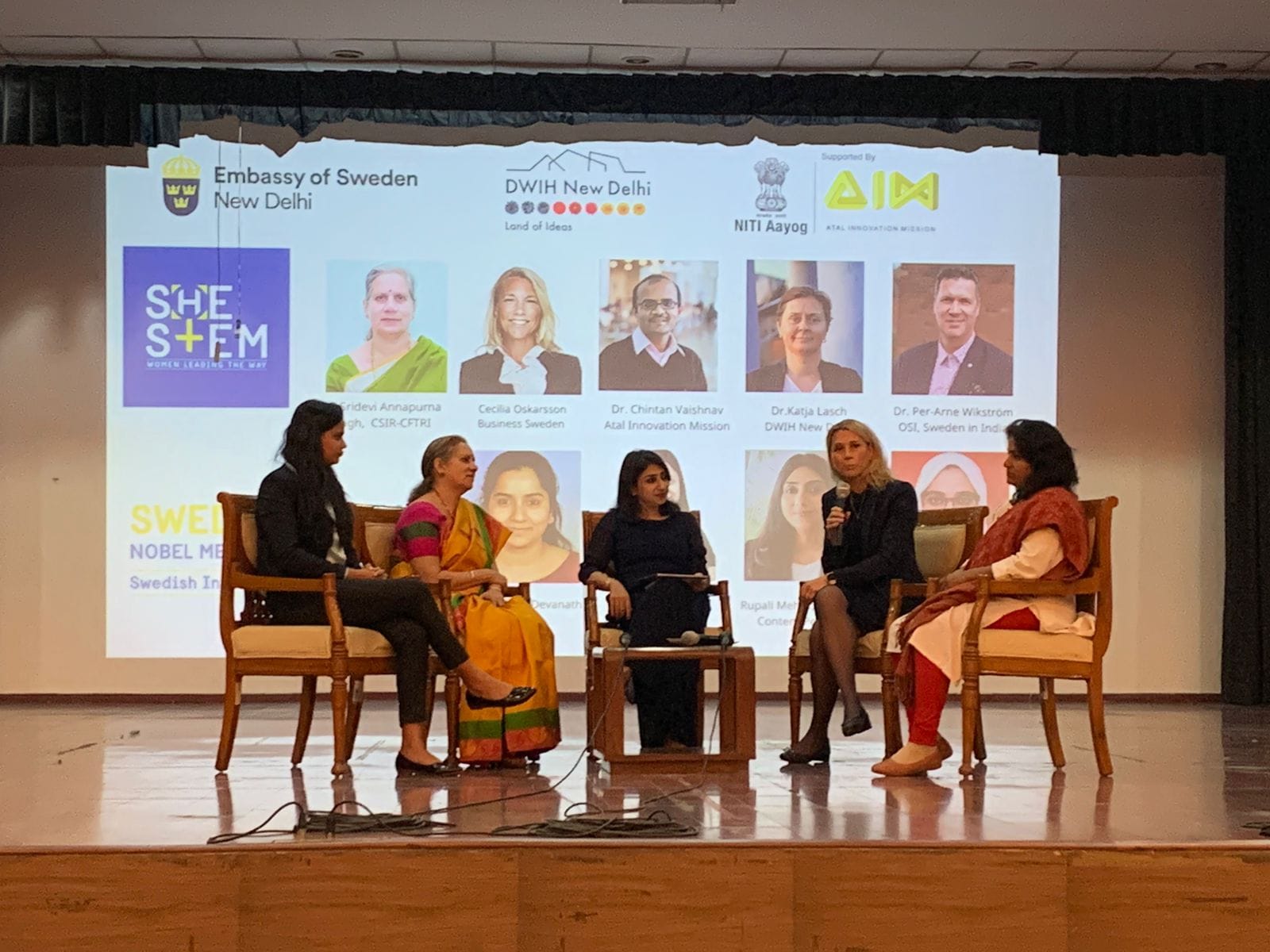 As part of the Sweden-India Nobel Memorial Week, SHE STEM, the annual event to celebrate women in the fields of science, technology, engineering, mathematics, and sustainability, was successfully held for the third year in a row.
The annual event is organized by the Sweden Embassy in India in partnership with the Atal Innovation Mission of the Government of India and the German Centre of Innovation and Research (DWIH New Delhi).
Ambassador of Sweden to India H.E. Jan Thesleff, who also addressed the students via a video message said, "We are very happy to continue the tradition of SHE STEM – it is a flagship event of the Sweden-India Nobel Memorial Week. Congratulations to all the winners of this year's SHE STEM Video challenge."
Dr. Chintan Vaishnav, Director of ATAL Innovation Mission said, "Today, the face of women's involvement in STEM is changing and the rate of participation has increased. It was in ATL Marathon 2021, that there was a spike where the women's participation was 49%. A strong STEM education will go a long way in cultivating such critical thinkers."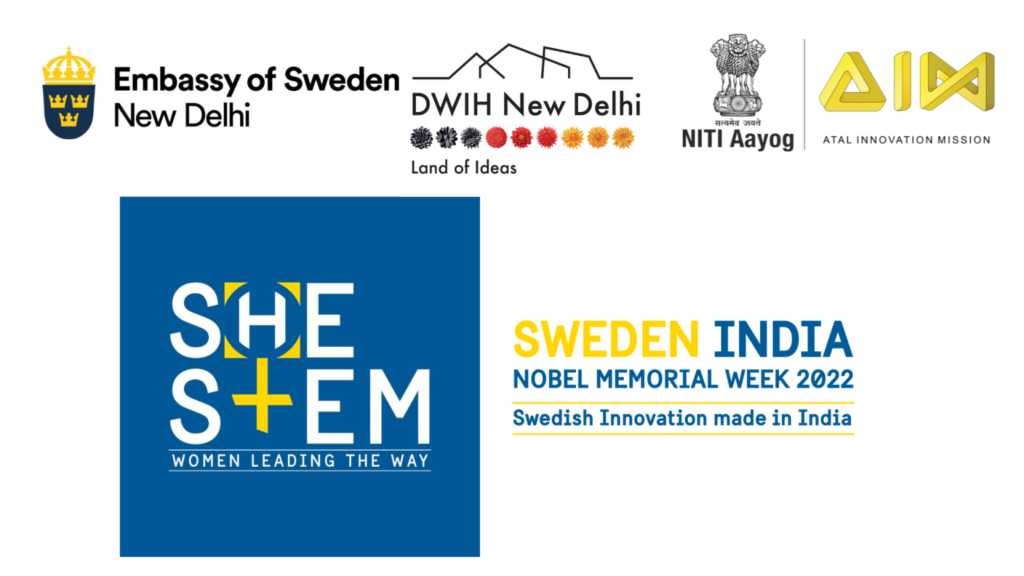 SHE STEM 2022 began with a musical performance by the students of Darbari Lal DAV Model School, New Delhi, the host school for SHE STEM 2022, followed by talks, and a panel discussion with women in the fields of STEM and business, including D. Sridevi Annapurna Singh, Director of Council of Scientific and Industrial Research – Central Food Technological Research (CSIR-CFTRI), Ministry of Science and Technology, Government. of India.
Dr. Annapurna Singh has done extensive work in the development of supplementary foods for undernourished children and in studying the impact of protein-rich food on children. She spoke to the audience about the need for women in fields of STEM to bring in their unique perspectives to problem-solving for a sustainable future.
Other participants included Cecilia Oskarsson, Trade, and Invest Commissioner of Sweden to India, who shared her thoughts on the role of diversity in triggering and enabling positive changes for girls and women, Mamta Kumari, co-founder and CEO of Prepbytes, an ed-tech company in India, and Dr. Vasudharani Devanathan, Neurobiologist and Professor of Biology at the Indian Institute of Science Education Research (IISER). Rupali Mehra, Founder of Content People AB moderated the event.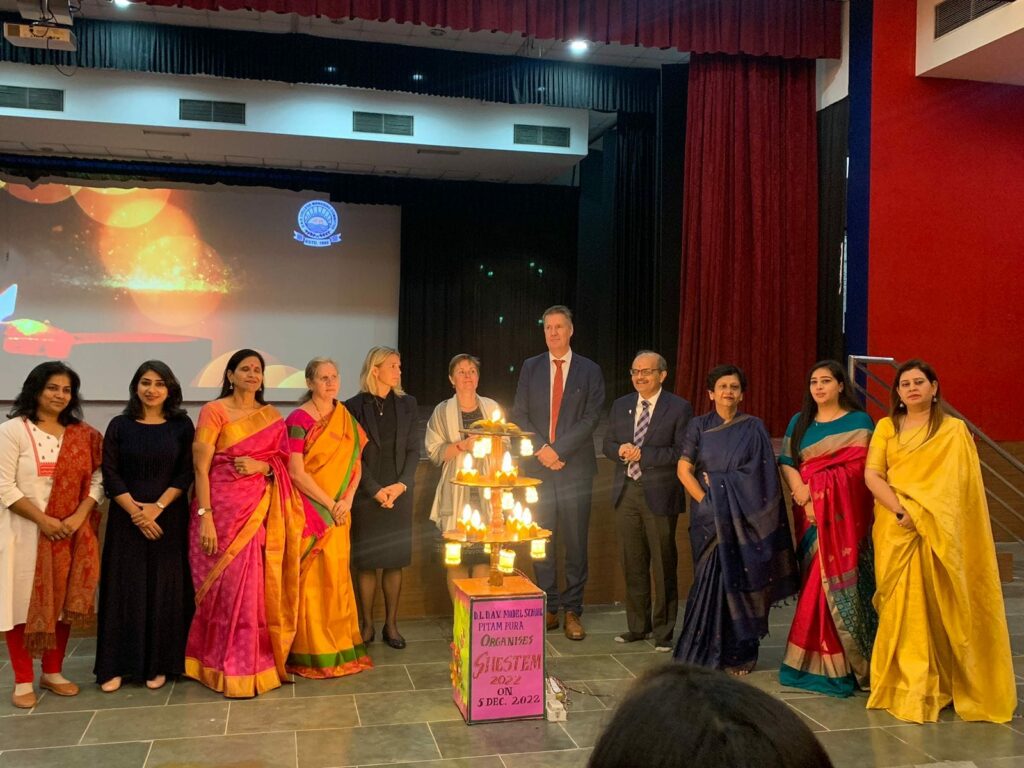 Dr. Per-Arne Wikström, Head of Office of Science & Innovation, Embassy of Sweden in New Delhi said: "When women and girls provide their talent, their knowledge, and their capabilities to science and technology on equal terms with men and boys, then we know that societies prosper and that innovation capacity actually increases. So for us, gender equality is an integrated part and an important aspect of everything that we do. We would like to thank our Indian partners for their support for this very important initiative."
"As Johann Wolfgang von Goethe said, 'who is not curious will not gain knowledge,' so keep your curiosity on, drive your knowledge forward and who knows maybe one or other idea will be implemented," said Dr. Katja Lasch, responsible for Strategy Management at the German Centre for Research and Innovation (DWIH New Delhi) and head of German Academic Exchange Service (DAAD) Regional Office in New Delhi.
Following the success of the Insta-reels Video Challenge in 2021, SHE STEM hosted the #SHESTEM2022 Video Challenge across Instagram, Youtube, Facebook, and Google Drive for students of ages 13 to 17, asking them to imagine themselves in the year 2047, and speak about an innovation of theirs that has helped in tackling climate change. The response was overwhelming with over 930 videos of which 15 were shortlisted. SHE STEM had an extensive jury round of 3 jury teams; Atal Innovation Mission Team led by Dr. Chintan Vaishnav, the Swedish Embassy team, led by Dr. Per-Arne Wikström, and the German Centre for Research and Innovation, represented by Dr. Katja Lasch.
The videos were assessed on the:
Novelty of idea
Clarity of thought and articulation
Sustainability or climate action angle
G. Nivethiga Rani who created a video on how she as a STEM Leader in 2047 had invented a robot that collected and converted biodegradable and non-biodegradable waste into electricity, won the first prize in the video challenge. The second prize was tied between T Shatananda Dhanwantari and Shreya Singh and Nistha Aswal, who participated as a team. Gaurav Hanjoora won third place.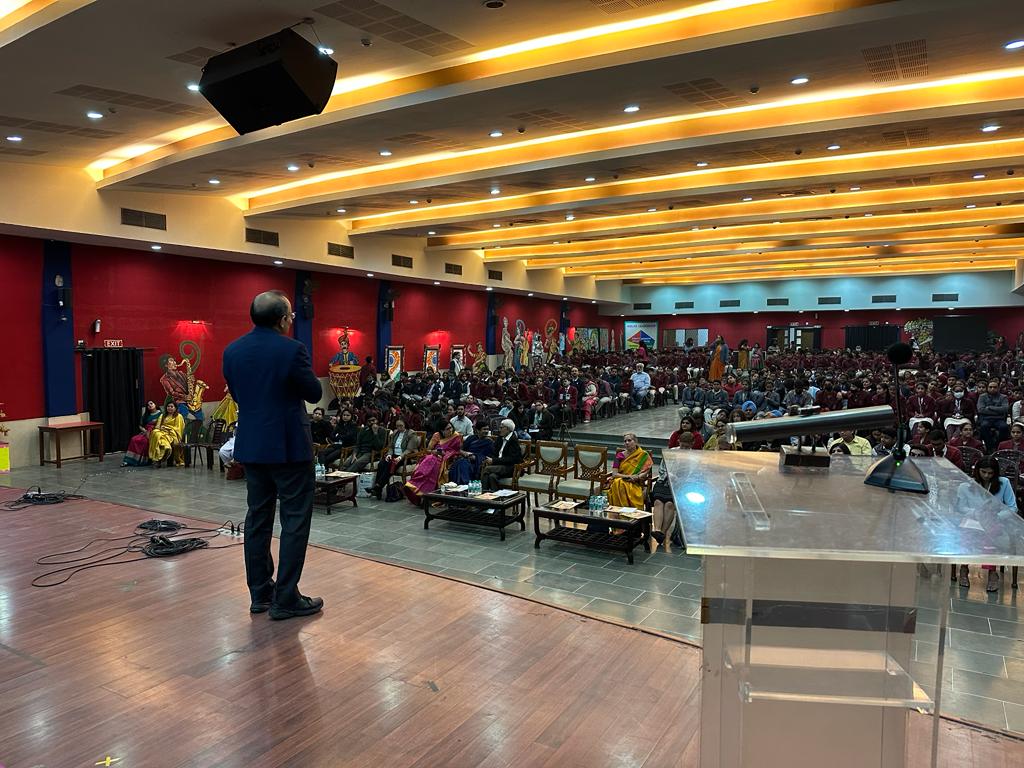 "I congratulate all the winners of the SHE STEM 2022. I have to say what caught my attention was that every single idea was addressing a fundamental constraint confronting us," said Dr. Chintan Viashnav.