The 2017 Nobel Prize for Physics has been conferred to three scientists namely Rainer Weiss, Barry C Barish & Kip S Thorne
This is a proud moment for India also, since the discovery paper has 39 Indian authors/scientists from nine institutions-, CMI Chennai, ICTS-TIFR Bengaluru, IISER-Kolkata, IISER-Trivandrum, IIT Gandhinagar, IPR Gandhinagar, IUCAA Pune, RRCAT Indore and TIFR Mumbai.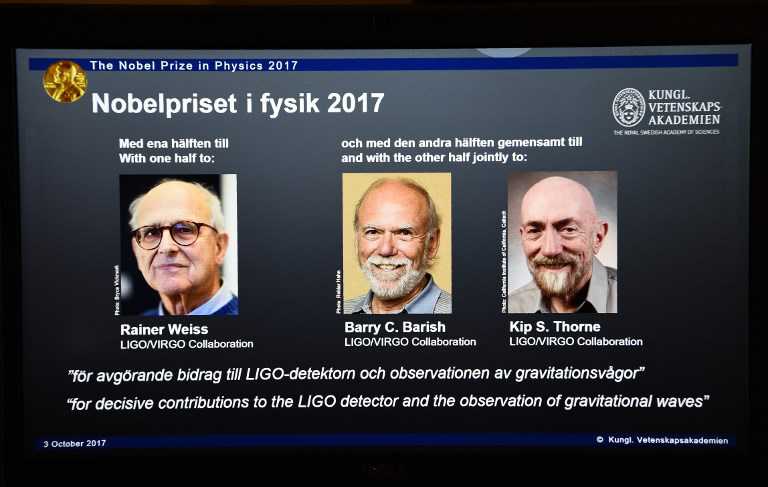 The 2017 Nobel Prize for Physics has been conferred to three scientists namely Rainer Weiss, Barry C Barish & Kip S Thorne under the LIGO Project for their discovery of gravitational waves, 100 years after Einstein's General Relativity predicted it. The Nobel Prize for Physics 2017 celebrates the direct detection of Gravitational waves arriving from the merger of two large Black holes in a distant galaxy a Billion of light years away. Gravitational waves carry information about their dramatic origins and about the nature of gravity that cannot otherwise be obtained. This opens a new window to Astronomy since Gravitational Waves are an entirely new way of observing the most violent events in space.
This is a proud moment for India also, since the discovery paper has 39 Indian authors/scientists from nine institutions-, CMI Chennai, ICTS-TIFR Bengaluru, IISER-Kolkata, IISER-Trivandrum, IIT Gandhinagar, IPR Gandhinagar, IUCAA Pune, RRCAT Indore and TIFR Mumbai. primarily funded through individual/ institutional grants by Department of Atomic Energy, Department of Science & Technology and Ministry of Human Resource Development AE, DST and MHRD, who are co-authors of this discovery paper.
Late Professor CV Vishveshvara of RRI, Bengaluru (DST AI) and Professor SV Dhurandhar of IUCAA, Pune and some other Indian scientists made seminal contributions to this field which contributed towards the principles behind the LIGO Detector.
The group led by Bala Iyer (currently at ICTS-TIFR) at the Raman Research Institute in collaboration with scientists in France had pioneered the mathematical calculations used to model Gravitational Wave signals from orbiting black holes and neutron stars. Theoretical work that combined black holes and gravitational waves was published by C. V. Vishveshwara in 1970. These contributions are prominently cited in the discovery paper.
An opportunity for India taking leadership in this field has opened up with the LIGO-India mega-science project that was granted 'in principle' approval by the Union Cabinet on Feb 17 2016. LIGO-India brings forth a real possibility of Indian scientists and technologists stepping forward, with strong international cooperation, into the frontier of an emergent area of high visibility and promise presented by the recent GW detections and the high promise of a new window of gravitational-wave astronomy to probe the universe.
The global science community is unanimous that the future of Gravitational wave astronomy and astrophysics, beyond the first discovery, lies with the planned global array of GW detectors, including the LIGO-India observatory. Inclusion of LIGO-India greatly improves the angular resolution in the location of the gravitational-wave source by the LIGO global network. For the discovery event observed by the two advanced LIGO detectors in the US, with a hypothetical LIGO-India in operation, there would have been 100 times improvement in the angular resolution.
The LIGO-India proposal is for the construction and operation of an Advanced LIGO Detector in India in collaboration with the LIGO Laboratories, USA. The objective is to set up the Indian node of the three node global Advanced LIGO detector network by 2024 and operate it for 10 years. The task for LIGO-India includes the challenge of constructing the very large vaccum infrastructure that would hold a space of volume 10 million litres that can accommodate the entire 4 km scale laser interferometer in ultra high vacuum environment at nano-torrs. Indian team is also responsible for installation and commissioning the complex instrument and attaining the ultimate design sensitivity.
The LIGO-India project is being jointly executed by lead institutions: the Inter-University Centre for Astronomy and Astrophysics (IUCAA), Pune of the University Grants commission, and DAE organisations, Institute for Plasma Research (IPR), Gandhinagar, the Raja Ramanna Centre for Advanced Technology (RRCAT), Indore and the Directorate of Construction & Estate Management (DCSEM) of DAE.
LIGO-India is being jointly funded by the Department of Atomic Energy (DAE) and the Department of Science and Technology (DST). A LIGO-India Apex committee, together with the LIGO-India Project Management Board (LI-PMB) and LIGO-India Scientific Management Board (LI-SMB), were constituted in August 2016 to oversee the project execution, and there has been rapid pace of progress since then. LIGO-India is on track for commencing operations by 2024.
SHE STEM 2022 honours and celebrates women
SHE STEM 2022 encourages students to 'Unleash their imagination' as part of the Sweden India Nobel Memorial Week.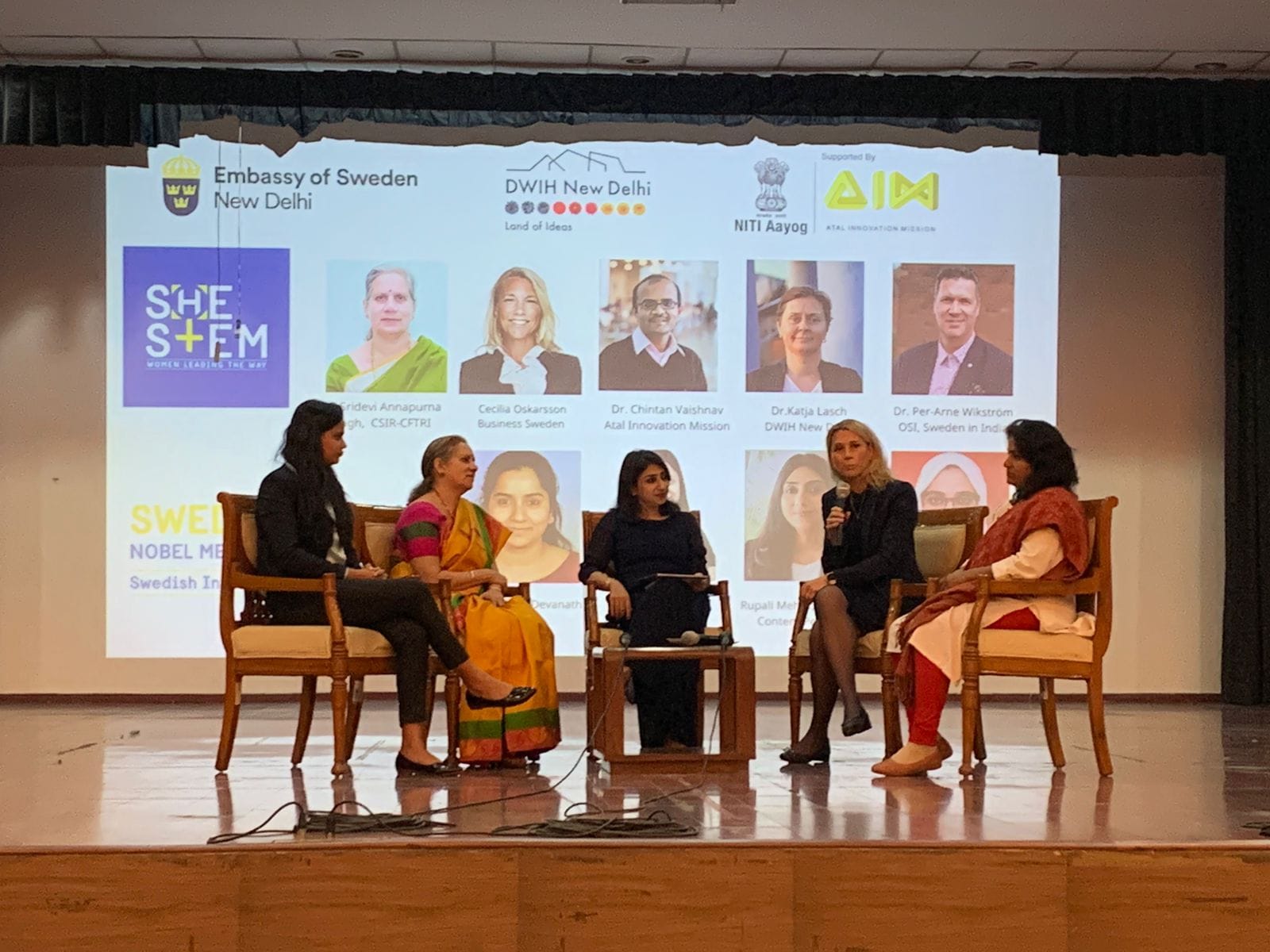 As part of the Sweden-India Nobel Memorial Week, SHE STEM, the annual event to celebrate women in the fields of science, technology, engineering, mathematics, and sustainability, was successfully held for the third year in a row.
The annual event is organized by the Sweden Embassy in India in partnership with the Atal Innovation Mission of the Government of India and the German Centre of Innovation and Research (DWIH New Delhi).
Ambassador of Sweden to India H.E. Jan Thesleff, who also addressed the students via a video message said, "We are very happy to continue the tradition of SHE STEM – it is a flagship event of the Sweden-India Nobel Memorial Week. Congratulations to all the winners of this year's SHE STEM Video challenge."
Dr. Chintan Vaishnav, Director of ATAL Innovation Mission said, "Today, the face of women's involvement in STEM is changing and the rate of participation has increased. It was in ATL Marathon 2021, that there was a spike where the women's participation was 49%. A strong STEM education will go a long way in cultivating such critical thinkers."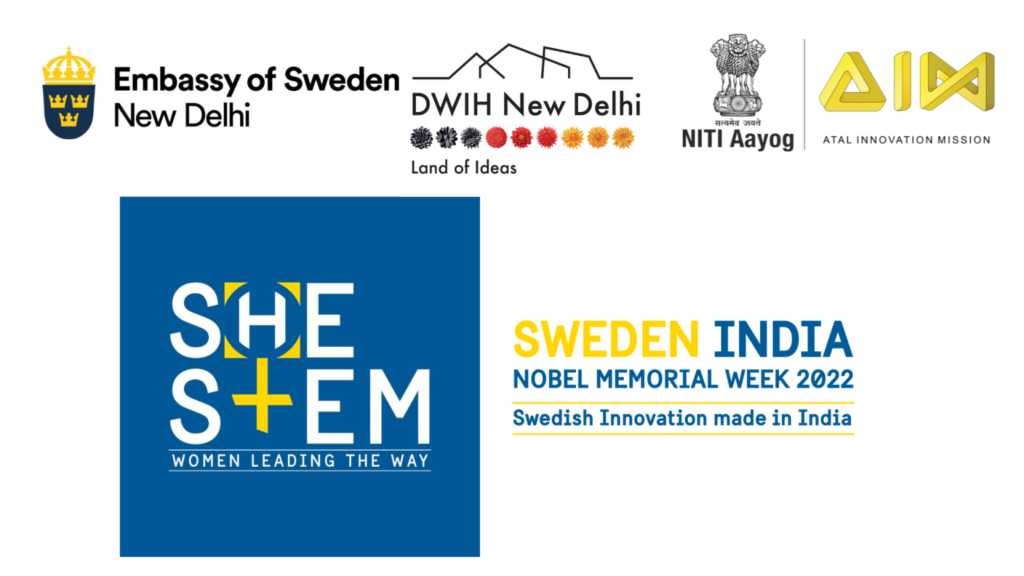 SHE STEM 2022 began with a musical performance by the students of Darbari Lal DAV Model School, New Delhi, the host school for SHE STEM 2022, followed by talks, and a panel discussion with women in the fields of STEM and business, including D. Sridevi Annapurna Singh, Director of Council of Scientific and Industrial Research – Central Food Technological Research (CSIR-CFTRI), Ministry of Science and Technology, Government. of India.
Dr. Annapurna Singh has done extensive work in the development of supplementary foods for undernourished children and in studying the impact of protein-rich food on children. She spoke to the audience about the need for women in fields of STEM to bring in their unique perspectives to problem-solving for a sustainable future.
Other participants included Cecilia Oskarsson, Trade, and Invest Commissioner of Sweden to India, who shared her thoughts on the role of diversity in triggering and enabling positive changes for girls and women, Mamta Kumari, co-founder and CEO of Prepbytes, an ed-tech company in India, and Dr. Vasudharani Devanathan, Neurobiologist and Professor of Biology at the Indian Institute of Science Education Research (IISER). Rupali Mehra, Founder of Content People AB moderated the event.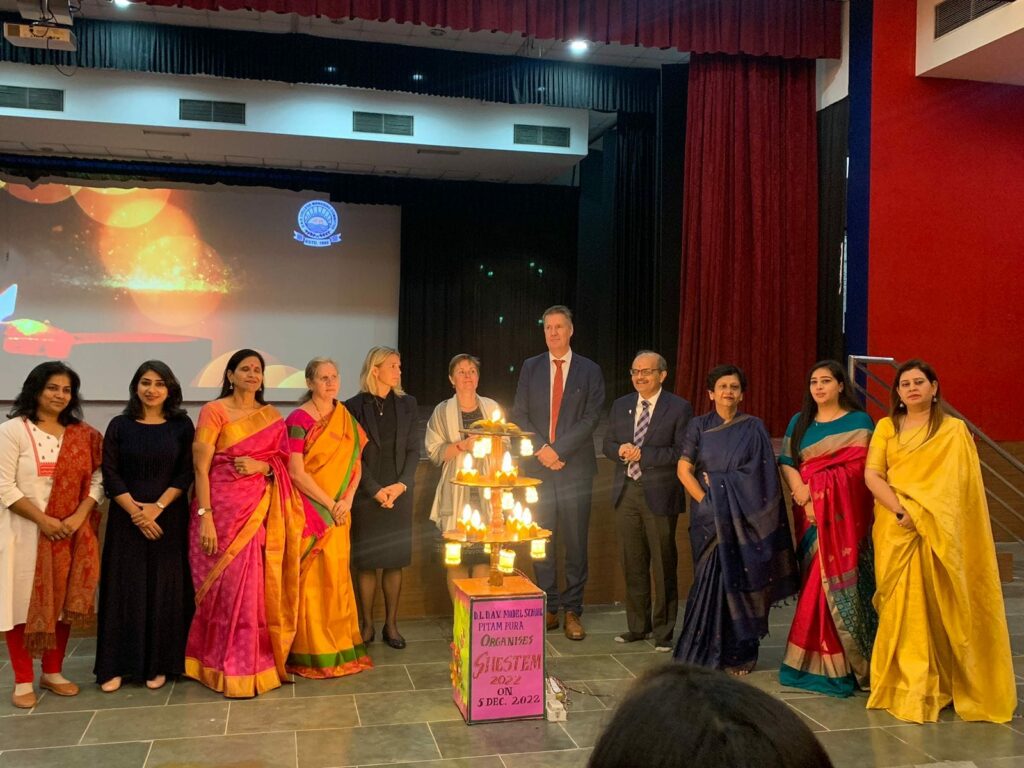 Dr. Per-Arne Wikström, Head of Office of Science & Innovation, Embassy of Sweden in New Delhi said: "When women and girls provide their talent, their knowledge, and their capabilities to science and technology on equal terms with men and boys, then we know that societies prosper and that innovation capacity actually increases. So for us, gender equality is an integrated part and an important aspect of everything that we do. We would like to thank our Indian partners for their support for this very important initiative."
"As Johann Wolfgang von Goethe said, 'who is not curious will not gain knowledge,' so keep your curiosity on, drive your knowledge forward and who knows maybe one or other idea will be implemented," said Dr. Katja Lasch, responsible for Strategy Management at the German Centre for Research and Innovation (DWIH New Delhi) and head of German Academic Exchange Service (DAAD) Regional Office in New Delhi.
Following the success of the Insta-reels Video Challenge in 2021, SHE STEM hosted the #SHESTEM2022 Video Challenge across Instagram, Youtube, Facebook, and Google Drive for students of ages 13 to 17, asking them to imagine themselves in the year 2047, and speak about an innovation of theirs that has helped in tackling climate change. The response was overwhelming with over 930 videos of which 15 were shortlisted. SHE STEM had an extensive jury round of 3 jury teams; Atal Innovation Mission Team led by Dr. Chintan Vaishnav, the Swedish Embassy team, led by Dr. Per-Arne Wikström, and the German Centre for Research and Innovation, represented by Dr. Katja Lasch.
The videos were assessed on the:
Novelty of idea
Clarity of thought and articulation
Sustainability or climate action angle
G. Nivethiga Rani who created a video on how she as a STEM Leader in 2047 had invented a robot that collected and converted biodegradable and non-biodegradable waste into electricity, won the first prize in the video challenge. The second prize was tied between T Shatananda Dhanwantari and Shreya Singh and Nistha Aswal, who participated as a team. Gaurav Hanjoora won third place.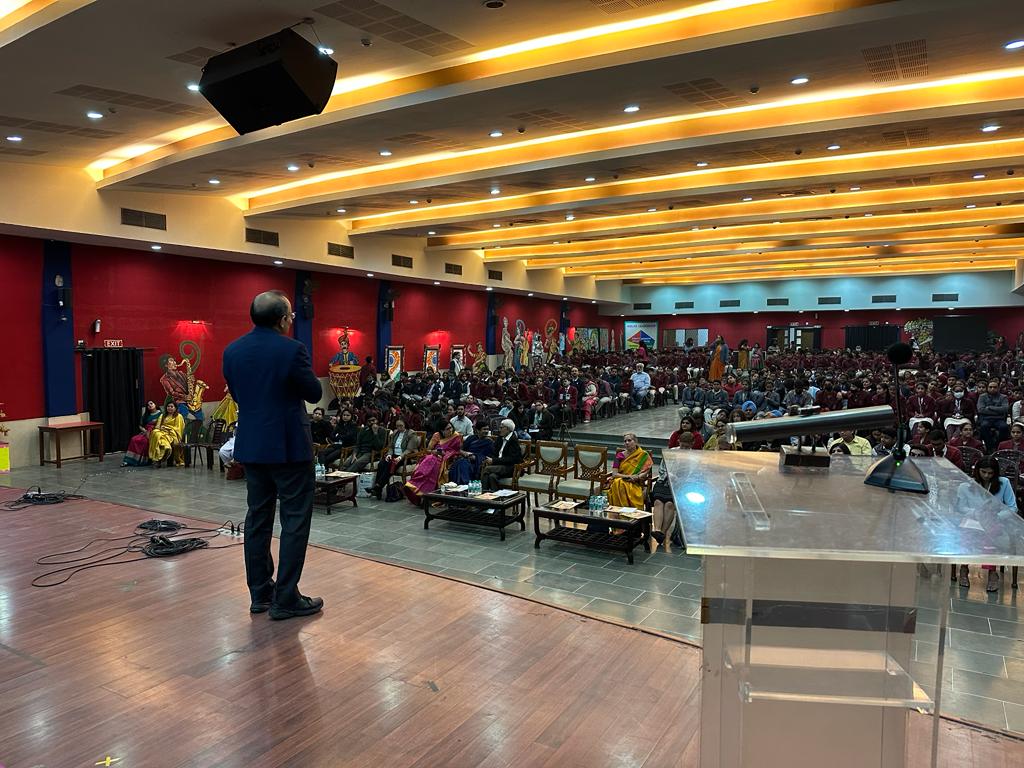 "I congratulate all the winners of the SHE STEM 2022. I have to say what caught my attention was that every single idea was addressing a fundamental constraint confronting us," said Dr. Chintan Viashnav.