Pakistani textbooks paving the way for broken future with India
A study of Pakistani textbooks conducted by Pakistan-based NGO Peace and Education Foundation (PEF) and backed by US Commission on International Religious Freedom found these textbooks carrying content that can virtually negate the possibility of Pakistanis to have a peaceful future with India.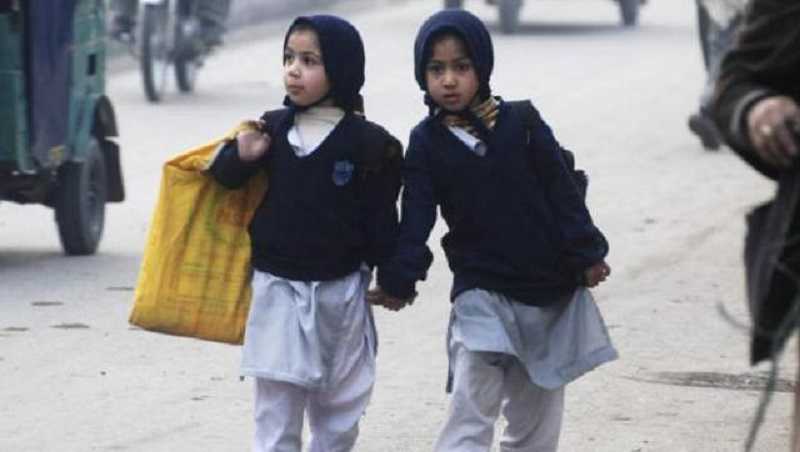 School textbooks are more often textbooks of life for lessons learnt here sometimes stay with us for a lifetime as we can effortlessly recall some of them. If textbooks have such potentially long lasting impact on the memories of young impressionable minds, then according to a study of Pakistani school textbooks by a US government commission these textbooks have the potential to virtually negate the possibility of new generation Pakistanis to envision a peaceful future with their Hindu-majority neighbour – India.
The report "Teaching intolerance in Pakistan: Religious bias in public school textbooks", released this week and sponsored by the US Commission on International Religious Freedom (USCIRF), observed that the textbooks were full of errors about representation of minority faiths and cultures.
The textbooks, carry a dismal portrayal of religious minorities as "untrustworthy and inferior", the USCIRF said. The study was conducted on ground by Pakistan-based NGO Peace and Education Foundation (PEF)According to the study, a class X Urdu textbook states: "Because the Muslim religion, culture and social system are different from non-Muslims, it is impossible to cooperate with Hindus."
The report said that the textbooks have an audience of close to 41 million readers across the country and yet they are laced with content that has the potential to close the doors to a peaceful future with India, or worse, it actually provides a rationale to treat Pakistani Hindus as outsiders.
"In contrast, it ignores how Hindus and Muslims have cooperated and coexisted peacefully for centuries in the subcontinent."
USCIRF chairman Robert P George said: "Pakistan's public school textbooks contain deeply troubling content that portrays non-Muslim citizens as outsiders, unpatriotic, and inferior; are filled with errors; and present widely-disputed historical 'facts' as settled history.
The report stated that social studies, Pakistan studies, and history curriculums taught students that most conflicts with India had religious overtures. It added, "The conflation of national and religious identities creates a narrative of conflict and historic grievance between Pakistani Muslims and Indian Hindus."
The study made several recommendations, including the acknowledgement of peaceful coexistence and religious diversity in Pakistan so that students learn to respect all faiths.
Click here to read the full article including citations from Pakistani textbooks.
Indian Debating League 2023 Concludes After 6000 Debates Across 450 Schools, at IIT Delhi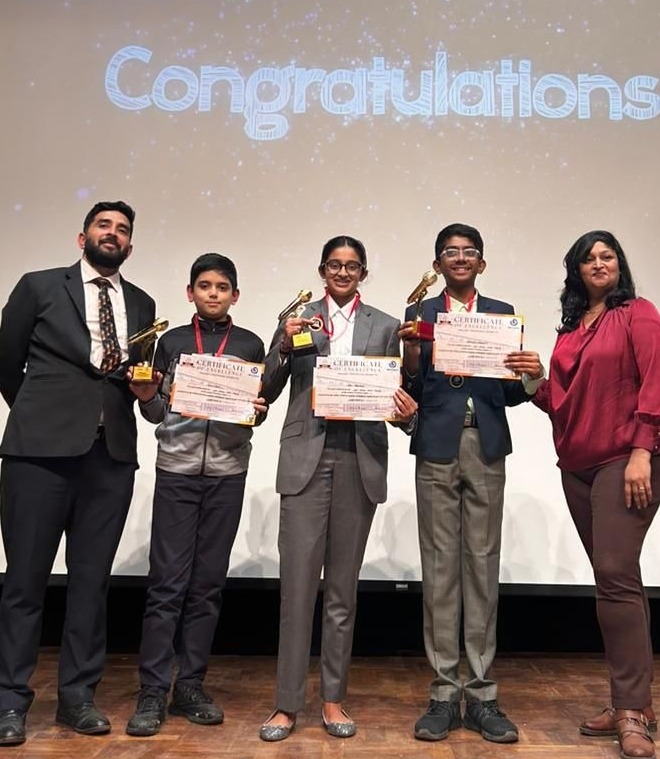 In a thrilling, high-energy competition, the Indian Debating League (IDL) 3.0, which brought together 450 schools across 25 States and Union Territories across the country, successfully concluded its highly anticipated Finale at IIT Delhi today. Team Maharashtra won the coveted title of Indian Debating League in the Middle school category (IDL) 2023- 3rd Edition while Team Haryana stood first in the Junior & Senior school category. This event has not only showcased the remarkable talent of our nation's young debaters but also underscored the importance of exploring our cultural roots across the Eras and reclaiming our heritage. The event promised a dynamic exchange of ideas, with a distinguished panel of Judges from IIT DebSoc. Global Language learning leader, Burlington English and Indian Debating League (IDL) hosted the finals of the Indian Debating League at IIT Delhi.
This year's edition attracted participation from schools from all corners of India, including Vasant Valley, New Delhi; Step by Step, Noida; Strawberry Fields High School, Chandigarh; Dhirubhai Ambani International School, Mumbai; Learning Paths School, Punjab; Jammu Sanskriti School; Kanha Makhan Public School, Vrindavan; Billabong High International, Jabalpur; American International School, Chennai; Woodstock School, Mussoorie; NASR School, Hyderabad and Jayshree Periwal International School, Jaipur.
Amit Baveja, MD, Burlington English India said, "As we conclude the exhilarating journey of the Indian Debating League 3.0 Finals, Burlington English is proud to stand alongside IDL and IIT Delhi in fostering a culture of eloquence, critical thinking, and collaborative learning. As an extension to our commitment towards the New Education Policy 2023 that strongly emphasizes developing oral, written, and digital communication skills, to enable effective expression of ideas and collaboration among students, we align seamlessly with the spirit of this competition. We believe that through platforms like IDL, we are not just shaping skilled debaters but contributing to the development of articulate leaders for tomorrow."
Renowned and celebrated for fostering 21st-century skills in a gamified, engaging format, the Indian Debating League is a unique format modeled on the IPL. Having partnered with Debate Coaches from the top 10 countries on the WSDC Leaderboard, they are keen to put Indian Student Talent on top, tangibility ensuring recognition.
Commending the IDL 3.0 Finale, Rajnish Kumar, co-author of "The Power and Curiosity" and COO, of National e-Governance Division, Digital India Corporation said "Curiosity and the art of debate are two powerful forces that drive intellectual exploration and foster a deeper understanding of the world around us. These interconnected aspects of learning not only stimulate critical thinking but also ignite a passion for knowledge and discovery. When combined with the art of debate, curiosity becomes even more potent. Debates like this can empower individuals to become lifelong learners, critical thinkers, and active participants in shaping a more informed and inclusive society.
Kamal Kashyap, Founder, and CTO of, Indian Debating League said, "In a month the Olympics of Debating will happen at WUDC Vietnam, setting the trend for the hiring of University Coaches at Harvard, Stanford, and Oxford, as well as National Debate Coaches and Judging Paradigm for contemporary themes around the world. Our national Debating Leagues like IDL 3.0, Republic Day Forensics, Frankenstein Sustainability, as well as mentoring the 350+ Adjudicator Landscape for India is the foundation upon which we look forward to leapfrog in building future skills."
The final Event at IIT Delhi was an electrifying display of oratory skills by contestants from 3rd to 12th grades, engaging with the theme The Odyssey of India- Ancient India to AI Led India, rethinking culture and reclaiming our heritage.