Prof Sugata Mitra has shared his concepts, methods, experiences and learnings in a series of interesting books, here they are!
Prof Sugata Mitra, the man known for changing the definition of education from classroom learning to self-learning, has detailed his concepts, methods, experiences and learnings in a series of interesting books. Here they are…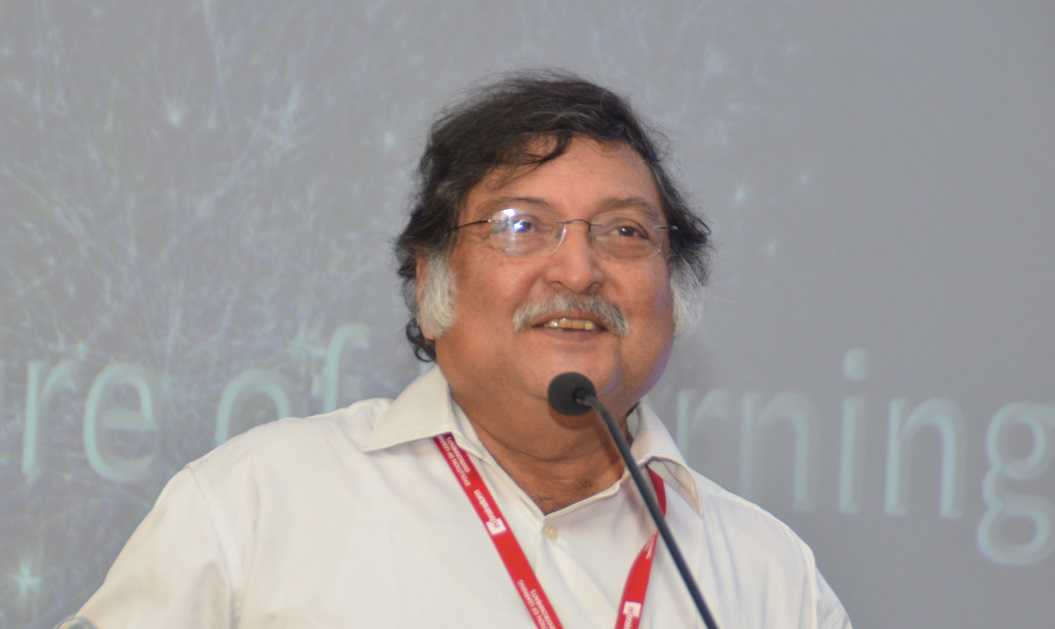 Prof Sugata Mitra, the man known for changing the definition of education from classroom learning to self-learning, has detailed his concepts, methods, experiences and learnings in a series of interesting books.
From the approach of Self Organised Learning Environments (SOLEs), where children control their own learning much as they did from his experiment Hole in the Wall, to the future of learning, these books make excellent reading for an insight into his unconventional and exciting philosophy. They also inspire educators to borrow his ideas and replicate them in their own environments.
1
The Hole In The Wall: Self Organising Systems In Education
Author: Sugata Mitra
The book traces the events that led to the discovery that children can learn to use a computer on their own, irrespective of who or where they are. Starting from a lecture in Goa to the slums and villages all over India and Cambodia, the book describes one of the largest experiments in primary education and its unusual findings.
Review:
Dan Becker
"Great story and research about what kids who have no previous exposure to computers can figure out all on their own. Just give them access to the technology and they can achieve great things together. Should be mandatory reading for every teacher who's been told to use computers in education – right up there with Seymour Papert's Mindstorms.
This book is also a great example of human-centered design research and implementation.
There's a sequel, Beyond the Hole in the Wall, and a TED talk too – I haven't read or seen them yet, but they're both on my list now."
2
Beyond the Hole in the Wall: Discover the Power of Self-Organized Learning
Author: Sugata Mitra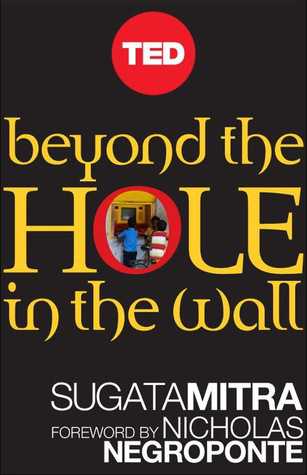 Ten years ago, educator Sugata Mitra and his colleagues cracked open a hole in a wall bordering an urban slum in New Delhi, installed a networked PC, and left it there for the local children to freely explore. What they quickly saw in their Hole in the Wall experiment was that kids from one of the most desperately poor areas of the world could, without instruction, quickly learn how the PC operated.
The children also freely collaborated with each other, exploring the world of high-tech online connectivity with ease. It was the dawning of Mitra's introduction to self-organized learning, and it would shape the next decade of his research. This important update on Mitra's ground breaking work (which provided the inspiration for the Oscar-winning film Slumdog Millionaire) offers new research and ideas that show how self-directed learning can make kids smarter and more creative. He also provides step-by-step instruction on how to integrate it into any classroom. It's an important lesson that could reshape our schools and reinvigorate our educational system.
The book has a foreword by Nicholas Negroponte, founder of both MIT's Media Lab and the One Laptop per Child Association.
Reviews:
Jennifer
"Just discovered these TED books. I was thrilled that this one was in the bookshelf because I have seen two of the author's inspirational and witty TED talks. Really exciting stuff about how learning can happen with curiosity and technology as an enabling tool. Astounding that one computer per 4 students is so much more worthwhile than one per student, as peer tutoring can happen.
The author placed a computer with mouse and keyboard and an internet connection in the slum side of the wall of his New Delhi office, and offered no input whatsoever to children there. Within 28 minutes on average, these kids were using the mouse, navigating the web and investigating email. They had never seen a computer before, spoke no English, and had no extrinsic motivation. One of the first sites they visited once they had learned how to navigate was an English Alphabet site to try to understand the websites they were looking at.
The kids taught each other, and their skills were measurable and consistent as the program expanded through India and the world. Amazing. The kids organised themselves and learning happened more effectively than in the best schools with qualified teachers. The implications for education are incredible.
Next, Mitra started working in schools. He decided to try some gentle direction and structure. He set up Indian students with an English voice recognition computer and told them to make the computer understand them. By the time he checked the results, they were speaking with British accents!
A few years down the track, and Mitra decided to try the impossible – he had Tamil non-English speaking students able to answer bioengineering questions in English within a short time.
This is a must read for teachers and all those interested in learning. It is riveting and entertaining to boot!"
George:
"Is formal education, as we know it, an outdated idea? That last question is the central focus of this book.
Once again, another cogent glimpse at the future of childhood education, from TED books. This one, Beyond the Hole in the Wall: Discover the Power of Self-Organized Leaning, argues convincingly of the value of a Self-Organized Learning Environment, where kids learn from interacting in small groups in front of computers. Perhaps some form of cross between SOLEs and the Kahn Academy approach will prevail.
One thing that this book proffers, with which I am in total accord—kid's stand to benefit from watching TED talks videos and researching and discussing topics of interest, they find there, in small groups of their peers.
Recommendation: This small book offers some large ideas to consider, for anyone interested in the future of learning. Read it, and introduce your kids to TED Talks videos.
3
The Future of Learning
Author: Sugata Mitra
A renowned pedagogue expounds the new trends regarding the educational system that will forever alter the way we teach children. He starts by criticizing the old way of teaching that has its roots in the Enlightenment and western imperial expansion. This old method is constantly becoming more obsolete with the advent of the internet and explosion of information. The new paradigms of education stem from self-learners and their pursuit to solving problems. Knowing may be obsolete. Teachers have a new role to play; they build questions instead of seeking answers.
Sugata is famously known for his Hole in the Wall experiment that proves that Self-Organized Learning Environments (SOLE) develops learners for the new century. He ends his talk by disclosing the challenge of assessment and how it can be fixed.
Reviews:
Tata Blanco
"Maravilloso!!!! The future of education? There is no future for teachers and classrooms, but there is to learning! The case of self-learners who organise themselves and learn anything…epic!"
4
Introduction to Multimedia Systems (Communications, Networking and Multimedia)
Author: Sugata Mitra, Editor: Gaurav Bhatnagar
Introduction to Multimedia Systems is designed to be a general introduction to the broad field of multimedia… more specifically digital interactive multimedia. The editors have included topics such as the principles of "multiple" and "media," including sound, two-dimensional and three-dimensional graphics, animation, and text. All of these elements are stitched together by the programmer, or multimedia designer, based on the conceptualization of the designer.
In order to take full advantage of the potential for a wide array of multimedia applications it is important to have a broad understanding of the principles of various media. The person preparing a multimedia "package," which may include such media as sound, computer graphics, and software, will most likely have a strong background in only one or perhaps none of the media to be used. Introduction to Multimedia Systems has been developed to be the first place to turn, both as an introductory textbook or as a professional reference for anyone diving into multimedia preparation. Multimedia is first and foremost a medium of communication. In order to take advantage of the nearly unlimited potential provided by digital environments a full survey of multimedia capabilities is covered in this book.
Website Feature: Learning by doing! The editors currently use the book in combination with a wide array of sample software and weblinks for students to learn how to build by example. Each part of the book will have a direct link to a publicly accessible website that will maintain these available software tools. The weblinks will be updated as software versions advance, and most of the software involves demo or scaled down versions of commercially available multimedia design software/editing tools.
This is a carefully written and edited book specifically designed to be a general introduction to the broad field of multimedia and covers all the general topics of multimedia namely the principles of 'multiple' and 'media', including sound, 2D and 3D graphics, animation and text
5
Q&A
Author: Vikas Swarup
Vikas Swarup's book Q&A was inspired by Prof Sugata Mitra's experiments which are based on the fact that learning doesn't have to come from classrooms and that a person can be self-taught.
Swarup's spectacular debut novel opens in a jail cell in Mumbai, India, where Ram Mohammad Thomas is being held after correctly answering all twelve questions on India's biggest quiz show, Who Will Win a Billion? It is hard to believe that a poor orphan who has never read a newspaper or gone to school could win such a contest. But through a series of exhilarating tales Ram explains to his lawyer how episodes in his life gave him the answer to each question.
Ram takes us on an amazing review of his own history – from the day he was found as a baby in the clothes donation box of a Delhi church to his employment by a faded Bollywood star to his adventure with a security-crazed Australian army colonel to his career as an overly creative tour guide at the Taj Mahal.
Vikas Swarup's Q&A is a beguiling blend of high comedy, drama, and romance that reveals how we know what we know – not just about trivia, but about life itself. Cutting across humanity in all its squalor and glory, Vikas Swarup presents a kaleidoscopic vision of the struggle between good and evil – and what happens when one boy has no other choice in life but to survive.
The book was loosely adapted for the 2008 British drama film Slumdog Millionaire directed by Danny Boyle. A sleeper hit, it also won 8 Academy awards.
This article was published in our April 2018 special issue dedicated to Prof. Sugata Mitra and his work.
(Sources: Goodreads.com)
A Former Monk And His Abode of Love: Jhamtse Gatsal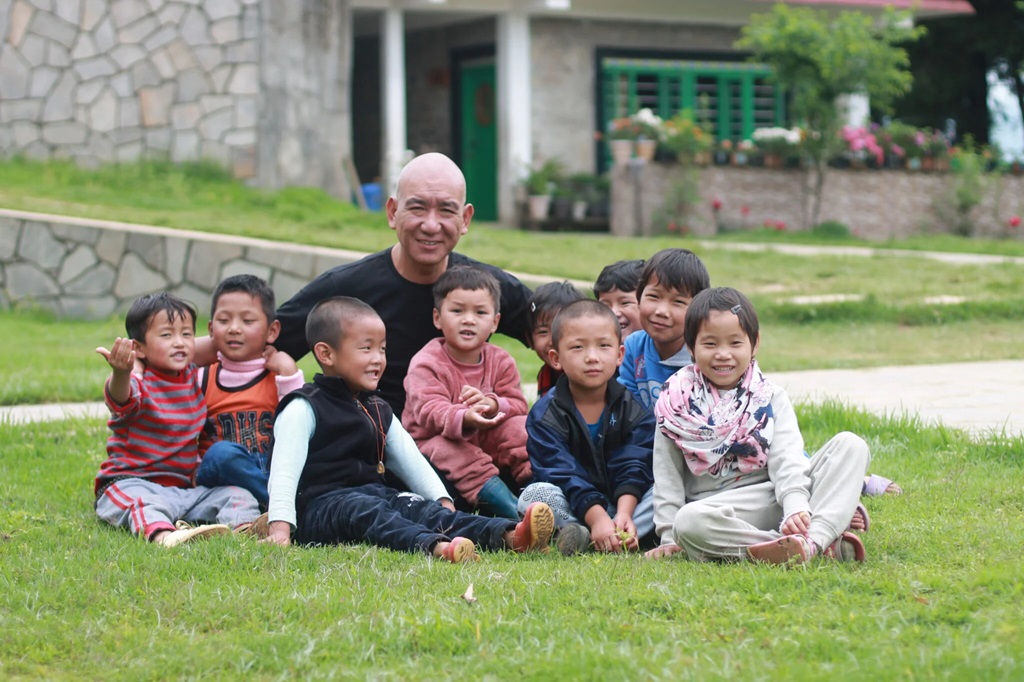 There are only a handful of experiences in everyone's life that get etched in one's heart for a lifetime. My visit to Jhamtse Gatsal qualifies as one such experience; special, unforgettable, and forever a part of me.
'Jhamtse Gatsal' literally, translates to 'garden of love and compassion'. Standing true to its name, it's a place where young souls are nurtured with love and tended to with compassion, much like seeds sown in a garden. It was opened in the year 2006, with 35 kids under its care and today it is home to 128 children.
The physical location of Jhamtse Gatsal is as enchanting as the philosophical essence behind its inception. About 50 Km away from the noise and bustle of the district headquarters in Tawang, it is located in the remote and picturesque Lumla sub-division. Built atop a hill, it is surrounded by majestic mountains that are lush green during summer and sparkling white during the winter. It overlooks the mystic Tawang Chu River meandering through the foothills and demarcating the international border with Bhutan to its left.
Far from the madding crowd and nestled in nature's bounty, it is not an overstatement to say that the place satiates the yearnings and heals the maladies of the soul. Jhamtse Gatsal is a world in itself; complete and self-sustaining. The story of how it came into existence is nothing short of awe-inspiring.
Jhamtse Gatsal is the brainchild of Mr. Lobsang Phuntsok, the former monk who left his fairly comfortable and thriving life in America and came back to his birthplace Tawang, to give back to the place and its people, all that was in his capacity. He is fondly addressed as Gen-la ('Gen' is a Tibetan term for an honored teacher and La is added to indicate respect. Together, Gen-la translates to 'honorable teacher'), by everyone in Jhamtse Gatsal community and beyond it, by others in Tawang. Gen-la's vision, grit, and conviction to transform lives and mold them, comes from the childhood he lived.
Born to an unwed mother, he was looked upon as "an uninvited guest in the universe". Even though the pain and embarrassment his birth brought to his mother and family are not the best memories to go back to, he does not shy away from embracing and sharing his story. He rather acknowledges its instrumentality in shaping the person he is today. He recalls being a difficult child; often detested by the villagers for his notorieties. His loving grandparents saw no way out to mend his ways and finally at the age of 7, with the earnest hope for his life to take a better turn, he was sent away to a Buddhist monastery down south of the country to live a monk's life. Notwithstanding, he recalls his young self continuing with his old ways in the monastery. Eventually, the faith, patience, and compassion shown by his Gurus set him on the path of self-transformation. Reaffirming the fact that behind different facades, lies the inherent human goodness in each one of us.
The children fostered by Gen Lobsang La at Jhamtse Gatsal share stories similar to his own; where the mere accident of birth in a certain family or circumstance left them in a position of pain or disadvantage. His mission is to give these children a fair chance at life and more importantly, guide them to transform themselves into better humans capable of being agents of change wherever they go, in making this world a better place to live in. He shares that, to love, care, provide for, and see the children happy is like time traveling back to his formative years; giving him a chance to relive his childhood through them and experience everything he missed out on. It is true indeed that the love we give is the love we keep. The only way to retain love is to give it away.
In his 50s now, Gen Lobsang la has the exuberance of youth and his passion is evident in the joy with which he shares about his mission and the future plans he has for Jhamtse Gatsal. He is backed by a team of dedicated teaching and non-teaching staff, who are not only competent in their respective specialties but also share some common core values. Benign in their approach, they are professional with a human touch and value, laying the base of a healthy work environment.
Jhamtse Gatsal campus is at present, broadly divided into three main sections – the children's residential complex, the academic block, and an area designated for building a residential colony in the near future. Together, they make up the Jhamtse Gatsal Community. Every aspect of Jhamtse Gatsal is well thought-out and holds meaning. The children's residential complex is sectioned into four parts, each one of them a 'Khemsang', meaning a family house'. The four khemsang have been named – Panggyen, Ganghla, Serchen, and Gurkum after rare plants with medicinal properties and healing capabilities. The thought behind this is to bespeak and symbolize self-healing and then, the the ability to heal others. It is rightly said,
"Hurt people hurt people. And healed people heal others. Free spirits free others, enlightened people enlighten others".
Each khemsang and its children are looked after and taken care of by one 'Ama-la' ('Ama' means mother, 'La' is added to express respect. 'Amala' translates to respected/beloved mother). The four Ama-La(s) manage the four Khemsang(s) just like a mother does in a family. Along with the family-like set up with a mother figure, the older children are also taught to look after and care for the younger ones just like siblings do in a family.
It leaves no room for bullying or domination and instead, develops qualities of affection, a sense of responsibility, and mutual love between children of different age groups. These are just a few subtle and manifest ways in which the system devised at Jhamtse Gatsal empowers children and nudges them to a better path.
Keeping the ideals of a family, the mess at Jhamtse Gatsal has no fixed menu that repeats week after week. The Ama-La in charge decides what is to be fed. From 'Thentuk' (Hand-pulled noodle soup with mixed vegetables) to healthy curries, every meal is cooked with love and dedication.
One of the inspiring routine events I was privileged to take part in, was the weekly one-meal fast (Wednesday dinner). It is not compulsory for guests or even for others in the community to participate, it is a completely voluntary choice. Dinner is still served for anyone who decides or feels the need to eat, along with the younger lot who are strictly exempted from participating.
The apportioned ration for those days is saved and donated to the needy in the villages around. In explaining the idea behind this observance of fast, Gen-La re-defined the notion of charity and sacrifice for me. He says the right way to gauge our dedication and love for fellow human beings is to see what we can forgo for someone else. He says, to be generous, donate, help only when there is an overflowing abundance, or give away that which we don't want/wish to discard, hardly captures the spirit of charity or qualifies as one.
This made me rethink the idea of donating clothes we don't want, and the leftover food on our plates that we give away, as an act of kindness. Sure, something is better than nothing and to feed an empty stomach is better than dumping it in a thrash bin. But it made me wonder that perhaps, cutting out from our portion for someone else is to treat the other person with respect, as equal sentient beings to share and care for, and not subjects of our kindness born out of a condescending privilege. Along with the standard curriculum for each class, children are engaged in a myriad of extracurricular activities, skill training, and other creative projects. The goal is to ensure an all-around development encompassing emotional, spiritual, mental, and physical health.
Each child is counseled, encouraged, and helped to polish their unique strengths by abled teachers and Gen-La, together. Instead of trying to fit everyone in a specific predesigned box, each child is allowed to bloom at its own pace and shine in their unique domains. Teaching the science and art of sustainable living is a major focus and the base on which the edifice of Jhamtse Gatsal Community is built.
Children are exposed to lessons and activities that arm them to live scientifically and in harmony with nature, through fun and interesting engagements. From plastic recycling, waste management, and vermicomposting to arts and crafts, the children at Jhamtse Gatsal are taught and trained by teachers, Ama-la(s), and enthusiastic allies from across the world. Other than professional and academic lessons, it is ensured that children learn basic life skills – cooking, cleaning, and self-care across genders.
Jhamtse Gatsal is a beacon of hope for the world we live in today. In a world of information overload and easy access to social media, it is sometimes dispiriting to witness the tragic events happening across the world. At such a time, Jhamtse Gatsal is a place that felt refreshing and reaffirmed my faith in a shared brotherhood of humanity with the promise of a better, kinder, and harmonious world. In my assignment to write for The Borderlens, I feel fortunate to have discovered my Shangri-La at Jhamtse Gatsal Children's Community; a place that felt like a remotely hidden, beautiful utopia.

Learn more about Gatsal: https://linktr.ee/jhamtsegatsal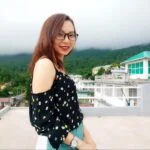 Liyum Karga