Sanskar School becomes Jaipur's first Microsoft School
A session on how Microsoft is transforming education was held at Sanskar School on 24-November-2016. During the course of the event Pratik Chanda, Director – Devices (Microsoft, APAC) conferred the recognition of "Microsoft School" on Sanskar School. Sanskar School thus becomes Jaipur's first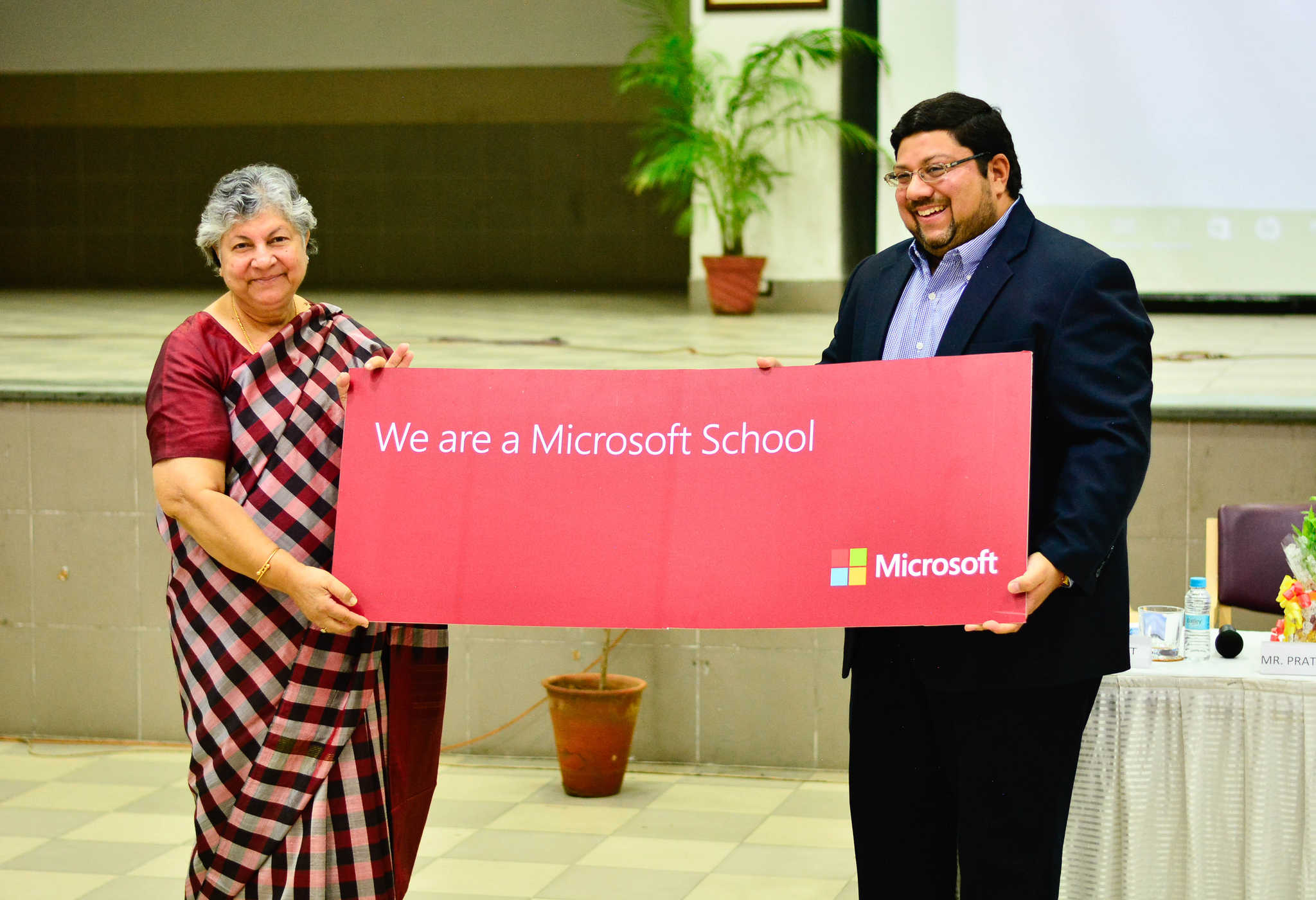 A session by Microsoft on "Transforming Learning with Microsoft Technology" was held at Sanskar School today. The event started with a musical presentation by the students of Sanskar School. This was followed by the Welcome Address by the Principal, Ms. Rama Datt. The keynote for the event was delivered by Mr. Pratik Chanda, Director, Education Devices Asia, World Wide OEM Field Sales who highlighted Microsoft School program's vision, thought leadership and a deep understanding of how schools can lever digital to transform teaching and learning.
The session was attended by the principals of over 20 leading schools of Jaipur. During the course of the event Mr. Pratik Chanda conferred the recognition of "Microsoft School" on Sanskar School.
He also talked at length on the subject of Microsoft's initiatives and solutions for schools and education. The emphasis on use of gamification, virtual reality and augmented reality through Hololens is another pioneering innovation by Microsoft to bring latest technologies to education.
Sanskar School thus becomes Jaipur's first Microsoft school and this showcases the school's committment to adoption of technology in the classroom and school.
Ms. Meenakshi Uberoi, Education technology evangelist, De Pedagogics talked about the use of various Microsoft technologies like OneNote for Education, Office 365, Minecraft and Windows.
Ms. Rama Datt thanked the team from Microsoft for the honor conferred on the school and sought their support for adoption of technology in the school. The objective of the event was to celebrate the use of technology in imparting transformational education and also to understand and experience the future trends in technology that drive innovation.
Office 365 for education online version is offered free to schools. Office 365 Education is a collection of services that allows educators and students to collaborate and share schoolwork. It's available for free to teachers who are currently working at an academic institution and to students who are currently attending an academic institution. The service includes Office Online (Word, PowerPoint, Excel, and OneNote), 1TB of OneDrive storage, Yammer, and SharePoint sites. Microsoft also conducts a number of programs as it's CSR obligation like Project Shiksha (Teachers' Training Program), Project Saksham (skills development in Higher education) and Digital Innovation Lab / Project Oorja.
Smile Foundation and Shell Launch STEM Project on Pi Day
The initiative will benefit less-privileged students from government schools.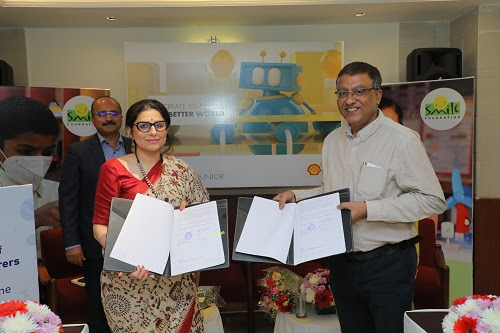 On the occasion of International Pi (π) Day, Smile Foundation and Shell launch 'NXplorers Junior' programme in three Indian states. NXplorers is Shell's global flagship Social Investment STEM (Science, Technology, Engineering, and Mathematics) educational programme aims to benefit over 25,000 children during the first year by enabling them to understand, navigate and address local and global challenges, as underlined in the Sustainable Development Goals (SDGs). NXplorers is also aligned with the National Education Policy 2020 and delivers societal benefits.
The innovative initiative will benefit less-privileged students from government schools and affordable private schools, studying in rural and hard-to-reach areas in the states of Andhra Pradesh, Telangana and Kerala. Its design also includes endeavour to create awareness amongst parents on the importance of STEM education, especially for girl children.
"Shell firmly believes that, provided with the necessary skills and guidance, young people can be a driving force to find sustainable solutions to the major global challenges of our time. Launched in 2018, Shell's global flagship STEM programme NXplorers is aligned with the National Education Policy 2020 that aims to transform India into an equitable and vibrant knowledge society. With the Smile Foundation partnership, we aim to expand this programme to Andhra Pradesh, Kerala, and Telangana and offer young minds the platform to design sustainable solutions to ease the pressure on food, water, and energy," said Ms. Latika Taneja, Head of Corporate Relations – India.
The programme is being rolled out in concurrence with the educational authorities of the respective state governments. Besides students, teachers, parents and communities are involved actively while implementing the programme so that it remains sustainable in the long-term.
"We are excited to roll out this innovative programme in India. We are hopeful that our children will not only leverage STEM education in building their future career but also will grow up and develop leadership ability in finding sustainable solutions in various walks of life," said Mr. Santanu Mishra, Co-founder & Executive Trustee, Smile Foundation.
The NXplorers Juniors will train both 6th and 7th grade students. NXplorers Juniors Level-I course will be delivered through a combination of teacher's guide, PowerPoint slides, and several instructional videos. The facilitator guide will outline the essentials to be covered in each session, exercises, discussion, checkpoint questions, a summary, assessment, and research to be undertaken by students after the session.
The United Nations Sustainable Development Goals (SDGs), exploring SDG Solutions, researching global goals, and developing a challenge and choosing a solution etc. are covered in the NXplorers Juniors Level-1.
NXplorers – Learning for a Life Time, envisions to provide a minimum of 3-5 years of NXplorers exposure to the students at various levels. The objectives include developing strong knowledge and skill set among students so that local and global challenges can be addressed by them. Developing sustainable models of implementation by engaging teachers, school leaders and communities effectively, creating awareness amongst parents regarding the importance of STEM education, especially concerning girl education are part of the overall goals.
About Smile Foundation
Smile Foundation is a national development organization directly benefiting over 1.5 million underprivileged children and their families every year through more than 400 welfare projects in education, healthcare, livelihood and women empowerment spread across 2,000 remote villages and urban slums in 25 states of India.
About Shell
Shell is one of the most diversified international energy company in India with over 10,000 employees and presence across upstream, integrated gas, downstream, renewable energy, and deep capabilities in R&D, digitalisation, and business operations; with a retail presence across six states – Karnataka, Tamil Nadu, Telangana, Maharashtra, Gujarat, and Assam.