Sarva Shiksha Abhiyan (SSA) is a programme for Universal Elementary Education
Centrally Sponsored Scheme of Sarva Shiksha Abhiyan (SSA) is the designated scheme for implementation of the Right of the Child to Free and Compulsory Education (RTE) Act 2009. SSA aims to universalize access to elementary education by providing financial support for the creation of school infra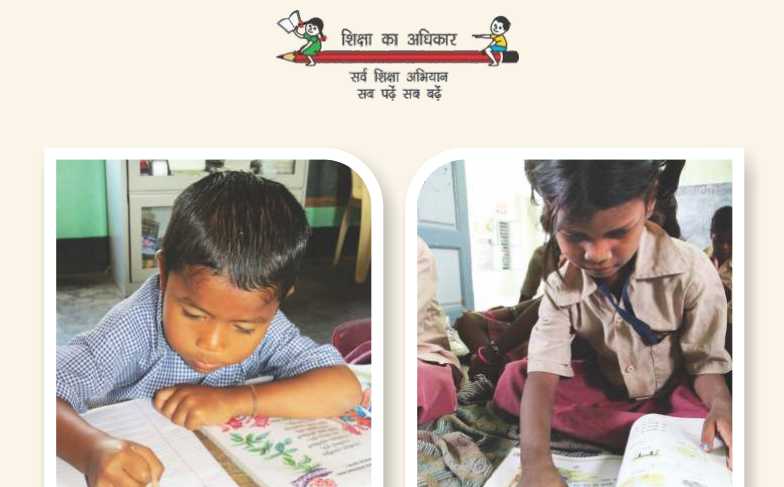 The Centrally Sponsored Scheme of Sarva Shiksha Abhiyan (SSA) is the designated scheme for implementation of the Right of the Child to Free and Compulsory Education (RTE) Act 2009, with the aim of universalizing elementary education. National University of Educational and Planning and Administration (NUEPA) annually collects information in the form of Unified District Information System for Education (UDISE) on various educational indicators. SSA has made significant progress in achieving near universal access and equity.
As per UDISE 2015-16, enrolment in elementary schools has increased from 18.78 crore in 2009-10 to 19.67 crore children. There has been a significant reduction in the number of out of school children in the 6-14 years age group, from 134.6 lakh in 2005 to 81 lakh in 2009 and further to 61 lakh in 2014. The annual average dropout rate at primary level has come down from 9.11% in 2009-10 to 4.13% in 2015-16. The transition rate from primary to upper primary has gone up from 83.53% in 2009-10 to 90.14% in 2015-16. The Pupil Teacher Ratio (PTR) has improved from 32 in 2009-10 to 24 in 2015-16.
SSA aims to universalize access to elementary education by providing financial support for the creation of school infrastructure as per the norms and standards specified in the RTE Act, 2009. Since the inception of SSA in 2001 till 2016-17, sanction has been given for opening of 3,64,155 new elementary schools, construction of 3,11,622 school buildings, and 18,73,415 additional classrooms, 2,42,198 drinking water facilities and 10,36,470 school toilets. States and UTs have reported that 3,59,826 new elementary schools have been opened; construction of 3,02,919 school buildings and 18,37,445 additional classrooms have been completed; and 2,33,088 drinking water facilities and 9,88,449 toilets have been constructed as on 30.09.2016. Out of 19.49 lakh post of teachers sanctioned, 15.75 lakh teachers have been recruited by States and UTs as on 31.12.2016.
Further, under the Swachh Vidyalaya initiative, 4,17,796 toilets were constructed in 2,61,400 elementary and secondary government schools in a period of one year from 15.8.2014 to 15.8.2015, thus ensuring that every government school has a separate functional toilet for girls and boys. With this, about 13.58 crore children in 11.08 lakh government schools were given access to gender segregated toilets.
The Central Government reviews and monitors implementation of the SSA periodically with the States and Union Territories at different fora, including the State Education Ministers' Conferences. It is reviewed twice every year by Joint Review Mission (JRM) comprising independent experts and members of external funding agencies, covering all States by rotation. The status of these evaluations and monitoring is placed in the public domain on the Ministry's website.
This information was given by the Minister of State (HRD), Shri Upendra Kushwaha today in a written reply to a Rajya Sabha question.
For more details on Sarva Shiksha Abhiyan (SSA), click here: http://ssashagun.nic.in
NIOS celebrates 33rd Foundation Day
Dr. Subhas Sarkar addresses the 33rd Foundation Day Celebrations of NIOS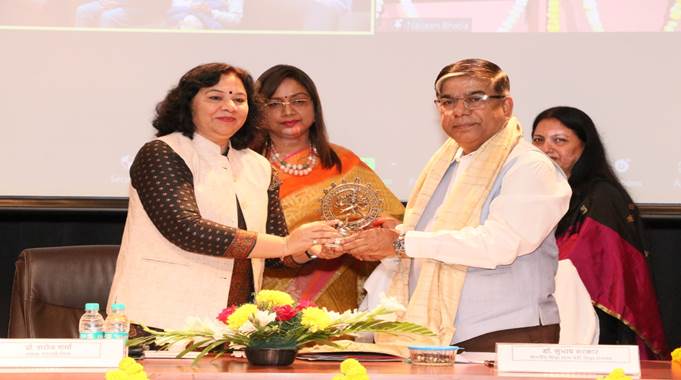 Union Minister of State for Education, Dr. Subhas Sarkar addressed the 33rd Foundation Day Celebrations of NIOS as the Chief Guest.
The function was attended by senior officials of the Ministry of Education, Chairpersons of educational institutions, Heads of Departments, officers, and staff of NIOS. Prof. Naval Kishore Ambasht, former Chairman, of NIOS and Pro-Vice Chancellor, of the Central University of Haryana, Prof. Sushma Yadav graced the occasion.
Dr. Subhas Sarkar in his address appreciated the various programmes and schemes of NIOS and said that NIOS is lighting the lamp of knowledge all over the world. Talking about the Azadi Ka Amrit Mahotsav, he mentioned that today's children will be young people in the age group of 30-40 years on the completion of 100 years of independence and will be responsible for building our nation.
He said that the Ministry of Education has entrusted NIOS with several responsibilities such as developing inclusive education resources, expanding the open and distance education system in states/UTs, translating all courses into more languages as required, creating Indian Knowledge Tradition based courses and propagating Indian culture by translating them into major foreign languages. He also praised the programmes of NIOS enrolling 10 crore adults under 'Basic Literacy Assessment', training of in-service teachers, Gender Green Project, and training in Yoga. He said that Indian Sign Language as a subject at the secondary level has been acknowledged on national and international platforms. He described the launch of an e-library called 'DEEP' by NIOS as a big step forward.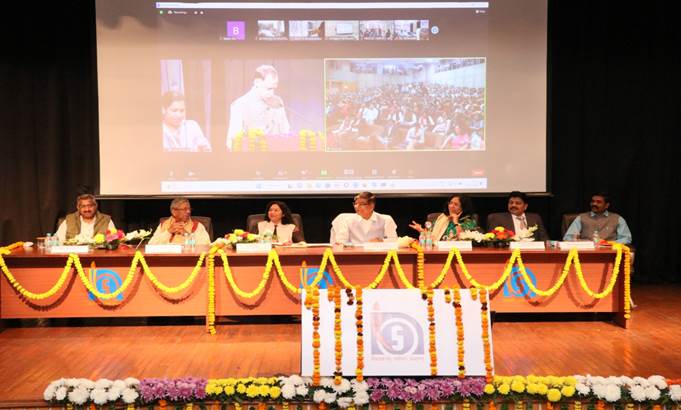 Prof. Saroj Sharma spoke about the journey of 33 years of NIOS and highlighted the special achievements. She said that NIOS is one of the two National Boards of Education under the Ministry of Education, which provides school education through Open and Distance Learning (ODL) for secondary, senior secondary, and vocational education. She elaborated on the role of NIOS in the field of education, efforts being made by NIOS for the successful implementation of the New Education Policy, Virtual Open School, Digital Library (DEEP), NEPIA Project, MoU with Ministry of Defence for Agniveer Project, setting up of Mukta Kaushal Kendras and subjects offered under Indian knowledge Tradition.
It was also conveyed by her that a curriculum called 'Aarambhika' is being developed by NIOS for catering to the Indian Diaspora.
A documentary based on the journey of 33 years of educational endeavours of NIOS was presented on the occasion. In this documentary, 'All England Badminton winner Pullela Gopichand said that most of the players in his badminton academy are getting an education from NIOS.
NIOS alumni, Ms. Niranjana and Vinod Kumar Chaudhary were also felicitated on the occasion. Shri Vinod Kumar said that only due to his education in NIOS, he was able to get the credit of making the Guinness Book of World Records 10 times (8 in Typing and 2 in sports). A proud learner of NIOS, Ms. Niranjana is a successful ventriloquist. Prof. N. K. Ambasht, former Chairman, NIOS said that in this age of technology, innovations must lead to developing 'standalone' courses for the Indian Diaspora, to achieve the goals of the National Education Policy- 2020. Pro-Vice Chancellor, Prof. Sushma Yadav said that the role of NIOS increases in the light of New Education Policy. NIOS has such potential that the institute will be able to achieve the ambitious goals of National Education Policy 2020 in the coming years.
The half-yearly magazine of NIOS 'Pragyan' was released by Dr. Subhas Sarkar on this occasion.