Seedling School Jaipur holds week-long celebration for 70th Independence Day
There was a week-long celebration of the 70th Independence Day at the Seedling Modern Public School. Various activities and competitions were organised for different classes. Beginning on August 10, the celebrations culminated on August 15.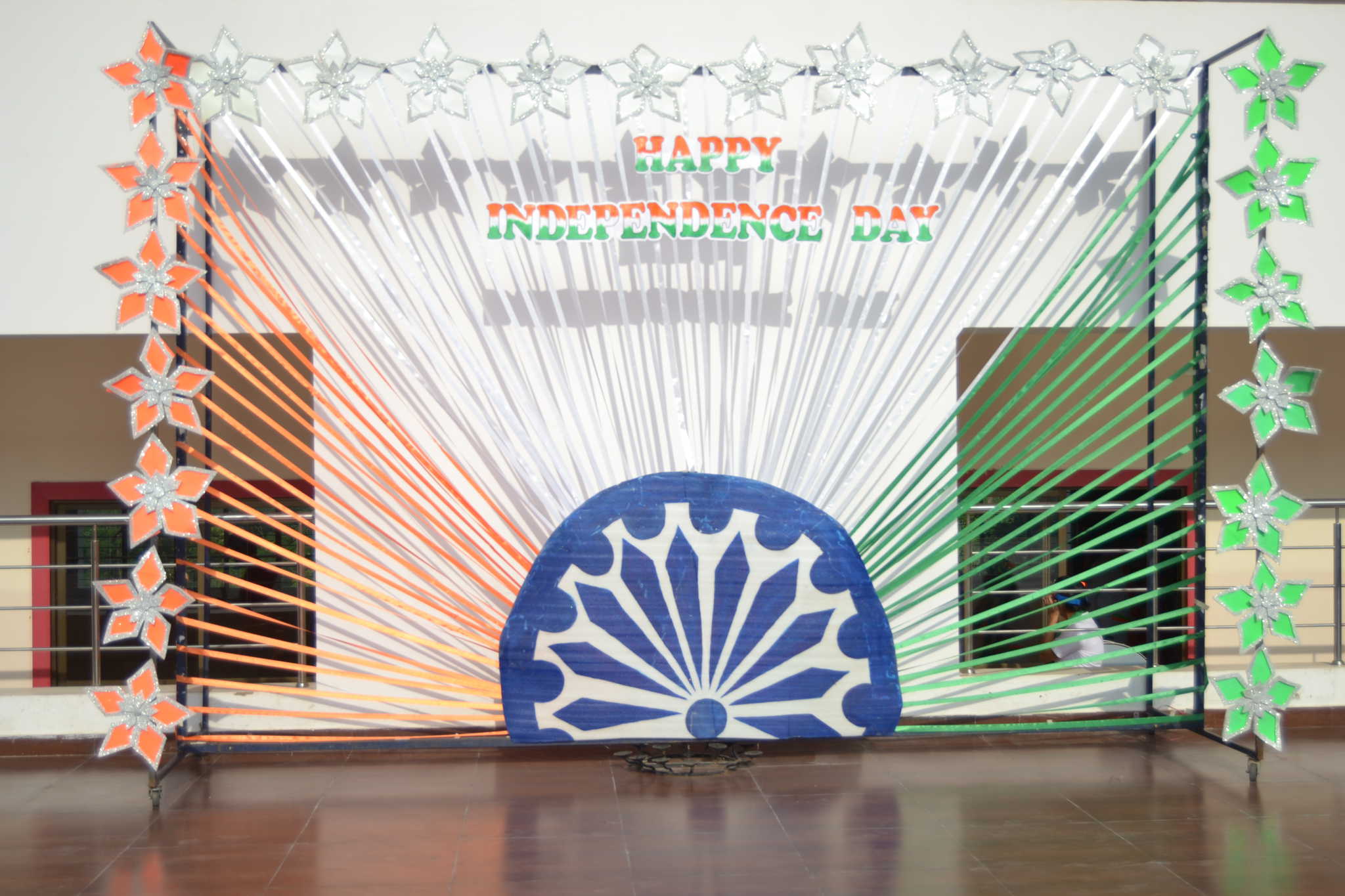 August 15 is celebrated every year as India's Independence Day to pay tribute to the martyrs without whose struggles we would not be breathing the air of freedom.
There was a week-long celebration of the 70th Independence Day at the Seedling Modern Public School. Various activities and competitions were organised for different classes. The celebration began on August 10 with Intra Class Patriotic poem recitation competition for classes I to III and CIE I to IV.
The participating children looked beautiful with their tricolour headgears. The little lots won over the hearts of the audience with their feelings of national pride. Raj Samar Singh Saluja and Naitik Bandwal gave speech showing their emotional attachment to the nation. Invited parents felt proud of their wards participants. The judges of the competition were Ms Apeksha Ojha and Ms Shilpa Kalra.
Another activity was the patriotic song presentation by the students of grades IV and V. Patriotic songs with their strong content eulogise the history, culture, traditions and struggle of the people of the nation. The students displayed the same through their songs. Apart from this, display of Yoga Asanas by students of grade III and patriotic dance presentations by students of grades IV and V were also held on August 11.
An Inter-House Rangoli competition based on 'Tricolour' theme was conducted amongst students of grade IX and X on August 12. Students displayed tremendous talent and creativity by making floral, colour and grain based Rangoli presentations. The competition was judged by the Director Principal Ms Mohini Bakshi, Ms Poonam Agarwal and Ms Reet Rameja. 1st and 3rd positions were bagged by the Surya House, while Soma House secured the 2nd position.
The sweet chefs of grade I to III showed their creative skills and immense ability through another interesting activity namely 'Topping the Biscuits'. They designed and executed burgers, pizzas, truck, smiley, planes etc, by toppings made by using various edibles like fruits, cheese, cream, namkeen, coriander, lemons, yoghurt, chocolates and many more. The winners of the competition were Manit Choudhary (I A), Daksh Kriplani (I B), Ranbeer Khanuja (I C), Parth Tak and Aparna Lohiya (II A), Amar Vishwas and Aarav Badala (II B), Siya Porwal (II C), Arya Gupta (III A), Parkhi Jain (III B) and Seimon Nama (III C).
The week-long celebrations culminated with a colourful programme organised on August 15. The day began with flag hoisting by revered Director Mr Hardeep Bakshi. The school choir sang patriotic songs full of devotion to the motherland. The juniors as well as the senior students showcased mesmerising dance performances.
A patriotic dance on the lyrics of "Jai Ho" was presented by students of grade IX and X. The students of class IX A staged an enactment on the life history of great freedom fighter 'Bal Gangadhar Tilak'.
The programme came to an end with sweet distribution among the students.
NIOS celebrates 33rd Foundation Day
Dr. Subhas Sarkar addresses the 33rd Foundation Day Celebrations of NIOS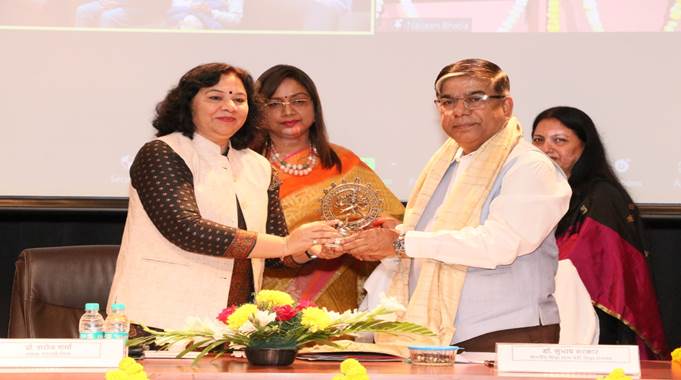 Union Minister of State for Education, Dr. Subhas Sarkar addressed the 33rd Foundation Day Celebrations of NIOS as the Chief Guest.
The function was attended by senior officials of the Ministry of Education, Chairpersons of educational institutions, Heads of Departments, officers, and staff of NIOS. Prof. Naval Kishore Ambasht, former Chairman, of NIOS and Pro-Vice Chancellor, of the Central University of Haryana, Prof. Sushma Yadav graced the occasion.
Dr. Subhas Sarkar in his address appreciated the various programmes and schemes of NIOS and said that NIOS is lighting the lamp of knowledge all over the world. Talking about the Azadi Ka Amrit Mahotsav, he mentioned that today's children will be young people in the age group of 30-40 years on the completion of 100 years of independence and will be responsible for building our nation.
He said that the Ministry of Education has entrusted NIOS with several responsibilities such as developing inclusive education resources, expanding the open and distance education system in states/UTs, translating all courses into more languages as required, creating Indian Knowledge Tradition based courses and propagating Indian culture by translating them into major foreign languages. He also praised the programmes of NIOS enrolling 10 crore adults under 'Basic Literacy Assessment', training of in-service teachers, Gender Green Project, and training in Yoga. He said that Indian Sign Language as a subject at the secondary level has been acknowledged on national and international platforms. He described the launch of an e-library called 'DEEP' by NIOS as a big step forward.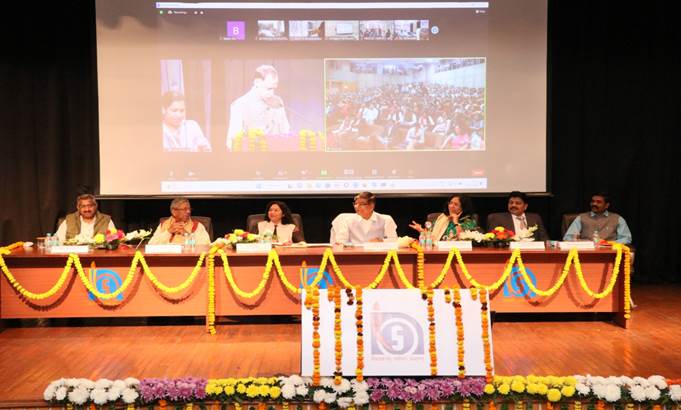 Prof. Saroj Sharma spoke about the journey of 33 years of NIOS and highlighted the special achievements. She said that NIOS is one of the two National Boards of Education under the Ministry of Education, which provides school education through Open and Distance Learning (ODL) for secondary, senior secondary, and vocational education. She elaborated on the role of NIOS in the field of education, efforts being made by NIOS for the successful implementation of the New Education Policy, Virtual Open School, Digital Library (DEEP), NEPIA Project, MoU with Ministry of Defence for Agniveer Project, setting up of Mukta Kaushal Kendras and subjects offered under Indian knowledge Tradition.
It was also conveyed by her that a curriculum called 'Aarambhika' is being developed by NIOS for catering to the Indian Diaspora.
A documentary based on the journey of 33 years of educational endeavours of NIOS was presented on the occasion. In this documentary, 'All England Badminton winner Pullela Gopichand said that most of the players in his badminton academy are getting an education from NIOS.
NIOS alumni, Ms. Niranjana and Vinod Kumar Chaudhary were also felicitated on the occasion. Shri Vinod Kumar said that only due to his education in NIOS, he was able to get the credit of making the Guinness Book of World Records 10 times (8 in Typing and 2 in sports). A proud learner of NIOS, Ms. Niranjana is a successful ventriloquist. Prof. N. K. Ambasht, former Chairman, NIOS said that in this age of technology, innovations must lead to developing 'standalone' courses for the Indian Diaspora, to achieve the goals of the National Education Policy- 2020. Pro-Vice Chancellor, Prof. Sushma Yadav said that the role of NIOS increases in the light of New Education Policy. NIOS has such potential that the institute will be able to achieve the ambitious goals of National Education Policy 2020 in the coming years.
The half-yearly magazine of NIOS 'Pragyan' was released by Dr. Subhas Sarkar on this occasion.