Seedling School Udaipur celebrates its Investiture ceremony.
On July 8, the Seedling Modern Public School celebrated its Investiture ceremony where students were appointed to key positions. The Directors addressed the gathering emphasising the importance of these posts while investing them with rights and responsibilities.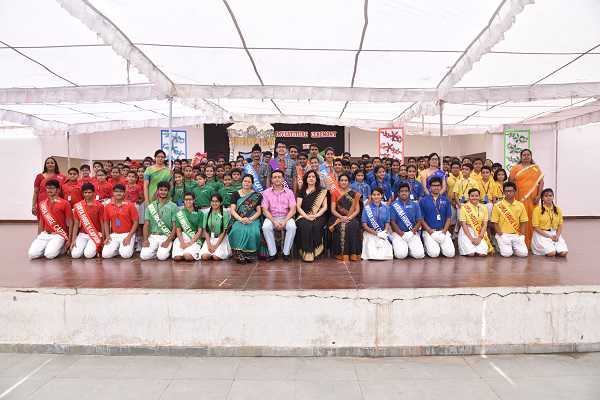 It is the beginning of academic year and Seedling Modern Public School is bustling with activities. Last week on July 8, the 15th 'Investiture Ceremony' was conducted with great enthusiasm. The 'Investiture Ceremony' is an important rite of passage that official vests the young Seedlites with power, position and most importantly the responsibilities.
The theme of this year's ceremony was 'Chariot' which was clearly depicted by the beautiful backdrop with a carriage driven by the 4 horses symbolic of the four houses namely Indra, Soma, Surya and Varuna.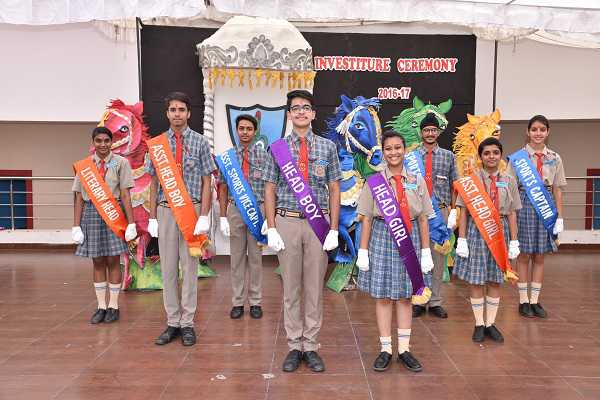 As with all ceremonies, the day began with the invocation of Lord Ganesha by lighting of the lamp. Ahan Bakshi (XII) and Rithvi Somani (XII) were appointed as the Head Boy and the Head Girl of the school for the academic session 2016-17. Hardik Maheshwari (XII) and Jasmine Saluja (XII) were appointed as the Assistant Head Boy and the Assistant Head Girl. Similarly Chhavi Bhandari (XI), Sanjam Pal Singh (XI) and Kunal Kesri (XI) were appointed as the Sports Captain, Sports vice Captain and Assistant Sports vice Captain respectively. Arunima Sharma (XII) was appointed as the Literary Head of the school. Directors Mr. Hardeep Bakshi and Ms. Moneeta Bakshi felicitated the new post holders by applying Tilak and pinning the title badges to them. All the House Captains, House vice Captains, Discipline Incharges and Prefects were also felicitated.
The following were designated as the Captains and the Vice Captains of the 4 Houses:
| | | | |
| --- | --- | --- | --- |
| House | Captain | Vice Captain | Discipline Incharge |
| Indra | Aditya Khamesra | Farheen Ahmed | Ameesha Manwani |
| Soma | Paridhi Galundia | Ayush Tripathi | Khushi Trivedi |
| Surya | Sukoon Chaudhary | Parth Galundia | Shaurya Singh Rawat |
| Varuna | Kavisha Doshi | Mufaddal Gurad | Chayan Samar |
Once the directors felicitated the new post holders, the Head Boy Ahan Bakshi and other office bearers took the oath to conduct their duties with dedication and honesty. This was followed by the Head Boy, Head Girl and the Captain of the 4 Houses sharing their views with the Seedling family.
The function came to a close with Director Mr. Hardeep Bakshi and the Principal Ms. Keerti Maken congratulating the new appointees and addressing the gathering.
Smile Foundation and Shell Launch STEM Project on Pi Day
The initiative will benefit less-privileged students from government schools.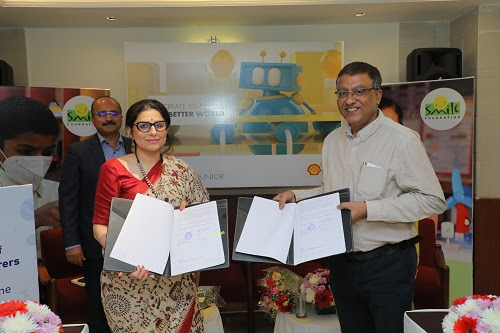 On the occasion of International Pi (π) Day, Smile Foundation and Shell launch 'NXplorers Junior' programme in three Indian states. NXplorers is Shell's global flagship Social Investment STEM (Science, Technology, Engineering, and Mathematics) educational programme aims to benefit over 25,000 children during the first year by enabling them to understand, navigate and address local and global challenges, as underlined in the Sustainable Development Goals (SDGs). NXplorers is also aligned with the National Education Policy 2020 and delivers societal benefits.
The innovative initiative will benefit less-privileged students from government schools and affordable private schools, studying in rural and hard-to-reach areas in the states of Andhra Pradesh, Telangana and Kerala. Its design also includes endeavour to create awareness amongst parents on the importance of STEM education, especially for girl children.
"Shell firmly believes that, provided with the necessary skills and guidance, young people can be a driving force to find sustainable solutions to the major global challenges of our time. Launched in 2018, Shell's global flagship STEM programme NXplorers is aligned with the National Education Policy 2020 that aims to transform India into an equitable and vibrant knowledge society. With the Smile Foundation partnership, we aim to expand this programme to Andhra Pradesh, Kerala, and Telangana and offer young minds the platform to design sustainable solutions to ease the pressure on food, water, and energy," said Ms. Latika Taneja, Head of Corporate Relations – India.
The programme is being rolled out in concurrence with the educational authorities of the respective state governments. Besides students, teachers, parents and communities are involved actively while implementing the programme so that it remains sustainable in the long-term.
"We are excited to roll out this innovative programme in India. We are hopeful that our children will not only leverage STEM education in building their future career but also will grow up and develop leadership ability in finding sustainable solutions in various walks of life," said Mr. Santanu Mishra, Co-founder & Executive Trustee, Smile Foundation.
The NXplorers Juniors will train both 6th and 7th grade students. NXplorers Juniors Level-I course will be delivered through a combination of teacher's guide, PowerPoint slides, and several instructional videos. The facilitator guide will outline the essentials to be covered in each session, exercises, discussion, checkpoint questions, a summary, assessment, and research to be undertaken by students after the session.
The United Nations Sustainable Development Goals (SDGs), exploring SDG Solutions, researching global goals, and developing a challenge and choosing a solution etc. are covered in the NXplorers Juniors Level-1.
NXplorers – Learning for a Life Time, envisions to provide a minimum of 3-5 years of NXplorers exposure to the students at various levels. The objectives include developing strong knowledge and skill set among students so that local and global challenges can be addressed by them. Developing sustainable models of implementation by engaging teachers, school leaders and communities effectively, creating awareness amongst parents regarding the importance of STEM education, especially concerning girl education are part of the overall goals.
About Smile Foundation
Smile Foundation is a national development organization directly benefiting over 1.5 million underprivileged children and their families every year through more than 400 welfare projects in education, healthcare, livelihood and women empowerment spread across 2,000 remote villages and urban slums in 25 states of India.
About Shell
Shell is one of the most diversified international energy company in India with over 10,000 employees and presence across upstream, integrated gas, downstream, renewable energy, and deep capabilities in R&D, digitalisation, and business operations; with a retail presence across six states – Karnataka, Tamil Nadu, Telangana, Maharashtra, Gujarat, and Assam.