Sharing The Plight of Teachers, Col Sekhar Asks If They're Martyrs Without Cause
Our teachers are questioned for going beyond the call of duty by battling technical skill, connectivity and understanding issues in order to make our children learn. This is not acceptable.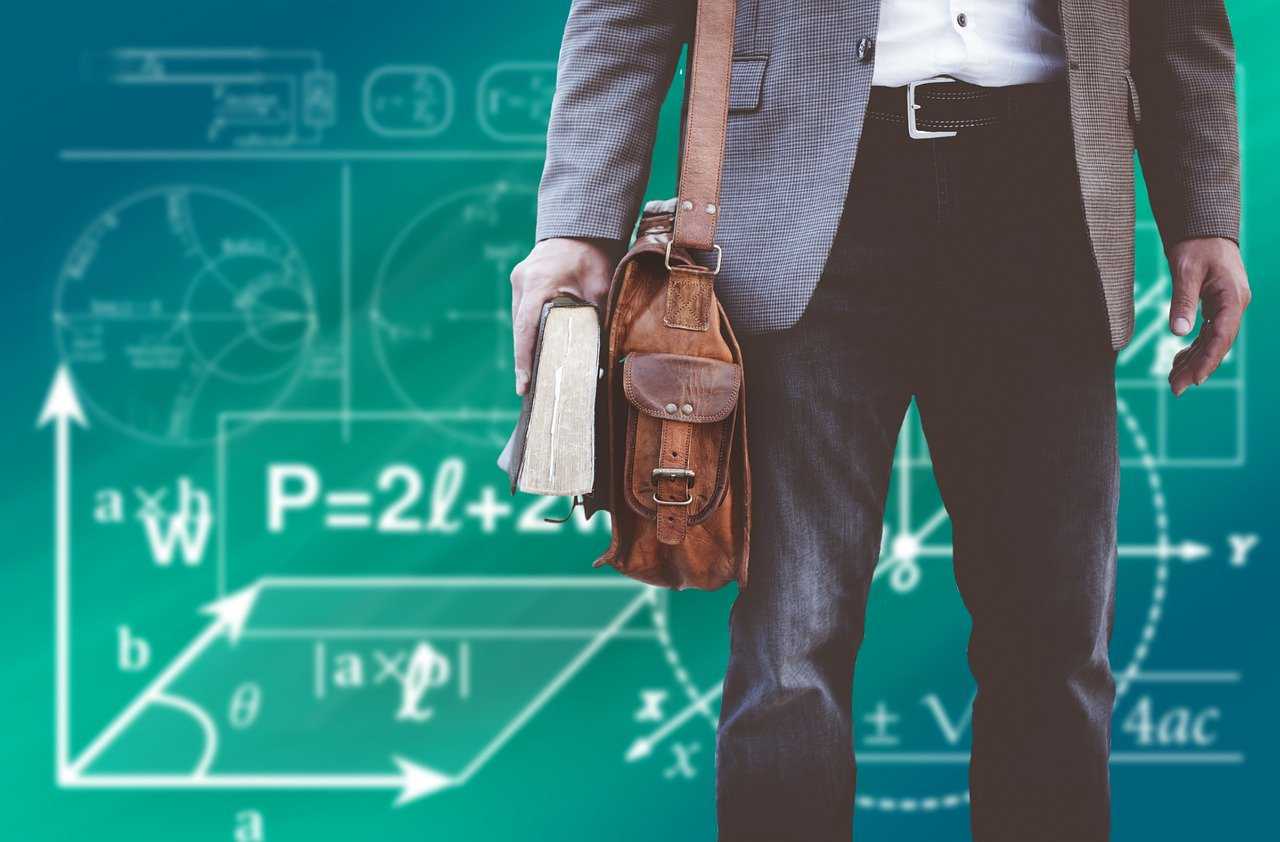 It is a beautiful morning in Bangalore. It is raining, as it has been every other day over the last two weeks. Mother Nature seems to have regained her peace! Our daughter awakens Alexa with the soothing, made for mindfulness music from the sacred chants.
It has been a busy week, with back to back workshops and webinars and today is expected to be as packed as it can be. The birthday surprise to a lonely Colonel in Panchkula touched a chord beyond normal. The compassion and reaching out during these troubled, stressful times by nondescript, anonymous human beings, through money, food, shelter and most importantly, the human touch across India, and the globe (beyond Twitter, WhatsApp, Instagram videos & photos) is the remarkable rainbow of hope and positivity that moves me forward. Dare I say all of us, each one of us forward.
I hesitate to put on the TV. I am a news junkie, but COVID-19 has brought a welcome change in that I have strictly rationed my news watching time to three specific slots. The heart celebrates positive stories, the brain, far too analytical to my liking now, is less sanguine. We have a hard, tough few months ahead yet, the unshakable belief is that we shall overcome.
It is with this spirit of bullish positivity that I touch base with a school leader in a northern Indian city for the workshop on that person's request. Despite limitations, the Principal had made significant progress in the quest for online learning, and at heart is a progressive, positive individual, whose motivation and drive has been an inspiration.
"Sir, I am admitted to the hospital… I am taken by the rudest of surprises." We have a quick conversation. Fortunately, the Principal is better after sustained body discomfort which was ignored.
There is now quite understanding of the corrosive nature of the stress the person was under. COVID-19, lockdown, online classes, parents, fees and now, the salary of the teachers.
My mind raced back to several conversations I have had with school promoters, owners, trustees, Principals. Some difficult vignettes…
Sir, how will I pay the salaries of 20 teachers? Even my family jewellery is with the bank against a loan taken last month.
Colonel, I am broke, I cannot sustain my Schools beyond May 10.
Sir, I am a single parent. I am yet to get my March salary.
Sir, I have EMIs to pay. Banks are ruthless. With a 50 per cent salary cut, how do I survive? Please speak to the Director. Please..please.
Colonel Sekhar, we have no option but to close down the school.
My work pressures kept me off LinkedIn for a few days. The education community is active here. Today, I read this comment by Vishnu Karthik, one of our more thoughtful educational leaders. "Private school teachers are unsung warriors who will soon be martyred in the months to come. Thanks to some state govt's misguided & populist directives, private schools won't be able to collect fees and surely can't pay salaries".
Vishnu is bang on target. The private school system in India has grown exponentially over the last 25 years or so, plugging the huge gap between the less than acceptable learning outcomes of public sector schools and the norms of the national education policies/NCF. Editors like Dilip Thakore have done exceptional work in highlighting the role of the private sector in improving the scholastic educational standards in the country. Yet, there are myths, perpetuated by vested interests and people with narrowly partisan agendas whose ability to be social climbers into commando comic TV shows has had a deleterious impact on the understanding of the average parent about private schools.
Please consider the following:
Land costs
National, State, Board norms and regulations
Infrastructural costs
Limited and less than desirable fee structures
The mandate of 7th pay commission salaries for teachers
There is this mistaken belief, unencumbered by facts and reality, that private schools charge astronomical fees and indulge in profiteering. The disinformation against private schools is often worse than the COVID-19 infodemic. Yes, there are a few black sheep as is the case in every field. The reality today is deeply distressing.
These facts may enlighten you better:
74 per cent have collected less than 25 per cent fees of the due amounts in March 2020
Only 22 per cent of schools have the ability to pay salaries post-May 2020.
Budget schools, the majority of private schools, do not have cash reserves.
Reserve funds, mandated by the authorities for a rainy day, are unavailable for schools today.
The recent Delhi High Court ruling is like a glass of water in a super parched desert. Millions of teachers across India are working very, very hard to make online learning workable. They are battling technical skill, connectivity and understanding issues in order to make our children learn. The socio-emotional toll on the teacher is a silent pandemic by itself. The stress level among teachers has hit the roof and beyond. This requires immediate solutions and they are workable.
Solutions:
States to withdraw the misguided orders of fee nonpayment
State-level coordination committees to be formed with all the stakeholders represented
Schools to reach out to the parents and explain the reality on the ground
Parents to put across their points of view
A mutually-agreed payment schedule to be made
Avoid social media campaigns to stigmatize teachers
Optimise online/remote learning
CBSE, CISCE, IB and various State Boards to come out with balanced advisories for parents and schools
HRD Ministry to coordinate the process
The rest of the world is paid for the new normal, WFH and accepted. But teachers are questioned for going beyond the call of duty. What a contradiction!
Author Col A Sekhar is an Educational Consultant
What is Hybrid/Blended Learning?
We are lifelong learners and need to keep pace with the fast-paced technology so that our students are ready to take the next leap. Our classrooms have to echo that thought and vision at all times through new pedagogies and teaching-learning strategies.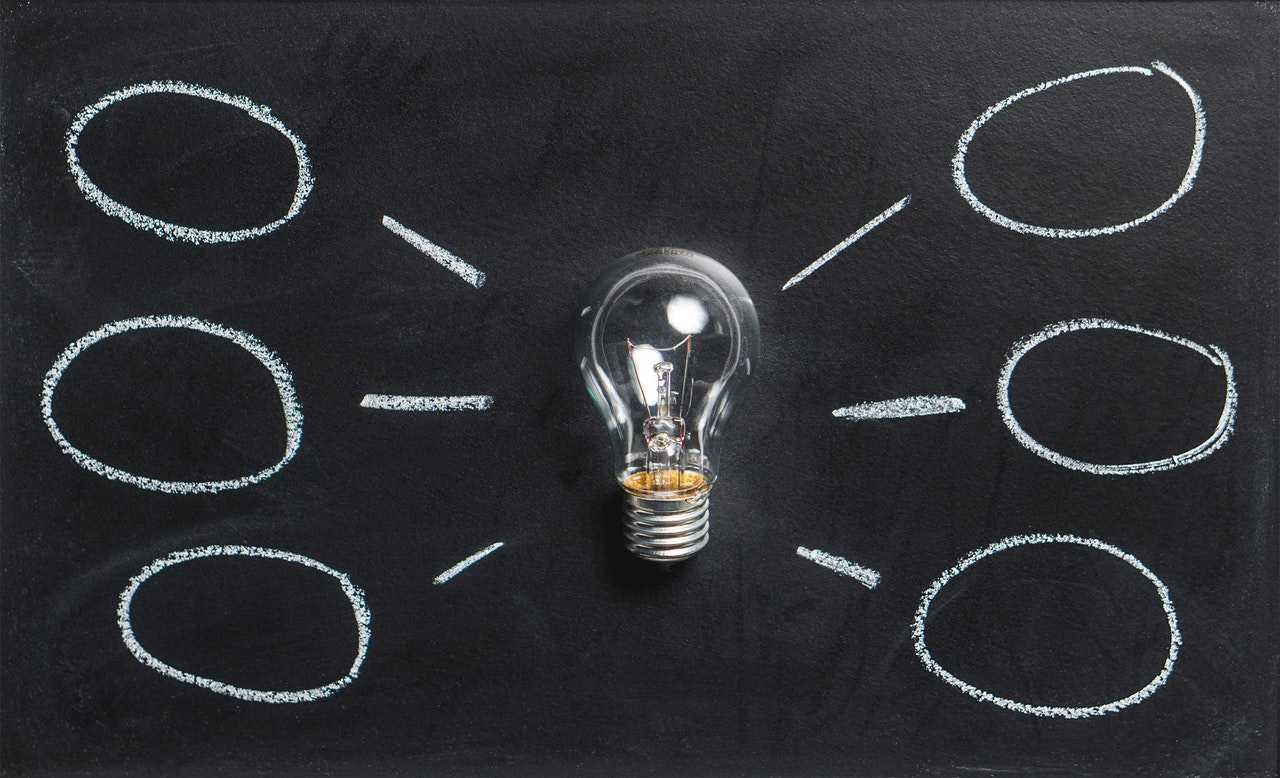 The COVID wave – consider it a bane or boon – but it somersaulted us to an array of digital world experiences. It propelled us to rethink and reorganize our mindsets, our practices, and our expectations. Overnight, we moved from an offline teaching mode to online, and credit to the teaching community for doing it so seamlessly. Now, we are back to offline teaching but do we continue with our old practices? An obvious no so we need to infuse our online experiences within the offline to ensure that quality education reaches one and all.
One key pedagogy to achieve the goal is blended learning, an approach that combines face-to-face learning with online learning incorporating certain elements that support students to have control over the pace, time, and place. The material resource investment is minimal but human resource investment is high till the ethos is assimilated within all.
So let's understand the varied types of blended learning and its implementation in the school teaching-learning process.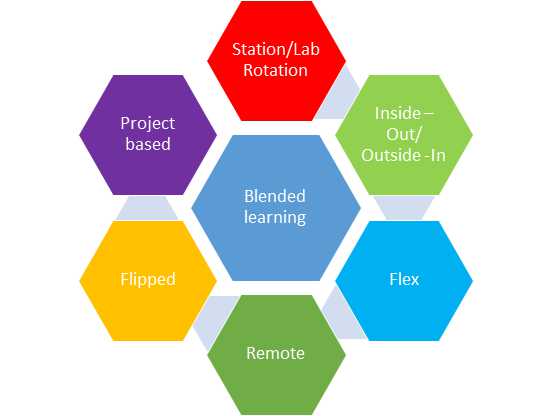 1. Station Rotation
In Station Rotation, students will rotate on a fixed schedule as per the teacher's discretion. The teacher begins her class of 40 students with instruction on narrative writing from 9:00 am to 9:15 am. She then splits the class into three groups where one group continues to learn with her. The second group works on a collaborative assignment on narrative writing and the third use their laptops or computers placed in the class and researches blended learning and after 15 minutes the group switches so that every group has varied experiences. A block class of English can support the various transactions and supports students to build research, collaborative and knowledge skills.
In the same format, if computers or laptops are not available in class then students use the computer laboratory in school and this rotation would then be called as Lab Rotation.
In this methodology, all students with varied learning needs are supported. The only challenge is the Technology and time management skills.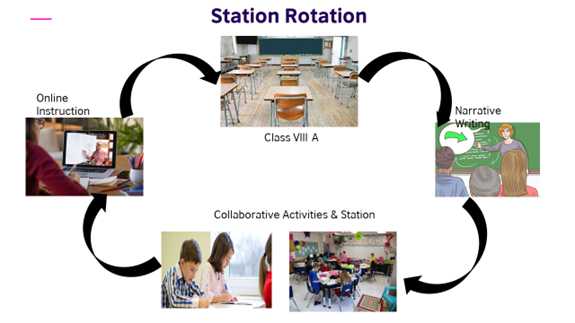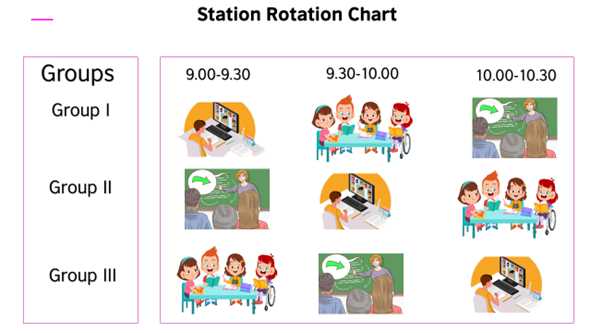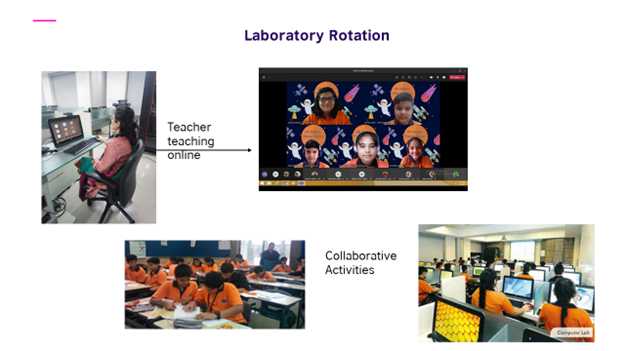 2. Remote & enriched virtual learning
It is a course or subject in which students have required face-to-face learning sessions with their teacher of record and then are free to complete their remaining coursework remote from the face-to-face teacher. In class, the teacher gives a project to students on 'Analysing any work of Shakespeare's or Rabindranath Tagore's Kabuliwalla' w.r.t. the criterion of plot, characters, theme, language, thought and values.
She briefs students on works of Shakespeare and the elements of a play within the school timetable and they complete all the work at home.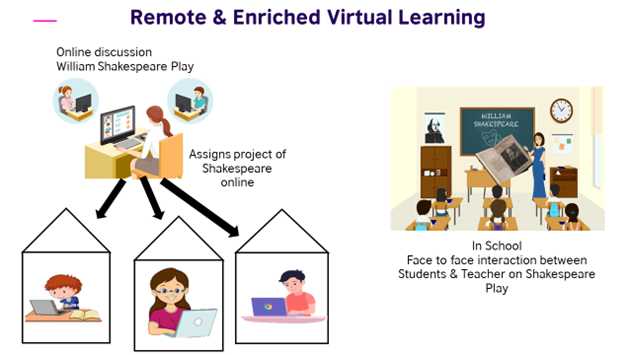 3. Flex blended learning
During certain weekends if the teacher wishes to support the students further in class especially if the concept has been challenging or students have underperformed in an evaluation, the teacher records her remedial teaching and uploads in-class computers. She designs a task around remedial teaching. She expects students to report to school wherein students enter the class on their own time, access the teaching, complete the task and leave. If they have any further doubts, they could approach the teacher in the school or their peers. A useful TIP would be for the teacher to Collaborate with their colleagues in club activities.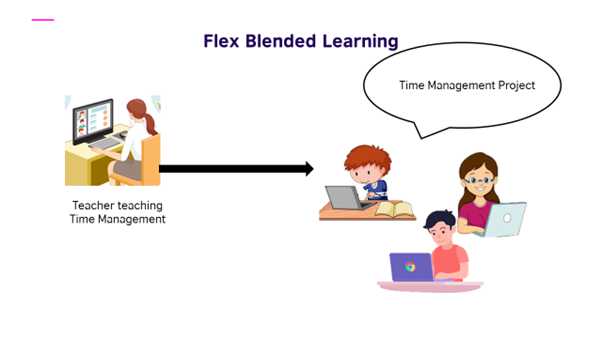 4. Flipped learning
As per TeachThought, a flipped classroom is a type of blended learning where students are introduced to content at home and practice working through it at school. This is the reverse of the more common practice of introducing new content at school, then assigning homework and projects to be completed by the students independently at home.
This methodology is most useful when you want students to have some knowledge of the content before analyzing it further. So if a teacher wishes to conduct a 'Book review'. She shares the e-book, 'Totto-chan' with the students. She asks them to read and shares certain discussion points. In school, students discuss the book and write personal book reviews. The teacher has used her class time constructively and has been to achieve greater learning outcomes.
5. Individual rotation blended learning
As per https://www.blendedlearning.org/models/, the Individual Rotation model allows students to rotate through stations, but on individual schedules set by a teacher or software algorithm. Unlike other rotation models, students do not necessarily rotate to every station; they rotate only to the activities scheduled on their playlists.
The teacher allows students to rotate through different kinds of classrooms called stations. A specific ILP [Individual learning plan] is created for each student. For example: Parth and Mona's examples work on clauses, Mona is struggling with Clauses so she attends classes and solves assignments whereas Parth will attend classes, watch a few videos, and also complete a research project on clauses. Thus the teacher knows her students' skills in greater depth and supports them individually to achieve her target learning outcomes.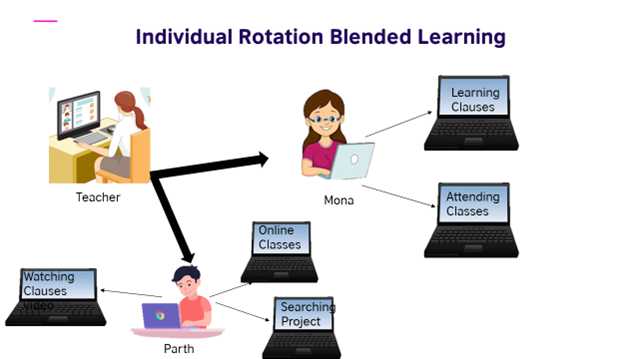 6. Inside-out and outside-in blended learning
In Inside-out, teaching and learning begin inside the classroom and move to an outside environment and in an outside-in classroom, it begins in an outside environment and moves inside the classroom. In a class environment, the Teacher discusses with students about 'Sound of Music' in class and ends the lesson by taking them to the theatre to watch the play. In Outside-In, Students watch the play in a digital environment and end the lesson in a physical environment by conducting role-plays.
The list of models is many but one has to review their resources and plan accordingly.
One can mention that they may face challenges in terms of technology, lack of training on digital platforms, lack of resources to create self-paced learning environments, or time management with vast syllabuses to complete.
Certain tips that can come useful are:
1. Teachers can begin with easily available digital content like Khan Academy, Pinterest, discovery Education, PBS Learning Media, and much more.
2. Review the available resources and plan a timetable. Most importantly, a team achieves more so collaborate with your colleagues in club activities.
3. Take small simple steps – "The journey of a thousand miles begins with one step." Lao Tzu. Choose the model that you are comfortable executing and then move forward.
As teachers, we are ever-evolving and we are that one profession that creates more professions so our responsibility and accountability stretch beyond the classroom. We are lifelong learners and need to keep pace with the fast-paced technology so that our students are ready to take the next leap. Our classrooms have to echo that thought and vision at all times through new pedagogies and teaching-learning strategies.
References:
Christensen Institute, Blended Learning definitions, https://www.christenseninstitute.org/blended-learning-definitions-and-models/
About the author:
Kavita Sanghvi holds a Masters in Physics, Masters in Education, Masters in Philosophy of Education, and CAEL [Certificate in Advanced Course in Educational Leadership] Diploma from Harvard University. She heads SVKM's CNM School, in Mumbai. She is a Teach SDG's Ambassador, Climate Action Ambassador, and Scientix Ambassador for India. She is a British Council Trainer and Ambassador.