St. Xavier's Sr. Sec. School celebrates platinum jubilee
What began as St. Mary's Boy's School in the year 1941, has blossomed into one of the many prominent schools of the city in a span of 75 years.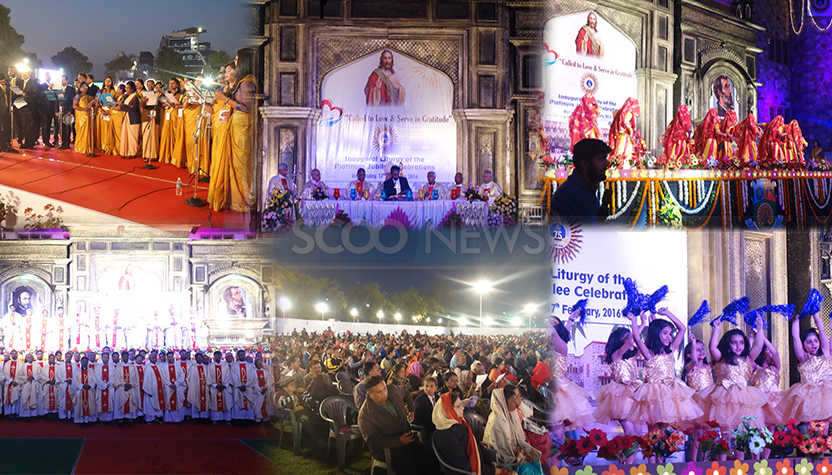 What began as St Mary's Boy's School in the year 1941, has blossomed into one of the most prominent schools of the city in a span of 75 years. We are talking about none other than the prestigious St. Xavier's Sr Sec School, renamed in January 1945. This year, starting from 17 February, the school celebrates its legacy.
The celebration on the first day began with remembering the Almighty at the Thanks giving Eucharistic Mass and continued with the Civic Function.
His Grace Salvatore Pennacchio- Apostolic Nuncio, India and Nepal, Archbishop William D'Souza-Archi diocese of Patna, Bishop Oswald Lewis- Diocese of Jaipur, Bishop Pius Thomas D' Souza- Diocese of Ajmer, Bishop Ignatius Menezes- diocese of Ajmer, Fr Varkey Perekkatt, SJ- Provincial of Delhi Jesuit Province, Fr Jose Vadassery, SJ- Provincial of Patna Jesuit Province marked their presence for the evening.
The civic function started with principal Fr. John Ravi, S.J thanking all for their presence. He said that it was their honour to have his Grace Salvatore Pennacchio- Apostolic Nuncio, India and Nepal amongst them, as he is the representative of Pope Francis and had brought his blessings for them.
Reminiscing St. Xavier's glorious history and talking about the school's principles, he said that we at Xavier's don't just believe in scoring high marks, but, "We celebrate those students who dare to make a difference." To that Fr  VarkeyPerekkatt, S J added, "We take note of all those people who have been part of our long journey…  I would like to thank all those people who have made Xavier's what it is today."
Little girls decked up in gold dresses with blue pom-poms in their hands, they completely  changed the mood and took the audiences into a different world by their performance on the school's Jubilee song 'You will remain in memory.'
The function would not be complete without a touch of the traditional, so, next there were a couple of dances performed on a medley of Rajasthani songs.
Next up was a documentary that threw light on the various facets of the distinguished school and its magnificent 75 years
At the end, His Grace Salvatore Pennacchio- Apostolic Nuncio, India and Nepal addressed the gathering, Rector Fr Glem Menezes, SJ gave his vote of thanks and the function concluded with the school's cheer song.
UNESCO Launches 2020 State of the Education Report for India: Vocational Education First
The second edition of the State of Education Report focuses on technical and vocational education and training (TVET).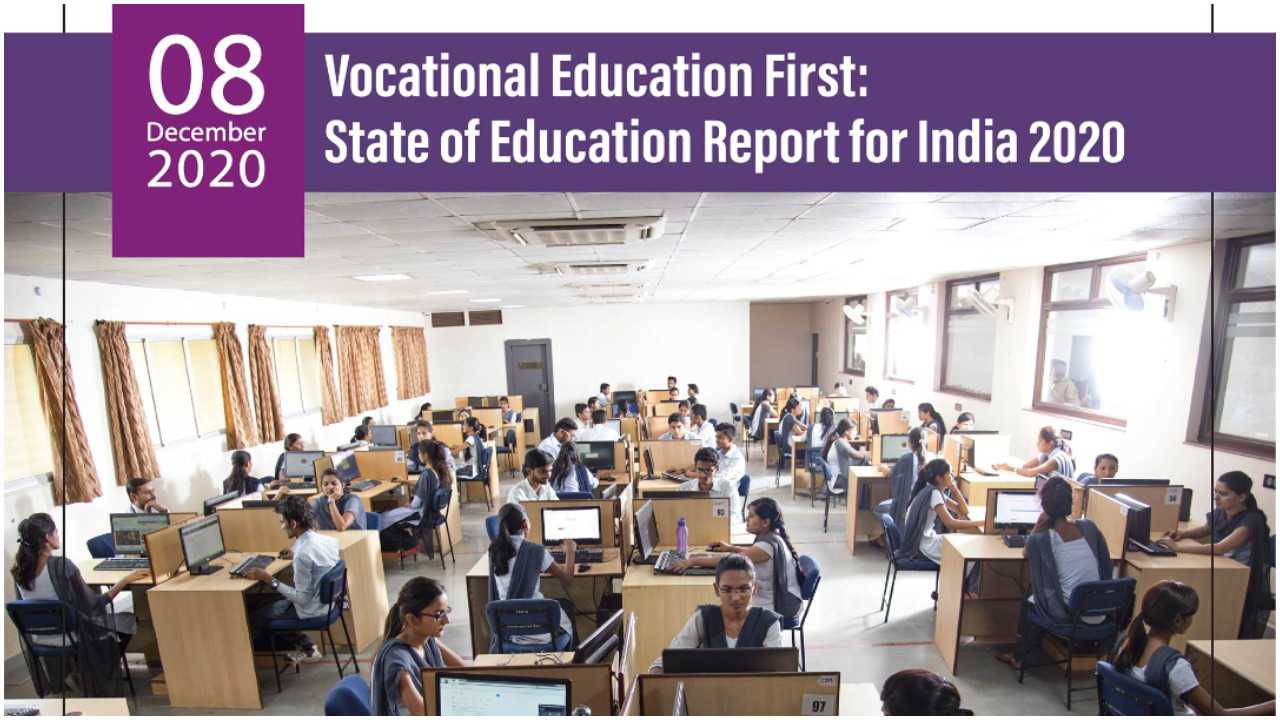 New Delhi, 3 December: The 'State of the Education Report for India 2020: Technical and Vocational Education and Training (TVET) ' was launched virtually today by UNESCO New Delhi, with over 400 attendees, including representatives from the government, civil society, academia, partners and youth.
The second edition of the State of Education Report focuses on technical and vocational education and training (TVET). India's often cited demographic dividend, the aspirations of its youth and the skill requirements of the growing economy – all hinge on a well-functioning TVET system for achieving an inclusive and equitable growth that will propel the country to the next phase of socio-economic development. The report aims to support the Government of India which has already announced skills development as a key national priority under the Skill India Mission.
"The Report identifies TVET as a key tool for recovery and rehabilitation through a rapid response system of skilling, upskilling and re-skilling. Despite the challenges, the global COVID-19 pandemic has provided an opportunity to expand the digitalization of vocational education and training ensuring the use of distance learning and digital tools", said Eric Falt, UNESCO New Delhi Director.
"With the recent launch of the National Education Policy (NEP) 2020, the relevance of this report is enhanced further as it provides useful inputs for implementing the ideas proposed in the 2020 NEP. I hope this publication will enable cross-learning among the multiple stakeholders of the vast vocational education ecosystem and adoption of best practices," said Shri Ramesh Pokhriyal 'Nishank', Hon'ble Minister of Education, Government of India.
"Our Ministry is making continuous efforts to enable social justice and livelihoods through quality lifelong learning opportunities for all. This report, I am sure will provide useful guidance and promising practices towards our endeavour and ongoing efforts towards the achievement of the Skill India mission", said Shri Mahendra Nath Pandey, Hon'ble Minister of Skill Development and Entrepreneurship, Government of India.
As a technical and financial partner to UNESCO's TVET State of the Education Report 2020, the American India Foundation aims to build upon its strong legacy of education and livelihood programmes for India's youth and women, through remote learning and virtual skilling methods, thereby aligning with the National Education Policy 2020. A rapidly evolving employment landscape, brought on by the COVID-19 pandemic, has necessitated that skilling is reoriented towards the needs of the hour", said Mathew Joseph, AIF's India Country Director.
With an in-depth analysis of the current state of TVET in India highlighting next practices and recommendations, the report aims to serve as a reference tool for enhancing and influencing the policies and programs related to skills development in India. It can be used by TVET practitioners, policymakers, private sector and donor agencies for planning future engagements in the TVET sector in India.
India is at an exciting stage today, having made considerable progress towards its goal of creating a skilled workforce of 110 million people by 2022, as stated in the National Policy of Skill Development and Entrepreneurship (NPSDE), released in 2015 [NPSDE 2015]. It is presently training 10 million1 youth annually through the many schemes that are ongoing.
The Report provides an overview of the present capacity for TVET provision through short-term and long-term courses, by the state as well as non-state actors, and also through educational institutions such as schools, colleges and universities. It discusses previous education policies and the approach to TVET provision in the light of the priorities of the country as reflected in NEP 2020, as also the priorities that have come with the adoption of the 2030 Agenda for Sustainable Development of the United Nations (UN).
Finally, in order to achieve evidence-based results, the Report outlines a set of ten recommendations that should be adopted to help achieve the stated vision for TVET in the country. These include critical recommendations for informal workers who make up the largest portion of India's workforce. In particular, the Report makes important recommendations towards preserving and promoting India's vast reserves of tangible and intangible cultural heritage, an activity that can create livelihoods for large numbers of its citizens and also instil a sense of pride and ownership among the youth.
The ten recommendations are:
· Place learners and their aspirations at the centre of vocational education and training programmes
· Create an appropriate ecosystem for teachers, trainers and assessors
· Focus on upskilling, re-skilling and lifelong learning
· Ensure inclusive access to TVET for women, differently-abled and disadvantaged learners
· Massively expand the digitalization of vocational education and training
· Support local communities to generate livelihoods by engaging in the preservation of tangible and intangible cultural heritage
· Align better with the 2030 Agenda for Sustainable Development
· Deploy innovative models of financing TVET
· Expand evidence-based research for better planning and monitoring
· Establish a robust coordinating mechanism for inter-ministerial cooperation
The substance of the Report has been developed by an experienced team of researchers from the Tata Institute of Social Sciences, Mumbai, under the guidance of UNESCO New Delhi. The technical and financial partner — American India Foundation (AIF), is a leading not-for-profit organization committed to improving the lives of India's underprivileged, with a special focus on women, children, and youth.
As part of the launch, the media will have access to the following audio-visual products that include:
Note to the Editors:
The State of the Education Report for India is one of UNESCO New Delhi's flagship reports to be published annually. Its main objective will be to monitor progress towards the education targets in the Sustainable Development Goals (SDGs).
UNESCO has developed a Strategy for TVET (2016-2021) in alignment with Sustainable Development Goal 4 and the Education 2030 Framework for Action to strengthen TVET systems of Member States and advance youth employment, access to decent work, entrepreneurship and lifelong learning opportunities in specific national contexts.
The TVET Strategy for 2016 – 2021 has three priority areas:
· Fostering youth employment and entrepreneurship
· Promoting equity and gender equality
· Facilitating the transition to green economies and sustainable societies
About UNESCO:
UNESCO is the United Nations Educational, Scientific and Cultural Organization. It seeks to build peace through international cooperation in Education, the Sciences and Culture. UNESCO's programmes contribute to the achievement of the Sustainable Development Goals defined in Agenda 2030, adopted by the UN General Assembly in 2015.
In this spirit, UNESCO develops educational tools to help people live as global citizens free of hate and intolerance. UNESCO works so that each child and citizen has access to quality education. By promoting cultural heritage and the equal dignity of all cultures, UNESCO strengthens bonds among nations. UNESCO fosters scientific programmes and policies as platforms for development and cooperation. UNESCO stands up for freedom of expression, as a fundamental right and a key condition for democracy and development. Serving as a laboratory of ideas, UNESCO helps countries adopt international standards and manages programmes that foster the free flow of ideas and knowledge sharing.