Students Find Themselves with JLF Youth Outreach Workshop at Jayshree Periwal School
When the world is shrinking to an online platform, there are some who are still stuck with fighting for basic necessities. A few students of Jaipur's top schools and some of rural areas come together… and try to bridge the gap.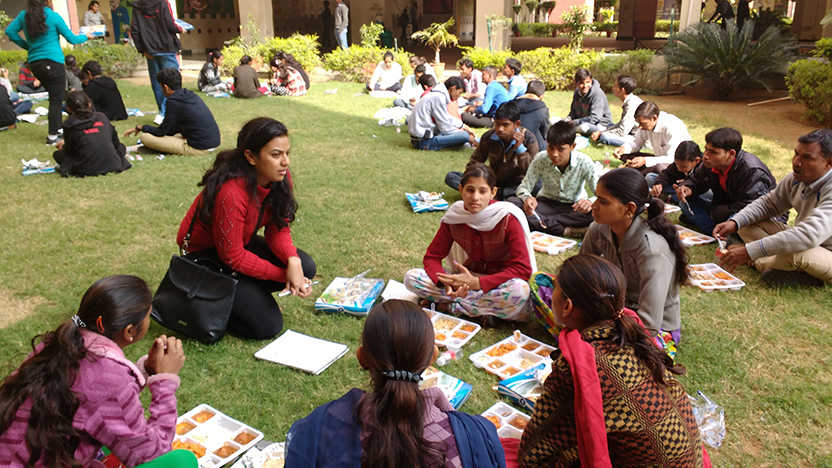 On a cold, wintry Makar Sankrant, as the city of Jaipur wakes up to festivities and kite flying, 50 young people begin a journey that explores their sense of identity and self-esteem over the next 10 days. The extraordinary journey towards themselves is supported by Jayshree Periwal High School, Teamwork Arts, and The Yuva Ekta Foundation.
The programme aims at bringing together students from different backgrounds to help each one of them examine and understand each others' daily lives and its complexities. Themed as 'Finding Me – a search for identity, a search for self', the programme discusses social justice and equity, integrating rural youth in Rajasthan with their more privileged urban counterparts, through a six-day theatre workshop.
Some of the participants come from places in Rajasthan as far off as Abu Road, Kumbhalgarh, Chittorgarh and Lakshmangarh to Amber on the outskirts of the city. There are others who live in Jaipur and have all the luxuries that life can buy. It begins tentatively —  the outsiders grappling with the anxieties and timidity of being flung so far out of their comfort zone and the host children unsure of how to deal with the guests — to break barriers and bring down walls of class and language with laughter and bonhomie to weave a tapestry of wisdom and love, assimilating each story. Each one is encouraged to speak and to share without fear.
For most of the outsiders, it is the first time they have left their village or town. Wide-eyed, they have entered a proper school for the first time, and most are happy to just get away from the daily drudgery. Girls, from Doosra Dashak in Lakshmangarh are glad they can simply attend school for the first time with no fetching water, no chores to attend to and the outcomes are easy to see.
Talking to ScooNews on the last day of the programme, Pooja Kumari, Rinki bai, Nisha, Raveena, Rajkumar, Zeeshan Khan, Mahipal Singh and Ajay Kumar can't stop talking of how comfortable they are and how much more confident. "The workshop," says group-in-charge Iqbal Khan, "has not only built confidence in children, but also teachers like me." Watching so many students from different strata, mingling together, doing something good has inspired him to make sure he educates his own children and help them build their future.
For the boys from Chittorgarh — Shambhu Lal, Kamlesh, Jagdish, Manoj, and Rakesh — it is simply being able to talk clearly and in English that instils a great deal of pride. are now proud to say that they have started learning to talk clearly and also in English! Mukesh, Amrit Lal and Ashok, all from the rural areas of Abu Road tell us how they now realize that talking to the opposite gender doesn't always mean making a pass at them.
For Barkha, Devesh, Sai, Radhika and Simran, of Jayshree Periwal High School, and Anmol Gupta, Divyanshi Sarin, Ishita Khandelwal, Malya Sharma, of Class 11, Rukmani Birla Modern High School, this is a huge learning ground. They have experienced what they have studied in their geography and history books. "Lack of water? No classrooms? No English?" What had bothered them so far had been late-night parties, latest mobile phones or fashion. The lack of water or girls their age walking long distances to fetch it was something they had believed existed only in books! Reality check!
What the children have learned with each other will now show its outcome in different schools of Jaipur over the next four days of the festival as they perform across the city in eight schools and a community, inviting other young people to share their journey.
The children from rural areas hope to be heard by the students of the city's prestigious schools and the children of prestigious schools hope to be heard by their counterparts in other city schools who tread on a different path. And both groups hope to find themselves… a new self within the existing self, accepting others just as they are, dealing with everyday issues of growing up … empowering themselves and future generations.
Participating schools:
1. Jayshree Periwal High School
2. Jayshree Periwal International School
3. Maharani Gayatri Devi Girls School
4. Sawai Man Singh Vidyalaya
5. Rukmini Birla Modern High School
List of NGOs:
1. Digantar, Jaipur
2. Doosra Dashak, Lakshmangarh & Alwar
3. Jan Chetna Sansthan, Abu Road
4. Buniyad Sansthan, Kumbhalgarh
Sarala Birla Gyan Jyoti honoured with prestigious 'Climate Action Project School of Excellence' Award
Only 250 schools globally were recognized because of their intense work on climate education in a whole-school approach. The recognition was awarded by Cartoon Network Climate Champions and Climate Action Project.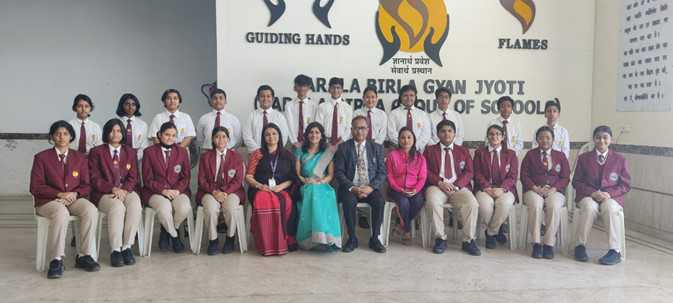 Sarala Birla Gyan Jyoti in Guwahati, India, was awarded the Climate Action Project School of Excellence. Only 250 schools globally were recognized because of their intense work on climate education in a whole-school approach. The recognition was awarded by Cartoon Network Climate Champions and Climate Action Project.
Cartoon Network Climate Champions is a climate change awareness initiative that sets out to inspire kids to take on daily challenges that collectively can make a big difference to the health of our planet. It has been developed in collaboration with WWF, a world-renowned environmental organization.
Climate Action Project is a free, global education project that was launched by Take Action Global, an education non-profit based in the USA, involving 2,700,000 teachers and students across 146 countries. The project aims to help students learn about the climate crisis in authentic ways and disseminate solutions online. The recognized schools submitted their work for the past year and met extensive criteria, including a school-wide commitment to climate education and student solutions.
Sarala Birla Gyan Jyoti has participated in global projects RiseUp4SDGs (India), Let's Be Human, Be One (Serbia), LeapEd Global Learning – Climate Change (Malaysia), the 17 Sustainable Development Goals competitions, implementing the three R's schoolwide and planting gardens in the community, at home and school. Students committed to training to become active Global SDG Ambassadors to raise awareness during virtual Student Hubs with 21 other countries. Students also actively collaborated with students in Brazil, Croatia, South Africa, Sweden and the UK in task-based projects. Currently, all Climate Change projects are student-led.
The selected 250 Climate Action Project Schools of Excellence were announced on 4 November 2021, during Climate Action Day, an annual online live event attended by 250,000 people globally. The event speakers included HRM Prince William, President James Alix Michel, Seychelles, Rick Davis, NASA, Matt Larsen-Daw, WWF, HRM Princess Esmeralda, Belgium, Juan Pablo Celis Garcia, UN Environment Programme, and other world leaders and climate scientists.
The winners were announced by Dan Russell, the voice actor behind several characters in Cartoon Network global hit series The Amazing World of Gumball, and Nandi Bushell, an 11-year-old musician, an influencer, and passionate climate advocate.
Statement by HRM Prince William "We need youth's creativity to repair our planet. We need students to invent and to innovate – to think beyond where we are now and to be optimistic about our future."
Statement by Koen Timmers, Climate Action Project: "Young people have the capacity to do more than learning about climate change. They all can come up with solutions, take small actions, and inspire others to change their lifestyles."
Statement by Dr. Jennifer Williams, Climate Action Project: "Our community of educators has come together in support of climate education for all. We are committed to ensuring students have access to information, ideas, and opportunities to take action for the planet, and, today, these Schools of Excellence are leading the way for the entire world."
Statement by Dr. Diganta Halder, Principal Sarala Birla Gyan Jyoti: "Stopping Climate Change has become a critical issue that needs to be addressed by every human being, but even more importantly in our schools. Students should be aware of Climate Action and the importance of achieving the goals set by the United Nations for peace and prosperity for all by 2030 and to become leaders of impact in the future."