Students of Sanskar School Jaipur Display Transition in Life Styles
Sanskar School, Jaipur today organized a day full of activities for the students of Class 6th. The day was themed on the changes coming in our society with the advent of technology. Students presented the theme through skits, music, taekwondo,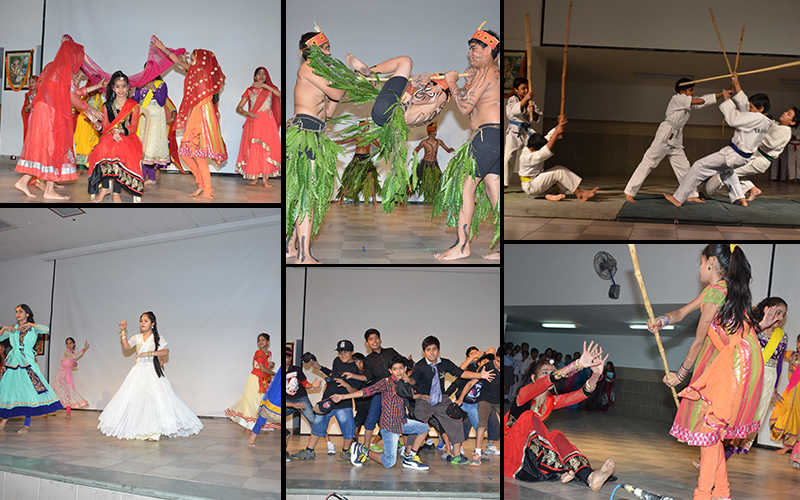 Sanskar School, Jaipur today organized a day full of activities for the students of Class 6th. The day was themed on the changes coming in our society with the advent of technology. Students presented the theme through skits, music, taekwondo, dance, and exhibition.
Standing true to its name, Sanskar School under the supreme guidance of Mrs. Rama Datt (Principal Ma'am), ingrains the most required values in each of its students. The idea behind this theme was to make the new generation students and parents realize what best they are missing from the older generation.
The event started with the Principal Ma'am invoking the deities and lighting the holy lamp, next to which Vice Principal, Mrs. Neelam Bhardwaj, warmly welcomed the guests. She not only welcomed students, but greatly encouraged each and every student and their parents as well. She laid stress on the way participation in such activities develops 'I can do it' attitude in kids.
First on stage were a group of students who took the audience through history of India as students enacted various eminent personalities from the proud Indian history.
Next on stage was a beautiful journey of a girl child, who was forced into child marriage, but did not stop her studies. The girl child, though married, flourished well and made a successful career. This was a musical skit, performed on songs like, 'Bekhauf azaad hai jina mujhe', 'School chalen hum,' 'Ye hauslon ki udaan hai' and a few more. The skit was definitely a hard-hitting one, but also had some message behind it.
This was taken over by a Taekwondo show by some of the top performers of the school, lead by Master Yashvardha Maheshwari. This young student needs some special word of appreciation as he at his age has already won accolades in Taekwondo. The students sent across a message through their performance as Pavitra Sharma, another student of Class 6, came forward to show how girls can use self-defense to keep themselves safe from miscreants.
Next came a group of singers, who beautifully sang the message of accepting the changes.
Some students, dressed in their school uniform, then presented a skit revolving around a family to show three generations staying together yet being apart. While the grandparents woke up early and advised for the same, advocating the benefits of timely breakfast, healthy meals, sports activities, etc., whereas the middle generation preferred waking up late, though the latest generation woke up later still. As the Mom-Dad allowed junk food to the kids, grandparents advised them against it, while the kids just couldn't stop craving for it! While the grandparents demanded newspapers, others preferred reading it online either on their laptops or their phones, as the kids hardly bothered for anything more than cartoon shows. The aim behind this skit was to discuss how changes need to be accepted for good and not for bad.Change, an inevitable thing, needs to be accepted, but positively.
India's diversity was also put on show as next was a dance show … uhmm, basically a combination of three dance shows. It started with tribal dance, followed by a mesmerizing Kathak performance, taken over by a group of slow-motion dancers.
Students then presented their survey about the transitions taking place in the society.
The stage performances ended with Principal Ma'am, Mrs Rama Datt, coming on stage to appreciate and congratulate every student for their performances. She started with what made the entire auditorium echo with claps. "I love you more" were the first words from her. And the hoots from the auditorium let us know that these kids love her back!
She advised students about healthy lifestyles, yet to accept the changes, as the changes too are beautiful and the need of the hour.
Thanking students and teachers for all the performances, she then invited the parents to visit the exhibition depicting the changes in the society, which had put on display models of modern equipments used these days.
Smile Foundation and Shell Launch STEM Project on Pi Day
The initiative will benefit less-privileged students from government schools.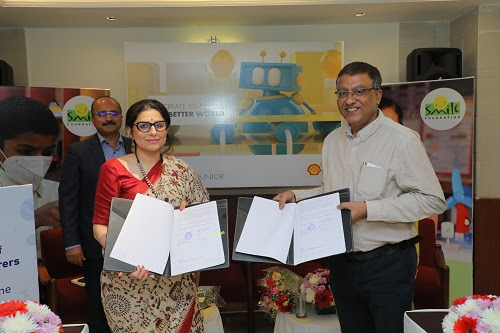 On the occasion of International Pi (π) Day, Smile Foundation and Shell launch 'NXplorers Junior' programme in three Indian states. NXplorers is Shell's global flagship Social Investment STEM (Science, Technology, Engineering, and Mathematics) educational programme aims to benefit over 25,000 children during the first year by enabling them to understand, navigate and address local and global challenges, as underlined in the Sustainable Development Goals (SDGs). NXplorers is also aligned with the National Education Policy 2020 and delivers societal benefits.
The innovative initiative will benefit less-privileged students from government schools and affordable private schools, studying in rural and hard-to-reach areas in the states of Andhra Pradesh, Telangana and Kerala. Its design also includes endeavour to create awareness amongst parents on the importance of STEM education, especially for girl children.
"Shell firmly believes that, provided with the necessary skills and guidance, young people can be a driving force to find sustainable solutions to the major global challenges of our time. Launched in 2018, Shell's global flagship STEM programme NXplorers is aligned with the National Education Policy 2020 that aims to transform India into an equitable and vibrant knowledge society. With the Smile Foundation partnership, we aim to expand this programme to Andhra Pradesh, Kerala, and Telangana and offer young minds the platform to design sustainable solutions to ease the pressure on food, water, and energy," said Ms. Latika Taneja, Head of Corporate Relations – India.
The programme is being rolled out in concurrence with the educational authorities of the respective state governments. Besides students, teachers, parents and communities are involved actively while implementing the programme so that it remains sustainable in the long-term.
"We are excited to roll out this innovative programme in India. We are hopeful that our children will not only leverage STEM education in building their future career but also will grow up and develop leadership ability in finding sustainable solutions in various walks of life," said Mr. Santanu Mishra, Co-founder & Executive Trustee, Smile Foundation.
The NXplorers Juniors will train both 6th and 7th grade students. NXplorers Juniors Level-I course will be delivered through a combination of teacher's guide, PowerPoint slides, and several instructional videos. The facilitator guide will outline the essentials to be covered in each session, exercises, discussion, checkpoint questions, a summary, assessment, and research to be undertaken by students after the session.
The United Nations Sustainable Development Goals (SDGs), exploring SDG Solutions, researching global goals, and developing a challenge and choosing a solution etc. are covered in the NXplorers Juniors Level-1.
NXplorers – Learning for a Life Time, envisions to provide a minimum of 3-5 years of NXplorers exposure to the students at various levels. The objectives include developing strong knowledge and skill set among students so that local and global challenges can be addressed by them. Developing sustainable models of implementation by engaging teachers, school leaders and communities effectively, creating awareness amongst parents regarding the importance of STEM education, especially concerning girl education are part of the overall goals.
About Smile Foundation
Smile Foundation is a national development organization directly benefiting over 1.5 million underprivileged children and their families every year through more than 400 welfare projects in education, healthcare, livelihood and women empowerment spread across 2,000 remote villages and urban slums in 25 states of India.
About Shell
Shell is one of the most diversified international energy company in India with over 10,000 employees and presence across upstream, integrated gas, downstream, renewable energy, and deep capabilities in R&D, digitalisation, and business operations; with a retail presence across six states – Karnataka, Tamil Nadu, Telangana, Maharashtra, Gujarat, and Assam.