Students of Sanskar School Jaipur Display Transition in Life Styles
Sanskar School, Jaipur today organized a day full of activities for the students of Class 6th. The day was themed on the changes coming in our society with the advent of technology. Students presented the theme through skits, music, taekwondo,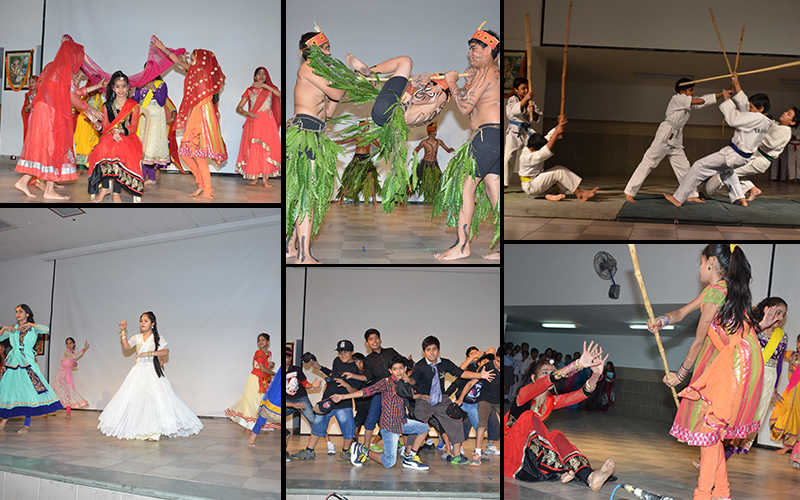 Sanskar School, Jaipur today organized a day full of activities for the students of Class 6th. The day was themed on the changes coming in our society with the advent of technology. Students presented the theme through skits, music, taekwondo, dance, and exhibition.
Standing true to its name, Sanskar School under the supreme guidance of Mrs. Rama Datt (Principal Ma'am), ingrains the most required values in each of its students. The idea behind this theme was to make the new generation students and parents realize what best they are missing from the older generation.
The event started with the Principal Ma'am invoking the deities and lighting the holy lamp, next to which Vice Principal, Mrs. Neelam Bhardwaj, warmly welcomed the guests. She not only welcomed students, but greatly encouraged each and every student and their parents as well. She laid stress on the way participation in such activities develops 'I can do it' attitude in kids.
First on stage were a group of students who took the audience through history of India as students enacted various eminent personalities from the proud Indian history.
Next on stage was a beautiful journey of a girl child, who was forced into child marriage, but did not stop her studies. The girl child, though married, flourished well and made a successful career. This was a musical skit, performed on songs like, 'Bekhauf azaad hai jina mujhe', 'School chalen hum,' 'Ye hauslon ki udaan hai' and a few more. The skit was definitely a hard-hitting one, but also had some message behind it.
This was taken over by a Taekwondo show by some of the top performers of the school, lead by Master Yashvardha Maheshwari. This young student needs some special word of appreciation as he at his age has already won accolades in Taekwondo. The students sent across a message through their performance as Pavitra Sharma, another student of Class 6, came forward to show how girls can use self-defense to keep themselves safe from miscreants.
Next came a group of singers, who beautifully sang the message of accepting the changes.
Some students, dressed in their school uniform, then presented a skit revolving around a family to show three generations staying together yet being apart. While the grandparents woke up early and advised for the same, advocating the benefits of timely breakfast, healthy meals, sports activities, etc., whereas the middle generation preferred waking up late, though the latest generation woke up later still. As the Mom-Dad allowed junk food to the kids, grandparents advised them against it, while the kids just couldn't stop craving for it! While the grandparents demanded newspapers, others preferred reading it online either on their laptops or their phones, as the kids hardly bothered for anything more than cartoon shows. The aim behind this skit was to discuss how changes need to be accepted for good and not for bad.Change, an inevitable thing, needs to be accepted, but positively.
India's diversity was also put on show as next was a dance show … uhmm, basically a combination of three dance shows. It started with tribal dance, followed by a mesmerizing Kathak performance, taken over by a group of slow-motion dancers.
Students then presented their survey about the transitions taking place in the society.
The stage performances ended with Principal Ma'am, Mrs Rama Datt, coming on stage to appreciate and congratulate every student for their performances. She started with what made the entire auditorium echo with claps. "I love you more" were the first words from her. And the hoots from the auditorium let us know that these kids love her back!
She advised students about healthy lifestyles, yet to accept the changes, as the changes too are beautiful and the need of the hour.
Thanking students and teachers for all the performances, she then invited the parents to visit the exhibition depicting the changes in the society, which had put on display models of modern equipments used these days.
GD Goenka's Shooting Championship 2023 to Honour the legacy of Abhinav Bindra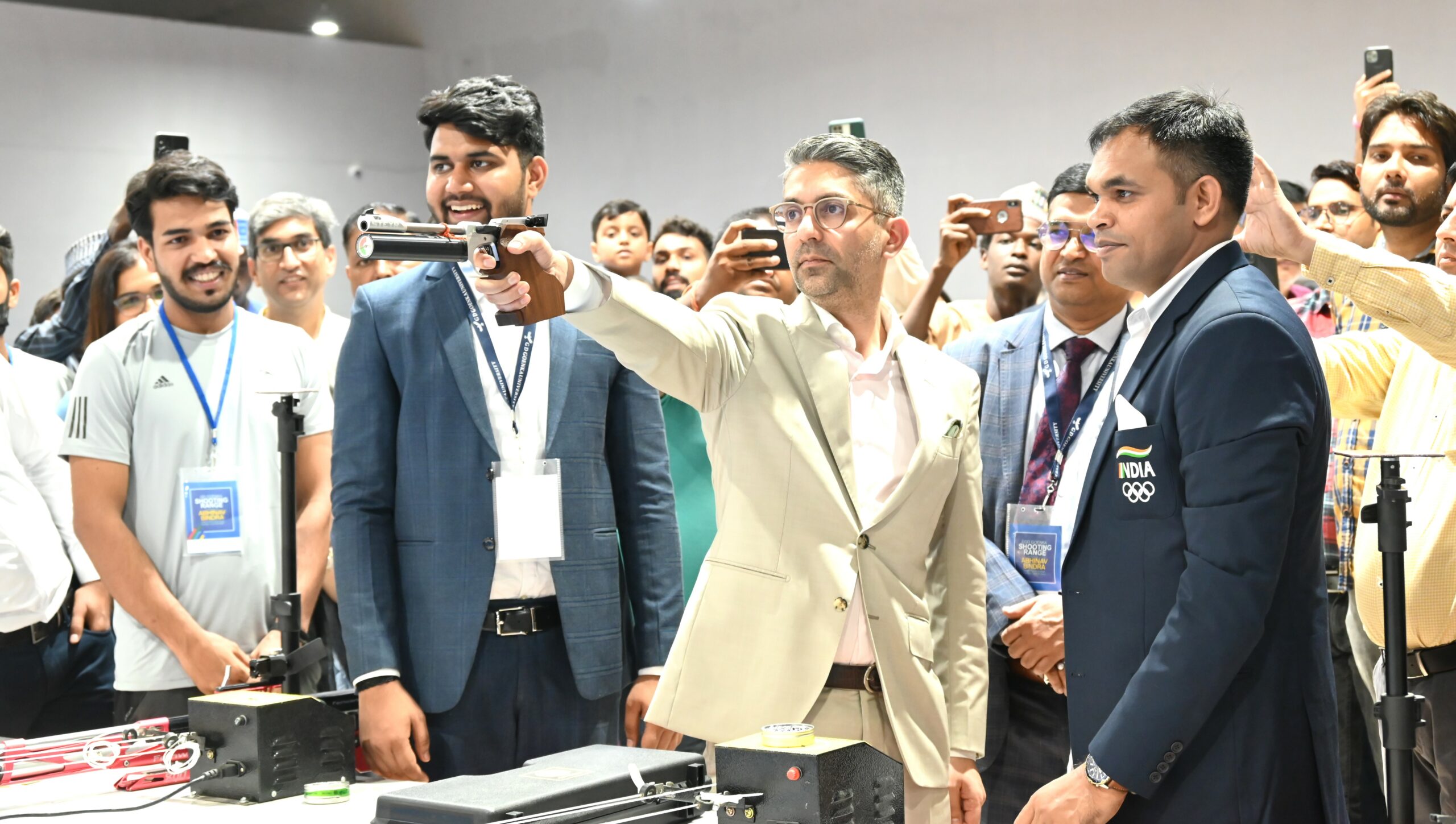 GD Goenka University is excited to introduce the inaugural Gayatri Devi Goenka Memorial Shooting Championship, a remarkable event that underscores the university's unwavering commitment to nurturing sports excellence and paying tribute to the exceptional sharpshooters from all corners of India. Set to be held from September 26 to September 29, 2023, at the GD Goenka Shooting Range featuring 25 professional lanes, this championship is poised to become one of the nation's most prestigious shooting competitions and will be conducted using Electronic Scoring Target System (EST).
This championship serves as a testament to promoting sportsmanship and fostering the talents of both emerging and seasoned shooters. With participation from over 500 competitors hailing from across India, the event promises to be a grand spectacle, celebrating the passion and precision of shooters who have honed their craft to perfection.
Notably, this championship holds particular significance as it pays homage to Abhinav Bindra, India's first individual Olympic gold medalist. The GD Goenka Shooting Range, dedicated in his honor in 2022, stands as a guiding light for aspiring shooters, offering world-class facilities and expert guidance to nurture their talents.
During the inauguration, Abhinav Bindra expressed his thoughts, stating, "I extend my heartfelt congratulations to GD Goenka for the remarkable facilities they have established and the emphasis they place on sports across their educational institutions. I am confident that the students will achieve remarkable success in various tournaments, but more importantly, they will imbibe the values that sports instill in us."
Nipun Goenka, Managing Director of GD Goenka Group, aptly remarked, "The Gayatri Devi Goenka Memorial Shooting Championship transcends mere competition; it's a celebration of the essence of sportsmanship, camaraderie, and unwavering dedication. We take immense pride in providing a platform for India's talented marksmen and markswomen to shine, and we firmly believe that this championship will serve as an inspiration to a new generation of shooting enthusiasts."