Students protest against government apathy: want teachers in schools
May 14 and 15 saw a mass protest by close to 500 students in Khaned who were joined by students from Mang and half a dozen villages. They were demanding teachers in schools and construction of roads to take them to schools. The education department call the protest politically motivated.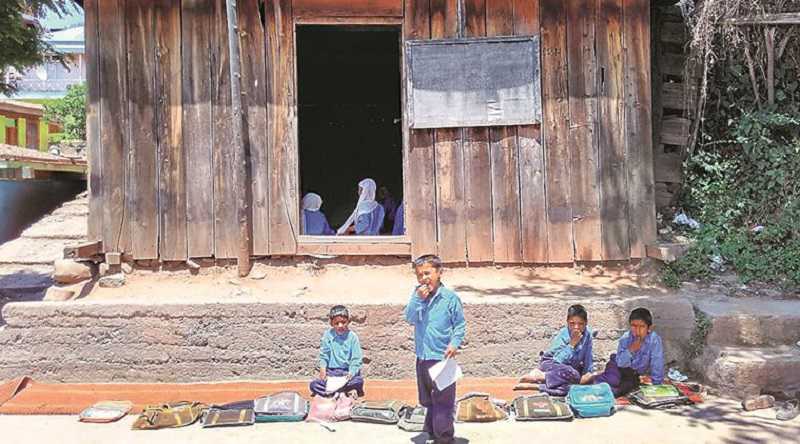 Ranjit Singh and Marfa Kousar both hail from Lodhra village, both study in Class XII Science stream, both trek nearly 6 km through hilly terrain to reach the Government Higher Secondary School in Udhampur. Their daily route passes through a treacherous area prone to falling stones and a fast-flowing Ujh river which can be crossed by walking precariously on a wooden log put across by villagers.
They reach school after the arduous 2 hour trek to the fact that the only class that will be held is for English language, taught by Principal V K Koul. The school is probably one of the only ones in India that doesn't have a teacher for any of the science subjects or for math. It doesn't have a laboratory or a library either. This compelled the previous batch of Class XII science students to walk nearly 15 km each side to the Government Higher Secondary School, Basantgarh, all of September in order to clock in some practical lessons before their annual exams in November. It doesn't come as a surprise that only 1of the 102 Class XII students from the school who took the exams in 2015 managed to pass, while the pass percentage in Class X was 67 %.
Having had enough, the students of Khaned Government Higher Secondary School along with close to 500 students from schools in Panara and nearby half a dozen villages, along with their parents, held a dharna at the tehsil headquarters in Basantgarh on May 14 and 15.
The May 14 march began from Khaned and as the protest march passed villages, other students facing similar problems joined them. Although used to official apathy, they were stunned by the reaction of the Education Department to the protest. Officials termed the protest "politically motivated" and illegal, saying that the students and parents resorted to the protest through the support of politicians, Public Health Engineering workers out to settle scores with superiors over water supply to the school, panchayat members, and even teachers "facilitating" mass copying.
The SDM, Basantgarh claims that the Khaned students were actually unhappy over the administration's crackdown on unfair means in exams and the subsequent mass failure of last year's Class XII batch. He says the protestors were also provoked by the fine imposed upon Principal Koul and 3 teachers for remaining absent.
Although the Khaned school has a sanctioned staff strength of 41, including the principal, the school only had 3 lecturers, teaching Economics, Commerce and English, and only 1master-grade teacher and 3 general line teachers. However, the protest pressured the government into action and the Udhampur Deputy Commissioner issued final notices to 3 lecturers who had failed to join their new postings at the Khaned school. The Basantgarh SDM attributes the shortage of teachers to absence of roads. It takes 5 hours even by a bus to cover the 65 km from Ramnagar to Basantgarh.
Chief Education Officer, Udhampur, Bishan Singh Jaral admits they are facing a shortage of teachers, especially of science, everywhere. A senior official blames the government's expansion in the education sector without improving infrastructure. In 2010-11, he says, the government upgraded 2 high schools and 6 middle schools in Udhampur without providing more teachers.
NIOS celebrates 33rd Foundation Day
Dr. Subhas Sarkar addresses the 33rd Foundation Day Celebrations of NIOS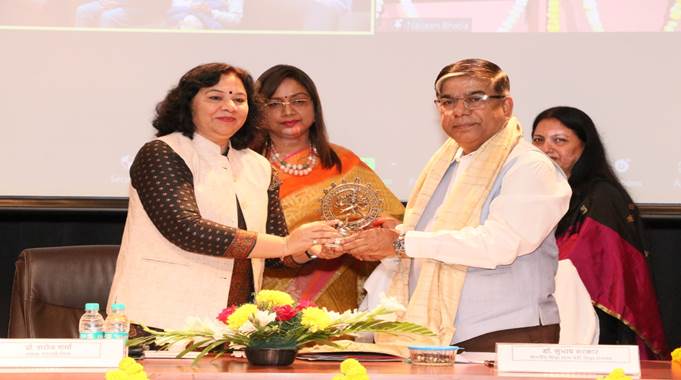 Union Minister of State for Education, Dr. Subhas Sarkar addressed the 33rd Foundation Day Celebrations of NIOS as the Chief Guest.
The function was attended by senior officials of the Ministry of Education, Chairpersons of educational institutions, Heads of Departments, officers, and staff of NIOS. Prof. Naval Kishore Ambasht, former Chairman, of NIOS and Pro-Vice Chancellor, of the Central University of Haryana, Prof. Sushma Yadav graced the occasion.
Dr. Subhas Sarkar in his address appreciated the various programmes and schemes of NIOS and said that NIOS is lighting the lamp of knowledge all over the world. Talking about the Azadi Ka Amrit Mahotsav, he mentioned that today's children will be young people in the age group of 30-40 years on the completion of 100 years of independence and will be responsible for building our nation.
He said that the Ministry of Education has entrusted NIOS with several responsibilities such as developing inclusive education resources, expanding the open and distance education system in states/UTs, translating all courses into more languages as required, creating Indian Knowledge Tradition based courses and propagating Indian culture by translating them into major foreign languages. He also praised the programmes of NIOS enrolling 10 crore adults under 'Basic Literacy Assessment', training of in-service teachers, Gender Green Project, and training in Yoga. He said that Indian Sign Language as a subject at the secondary level has been acknowledged on national and international platforms. He described the launch of an e-library called 'DEEP' by NIOS as a big step forward.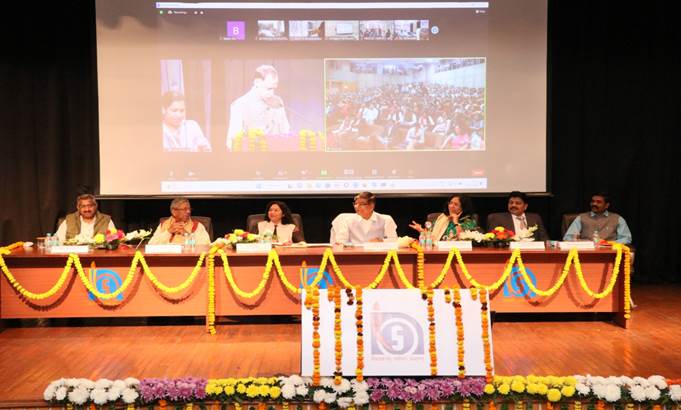 Prof. Saroj Sharma spoke about the journey of 33 years of NIOS and highlighted the special achievements. She said that NIOS is one of the two National Boards of Education under the Ministry of Education, which provides school education through Open and Distance Learning (ODL) for secondary, senior secondary, and vocational education. She elaborated on the role of NIOS in the field of education, efforts being made by NIOS for the successful implementation of the New Education Policy, Virtual Open School, Digital Library (DEEP), NEPIA Project, MoU with Ministry of Defence for Agniveer Project, setting up of Mukta Kaushal Kendras and subjects offered under Indian knowledge Tradition.
It was also conveyed by her that a curriculum called 'Aarambhika' is being developed by NIOS for catering to the Indian Diaspora.
A documentary based on the journey of 33 years of educational endeavours of NIOS was presented on the occasion. In this documentary, 'All England Badminton winner Pullela Gopichand said that most of the players in his badminton academy are getting an education from NIOS.
NIOS alumni, Ms. Niranjana and Vinod Kumar Chaudhary were also felicitated on the occasion. Shri Vinod Kumar said that only due to his education in NIOS, he was able to get the credit of making the Guinness Book of World Records 10 times (8 in Typing and 2 in sports). A proud learner of NIOS, Ms. Niranjana is a successful ventriloquist. Prof. N. K. Ambasht, former Chairman, NIOS said that in this age of technology, innovations must lead to developing 'standalone' courses for the Indian Diaspora, to achieve the goals of the National Education Policy- 2020. Pro-Vice Chancellor, Prof. Sushma Yadav said that the role of NIOS increases in the light of New Education Policy. NIOS has such potential that the institute will be able to achieve the ambitious goals of National Education Policy 2020 in the coming years.
The half-yearly magazine of NIOS 'Pragyan' was released by Dr. Subhas Sarkar on this occasion.