The tale of the meteoric rise and an equally spectacular fall of maths teacher turned millionaire education baron: TR Pachamuthu.
TR Pachamuthu possessed a Midas touch in the field of education and subsequently business. Starting as humble maths teacher to going on to own one of India's biggest education conglomerate, TR Pachamuthu had everything going for him till one day things went horribly wrong and today he is fighting to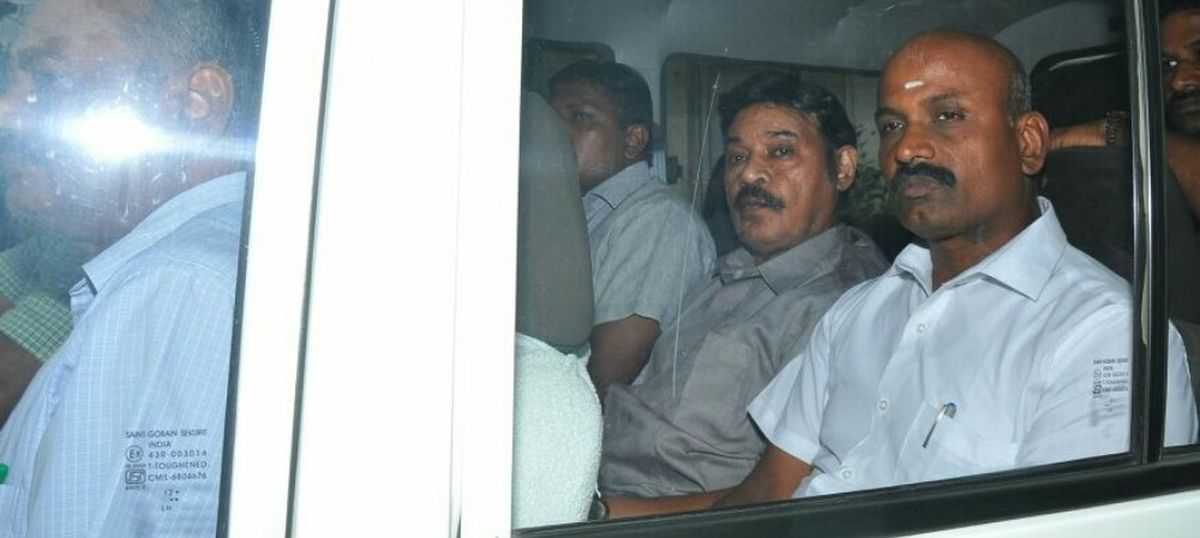 TR Pachamuthu, founder and owner of the multi-crore SRM conglomerate – a group with diverse business interests covering education, transport, media, energy and technology was arrested on August 25 – 2 days after his 75th birthday – on charges of cheating students. Pachamuthu is considered to be the pioneer of education industry in Tamil Nadu.
Pachamuthu's career graph moved only in one direction – up. Born to a modest farmer in the little village of Thandavarayapuram in Attur, near Salem, Pachamuthu began his career teaching mathematics in school.
The beginning as an education entrepreneur
He started by setting up coaching centres in Chennai and Salem for diploma holders from polytechnics who wanted attempt the Associate Member of Institute of Engineers exam. These coaching centres did extremely well. Pachamuthu followed it up by setting up the Florence Nightingale Primary School in KK Nagar in Chennai in 1969. The school was upgraded to a Higher Secondary School in 1982.
Pachamuthu went to associate himself with famous movie star and politician MG Ramachandran also known as MGR. He became the Chief Minister of Tamil Nadu by launching his independent political party the All India Anna Dravida Munnetra Kazhagam in 1977. An aide of Pachamuthu revealed that the SRM Group Empire rose in tandem with MGR's rise.
During MGR's reign, the government began encouraging private colleges in the state. Pachamuthu had some relatives in the new AIADMK party, notably a man called Kovai Thambi who used his proximity to MGR to get Pachamuthu some government land on long term lease in Potheri for his SRM College. Pachamuthu supplemented that land by adding some land that he had bought with his own money and started the SRM College and there was no looking back from there.
The ascent of the SRM group
Then came a spate of launches starting with the SRM College of Engineering was launched in Potheri in Kancheepuram district in 1985, nursing and pharmacy colleges in the early 1990s and the hotel management college and the arts and science college in 1993-'94.
The UGC recognised the engineering college as a deemed university in 2002. SRM University recently set up campuses in Sikkim and Noida.
The diverse family businesses are handled by Pachamuthu and his sons.
While Pachmuthu himself handles transport, catering and real estate, Ravi Pachamuthu, the elder son is responsible for businesses that generate large liquid cash flows. The younger son, Sathyanarayana handles new-age businesses like technology, media and software.
Not satisfied with businesses, Pachamuthu went ahead and floated his own political party, the Indhiya Jananayaga Katchi (Indian Democratic Party) much like his role model MGR who had done the same. Then he launched Tamil news channel Puthiya Thalaimurai (New Generation) in 2011. The channel shot to the top of the popularity charts leaving behind industry leader Sun TV, owned by the Maran brothers.
Trouble began for the group in2013, when following complaints by parents, Income Tax officers raided the premises of SRM Group companies. The parents complained that capitation fee was demanded from them for seats in the SRM Medical College.
Capitation fees are always collected through an intermediary as colleges don't want to get involved directly. In SRM's case, the intermediary was S. Madhan, a young politician who had recently joined the Indhiya Jananayaga Katchi.
Troubled brewed afresh when in May this year, the Supreme Court ruled that the NEET – the National Entrance cum Eligibility Test would determine the admissions to medical and dental colleges across the country.
Several complaints were filed with police June 2 onwards as parents of students seeking admission to SRM's medical courses accused the institute and Madhan of vanishing with the capitation fees. It is believed that a management quota seat in the medical college would cost anywhere between ₹50 lakh to ₹1 crore. The parents filed a total of 16 complaints demanding their money back.
Madhan has been untraceable since May 27, and his family filed a complaint to this effect with the police on May 29.
After much search, a letter allegedly written by Madhan was discovered. In it, Madhan claimed that the SRM chairman's son Ravi was harassing him and suspected him of siphoning off funds. He also mentioned that he was going to end his life by drowning in the Ganga in Varanasi.
On June 6, Madhan's mother, Thangam, filed a petition in the Chennai High Court saying that she feared her son was being held illegally by the SRM management. On August 18, the Madras High Court came down heavily on the Chennai police, asking them why they had not questioned Pachamuthu in the case so far. On August 25, the Central Crime Branch of the Chennai city police interrogated Pachamuthu and subsequently arrested him. He has been charged under Sections 420 (cheating), 406 (criminal breach of trust) and 34 (common intention) of the Indian Penal Code.
According to lawyer dinesh, it is clear that Madhan was acting as an intermediary to get capitation fees for the SRM Group at their behest. In case this was not the case, the management could have issued legal notices in the newspapers stating that they had an arm's length relationship with Madhan and no one should approach him, but no such thing was done.
The lawyer added, that not only Madhan, several IJK members acted in the position of brokers for SRM management seats. Parents who approached the college directly in hopes of getting admissions were directed towards Madhan. These parents still have in their possession chits of papers that they received after paying exorbitant fees to Madhan.
Using media as mouthpieces
Meanwhile there is an ongoing war between Sun News and Puthiya Thalaimurai channel. Sun News launched a sustained 2-month campaign pressurising the authorities to arrest Pachamuthu in the Madhan case. Sources within Sun said that the tactic was a revenge for the market share gobbled up by the Puthiya Thalaimurai and the subsequent coverage of the cases against the Maran brothers who own Sun Network.
Puthiya Thalaimurai retaliated by accusing the cable distribution arm of Sun, Sumangali Cable Vision, of randomly hiking carriage fees and of blacking it out in key areas in Chennai. A case filed by Puthiya Thalaimurai against Sumangali Cable Vision to this effect is also pending in court.
As the SRM group battles it out, the executive level managers and decision makers are in shock as they feel that the group is running headless without a vision.
Read the original story by Sandhya Ravishankar at www.scroll.in
NIOS celebrates 33rd Foundation Day
Dr. Subhas Sarkar addresses the 33rd Foundation Day Celebrations of NIOS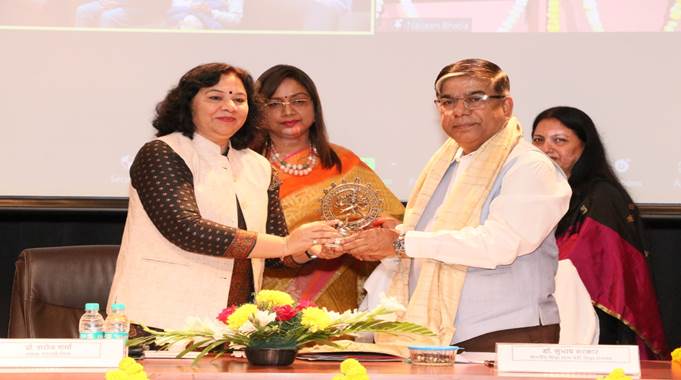 Union Minister of State for Education, Dr. Subhas Sarkar addressed the 33rd Foundation Day Celebrations of NIOS as the Chief Guest.
The function was attended by senior officials of the Ministry of Education, Chairpersons of educational institutions, Heads of Departments, officers, and staff of NIOS. Prof. Naval Kishore Ambasht, former Chairman, of NIOS and Pro-Vice Chancellor, of the Central University of Haryana, Prof. Sushma Yadav graced the occasion.
Dr. Subhas Sarkar in his address appreciated the various programmes and schemes of NIOS and said that NIOS is lighting the lamp of knowledge all over the world. Talking about the Azadi Ka Amrit Mahotsav, he mentioned that today's children will be young people in the age group of 30-40 years on the completion of 100 years of independence and will be responsible for building our nation.
He said that the Ministry of Education has entrusted NIOS with several responsibilities such as developing inclusive education resources, expanding the open and distance education system in states/UTs, translating all courses into more languages as required, creating Indian Knowledge Tradition based courses and propagating Indian culture by translating them into major foreign languages. He also praised the programmes of NIOS enrolling 10 crore adults under 'Basic Literacy Assessment', training of in-service teachers, Gender Green Project, and training in Yoga. He said that Indian Sign Language as a subject at the secondary level has been acknowledged on national and international platforms. He described the launch of an e-library called 'DEEP' by NIOS as a big step forward.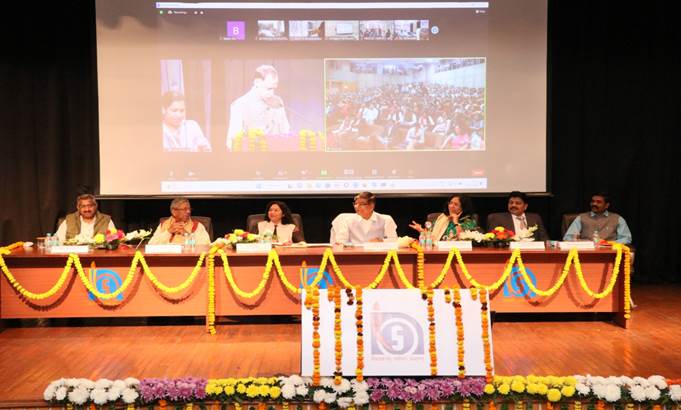 Prof. Saroj Sharma spoke about the journey of 33 years of NIOS and highlighted the special achievements. She said that NIOS is one of the two National Boards of Education under the Ministry of Education, which provides school education through Open and Distance Learning (ODL) for secondary, senior secondary, and vocational education. She elaborated on the role of NIOS in the field of education, efforts being made by NIOS for the successful implementation of the New Education Policy, Virtual Open School, Digital Library (DEEP), NEPIA Project, MoU with Ministry of Defence for Agniveer Project, setting up of Mukta Kaushal Kendras and subjects offered under Indian knowledge Tradition.
It was also conveyed by her that a curriculum called 'Aarambhika' is being developed by NIOS for catering to the Indian Diaspora.
A documentary based on the journey of 33 years of educational endeavours of NIOS was presented on the occasion. In this documentary, 'All England Badminton winner Pullela Gopichand said that most of the players in his badminton academy are getting an education from NIOS.
NIOS alumni, Ms. Niranjana and Vinod Kumar Chaudhary were also felicitated on the occasion. Shri Vinod Kumar said that only due to his education in NIOS, he was able to get the credit of making the Guinness Book of World Records 10 times (8 in Typing and 2 in sports). A proud learner of NIOS, Ms. Niranjana is a successful ventriloquist. Prof. N. K. Ambasht, former Chairman, NIOS said that in this age of technology, innovations must lead to developing 'standalone' courses for the Indian Diaspora, to achieve the goals of the National Education Policy- 2020. Pro-Vice Chancellor, Prof. Sushma Yadav said that the role of NIOS increases in the light of New Education Policy. NIOS has such potential that the institute will be able to achieve the ambitious goals of National Education Policy 2020 in the coming years.
The half-yearly magazine of NIOS 'Pragyan' was released by Dr. Subhas Sarkar on this occasion.