This 8 Year old risks her life reporting to raise global awareness about Palestine
Janna, a 10 year old is the youngest armature journalist reporting about Palestine and her village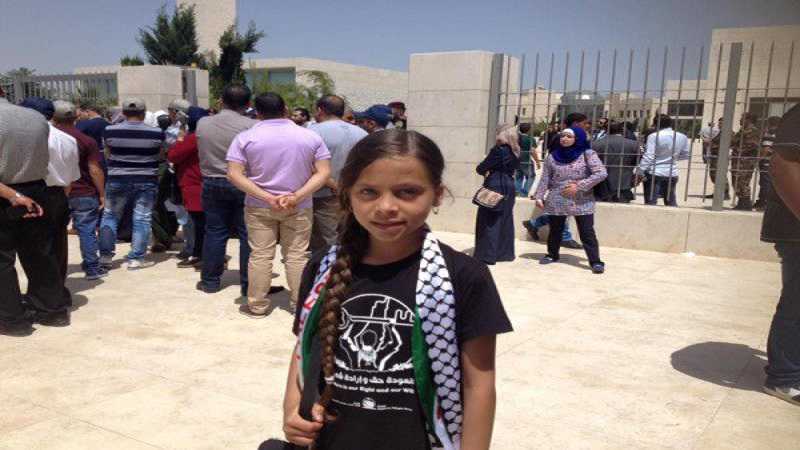 Janna could enjoy her childhood like every other 10 year old kid by playing and watching TV at her home. But she chose to risk her life reporting on the Palestinian – Israeli conflict in the occupied West Bank, with the aim to raise awareness about the plight of her people.
A resident of Nabi Saleh, a small Palestinian village north of the West Bank city of Ramallah, Janna has witnessed the tragedies of war from a very young age. Her mother, Nawal, talks about an incident where Jana was traumatized after one of her friends was shot dead by the Israeli army. "He was older than her but used to always be friendly and nice to her so that she became attached to him. When she saw his blood on the ground, she became frantic."
Janna would often pen her feelings and frustrations in a locked journal and made it the only mode of communication, but the deaths of two of her relatives – her cousin, Mustafa Tamimi, and another uncle, Rushdie Tamimi – inspired her to get involved and reveal the injustice the people in her village are being subjected to.
Janna began her journalist career when she was just 7 years old. She would use her mother's iPhone to record protests staged by locals and international peace activists and the reaction of Israeli army. She believes that the professional journalists don't often give us the exact news so she takes up the responsibility to show the whole picture by posting videos on various social media platforms like, YouTube, Facebook or Snapchat.
"I want the world to know that we are not terrorists and to expose the army's vio­lence against us," she told The Arab Weekly.
After rising to internet fame in 2014, and being hailed as one of the world's youngest amateur reporters, Janna Jihad has expanded her work, travelling with her mother to places like Jerusalem, Hebron, Nablus and Jordan to shoot video reports and post them online.
Her Facebook page alone currently has over 80,000 likes."
Janna's mother says she is both proud of her, but also very scared for her safety.
"I am proud of my daughter because as a child, she tells her message to the world. She shares her fears, what she feels, and the problems of attending school," Nawal told Al Jazeera. "But I am scared for her, when the army comes in the middle of the night and tear-gases our house, and we wake up in smoke. They attack our people who demonstrate against the settlers and the Israeli occupation."
Janna's dream is to study professional journalism at Harvard and get a job at CNN or FOX News, because "they do not talk about Palestine, and I want to make reports on Palestine". And when asked about Janna's ideal world, she said, "I want it to be pink".
Image Courtesy: Janna Jihad/Facebook
NIOS celebrates 33rd Foundation Day
Dr. Subhas Sarkar addresses the 33rd Foundation Day Celebrations of NIOS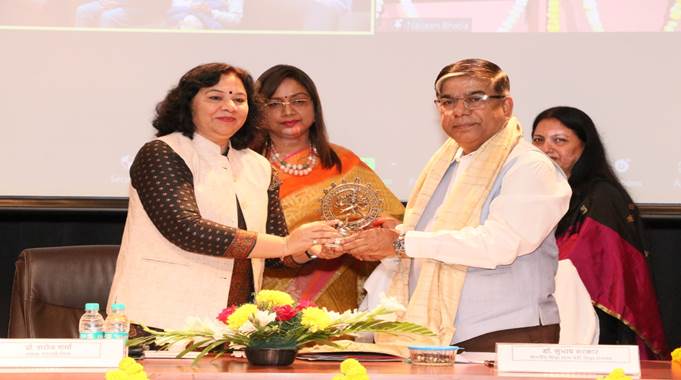 Union Minister of State for Education, Dr. Subhas Sarkar addressed the 33rd Foundation Day Celebrations of NIOS as the Chief Guest.
The function was attended by senior officials of the Ministry of Education, Chairpersons of educational institutions, Heads of Departments, officers, and staff of NIOS. Prof. Naval Kishore Ambasht, former Chairman, of NIOS and Pro-Vice Chancellor, of the Central University of Haryana, Prof. Sushma Yadav graced the occasion.
Dr. Subhas Sarkar in his address appreciated the various programmes and schemes of NIOS and said that NIOS is lighting the lamp of knowledge all over the world. Talking about the Azadi Ka Amrit Mahotsav, he mentioned that today's children will be young people in the age group of 30-40 years on the completion of 100 years of independence and will be responsible for building our nation.
He said that the Ministry of Education has entrusted NIOS with several responsibilities such as developing inclusive education resources, expanding the open and distance education system in states/UTs, translating all courses into more languages as required, creating Indian Knowledge Tradition based courses and propagating Indian culture by translating them into major foreign languages. He also praised the programmes of NIOS enrolling 10 crore adults under 'Basic Literacy Assessment', training of in-service teachers, Gender Green Project, and training in Yoga. He said that Indian Sign Language as a subject at the secondary level has been acknowledged on national and international platforms. He described the launch of an e-library called 'DEEP' by NIOS as a big step forward.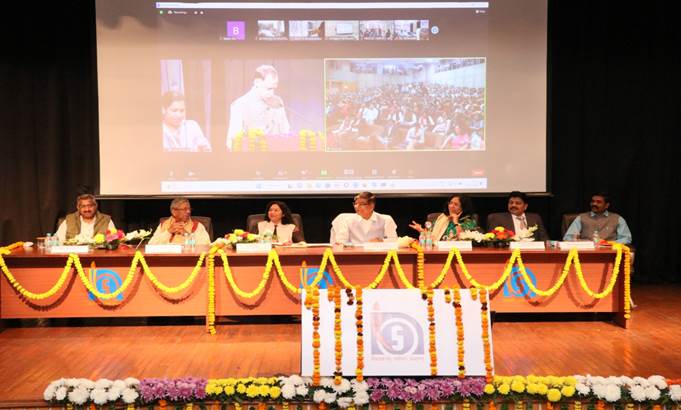 Prof. Saroj Sharma spoke about the journey of 33 years of NIOS and highlighted the special achievements. She said that NIOS is one of the two National Boards of Education under the Ministry of Education, which provides school education through Open and Distance Learning (ODL) for secondary, senior secondary, and vocational education. She elaborated on the role of NIOS in the field of education, efforts being made by NIOS for the successful implementation of the New Education Policy, Virtual Open School, Digital Library (DEEP), NEPIA Project, MoU with Ministry of Defence for Agniveer Project, setting up of Mukta Kaushal Kendras and subjects offered under Indian knowledge Tradition.
It was also conveyed by her that a curriculum called 'Aarambhika' is being developed by NIOS for catering to the Indian Diaspora.
A documentary based on the journey of 33 years of educational endeavours of NIOS was presented on the occasion. In this documentary, 'All England Badminton winner Pullela Gopichand said that most of the players in his badminton academy are getting an education from NIOS.
NIOS alumni, Ms. Niranjana and Vinod Kumar Chaudhary were also felicitated on the occasion. Shri Vinod Kumar said that only due to his education in NIOS, he was able to get the credit of making the Guinness Book of World Records 10 times (8 in Typing and 2 in sports). A proud learner of NIOS, Ms. Niranjana is a successful ventriloquist. Prof. N. K. Ambasht, former Chairman, NIOS said that in this age of technology, innovations must lead to developing 'standalone' courses for the Indian Diaspora, to achieve the goals of the National Education Policy- 2020. Pro-Vice Chancellor, Prof. Sushma Yadav said that the role of NIOS increases in the light of New Education Policy. NIOS has such potential that the institute will be able to achieve the ambitious goals of National Education Policy 2020 in the coming years.
The half-yearly magazine of NIOS 'Pragyan' was released by Dr. Subhas Sarkar on this occasion.