Time to view the crisis in the education sector as an opportunity
Most statistics reveal an appalling story about the Indian education sector. An imaginative relook at the situation along with systemic level changes can leverage the current situation into an opportunity and turn the over 600 million strong group that we call the demographic capital into an economi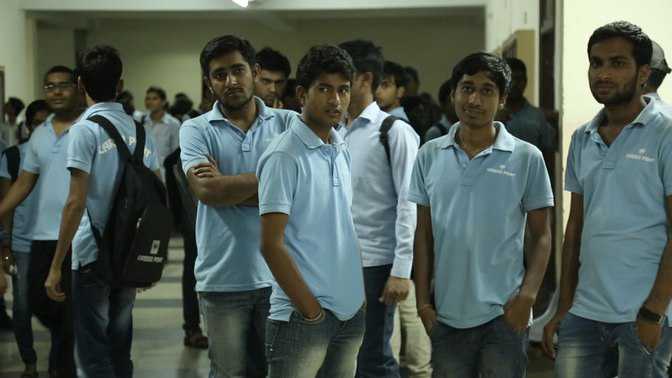 A recent report by the Ministry of Human Resources Development revealed that over 1,00,000 schools in India have just one teacher. While the knee jerk response or a reaction with short term vision would be to initiate recruitment of teachers. However, if a long term view is taken of the situation this can be an opportunity towards transforming India's aging education landscape now that a new policy is under discussion.
Today the education sector is plagued by 4 significant challenges: Rapid globalisation due to the internet revolution; a demand-supply mismatch due to larger numbers of potential students and a sharply falling number of teachers; proliferation of changing technologies; and lastly an evolving and constantly demanding marketplace.
The government's duty is not just limited to fulfilling the citizen's right to education but, significantly, the right to quality education. To main integrity of both the goals, a dramatic shift in mindsets along with substantive policy interventions is needed.
For close to 10 years now, India has been celebrating its demographic dividend, that crucial chunk of 600 million Indians under the age of 25. While developed nations are aging rapidly, this young population has the potential to become the economic engine for India and provide a thrust on to the world scene. However, age itself doesn't yield an advantage, if this population is not employable this demographic dividend can indeed become a demographic liability. Employability in turn depends on the quality of education, so it is a closely connected loop.
India's education crisis cannot be overcome by incremental change or piece meal initiatives. It needs a transformational mindset that would address the fundamental structural and systemic constraints of education.
Currently an outdate education is being delivered mechanically in schools. What's needed is dynamic content which can be delivered tailored to the needs of students.
Clearly the education policy should keep the student at the center. After all, it's the student who is studying to eventually take up a job which would be generated at a later point in time. This would redefine the role of education.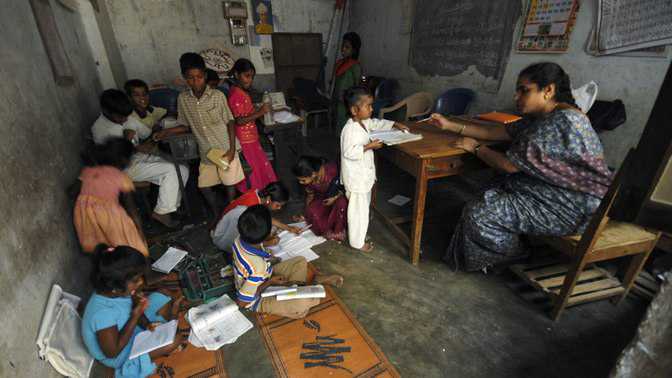 One of the biggest challenges that need to be tackled is the supply constraint and the toll it takes on the infrastructure. Supply is not restrained only in the matter of qualified teachers. It is a triple whammy. Firstly, even if we succeed in achieving the target 30% gross enrolment rate (GER) in the tertiary sector by 2020, over a 100 million students would find themselves without having a university to go to and thus compelled to join programmes out of force and not out of choice.
Coming in second is the much publicised shortage of qualified teachers. This paucity is not only limited to higher education but also to primary and secondary schooling.
A radical rethinking of the education policy would be to embed efficiency in the system without which, there would be no incentive to improve, as is currently the case.
For example, currently how many of our teachers undergo regular training to update themselves with the latest in literature or teaching techniques? Choice and competition egg improved performance.
A stagnant system which hasn't allowed new forms of education delivery into the system has perpetuated mediocrity and a self sustaining ecosystem. One way of changing this is to rapidly increase the delivery platforms by attracting new players through MOOCs (Massive Open Online Courses) platforms. This not only will let in international, highly efficient providers but would also dramatically transform the education landscape due to ease of delivery using virtual delivery technology thus immediately easing the supply constraint.
The so called 'demographic dividend' will need around 1,000 new Universities by 2020 to truly mould them into high quality employable workforce. What did China do when faced with a similar conundrum a few decades ago?
Rather than sinking in funds and facing administrative nightmares, China very creatively funded overseas education for its nationals and thereby, bypassed creating new educational institutions. This turned out to a far more efficient response financially and administratively than the expected process of constructing new universities. Additionally, studying abroad provided the Chinese with global exposure.
India needs similar leaps of creative thinking to address the crisis plaguing the education sector today. If the government fails to view this challenge as an extraordinary opportunity of changing education's DNA it would truly be a shame.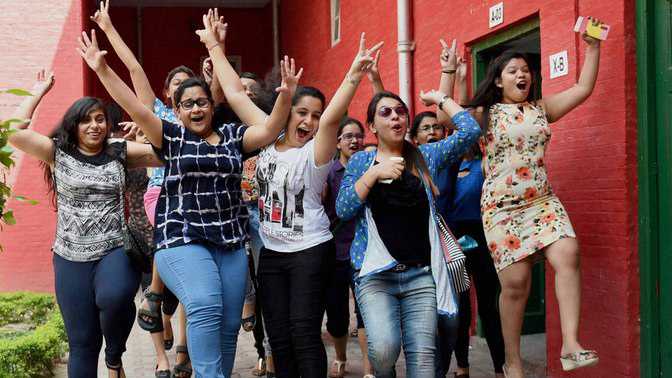 * Read the original story by Amit Dasgupta on www.thequint.com
Indian Debating League 2023 Concludes After 6000 Debates Across 450 Schools, at IIT Delhi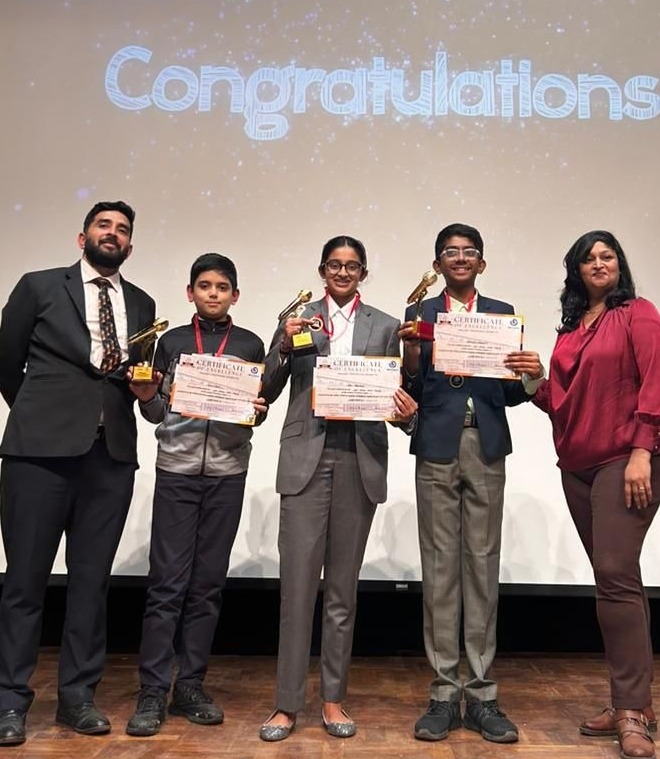 In a thrilling, high-energy competition, the Indian Debating League (IDL) 3.0, which brought together 450 schools across 25 States and Union Territories across the country, successfully concluded its highly anticipated Finale at IIT Delhi today. Team Maharashtra won the coveted title of Indian Debating League in the Middle school category (IDL) 2023- 3rd Edition while Team Haryana stood first in the Junior & Senior school category. This event has not only showcased the remarkable talent of our nation's young debaters but also underscored the importance of exploring our cultural roots across the Eras and reclaiming our heritage. The event promised a dynamic exchange of ideas, with a distinguished panel of Judges from IIT DebSoc. Global Language learning leader, Burlington English and Indian Debating League (IDL) hosted the finals of the Indian Debating League at IIT Delhi.
This year's edition attracted participation from schools from all corners of India, including Vasant Valley, New Delhi; Step by Step, Noida; Strawberry Fields High School, Chandigarh; Dhirubhai Ambani International School, Mumbai; Learning Paths School, Punjab; Jammu Sanskriti School; Kanha Makhan Public School, Vrindavan; Billabong High International, Jabalpur; American International School, Chennai; Woodstock School, Mussoorie; NASR School, Hyderabad and Jayshree Periwal International School, Jaipur.
Amit Baveja, MD, Burlington English India said, "As we conclude the exhilarating journey of the Indian Debating League 3.0 Finals, Burlington English is proud to stand alongside IDL and IIT Delhi in fostering a culture of eloquence, critical thinking, and collaborative learning. As an extension to our commitment towards the New Education Policy 2023 that strongly emphasizes developing oral, written, and digital communication skills, to enable effective expression of ideas and collaboration among students, we align seamlessly with the spirit of this competition. We believe that through platforms like IDL, we are not just shaping skilled debaters but contributing to the development of articulate leaders for tomorrow."
Renowned and celebrated for fostering 21st-century skills in a gamified, engaging format, the Indian Debating League is a unique format modeled on the IPL. Having partnered with Debate Coaches from the top 10 countries on the WSDC Leaderboard, they are keen to put Indian Student Talent on top, tangibility ensuring recognition.
Commending the IDL 3.0 Finale, Rajnish Kumar, co-author of "The Power and Curiosity" and COO, of National e-Governance Division, Digital India Corporation said "Curiosity and the art of debate are two powerful forces that drive intellectual exploration and foster a deeper understanding of the world around us. These interconnected aspects of learning not only stimulate critical thinking but also ignite a passion for knowledge and discovery. When combined with the art of debate, curiosity becomes even more potent. Debates like this can empower individuals to become lifelong learners, critical thinkers, and active participants in shaping a more informed and inclusive society.
Kamal Kashyap, Founder, and CTO of, Indian Debating League said, "In a month the Olympics of Debating will happen at WUDC Vietnam, setting the trend for the hiring of University Coaches at Harvard, Stanford, and Oxford, as well as National Debate Coaches and Judging Paradigm for contemporary themes around the world. Our national Debating Leagues like IDL 3.0, Republic Day Forensics, Frankenstein Sustainability, as well as mentoring the 350+ Adjudicator Landscape for India is the foundation upon which we look forward to leapfrog in building future skills."
The final Event at IIT Delhi was an electrifying display of oratory skills by contestants from 3rd to 12th grades, engaging with the theme The Odyssey of India- Ancient India to AI Led India, rethinking culture and reclaiming our heritage.