ATL #TinkerFromHome For Students & Educators by Atal Innovation Mission
AIM of Niti Aayog came up with a brilliant solution at the beginning of the lockdown this dreadful year, Tinker From Home. While the schools were closed, this was AIM's way of helping children learn with the same enthusiasm as they do in the ATAL Tinkering Labs.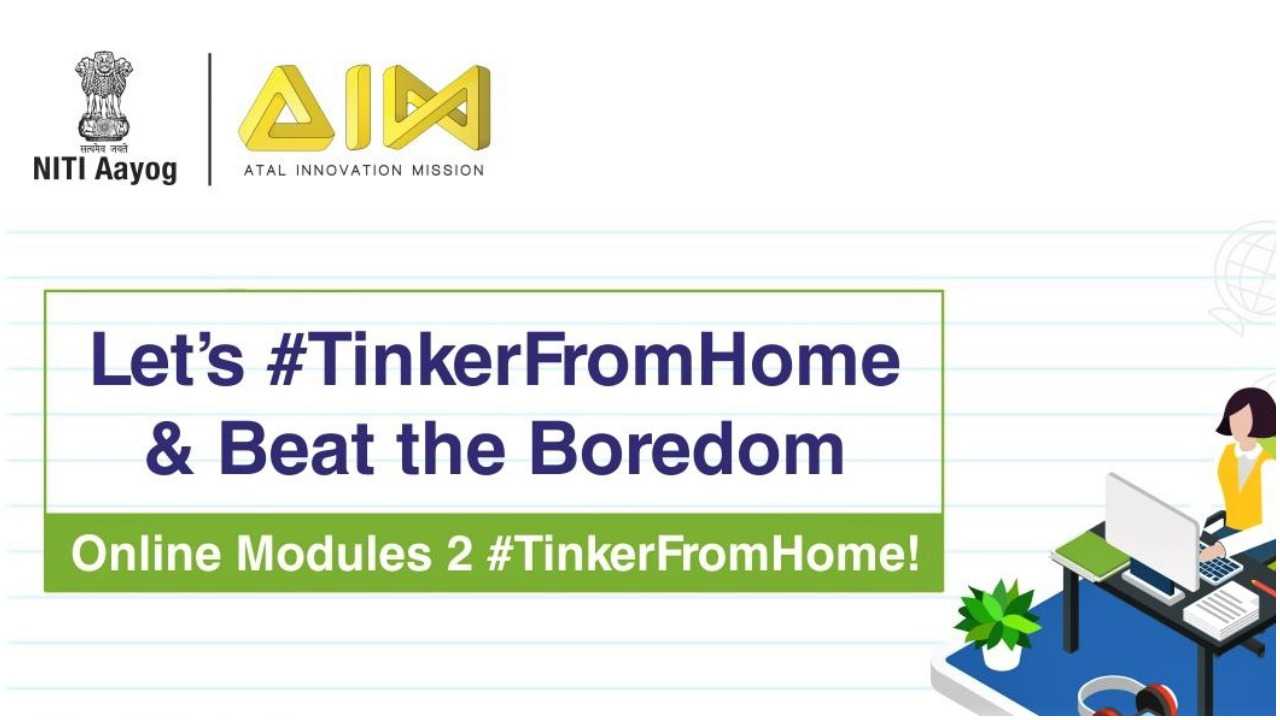 If one Googles #TinkerFromHome, they will come across a series of posts, tweets, pictures, videos and press releases from Niti Aayog's Atal Innovation Mission (AIM). Amidst the COVID-19 lockdown crisis in the country, Atal Innovation Mission started with the "ATL Tinker from Home" campaign in March 2020, where students can learn new concepts and technologies and experience the joy of innovation from the safety of their homes. The objective of the initiative is to harness the creativity and innovativeness of children by encouraging learning through self-initiation.
A number of kids enrolled and educators of the nation have benefited from these many modules and ongoing webinars. Some of the most enrolled modules and most-watched webinars are listed below with the links to approach them. To add to the excitement, AIM comes up with regular competitions that get announced on days like Gandhi Jayanti and Community Day to keep the children involved. There are some competitions still running, check them out here.
ATL AI Base Module
Created in collaboration with NASSCOM, ATL AI Base Module aims at introducing young minds to the AI revolution. The hands-on module is available on the AIM website (https://www.aim.gov.in/Lets_learn_AI_Base_Module.pdf) and contains activities that enable young innovators to interact with different forms of Artificial Intelligence, view videos and engage in experiments.
Module Link – https://aim.gov.in/Lets_learn_AI_Base_Module.pdf
YouTube Tutorials Playlist – https://www.youtube.com/watch?v=JZbIfCUcX9k&list=PLe8QoqrwXb4SIpNfK59dMEpPKQVyh5kIO
YouTube LIVE Session – https://www.youtube.com/watch?v=yUNTnqff6mY
ATL Game Development Module
Developed in collaboration with DELL Technologies and Learning Links Foundation, ATL Gaming Module is an online platform to learn all about Game Development thereby providing an avenue to transform students from game players to game makers. The module is aligned with the Sustainable Development Goals and also contains a lot of interesting quizzes and projects for children to engage in. There are 3 different levels – Beginner, Intermediate and Advanced using different tools.
Module Link – http://bit.ly/ATLGamingModule
YouTube Tutorials Playlist – https://www.youtube.com/watch?v=ugtajDT2nrs&list=PLe8QoqrwXb4R8lgLQvxqR_kan1BLuukI3
YouTube LIVE Session – https://www.youtube.com/watch?v=1_TU400yxQY
ATL CollabCAD
Launched in collaboration with the National Informatics Centre (NIC), CollabCAD is an indigenous 3D Computer-Aided Design (CAD) Software. It provides a complete engineering solution for all things related to 3D Designing – right from 3D Product Part/Assembly Design to Visualization and Simulation. Students can use this software to design and materialize their ideas, creativity and innovation through 3D Printing.
Module Link – https://collabcad.gov.in/atlInfo.html
YouTube Tutorials Playlist – https://www.youtube.com/watch?v=7wAMou1D4Hw&list=PLe8QoqrwXb4TbRy7LUuWDSb3K0ouicJ-R
YouTube LIVE Session – https://www.youtube.com/watch?v=ChU3wLx4RAg
Astronomy Webinar Series
It's a seven(7) Lecture Series on Astronomy with Aryan Mishra, India's youngest Astronomer from Spark Astronomy.
YouTube Tutorials Playlist – https://www.youtube.com/playlist?list=PLe8QoqrwXb4T4r592QfIL1TNzeGA_HpaW
ATL App Development Module
The ATL App Development module has been launched in collaboration with Indian homegrown startup Plezmo with an aim to hone the skills of school students and transforming them from App users to App makers in the times to come under AIM's flagship Atal Tinkering Labs initiative.
Module Link – https://bit.ly/ATLAppDevModule
YouTube LIVE Session – https://www.youtube.com/watch?v=mVCDVMG82G0
ATL AI Step Up Module
The advanced edition to the Base module, the ATL AI Step Up Module launched in collaboration with NASSCOM is an addition to the previous one with the objective to provide a student further understanding into AI once they're done with the basic concepts with a series of activities, tutorials, mini projects and real-time applications.
Module Link – https://www.aim.gov.in/Lets_learn_AI_StepUp_Module.pdf
YouTube LIVE Session – https://www.youtube.com/watch?v=zuRRyuGhe3k
ATL Python Learning Module
It was developed in collaboration with Coding Elements, an Indian startup, with the objective to help teachers and students attain fundamental Python coding knowledge. It's meant to introduce them to the various concepts of text-based coding such as loops, syntax, OOP, etc.
Module Link – https://www.codingelements.com/python-foundation-course/
YouTube LIVE Session – https://www.youtube.com/watch?v=Vkf4gX6A9hg
ATL Webinar Series
A series of live sessions on various topics that happen every Friday on the AIM YouTube channel.
YouTube Channel Link – https://www.youtube.com/AIMtoInnovate
Tinkering with Drones with Drona Aviation
It's a series of webinars centred around the ATL Drone Module, to teach the students the fundamentals and concepts of Drone technology. The sessions were conducted by IITB Alumni StartUp Drona Aviation. Students in number of hundreads have participated in it so far.
3D Printing with Imaginarium
A series of webinars centred around the 3D printing technology, it's meant to teach the students the fundamentals and concepts of 3D design, 3D printer, Additive manufacturing. The sessions were conducted by Dr. Guruprasad Kuppu Rao, Imaginarium.
ATL Jigyasa Webinar Series with CSIR
AIM and CSIR have come together to foster science and innovation through various programs and initiatives. 20 interactive sessions with eminent Indian scientists have been conducted to initiate a dialogue on science and research.
In addition to these, several other training courses were done in collaboration with partners across the industries nationwide.
Ayatiworks Joins Forces with Anna University to Elevate Digital Advertising Skills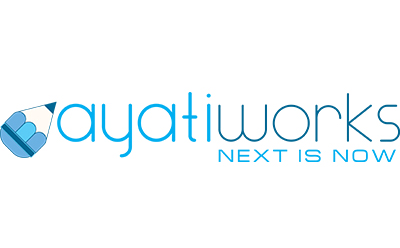 Ayatiworks has forged a strategic alliance with Anna University, a leading Public State University in Chennai, to elevate students' skill development and enhance employability. This collaboration is designed to enrich students' educational experiences and practical competencies in the dynamic realm of Digital Advertising, reflecting both organizations' shared commitment to education and skill-based training.
As part of this training partnership, Ayatiworks will facilitate valuable learning experiences for Anna University's Media Science students. This will be achieved through a series of intensive guest lectures on the comprehensive spectrum of Digital Advertising, led by Upendran Nandakumar, CEO of Ayatiworks. These sessions will run from August to December and aim to bridge the gap between academic knowledge and industry insights, ultimately enhancing students' skills, knowledge, and employability.
Expressing his enthusiasm about the partnership, Upendran Nandakumar, Founder & CEO of Ayatiworks, remarked, "We are thrilled to collaborate with Anna University, an opportunity that allows us to revolutionize the industry by augmenting university programs with real-world experiences. This collaboration will undoubtedly bolster the employability of university students, marking a significant advancement in their careers."
Within this partnership, Upendran Nandakumar will engage with over 100 students, providing insights into current industry trends, job opportunities, and challenges within the Digital Advertising landscape. Leveraging his extensive experience in the field, he will offer a comprehensive view of the industry's present market dynamics. Through this training partnership, he will empower university students to master the art of crafting innovative strategies for building brand loyalty and awareness.
This collaboration represents a pivotal step in nurturing a future-ready workforce in India. Ayatiworks and Anna University share a deep commitment to empowering students, enabling them not only to adapt to but also to drive technological innovations in their respective domains. Following the conclusion of the training sessions, Ayatiworks will conduct a recruitment drive to identify and hire talented interns, providing them with valuable industry exposure. Together, these efforts aim to shape the next generation of digital advertising professionals and foster innovation in the field.