Turning Small Ideas into Big Wins
PARVATHY JAYAKRISHNAN explores the importance of teaching entrepreneurship in
schools and how to go about it.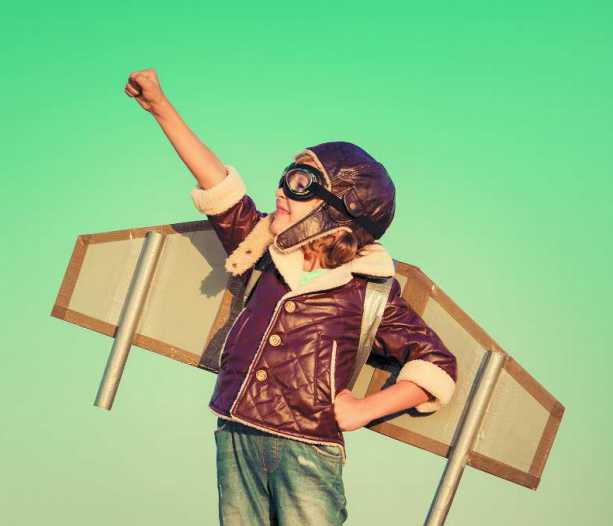 "The way to get started is to quit talking and begin doing." – Walt Disney
Walt Disney's quote defines the true essence of what good entrepreneurs do—they don 't just hold on to an idea, they get the ball rolling.
Our teachers are doing a fantastic job of training students to learn topics that are covered in their textbooks, guiding them morally and making them independent and self-sufficient. They are also often focused on preparing students for the future – to make them strong, confident and sometimes ready for jobs that are not even discovered yet! (It is true that technolo gy is taking over a number of jobs and we cannot predict the jobs that will be availa ble 10 years from now). We are living in a time when students will most likely use their skills to create their own employment. They may not use their skills to join a workforce necessarily. In this case, it is the risk-takers who have a better shot at success. This, in turn, implies that teaching entrepreneurship in schools is imperative and can have far-reaching results in encouraging students with creativity and encourage them to work hard towards a goal. Entrepreneurship education prepares students to identify and address challenges and opportunities.
However, the word "entrepreneurship" can be daunting for a school student. They would wonder how they would learn what entrepreneurship is considering they can barely pronounce the 16-letter word! What we need to teach them is that an entrepreneur is an entity which has the ability to find and act upon opportunities to translate inventions or technology into new products. An entr epreneur becomes successful when he combines skill and innovation. You have had that student in class who is great with technology and designing and creating logos and videos in exchange for money. Today, students own and run YouTube channels which earn them good money. Students often become entrepreneur s without even realizing it! When given the right knowledge and boost, they will be able to take it forward as they become adults.
Omkar Mantri, a grade 8 student at Vibgyor High school, Bangalore, has dropped science and chosen to learn only economics from class 9. He explains why teaching entrepreneurship in schools can be a big boon for students like him. "I would love to understand how an idea can be converted into a business plan. It will be great to get practical information, instead of the excessive amount of theory that we normally have to study. I would love to learn about rules/laws, business models and related subjects in school. It will give us an idea about the perils of getting into business and we can choose our electives accordingly. Also, entrepreneurship must be made an attractive and viable concept, so that students don't rush towards an engineering college or a job in an IT company."
While the world around us is developing at a fast pace with technology and innovations, education in K-12 needs to move an extra mile to evolve accordingly. Education is the driving force behind e very country's economy, directly or indirectly. Many schools in India have adapted to technology or are slowly making the change. They are encouraging students to work in groups to solve problems, they are encouraging online learning and they are even attempting to merge art with science to make learning more effective. However, even with all these new techniques, students often fail to perform at jobs because they lack knowledge in entrepreneurship. Thus, entrepreneurship, the capacity to not only start companies but also to think creatively and ambitiously, is very important to be included in the school curriculum.
"Entrepreneurship skills are necessary for the current generation of kids. They need to have negotiation skills right through the early years. They need to build thinking skills and design thinking is the beginning of an entrepreneurial journey. They also need to be risk-taking and they need to develop the ability to forecast. If students are taught these skills at the school level, they can be more planned and ready when they grow up. Most kids don't know that they have an entrepreneurial streak and this can be identified if it is taught in schools," says Deepali Ghosh, mompreneur and mother to a 10-year old.
Entrepreneurship education empowers students with the skill to think outside the box and nurture unconventional talents and skills. It creates opportunities for all, ensures social justice and instills confidence in students. We often mistake entrepreneurship to be a skill to be imparted in undergrad or post graduation. Why wait till then? Entrepreneurship is a lifelong learning process – it can be taught from elementary school till they become adults. Introducing young kids to entrepreneurship develops their initiative and helps them to be more creative and self-confident in whatever they undertake and to act in a socially responsible way.
According to Dr. Prakash Sai L, Professor, Dept of Management Studies, IIT Madras, "Teaching entrepreneurship in schools is absolutely necessary. Already CBSE has a course called Business Studies in class 10 to introduce basic concepts of entrepreneurship. Entrepreneurship is seen as a particular type of skill that will enable a student to start a firm and ensure business growth. Today, even our society is encouraging student entrepreneurs. We often see young children set up stalls in apartment complexes, trying to sell food. When society is encouraging students to develop entrepreneurial skills, schools need to back them up by giving them the knowledge."
Entrepreneurship teaches students about money, investing, business strategies, loans, and creating budgets. At the same time, students can learn critical life skills such as problem-solving, brainstorming ideas, taking risks, facing failure and getting up again, setting goals, working together, and feeling comfortable to work individually.
Deepali recalls how she was amazed at her 10-year-old daughter's idea to sell homemade watermelon juice to tired gym-goers at 10 am during her summer holidays. "She made the juice and sold it at a profit of almost 110 per cent! What she figured was the ability to judge that there is a buyer's market and she figured the pricing on her own. She even used a USP ensuring that she used organic watermelon and brown sugar (keeping in mind that her target audience are gym goers)," she proudly remembers.
Government initiative
The Delhi AAP government took a step in the right direction by launching the Entrepreneurship Mindset Curriculum Framework for government schools in February, this year. The Entrepreneurship Mindset Curriculum Framework was developed by the State Council of Educational Research and Training (SCERT).
Deputy Chief Minister Manish Sisodia had explained that the curriculum would invariably bring about a paradigm shift in the education system in the way students explore and learn and in the manner teachers facilitate and guide these exploratory processes. He also emphasised that an entrepreneurial mindset was required for all professionals to be successful in their career. Success stories of various professionals and public servants testify it.
It will be implemented in all Delhi government schools from classes 11 to 12 and will build awareness and knowledge of various aspects of entrepreneurship among the students. The curriculum is expected to inspire students through various entrepreneurial stories, case studies and many mindfulness activities and approaches. It focus – es on imparting the personality and character traits of successful entrepreneurs other than the business aspects of entrepreneurship. The curriculum is expected to be launched as a pilot project in 15-20 schools in April and will see a full-fledged launch in all government schools in July.
'School teachers are the most important influencers' …Says Pradeep Mishra, Founder, Leader to Creator, India's first organisation providing entrepreneurship training to children.
Why do you think entrepreneurship learning should be introduced in schools?
Our entrepreneurship for kids programme intends to make a remarkable impact on various fronts of developing nations like India. The world has migrated to a knowledge-based economy where innovation and entrepreneurial mindset will be a game changer. We cannot push the youth directly into jobs after their attain their degree. My conviction is that an entrepreneurial mindset can only be beautifully crafted at an early age. Children can be exposed to a controlled economic environment so that they understand the world around them and relate to it. They can recognise the problems of people as an opportunity and come up with innovative solutions which are scalable.
Our entrepreneurship programme also helps students unleash their creative potential in a big way. The entrepreneurship programme also focuses on life skills such as critical thinking, problem solving, time management, self awareness and personal brand image. These skills help them excel in any field of their choice. Kids have ideas but giving them a proper ground and skills to make it a functional model is what we do. Studies have shown that 80 per cent of our graduates are not even employable. This is the consequence when we have one size fits all approach in education.
How many schools do you cater to?
In 2017, Leader to Creator has been shortlisted by Economic Times Power of Ideas. I have per – sonally interacted with more than 5,000 students. We have worked with 11 campuses and we are operational in three states with expansion in Nepal.
Our in-house "Train the Trainers" programme is creating a pool of passionate trainers who can operate in different parts of the country. We have identified six more states touch points in Northern and central India, where we will be operational this year. We are also encouraging schools to nominate teachers who are interested in getting trained.
What was your inspiration to start Leader to Creator?
I have seen the pressure of placements and degree completion. I have witnessed the shattered aspirations of students who are not doing the things they wanted because their talent could not be converted into a business model. I worked with a few reputed brands in my career and there the problem was scarcity of talented people. So on one hand, students are looking for jobs but the industry says they are not good enough.
Economics shows that there are too many problems that need to be sorted out in our country. It means that there is a lot of work to be done. At the same time, we have a workforce that is looking for jobs. Do you notice the gap? Our mindset needs to be changed and the necessary skill set needs to be imparted. However, the moment we started teaching entrepreneurship in colleges, it only added on as another subject to pass. Students often asked me "Will this course help me get better placement offers?" Leader to Creator is bridging this gap.
How has the response been from schools?
Majority of schools are now interested in trying new things because they strive to be ahead of the times and they are committed to provide a better future for their students. There are schools where people still think that entrepreneurship is a business study meant for business schools only. We must sensitise education forums about entrepreneurship education as this is happening all across the globe. Awareness is the key.
Is it hard to convince the parents?
Fortunately, in our country, teachers are perceived as the best guide for a student's career and future. Parents trust them and kids listen to them. Leader to Creator is continuously working for awareness programmes in schools. We organise free seminars in schools during PTMs and other fests, but school teachers are the most important influencers.
Introducing entrepreneurship skills in classroom
You don't even need to introduce the concept of entrepreneurship in a formal way and use business jargon that can seem complicated to your students. Multiple skills that aid entrepreneurship can be developed using activities in the classroom. Some skills that need to be de veloped include:
Communication skills: Communication is key for an entrepreneur and enhancing communication skills in students is something that teachers can work on in schools. Instead of standard class discussions, teachers can give students a chance to practice public speaking. Teachers can make this shift by introducing pop-up debates. With these activities, kids are positively pressurised to speak in front of an audience and they gradually develop the confidence to do it.
Brainstorm ideas: Teachers can set up a box in a class where students can put in their ideas. The box is a good way to encourage students to come forward with their ideas and to pitch them confidently in front of their class. Once all the ideas are in, there can be a brainstorming session where the entire class can discuss the viability of the idea and see if they can be implemented The brainstorming session can improve their critical thinking skill and problem-solving abilities. They can explain how their idea can bring about a change in society. Teach students to think about what's positive or strong about their work and let them ponder on their weaknesses to find the changes needed to make their product more interesting.
Discuss solutions: Students often complain about facilities or rules that are implemented in the school. Teachers can encourage them to come up with solutions to these problems based on discussions rather than giving them space to complain. This can have positive outcomes. It can improve the relationships among students, improve their self-esteem and encourage problem-solving.
Discuss success stories: Encourage students to research on successful entrepreneurs and their methods and strategies and get them to discuss them in class. Each entrepreneur uses different skills and strategies to make their way to the top. For example, Oprah Winfrey relies on her oration skills and compassion while Steve Job's quest for innovation and perfection made him reach the top. Such discussions also encourage students to find out what they could have done better to improve their skills.
Learning a business: Students can practice writing interview questions and conduct interviews with entrepreneurs. The information can then be compiled into a directory of the types of goods and services, locations, and hours of the businesses. Students can then discuss the location, advertisement and the products involved in the business.
Encourage imagination: Creativity dwells within imagination. Pass around common objects to students and encourage them to imagine the object in a different outlook. This will help students see the same object through a different perspective.
Organisations Supporting Student Entrepreneurship
In the USA, there are numerous organisations formed that support student entrepreneurs in various capacities.
• Dorm Room Fund: A student-run venture fund backed by First Round Capital
• Entre-Ed: Support for teachers and programme leaders
• The Future Project: Helps high schools provide entrepreneurship programmes
• Junior Achievement: Fostering work-readiness, entrepreneurship and financial literacy skills
• Kairos Society: Network for entrepreneurs under 25
• Lean LaunchPad: From Silicon Valley's Steve Blank
• MIT Launch: High school entrepreneurship programs
• Network for Teaching Entrepreneurship (NFTE): Preparing young people for business
• National Student Leadership Conference: Conference supporting high school entrepreneurs
• One Stone Solution Lab: Organisations, foundations, businesses and start-ups can engage a team of One Stone students in design thinking a solution, business idea or product.
• Real World Scholars: Works with teachers who use entrepreneurship to engage students in core curriculum
• Roadtrip Nation: Roadtrip offers experiences, interviews and curriculum
In the UK:
• Shell LiveWIRE: Shell LiveWIRE aims to inspire young people to find solutions to energy and resource challenges facing today's society.
• National Association of College and University Entrepreneurs – A membership charity organisation fostering student entrepreneurship with a focus on supporting the creation of enterprise societies in educational institutions in the UK.
• Santander Universities Enterprise Portal – The portal helps young entrepreneurs win funding for their startups, build their business knowledge and access networking opportunities.
• Tycoon In Schools – Tycoon in Schools gives upcoming entrepreneurs, aged 5-18, a start-up loan between £50 to £1000 to manage a business while at school or college.
In India:
Leader to Creator programme
Started by Pradeep Mishra, the Leader to Creator programme is India's pioneer academy for entrepreneurship training in schools. Leader to Creator is a group of professional trainers who have scientifically designed curriculum, which is a blend of technical skills, soft skills and life skills to teach entrepreneurship to students. They use the latest technology to interact with participants. They add fun in learning by live projects, camps, smart classes and business games.
Mishra has designed a fun-filled 60- hour course on "Entrepreneurship for Kids". The idea was recognised by the Economic Times Power of Ideas. The course is now offered in some of the most prominent schools in India.
Awards
Entrepreneurship awards are a good way of encouraging young entrepreneurs to come up with innovative ideas and put them to practice. However, there are not many such awards that encourage school students.
• The Global Student Entrepreneur Award (GSEA): Student entrepreneurs compete through regional competitions to win their shot at going head to head against the best student entrepreneurs in the world at the GSEA. Undergraduate and graduate college/university students who own and operate a business for at least six months are eligible to compete for the $20,000 cash prize.
• The Big Idea (Australia): Coordinated by The Big Issue, The Big Idea is a social enterprise planning competition. Open to undergraduate and postgraduate students of participating Australian universities, applicants are invited to develop a concept and business plan for a brand new social enterprise.
• Lee Kuan Yew Global Business Plan Competition: The competition is designed for undergraduate, college or polytechnic students across the globe. The idea is that students can display their business skills on a global platform, which will allow them to gain seed funding.
Teaching entrepreneurship skills in school is not merely for helping a student identify his skills or to fulfill the ultimate goal of starting a firm. We need to provide teachers with the appropriate training to impart knowledge to students in a way that they can understand and be involved and interested in. The learning can provide life lessons like perseverance, money management, problem-solving and much more. The classes will enable teachers to identify potential entrepreneurs and give them the support they need to move ahead towards their goal.
Let's not merely include it in our syllabi as yet another subject. Let's adopt it in a way that it becomes a life-changing experience for our students, where they learn values and skills that they can use when they become successful adult entrepreneurs!
Sarala Birla Gyan Jyoti honoured with prestigious 'Climate Action Project School of Excellence' Award
Only 250 schools globally were recognized because of their intense work on climate education in a whole-school approach. The recognition was awarded by Cartoon Network Climate Champions and Climate Action Project.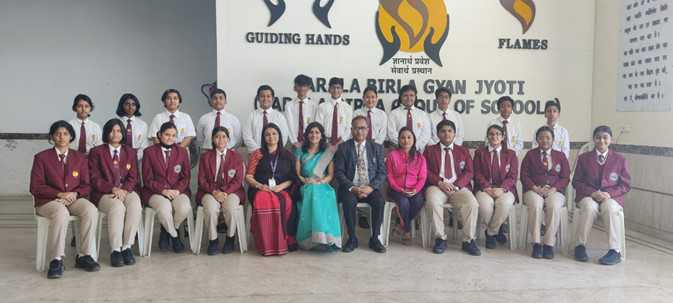 Sarala Birla Gyan Jyoti in Guwahati, India, was awarded the Climate Action Project School of Excellence. Only 250 schools globally were recognized because of their intense work on climate education in a whole-school approach. The recognition was awarded by Cartoon Network Climate Champions and Climate Action Project.
Cartoon Network Climate Champions is a climate change awareness initiative that sets out to inspire kids to take on daily challenges that collectively can make a big difference to the health of our planet. It has been developed in collaboration with WWF, a world-renowned environmental organization.
Climate Action Project is a free, global education project that was launched by Take Action Global, an education non-profit based in the USA, involving 2,700,000 teachers and students across 146 countries. The project aims to help students learn about the climate crisis in authentic ways and disseminate solutions online. The recognized schools submitted their work for the past year and met extensive criteria, including a school-wide commitment to climate education and student solutions.
Sarala Birla Gyan Jyoti has participated in global projects RiseUp4SDGs (India), Let's Be Human, Be One (Serbia), LeapEd Global Learning – Climate Change (Malaysia), the 17 Sustainable Development Goals competitions, implementing the three R's schoolwide and planting gardens in the community, at home and school. Students committed to training to become active Global SDG Ambassadors to raise awareness during virtual Student Hubs with 21 other countries. Students also actively collaborated with students in Brazil, Croatia, South Africa, Sweden and the UK in task-based projects. Currently, all Climate Change projects are student-led.
The selected 250 Climate Action Project Schools of Excellence were announced on 4 November 2021, during Climate Action Day, an annual online live event attended by 250,000 people globally. The event speakers included HRM Prince William, President James Alix Michel, Seychelles, Rick Davis, NASA, Matt Larsen-Daw, WWF, HRM Princess Esmeralda, Belgium, Juan Pablo Celis Garcia, UN Environment Programme, and other world leaders and climate scientists.
The winners were announced by Dan Russell, the voice actor behind several characters in Cartoon Network global hit series The Amazing World of Gumball, and Nandi Bushell, an 11-year-old musician, an influencer, and passionate climate advocate.
Statement by HRM Prince William "We need youth's creativity to repair our planet. We need students to invent and to innovate – to think beyond where we are now and to be optimistic about our future."
Statement by Koen Timmers, Climate Action Project: "Young people have the capacity to do more than learning about climate change. They all can come up with solutions, take small actions, and inspire others to change their lifestyles."
Statement by Dr. Jennifer Williams, Climate Action Project: "Our community of educators has come together in support of climate education for all. We are committed to ensuring students have access to information, ideas, and opportunities to take action for the planet, and, today, these Schools of Excellence are leading the way for the entire world."
Statement by Dr. Diganta Halder, Principal Sarala Birla Gyan Jyoti: "Stopping Climate Change has become a critical issue that needs to be addressed by every human being, but even more importantly in our schools. Students should be aware of Climate Action and the importance of achieving the goals set by the United Nations for peace and prosperity for all by 2030 and to become leaders of impact in the future."